This year's degree shows are taking place online. So while it may not be possible to literally walk around studios and study textiles, paintings, designs & jewellery up-close, online degree shows do allow us to wander virtually around degree shows across the length and breadth of Scotland – perhaps something we have previously been unable to do. So go online & explore the degree shows & support our graduates!
Here we take a look at Dundee's DJCAD – Duncan of Jordanstone College of Art & Design, online showcase guided by Lucy Byatt & Agency of None.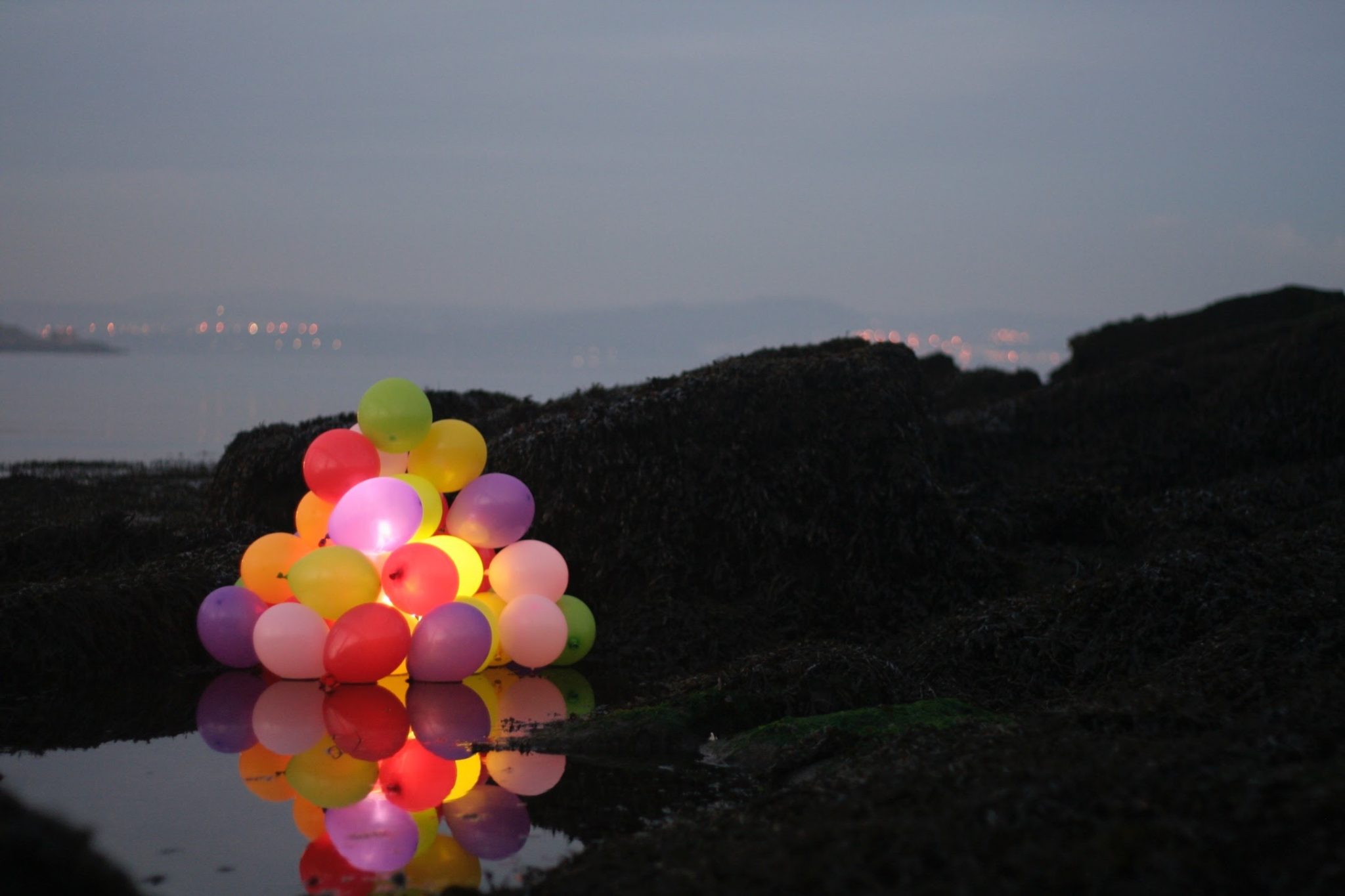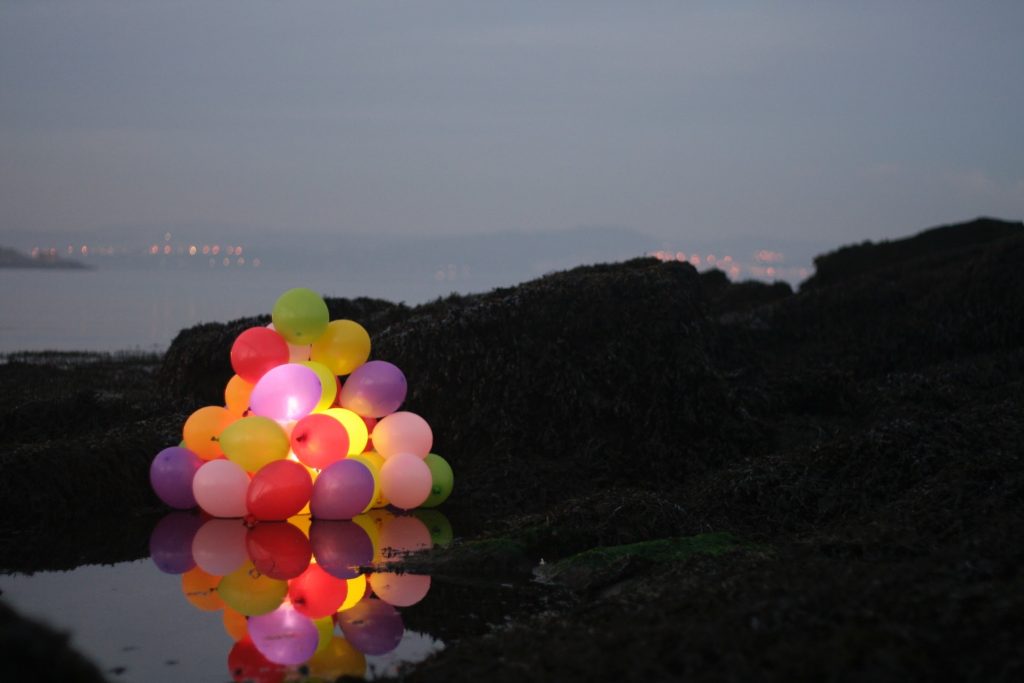 Lucy Byatt is director of Hospitalfield in Arbroath.
This year at Duncan of Jordanstone College of Art and Design we won't get the lovely experience of walking around the studios that have been polished up for the end of term degree shows. This year we will sadly miss the excitement of the students celebrating the culmination of four years of hard work. Instead the shows are on-line and here we can get a feel for the work, a glimpse in to the development of these young and new artists. Here I select a few works that caught my eye.
Erin has selected an image of herself embracing one of her sculptures, quite provocatively. She says in her explanation about her work with confidence; '…. although there is no true subject matter I think of my work as puppets . . '. Immediately it is easy to see that she has created a personal vocabulary of shapes and established a specific feel for materials, there is a sense that she has been working with these materials for some time and that there is a commitment to them. At this point I am interested to know more and find the way in which she is using the actual sculptural forms with the two dimensional and digitally produced images alongside one another interesting. My interest is pricked.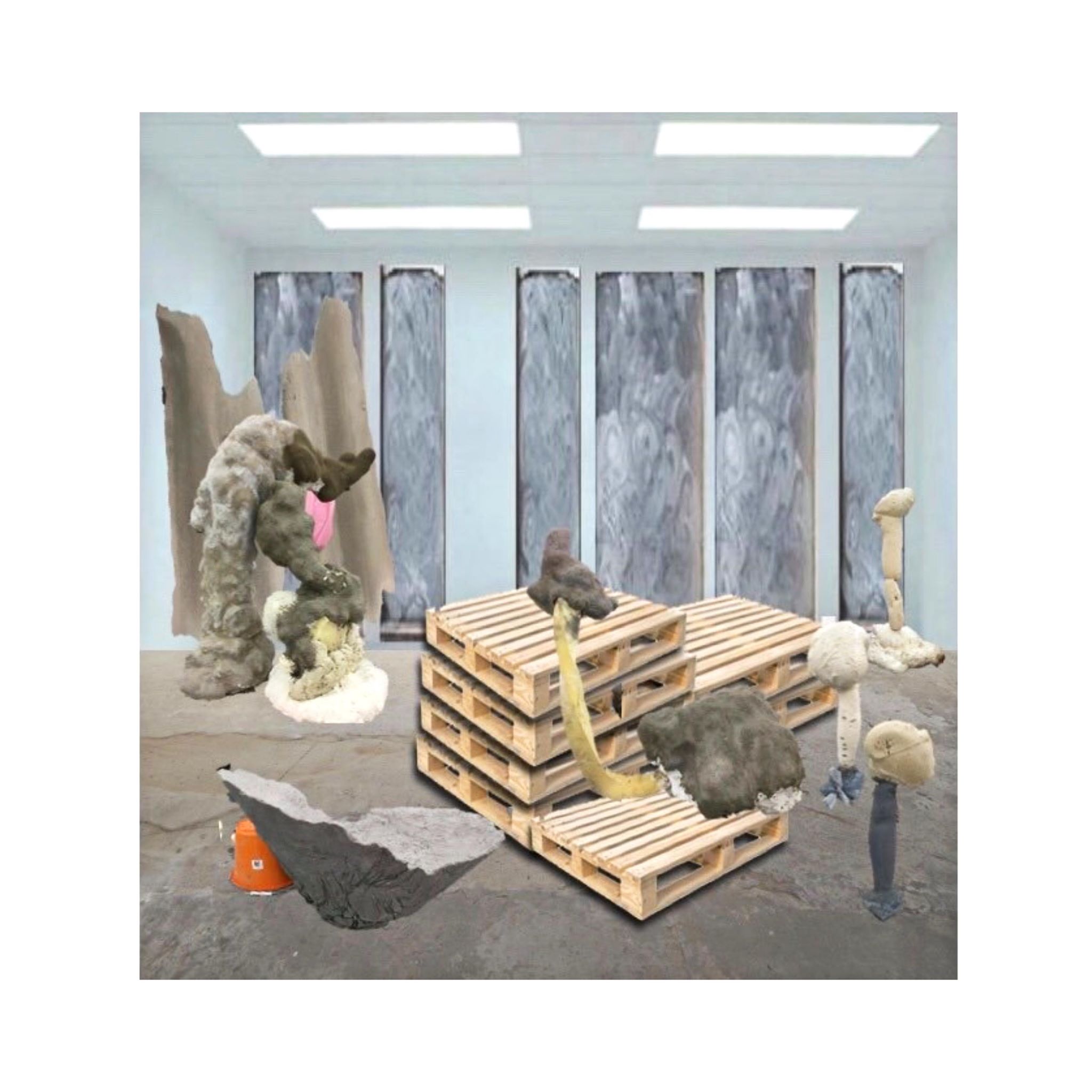 Heather's show is much quieter. Her beautiful presentation is familiar in the work of many other artists and it is this that makes me first think that I would really welcome a conversation about these influences. This is a show for this time. A presentation of fragments that assume great personal significance; Taylor's starting point is in biography and relationships that form within the domestic space. This clear focus on the personal and on memory is combined with an interesting comment within Taylor's text which refers to the spaces in between the installed works and the furniture in the room. Suddenly we are aware that the formal presentation is about space and an attentiveness to sculptural form. So again all this makes me keen to explore her work further.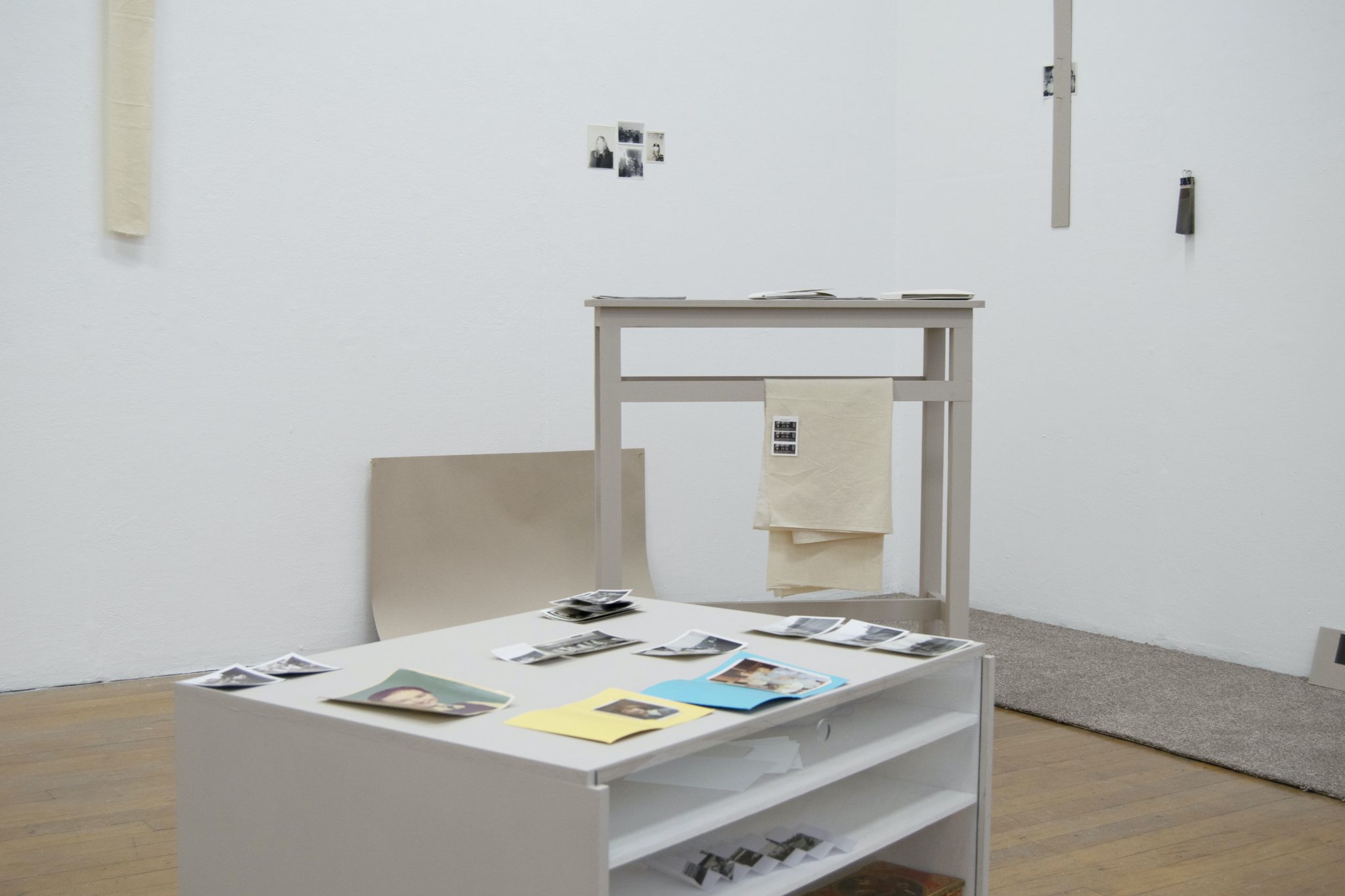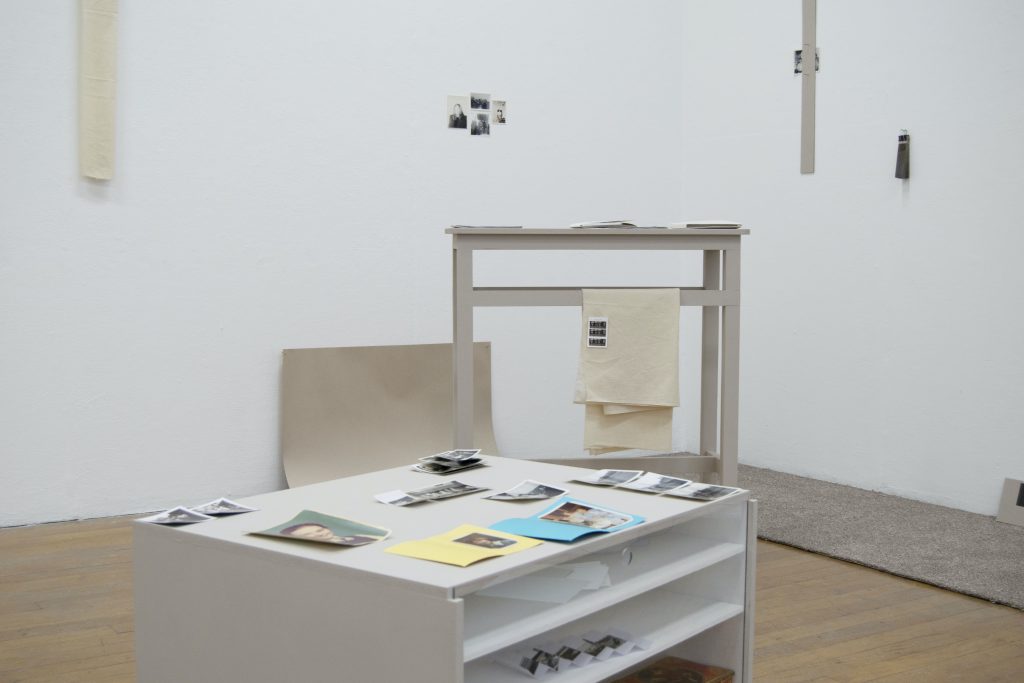 Looking across in to the other courses, Jewellery and Metal Design and Textile Design two further bodies of work stand out to me: Marianthi Macdonald's jewellery design and Maisie Farrer's extraordinary handmade textiles.
Marianthe's work is inspired by the natural world and the impact of stress on the mind. Again these are works of our time, a time when young people are articulating their coping mechanisms to manage stress more clearly then they ever have before. The pieces are intentionally rudimentary in the way that the shapes are cut out of sheet metal, and the attention to detail and sculptural qualities are immediately intriguing. From the online images, I understand the work very clearly; scale, material, working process from the cool thought of the drawings to the hot-metal working processes. From this emerge beautiful, rough, hooked objects that are seductive – something I would like to own and wear.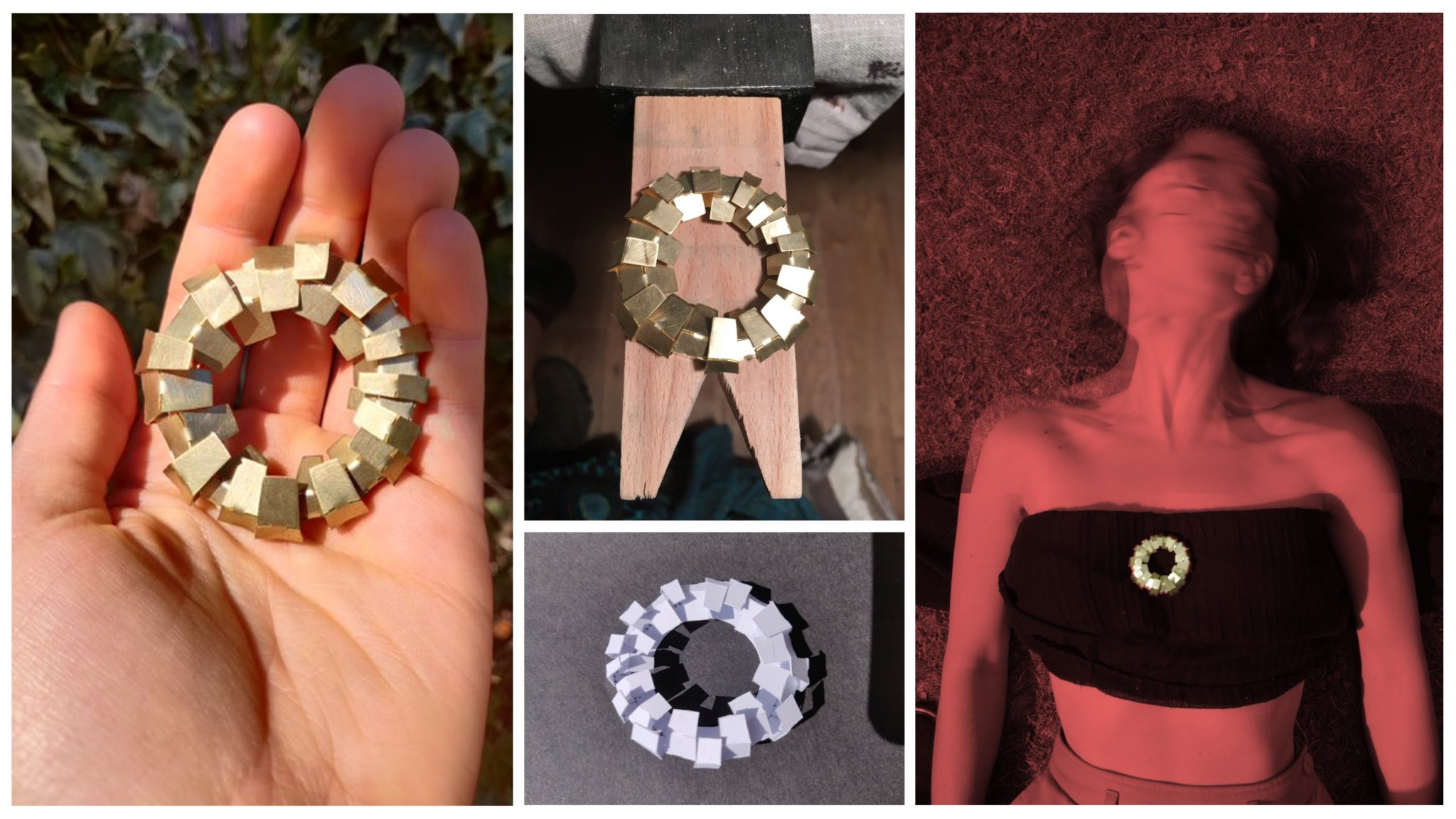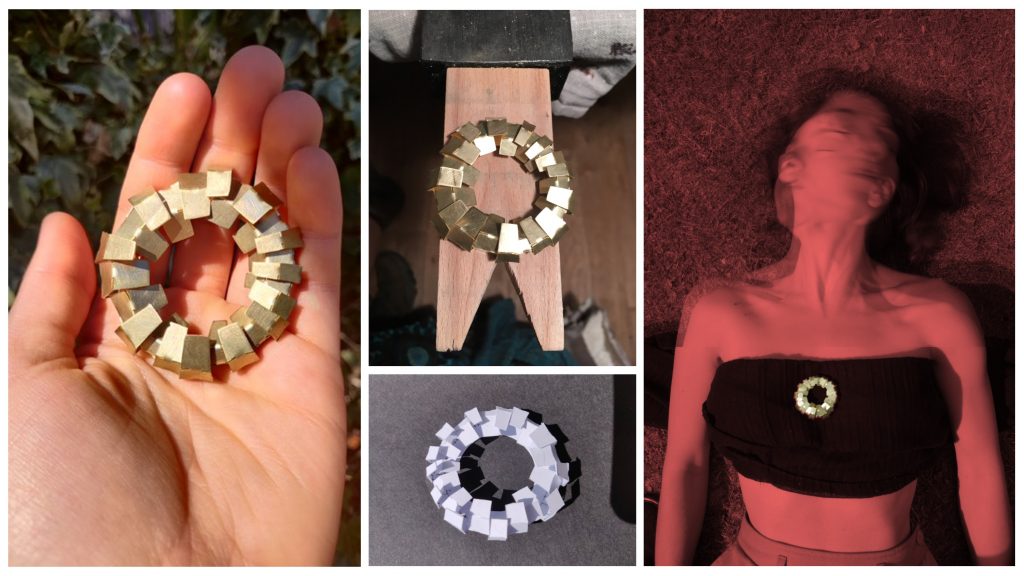 Maisie references to punk as the starting points for her textile design and this is immediately intriguing. Punk was a movement that had a strong DIY look but it was also a highly politicise movement that was a response to the poverty and inequality that people were feeling in the 1970's. Behind the style was the music and the beginning of the rejection of the perfect female body. So I am immediately intrigued by these influences. The pieces themselves are beautiful, with a subtle attention to the use of colour, clearly handmade and retaining a degree of the DIY culture of that time but they also make me think of early agricultural clothing; home spun, the use of any or all materials, smocked to make fit. The folded, stitched, pieces that have enough cloth in them to swing and move, seem wearable, even if one or two of them might fall apart by the end of the night but this is fine!! One small question about the use of plastic?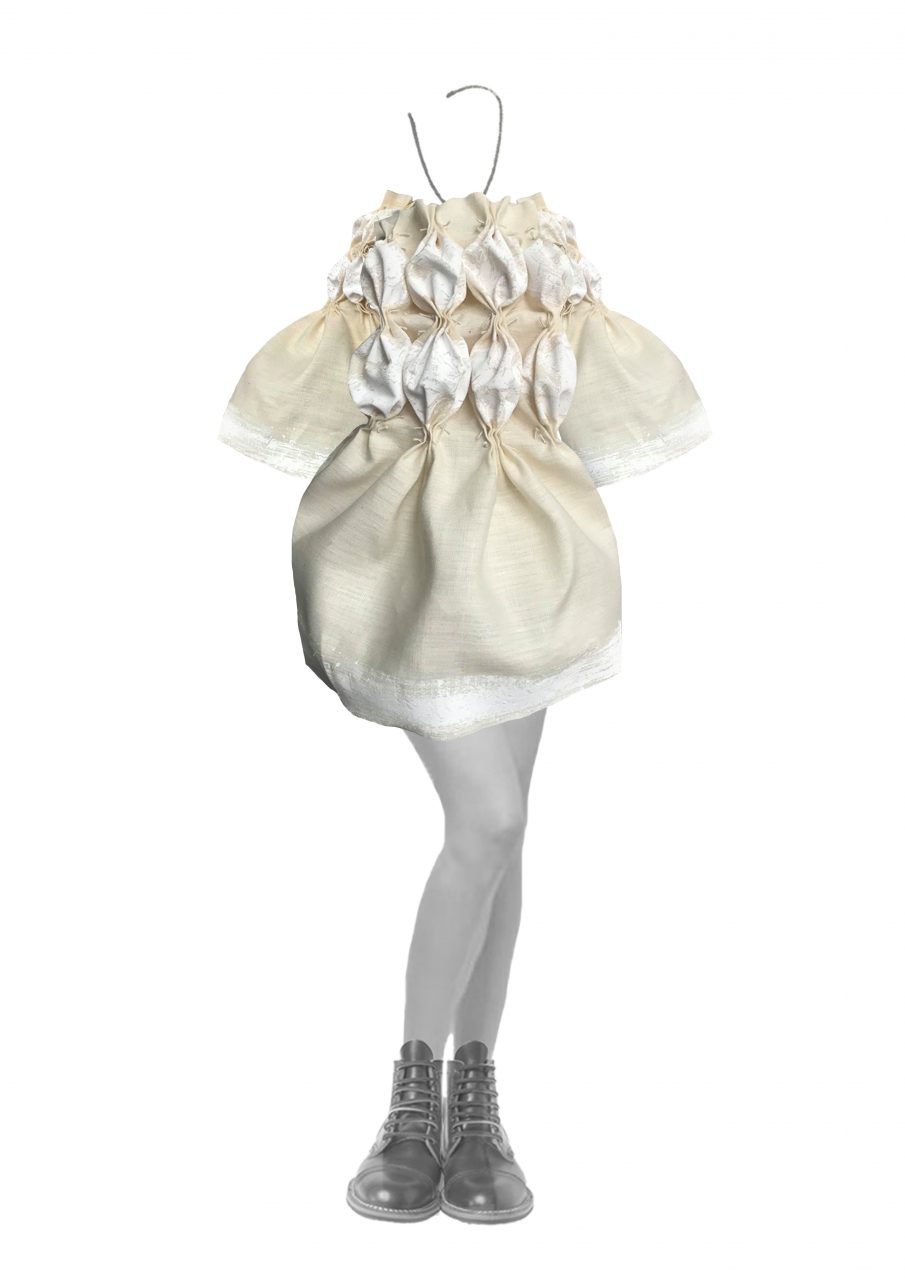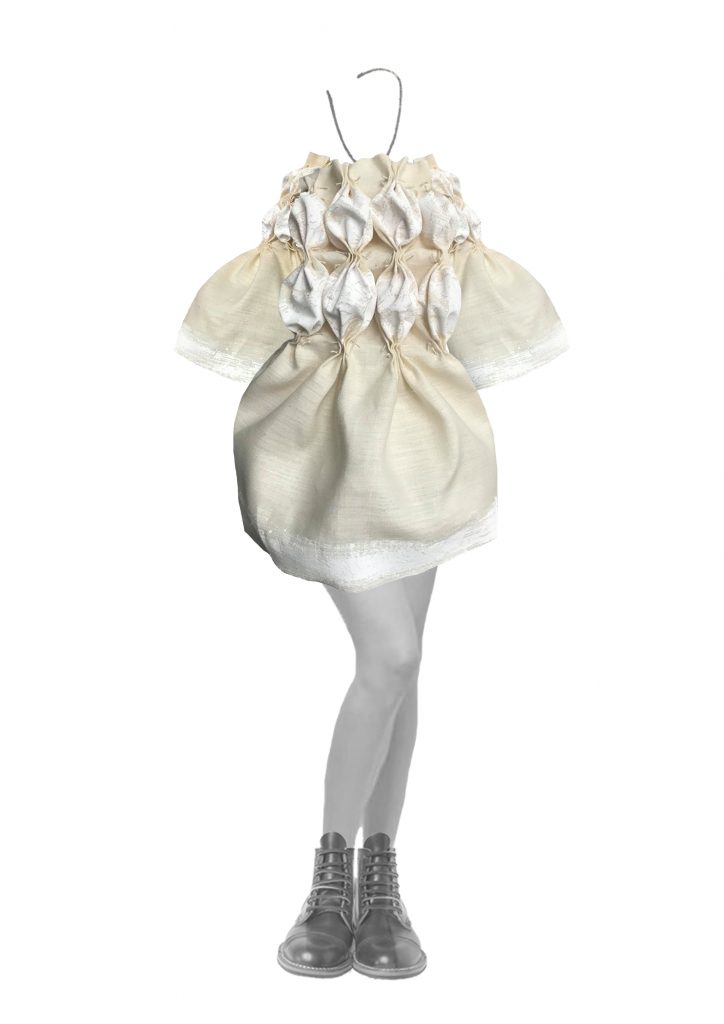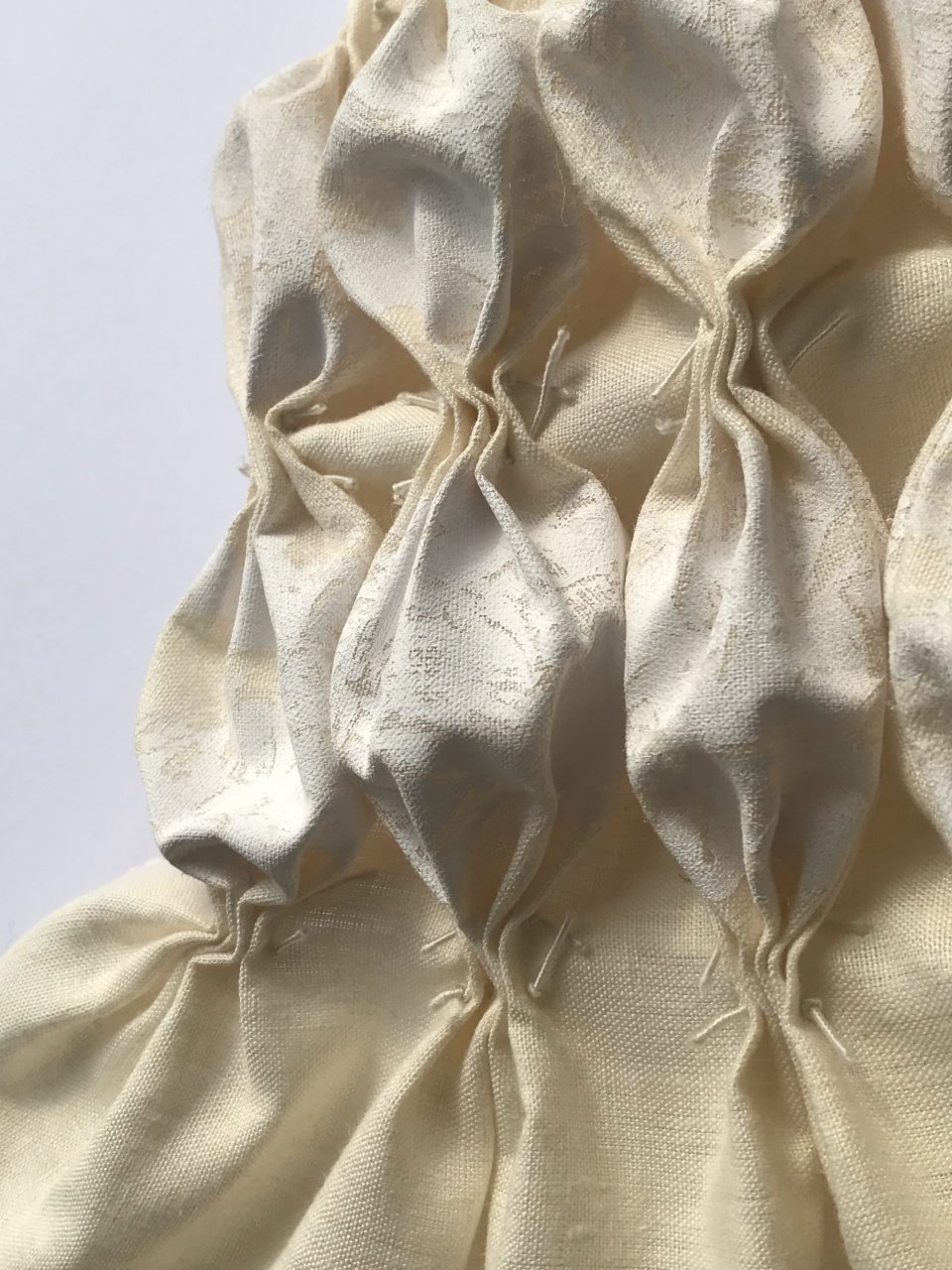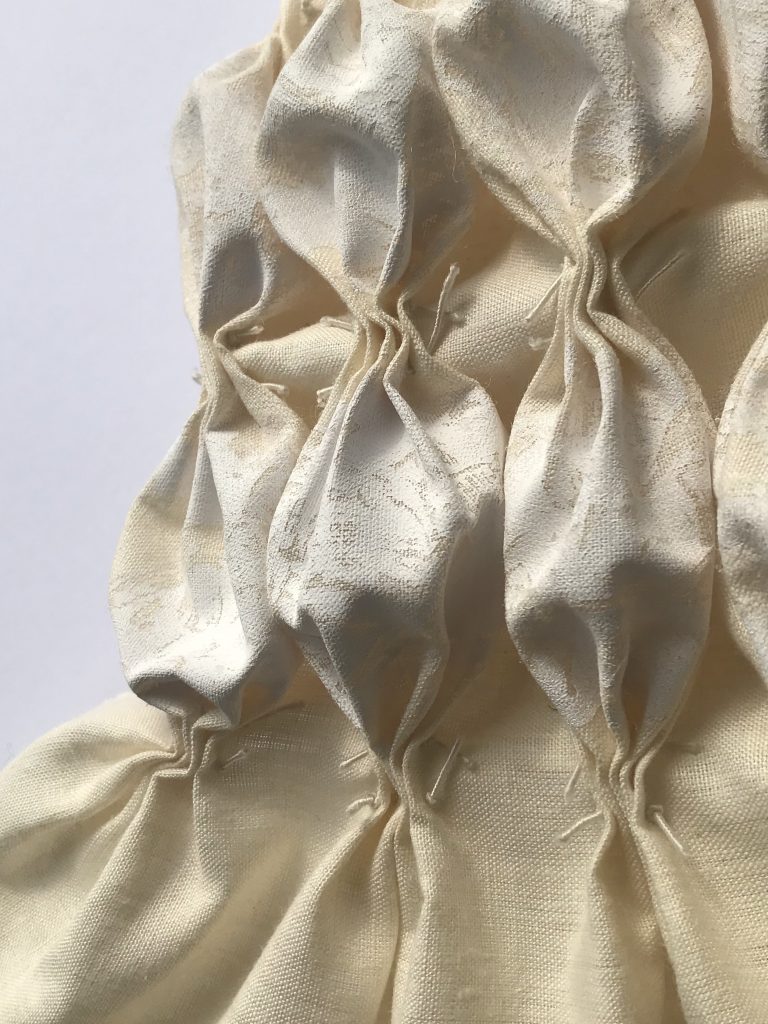 Agency of None are Dundee-based design agency founded by Lyall Bruce & Ryan McLeod. Last year they designed & produced Dundee Design Festival on the theme of liveable / loveable cities. Here they select work that caught their eyes.
Chris Wesley Digital Interaction Design Data Agency
"If you're not paying for the product then you are the product", has been a phrase used for decades to sum up the shadier sides of product marketing. Today it is often used to reference the commodity of data, harvested online and sold to companies so they can target specific groups of people that may be predisposed to their wares. Chris's project takes that concept and makes understanding the trade-off between ethics and profit an engaging and sometimes humorous journey by using a play based mechanic. As a proof of concept this is a very well designed idea and we would love to see it go on and be developed further.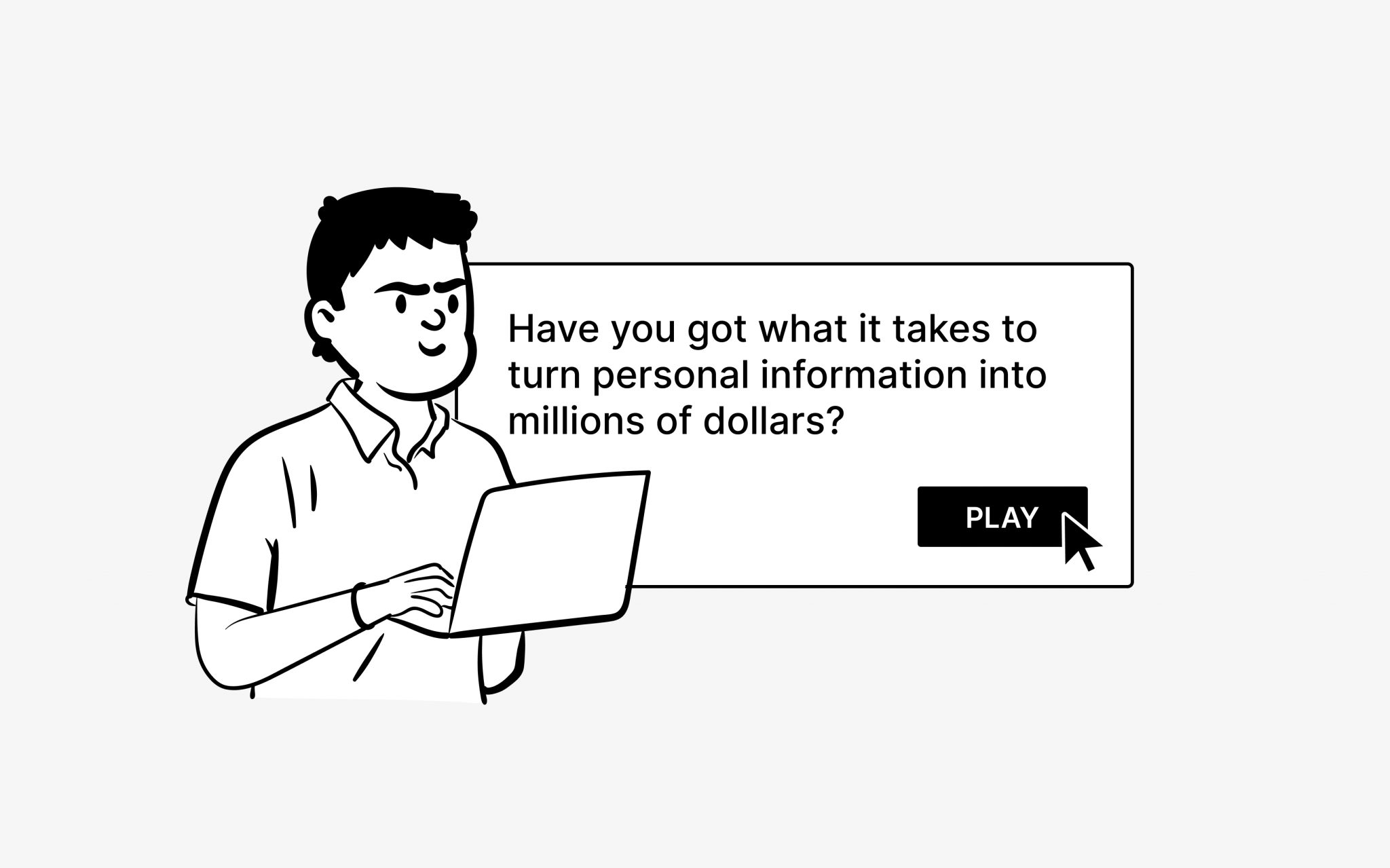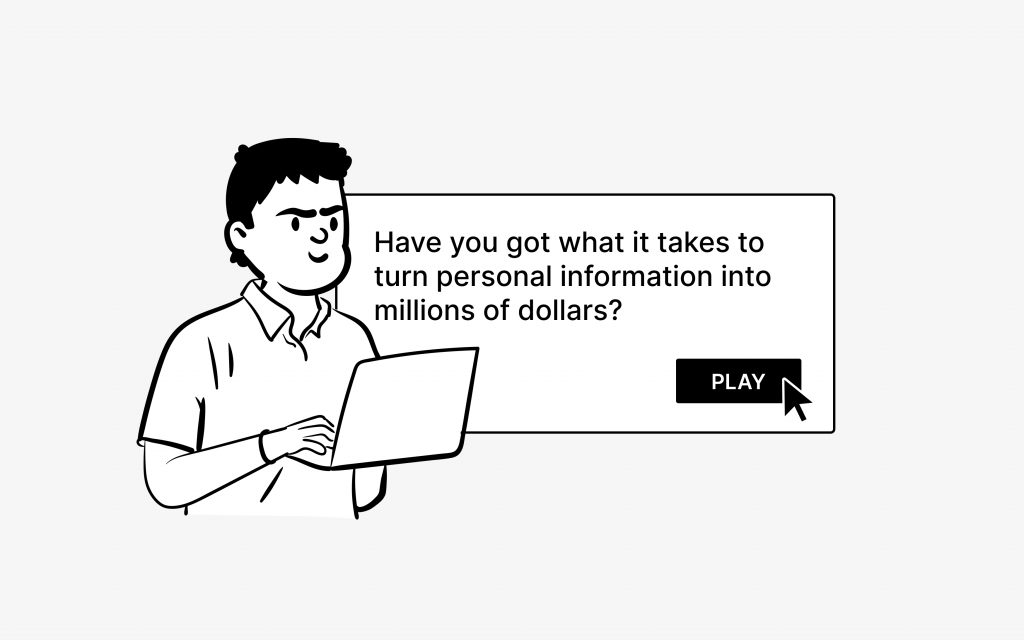 Sophie Moore Interior Environmental Design Our New World of Work
Our studio, Agency of None, has been exploring different work methods now for a number of years – so Sophie's work caught our eye with her approach to identifying different problems within working practices and the different ways that we need to work now and in future, to help our collective well-being. She has been able to work through these problems and visualise a system to represent her solutions. The 'kit of parts' idea to help customise the different pods is particularly interesting. This approach wouldn't necessarily work across all work environments but it drew our eye for its potential to work in small outdoor spaces – this is something that is currently an important consideration as we all explore what our current work/life balance in the Covid-19 era home.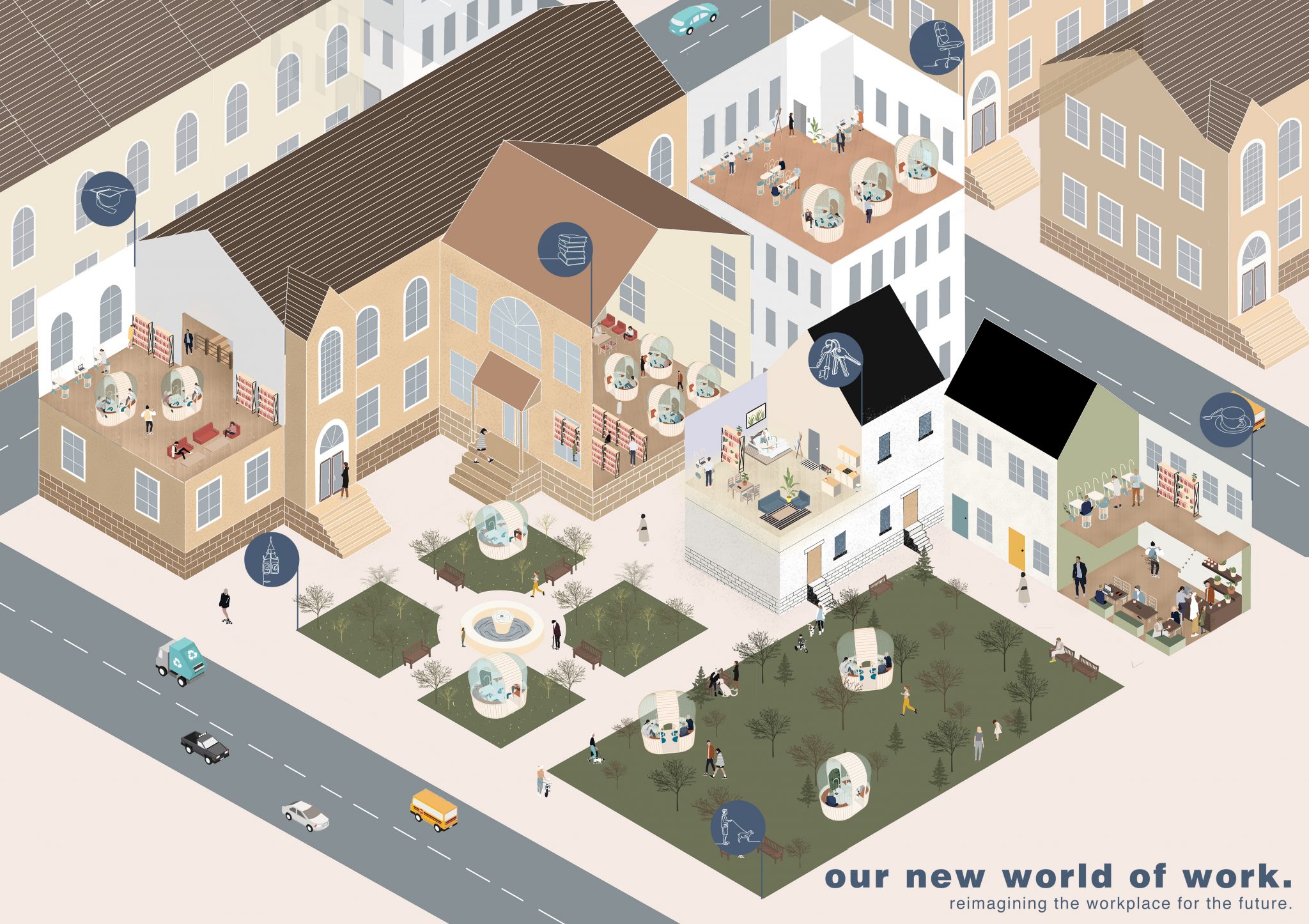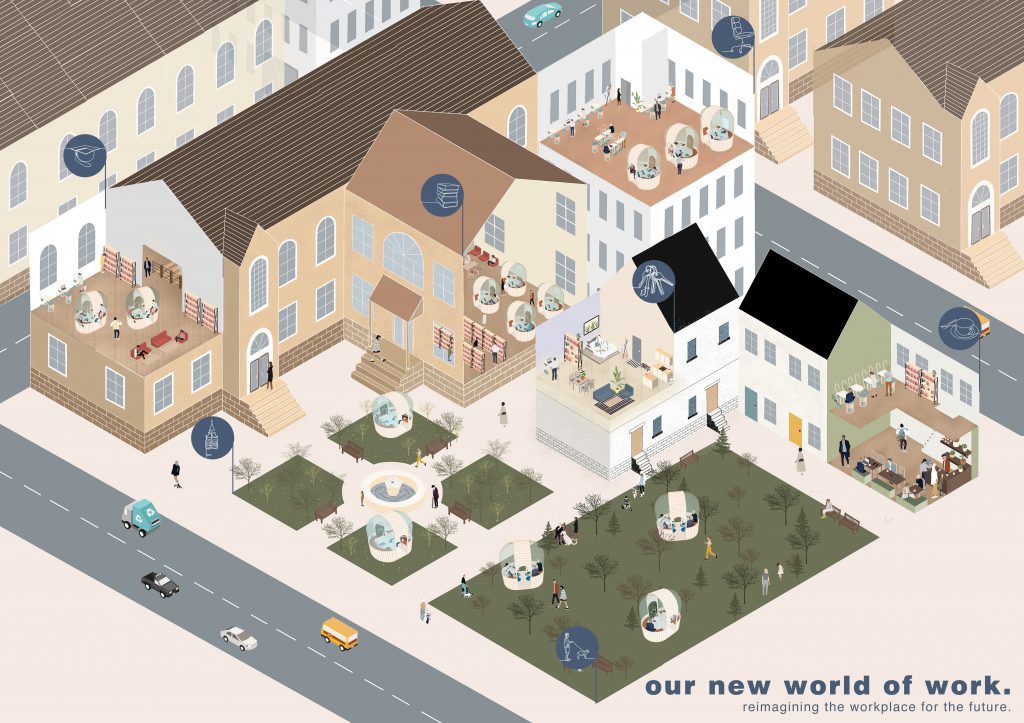 Karen Shek Graphic Design United as Doers
Creating global change around big issues such as the climate emergency is a massively complex issue. It's often difficult to see how your actions as an individual can make a difference. Karen Shek's project 'United as Doers' looks at how we reconsider our everyday choices to make them more sustainable. It calls for people to become part of a movement in creating small but meaningful behavioural change. It's an interesting approach to the issues of climate change that could be applied on a mass scale.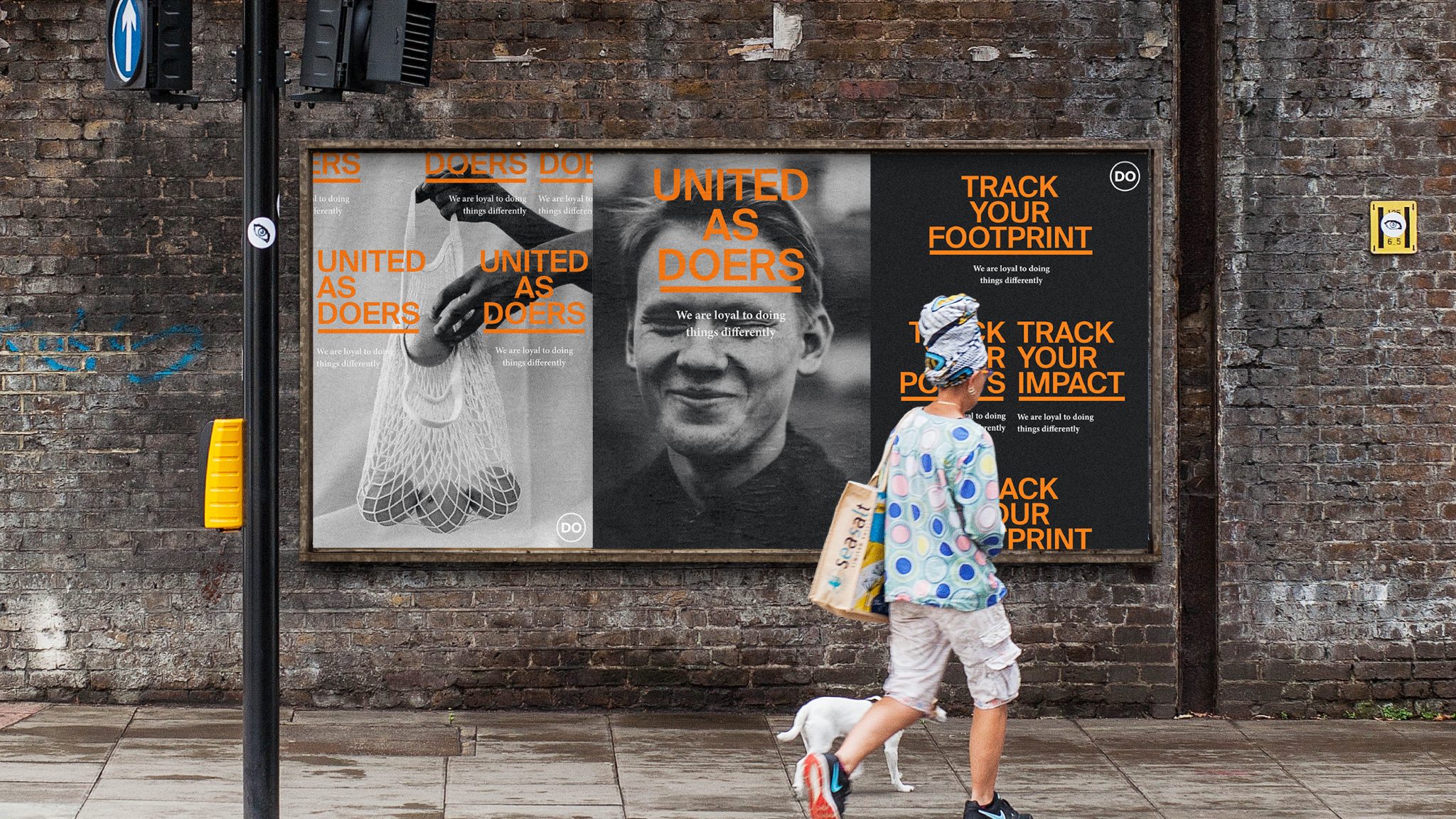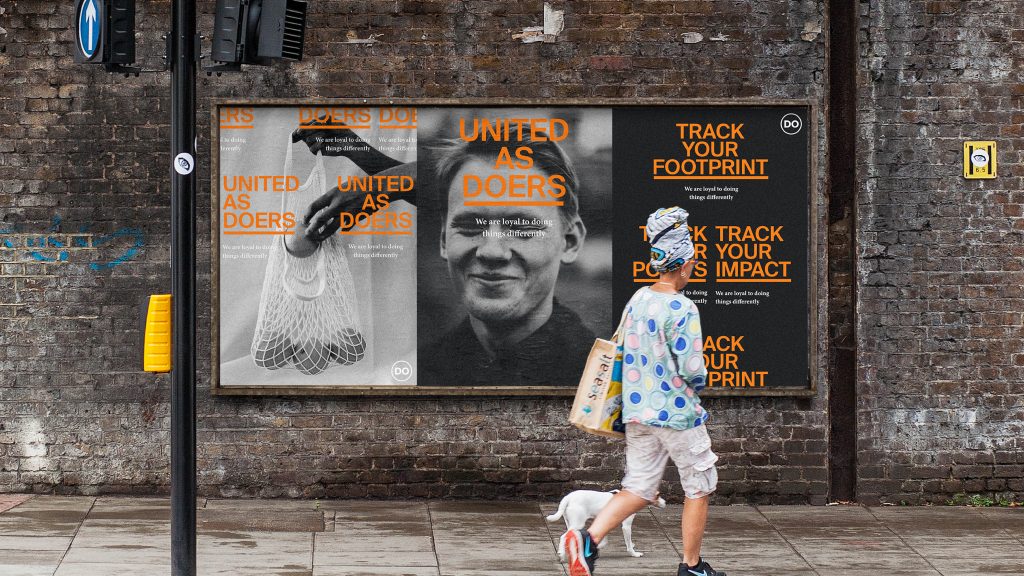 Greg McIndoe Illustration Wilson Strange

Wilson Strange is a book written and illustrated by Greg McIndoe, it explores the connection between creativity and mental health by telling the story of a man who cannot control his brain. It contains some beautifully simple story telling through subtle textures, soft colour palettes and strong geometric forms. There is also a really interesting interplay between his image making in two and three dimensions which really makes this work stand out.