This year's degree shows are taking place online. So while it may not be possible to walk into studios and study textiles, paintings, designs & jewellery up-close, virtual degree shows do allow us to wander around shows the length and breadth of Scotland – perhaps something we have previously been unable to do. So go online & explore & support our graduates!
Here we take at look at ECA's Graduate showcase guided by Briana Pegado, Rachel Adams & Harry Morgan.
Briana Pegado is Executive Director of Creative Edinburgh & a Co-Director of Creative Informatics. She founded Edinburgh Student Arts Festival (ESAF) in 2014 & is currently vice-chair of YWCA Scotland & a fellow of the Royal Society of Arts. She writes:
The Edinburgh College of Art Graduate Show 2020 shows designers and creatives that reflect our times – incredibly self-aware, data literate, digitally connected and concerned about key issues facing this generation today. The embedded exploration of recycled, upcycled, and sustainable materials along with concepts exploring the gender binary, with examples of work inspired by humans becoming closer to nature struck me. Alongside these displays of activism and critical engagement with our society at large, ECA graduates have been introspective by reflecting on what the pandemic means for us as a society, their practice, and our relationship to ourselves as well as each other. I was struck by press packets and briefs that clearly and succinctly took us through the artists' creative process. Some works deconstructed and unpacked the very medium through which their work was being displayed. Mental ill-health and how to stay mentally well was also another key thread through the work this year. While I come to terms with my own feelings about my role in society and how to best support our societies' shift towards what Tony Fry calls 'The Age of Sustainment' I was heartened, inspired and left feeling hopeful while I equally felt inspired by the work that was created for its own sake with no need nor desire to do anything else but exist.
Anabella Barnet, Anabella Barnet Degree Show, Graphic Design, BA (Hons)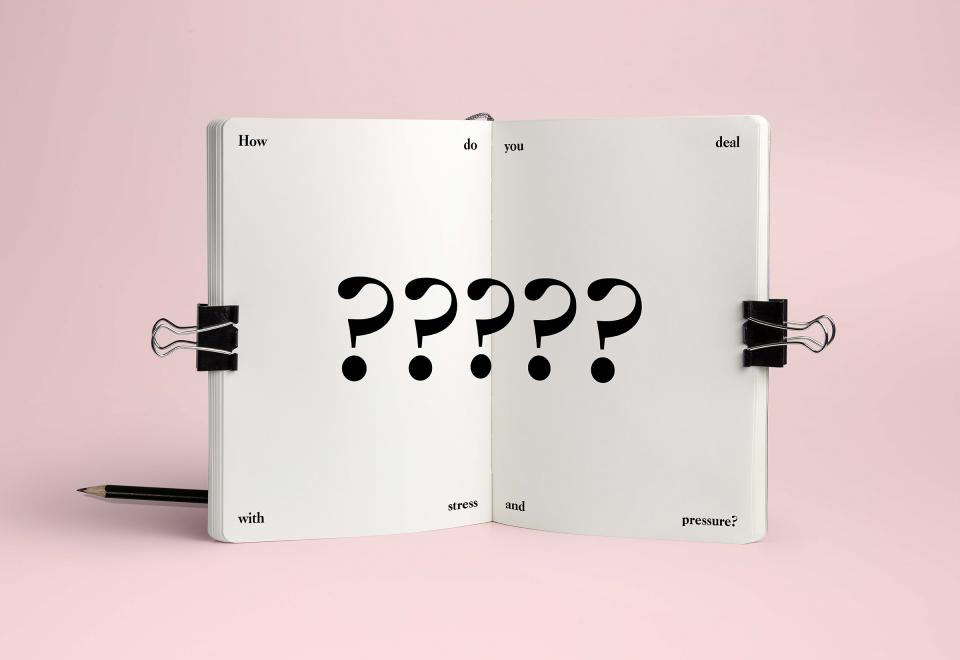 From designs for 'The Positive Bank' to 'The Secrets of Design and Mental Health' Anabella Barnet's work exemplifies well-thought through, clever, and beautiful visual communications that serve her purpose of being a change agent. Her use of style, texture and form as well as messages that provoke the reader to examine their own place in society, Anabella has a bright career ahead as a visual communicator. Her studio work with clients and other collaborators already has her well on her way. Her work is the type we need – educational, clear, creative, and intentional to help people make change in society. As her peace 'Can you change the World?' reveals many of us feel our contributions are insignificant, but as the video shares, change is incremental and requires us to engage to shift things slowly, not overnight, as whole.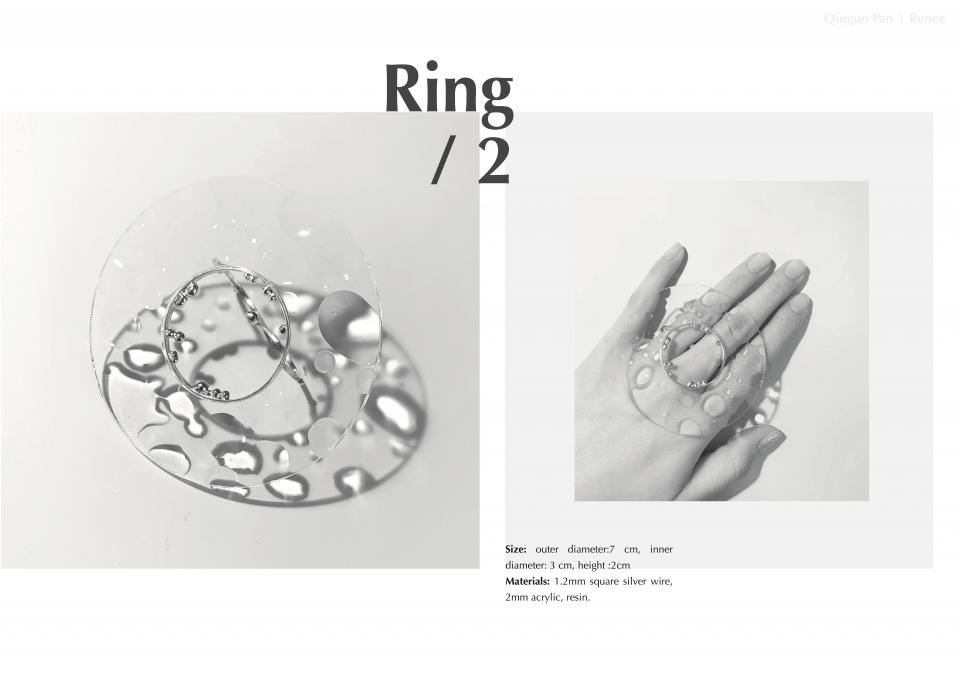 Ying is a beautiful collection of pieces inspired by dynamic changes in water. The pieces capture the fluidity and movement of water in fully realised, tangible designs. The reflections of light, form, and shadow in each piece beautifully captures the movement of water. It shows the makers commitment to detail, deep understanding of their medium, and ability to work with their materials with expertise. This collection is stunning.
Hermione Read SHOW YOUR STRIPES Fashion, BA (Hons)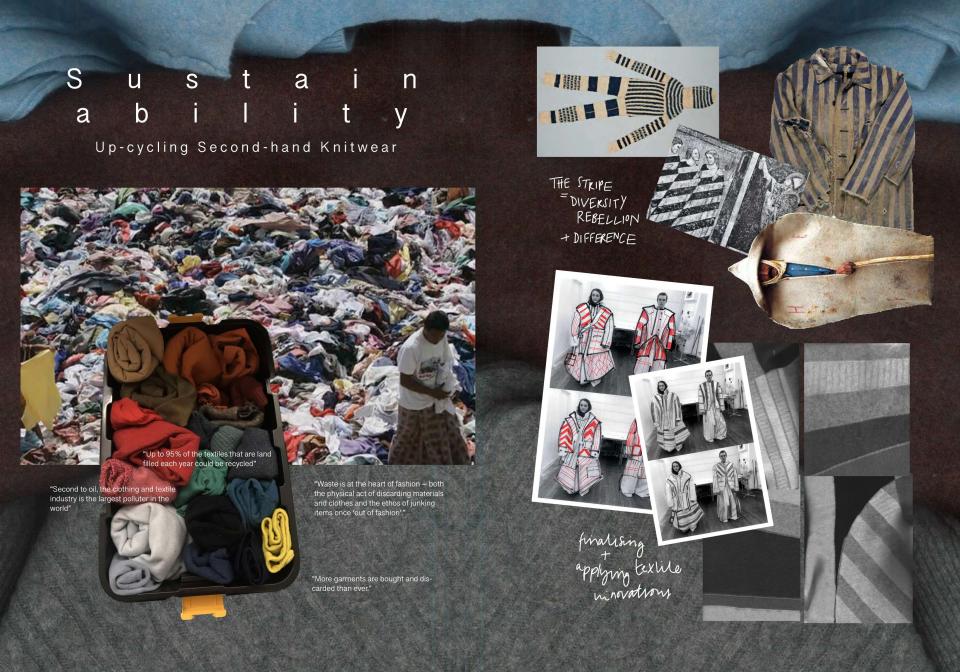 Hermione Read's work based on explorations of culture and community in her neighbourhood in London makes use of upcycled materials to question false regeneration schemes and gentrification. Though the upcycling and her methodology is not new, she ties together to her work through the concept of 'patching pieces of history together, re-injecting fashion with soul and identity.' The sheer scale of the pieces she has created for the 'anti-fashion… ethical and sustainable warrior' speaks volume of her commitment to the urgency of urgent crisis and pushes on the cultural conversation, the overton window, of where our society sits when it comes to fast fashion. This work should be applauded.
And Honourable Mentions from Briana Pegado to the following:
Shona Huang, 'A Good Bye' | Daniel Groza, 'Modern Venus Collection', Jewellery and Silversmithing – BA (Hons) Design | Fangrong Lin, ' THE SUNNYSIDE – Co-working & Childcare Interior Design Project' | Valentine Emens, 'A Selection of Work from 4th Year', Illustration – BA (Hons) | KJ Illustration, 'Femxle Energy,' Illustration – BA (Hons) | Millie Williams Thomas – 'A Sense of Calm,' Textiles – BA (Hons) | Kat Cass, 'Menstrual Products, A Selection of Fourth Year Work,' Illustration – BA (Hons) | Amos Wheeldon, 'Social Stabilisers,' Product Design BA (Hons)| Robyn Holder, 'Sustainable Choices,' Graphic Design BA (Hons)
Rachel Adams is an artist based in Glasgow. She has an interest in the history of craft & design & works with print, textiles and plastics. Recent exhibitions include Hothouse Hospitalfield, Arbroath (2019) & Noon David Dale Gallery & Studios (2018). She was commissioned by Design Exhibition Scotland to create Elevation, a tie-dyed wall hanging for DES 2018. Here are the three graduates that caught her eye.
Wandering the corridors of art colleges to see what the newest batch of creatives have got up to with their time in university is always a treat, but one this year we will have to live without. My heart goes out to those graduating who have been denied the opportunity to exhibit in a degree show, the event they have been working hard towards for four years. I have selected three students from the school of art and design who I believe have engaged with different approaches to making, creating surprising and unconventional works.
Molly Kent Doubt in the Digital Age, Fine Art MA (Hons)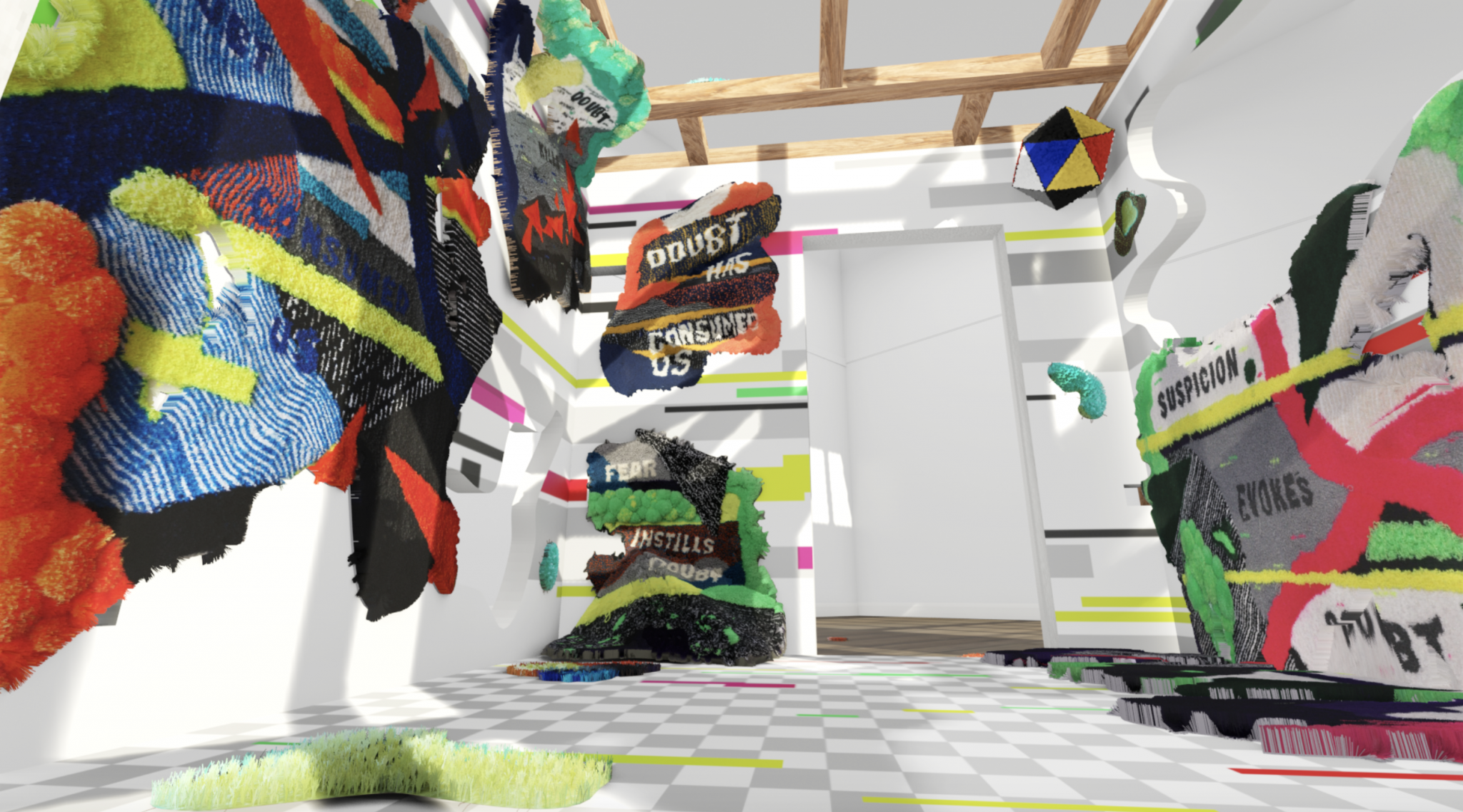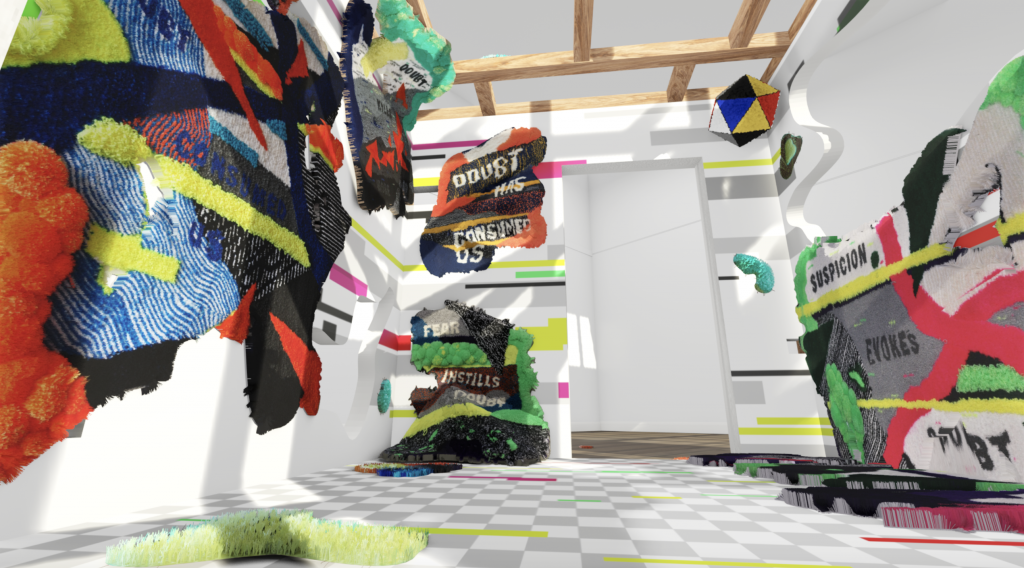 Molly Kent has more than committed to rug tufting, she has made it her own. Rug tufting is a wonderful process that uses a semi-automated tufting gun allowing artists and designers to employ the textural qualities and vibrant colours of yarn without the arduous toil of similar hand weaving processes. Molly has produced a series of works using this technique in the last year of her degree under the umbrella title 'Doubt in the Digital Age.' The irregular organic shapes of these tufted forms push these textiles both away from the traditional shape and up, over and around the wall.
Shapes split, fray and divide, suggesting the feeling of distraction which comes with the unease of constant distraction of digital culture. Her degree show proposal, expertly rendered with 3D imaging software, would have been a joy to see In Real Life, but at least in her computer generated version we get a hint of this totalising vision of all encompassing and fragmenting textiles spilling from a white cube.
Yanan Li Paper material experiment, Jewellery & Silversmithery BA (Hons)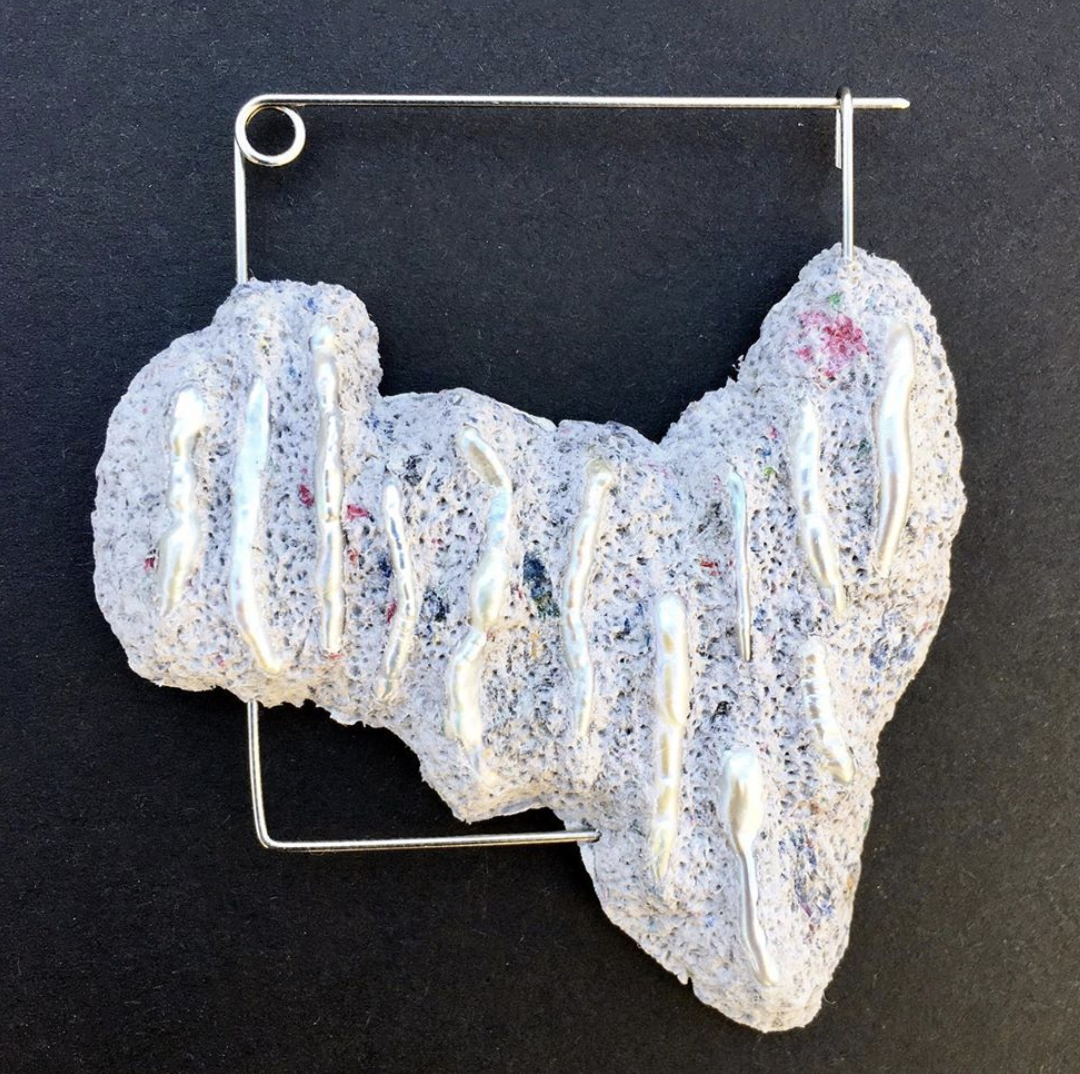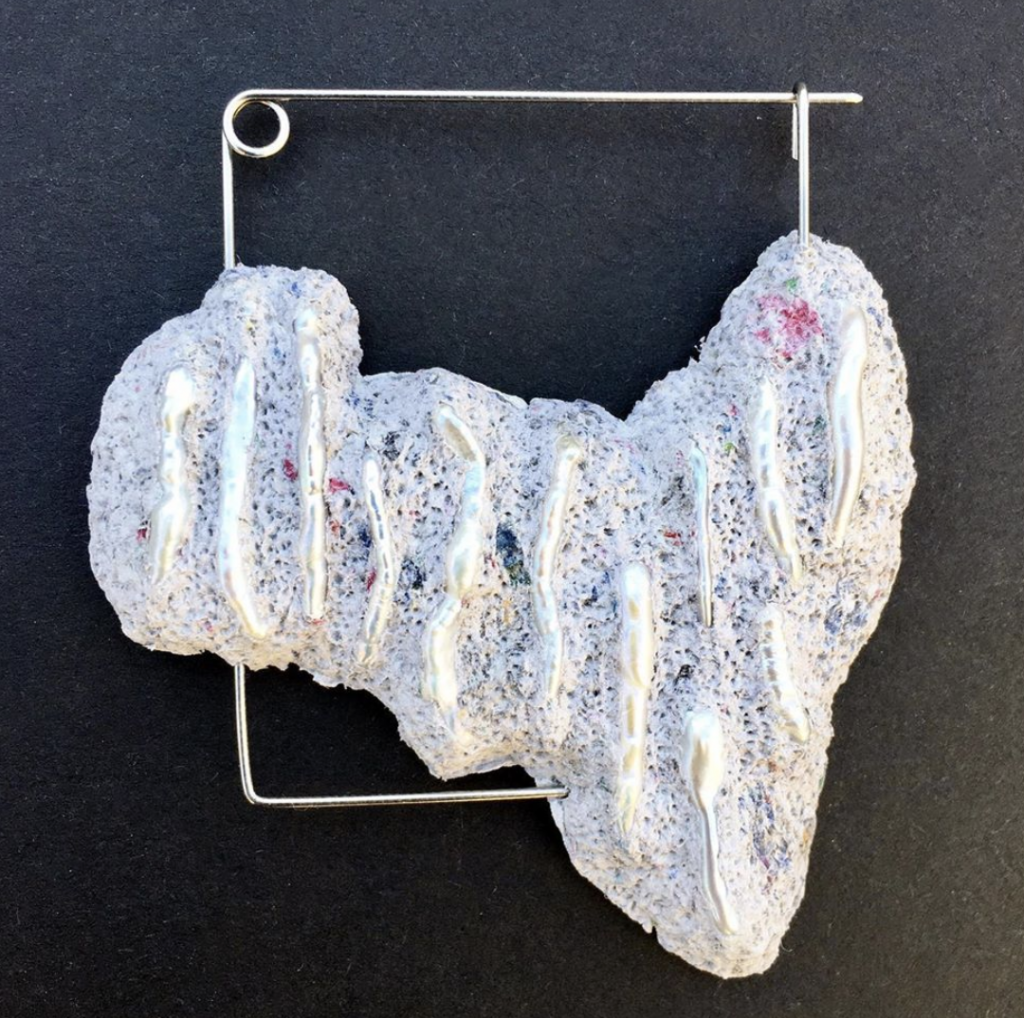 Yanan Li is graduating from the programme in Jewellery and Silversmithery. Her collection of brooches and earrings are based on sea dwelling creatures including anemones and coral. Finely milled paper mâché is used to create these organic forms, which encase a variety of irregular semi-precious stones stated to your lobes or clothes with minimal stainless steel fastenings. Rough, sandy and grassy textures are captured in the paper mulch, elevating it to high levels of delicacy and fragility. Bringing together lowly paper with substances more traditionally associated with the jeweller's kit is a great example of how deep engagement with material processes can bring about surprising and pleasing results.
Rebecca Raper Contemporary Nomad, Textiles BA (Hons)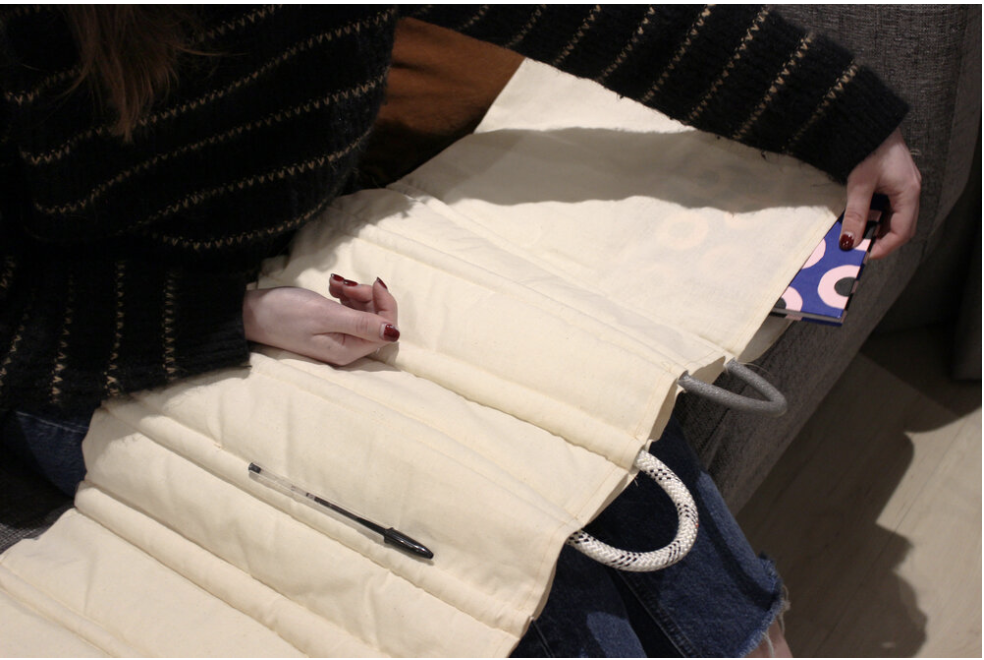 Rebecca Raper's Contemporary Nomad collection encompasses functional design and art objects. She explores the transient nature of our working life and how this is mirrored in the movement of materials in the world. Using fabric, magnets and rope she has created some portable quilt-like work stations, providing storage and a portable solution for the space-savvy, on the go, laptop-user. Her accompanying series of assemblages bring together found materials which once had function but are now abandoned pieces of detritus. Marks, bends, and scuffs imbue these throwaway scraps with the narrative of their past usefulness. Rebecca says she was 'inspired by nomadic resourcefulness to repurpose waste' I think we will all need to follow Rebecca's lead and garner a bit of this positive and capable attitude in the coming months
Harry Morgan is an artist based in Manchester. He graduated from ECA in Glass in 2014. He was a finalist in the Loewe Craft Prize 2019, where he was given a Special Mention. His work is held by the V&A, The National Museums of Northern Ireland, The European Museum of Modern Glass and the Loewe Foundation. He has shown in both editions of Design Exhibition Scotland. He's his selection.
Lily Monkman A Gym For The Mind, Interior Design, BA (Hons)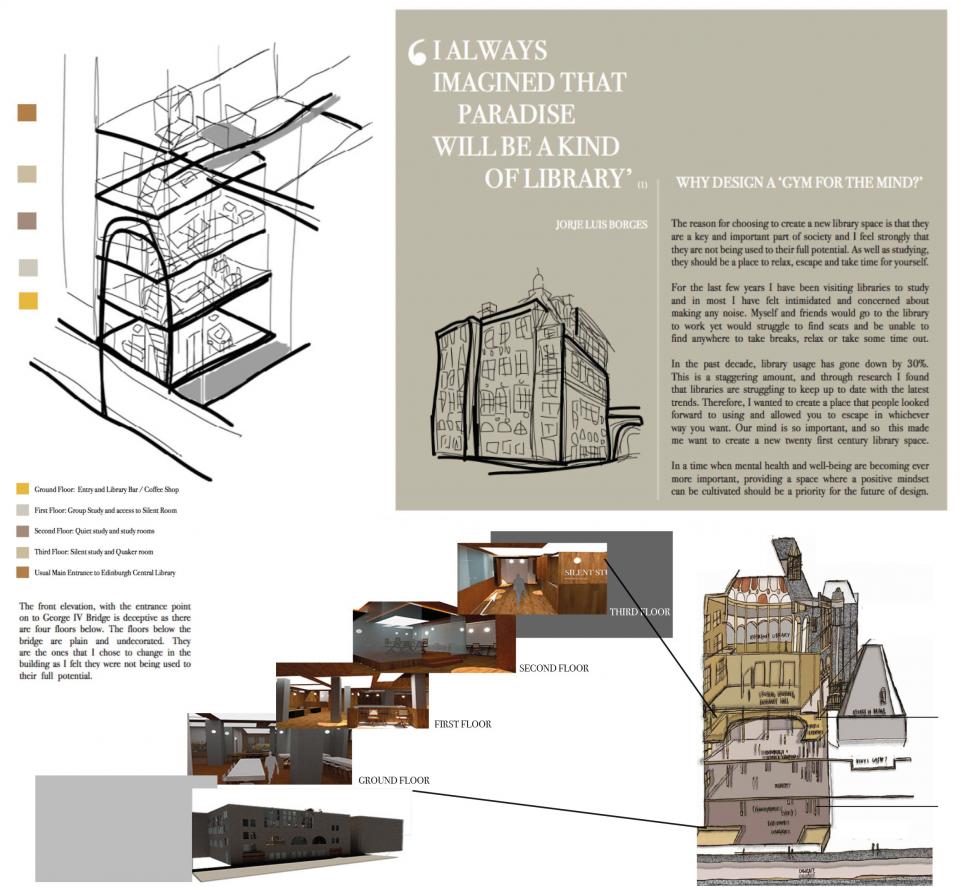 Do our library spaces perform to their full potential? Reimagining the function of a library space and redefining its role in society is an ambitious and fascinating premise, taken on by Interior Design student Lily Monkman. In a rapidly changing world, in which books can be downloaded on tablets or read to you by a celebrity as you sit on the bus, library usage has fallen by 30% in the last decade. The 'Gym for the Mind' project proposes that by altering some spaces, libraries can place more focus on the health and wellbeing of its community. I'd like to see that happen.
Daniela Groza Modern Venus Collection, Jewellery & Silversmithery BA (Hons)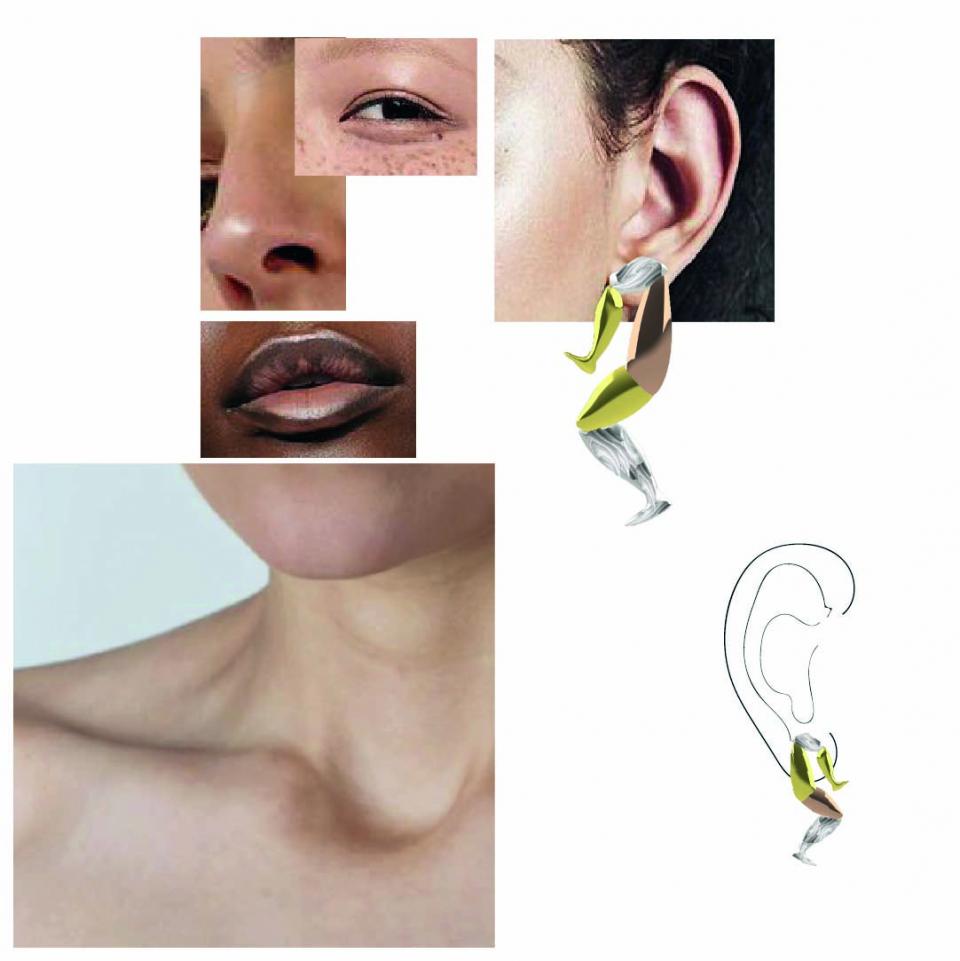 'Jewellery is not just aesthetics' is the bold opening sentence of Daniela Groza's statement. Her Modern Venus Collection reinforces this claim with confidence and conviction, addressing issues of inclusivity, equality and diversity. Her choice of materials, forms and techniques are guided by the 'beauty of diversity and individuality within body shape and skin tone' – a notion particularly pertinent today. This powerful message is realised into an original visual language. I was captured by this marriage and Groza's diligent commitment to integrity at every stage of her process.
Sonakshi Pandit Urban Ca[r]talsyer: A Reconsideration of Value Regimes through Architecture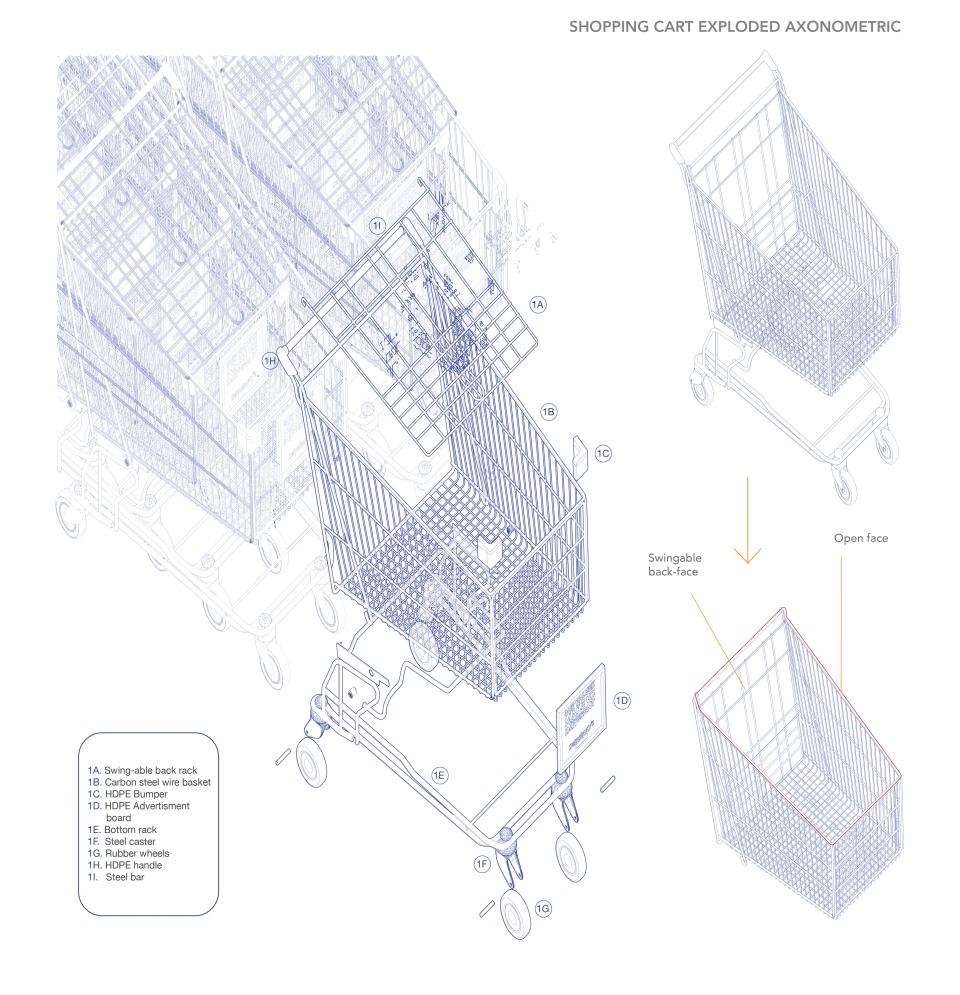 Repurposing low-value materials, deconstructing social values and affecting public well-being are three common themes across most disciplines in the 2020 degree show. Architecture graduate Sonakshi Pandit addresses all three of these issues in the Urban Ca(r)talyser project, in which he designed a novel architectural structure and public space using up-cycled shopping carts from the site. Pandit's imagination and geometrical ingenuity are as equally impressive as his thorough material research and consideration of social infrastructure. I admire the vision for long-term benefits to wellbeing as opposed to short-term consumerism.