It was last December that Design Exhibition Scotland launched its Open Call to designers, artists & architects from across Scotland to design a park bench. A collaboration with Mount Stuart Trust on the Isle of Bute, we are now delighted to reveal the four selected designs from over 50 submissions. The prototype benches will be on show at Mount Stuart from the 2 July.
Rekha Maker
C.A. Walac
Chris Dobson
Dress for the Weather x Stefanie Cheong
Rekha Maker
Rekha Maker's proposed bench is a beautifully rhythmic massing of moulded marblised forms. Conceived to provide places to sit & an array of flat surfaces on which to place picnics, drinks or books, Rekha's design also carefully considers how the park bench can welcome those in wheelchairs.

Inspired by the architectural motifs & rhythms of Mount Stuart House, a richly decorated stately home on the Isle of Bute, Rekha's park bench is a sculptural functional form. Made of Jesmonite, the colour palette is inspired by Mount Stuart's sumptuous Marble Hall.

Rekha Barry is an architect who designs functional objects. Based in Glasgow she founded Rekha Maker in early 2020. She has since produced a range of homewares & in 2020, Local Heroes Design commissioned Rekha Maker to design the award for the winner of The Scottish Album of the Year. Rekha also works as an architect for the Glasgow based practice of Anderson Bell + Christie.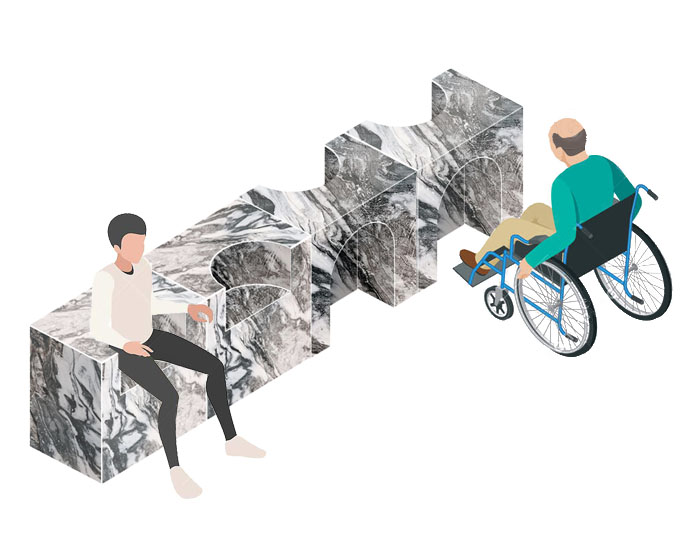 C. A. Walac
Reworking her original design within material footprint constraints and the surging economy, Walac's bench intention sets in it being the closest thing we have to 'home' outside our home. 360° and multi-purposed, the bench titled 'Bending your knees without falling' allows visitors to pause & observe Mount Stuart's magnificent Victorian Gothic facade, or look towards the landscape & the Forth of Clyde beyond. Made by reshaping, combining, and re-contextualizing locally found scrap materials, she will revisit waste with both a sculptor's eye and a functional mind to offer to rest, eat or work.
A cross-disciplinary artist who is particularly drawn to the articulations between the body, architecture and objects / furniture, C. A. Walac's work toys with playful darkness and explores both the domestic and the industrial from digital drawings, collages and assemblages. Originally from France, Walac is now based in Glasgow. She exhibited at Design Exhibition Scotland 2019 & more recently in The Future of Home at London Design Festival with Local Heroes. She has an upcoming show at Custom Lane, Leith which opens in May.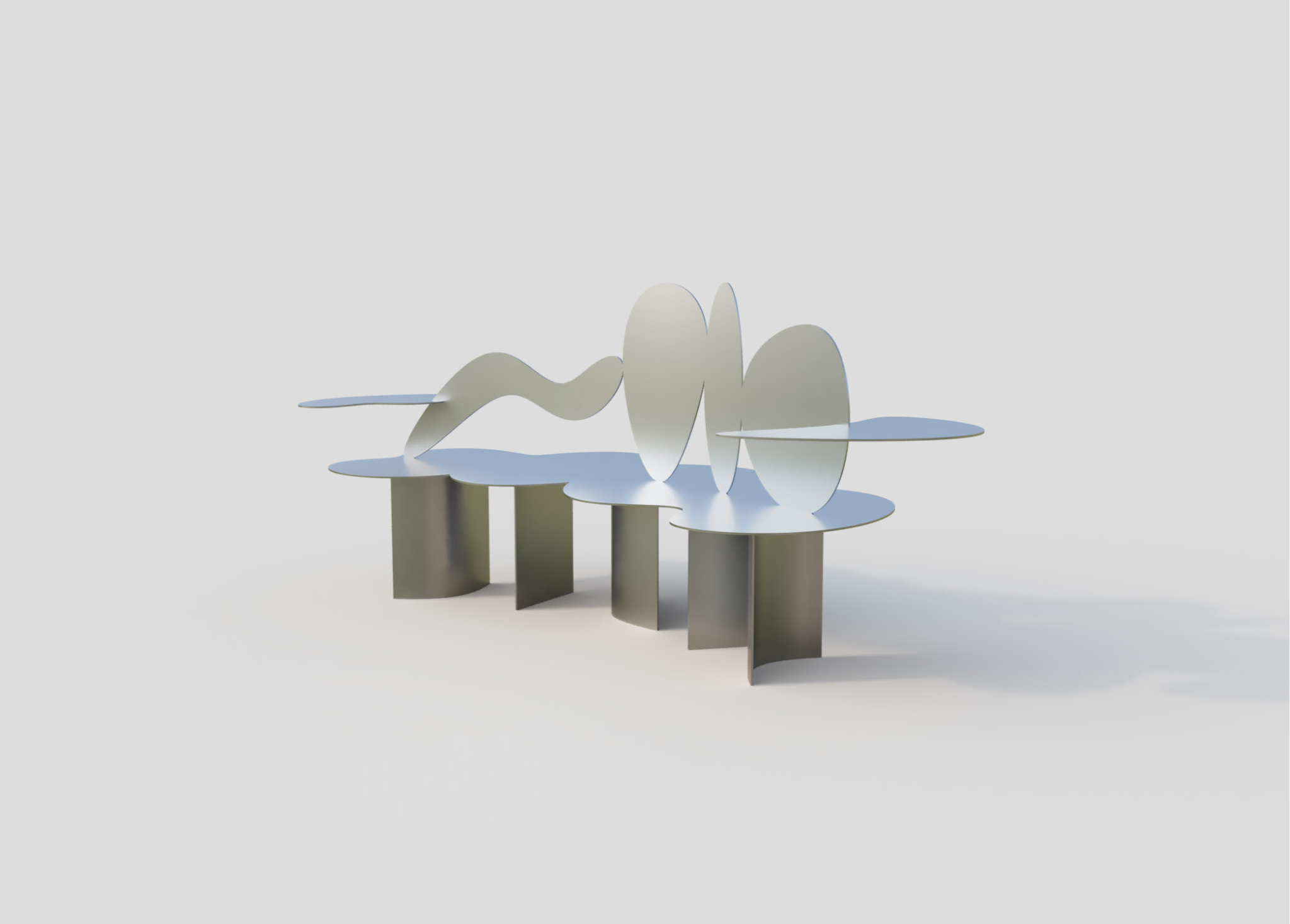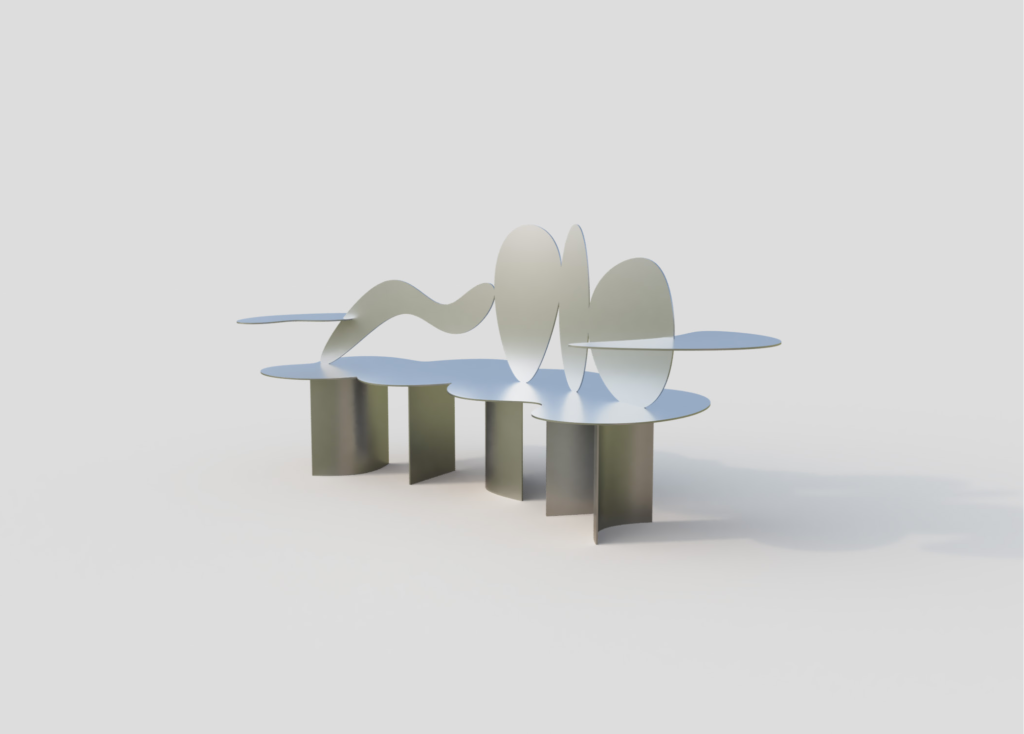 Dress for the Weather x Stefanie Cheong
Responding to the geology of the Isle of Bute, Dress for the Weather x Stefanie Cheong's collaborative proposal dives deep into the hidden subterranean landscape of the island. A fault line divides the island's north and south with Dalradian rock to the north & to south Devonian or Old Red Sandstone.
Mount Stuart sits on Old Red Sandstone and is itself constructed of this stone. And it was this that shaped Dress for the Weather & Stefanie's concept: how to connect geological material from the deep past with the most visually ubiquitous pollutant of the Anthropocene – our current period of geological time where human activity is known to be detrimental to our habitat – namely plastic.
Dress for the Weather is an architectural practice based in Glasgow & founded by Andy Campbell & Matt McKenna. The practice experiments with materials and sampling to connect craft, ecology and construction. Stefanie Cheong is a designer and maker who explores geology and rock formations to inform her work. She brings a contemporary aesthetic to traditional lapidary process by cutting found and discarded rock and has recently introduced making her own rocks from waste streams.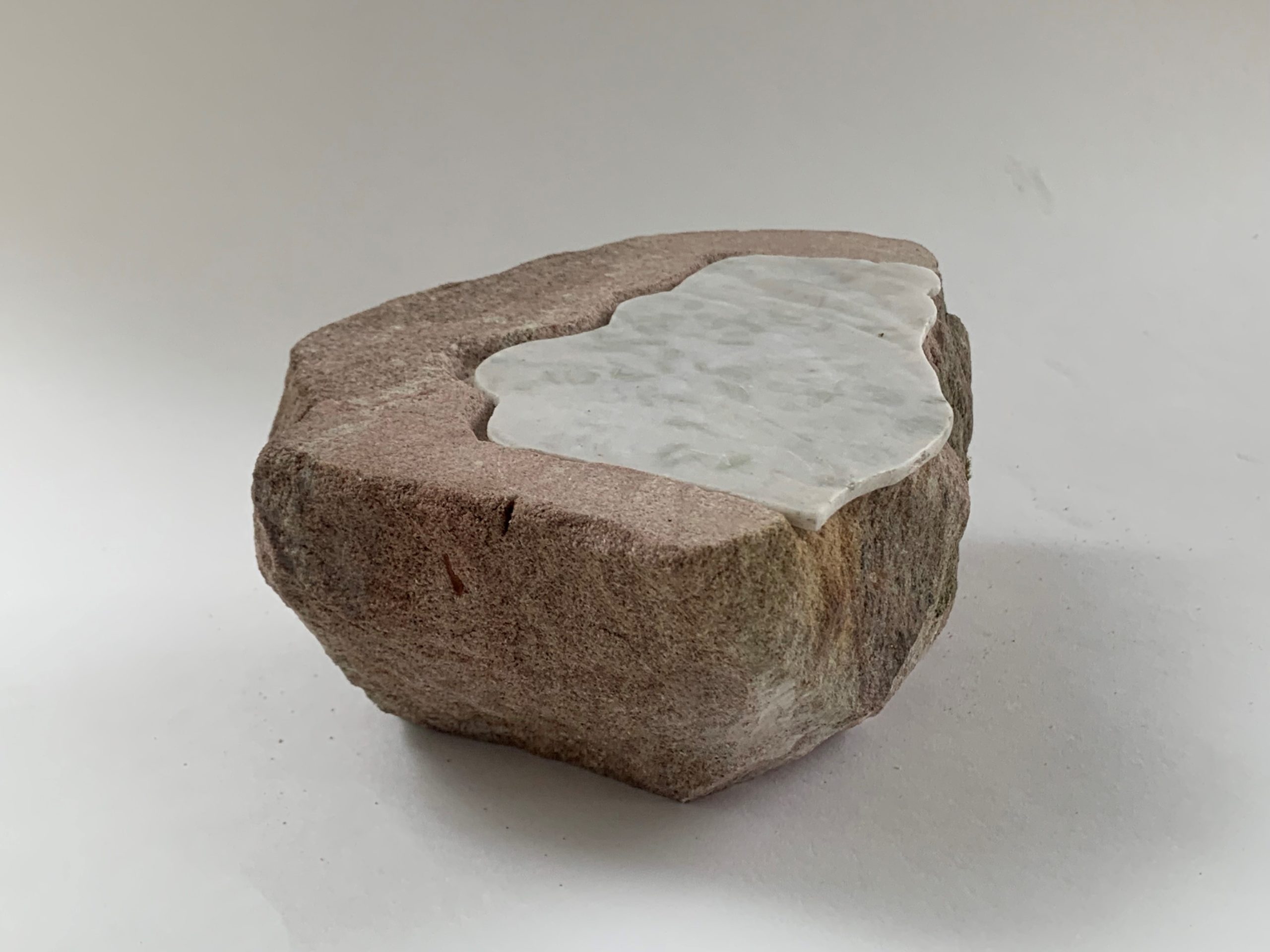 Chris Dobson
Chris's proposal weaves together two very different traditions: the traditional hand-made Orkney Chair & the more recent perhaps 'brutalist' concrete bus shelters found on the Isle of Lewis. In thinking how to provide a bench together with shelter, Chris has merged these two forms to create a communual seat with a hood. Chris proposes to use cross-laminated timber to give the seat a robust near monumental appearance with the curving dowel backrest conveying comfort, a welcoming embrace & draught excluder found in the woven straw curving high backs of the Orkney Chair.
Chris is an architect with the Edinburgh studio of UK practice, 3DReid. He is also a co-producer of the Architecture Fringe, a bi-annual festival of multi-disciplinary events centred around our built environment.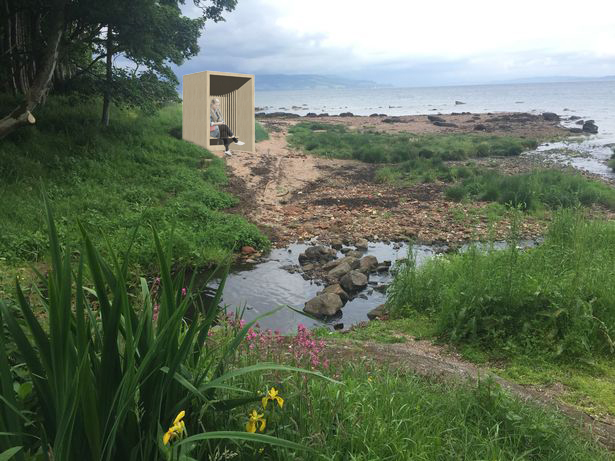 The OPEN CALL celebrates all that the public bench offers – the joy of sitting outside, the great outdoors & public space; the chance to pause for thought, take in a view, read a book & eat a sandwich or a place to meet with friends. And of course, the public bench should celebrate good design & well-crafted materials.
Mount Stuart is a stately home on the Isle of Bute. It is surrounded by over 300 acres of landscaped gardens & woodlands – all set against the backdrop of the Firth of Clyde. Every year Mount Stuart welcomes thousands of visitors who wander the grounds & visit the historic house. And Mount Stuart has a celebrated visual arts programme, annually inviting artists to make site-specific installations. This year the Montreal-based artist, Abbas Akhaven will be exhibiting at Mount Stuart.
Design Exhibition Scotland is delighted that Lyon & Turnbull are lead supporters of our park bench commissions. We also thank The Inches Carr Trust, The Hope Scott Trust & our DES Supporters for their support.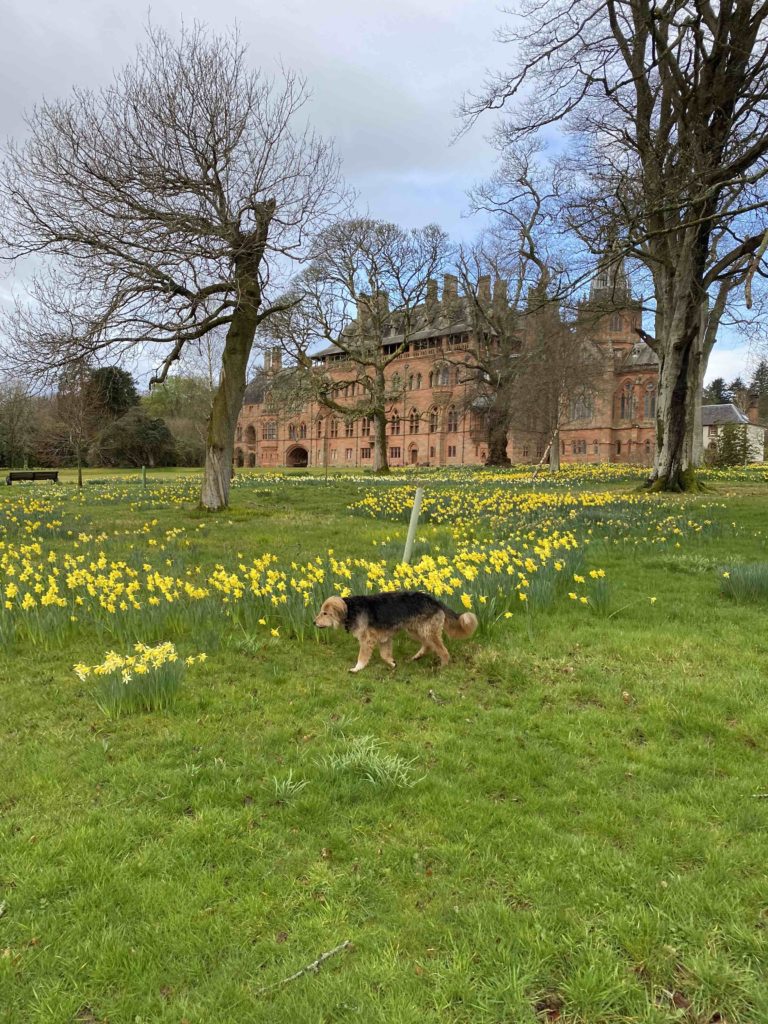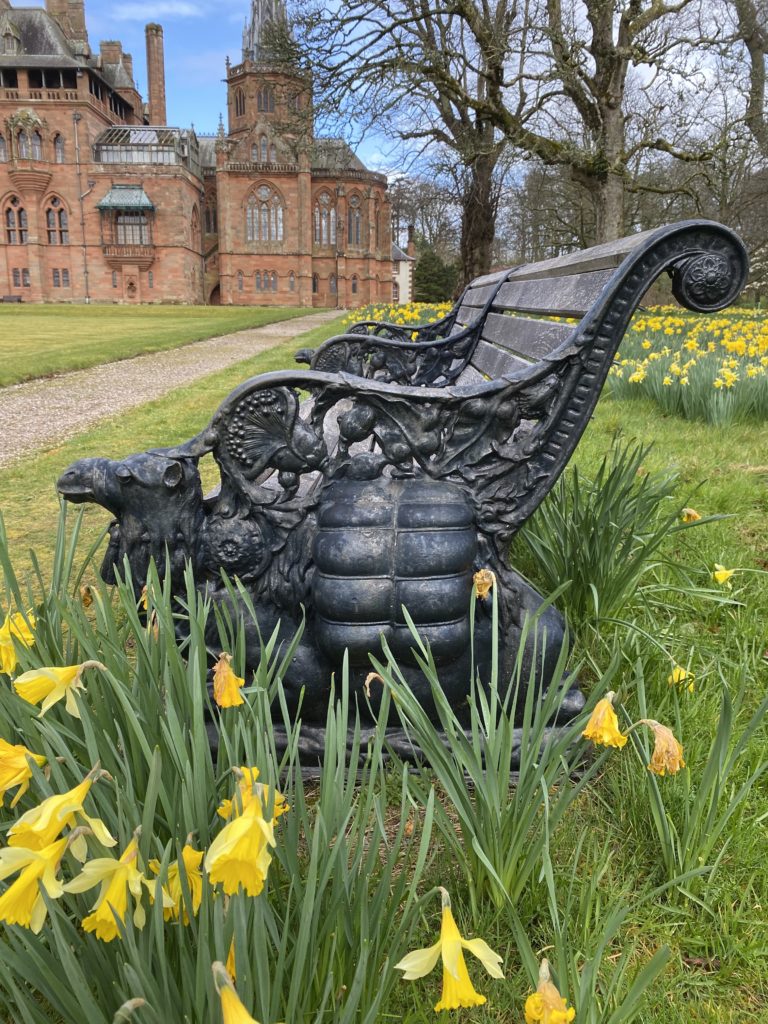 The selection panel for the Open Call is Sophie Crichton Stuart, creative director, Mount Stuart Visual Arts; Sophie McKinlay, director of programme, V&A Dundee; artist & designer, James Rigler & Susanna Beaumont, director, Design Exhibition Scotland. Design Exhibition Scotland plans to tour the prototype benches to other locations across Scotland in Autumn 2022. We will also explore the possibility taking the prototype park benches into wider production.
Fine benches . . .