Dixon is a beauty of a drinking fountain and one has just been installed in the University of Dundee's Botanic Garden. Commissioned by DES & created by Mirrl of Glasgow, here Mirrl's Simon Harlow talks designing a drinking fountain for our contemporary age.
DES is passionate about drinking fountains, not only to alleviate plastic waste but to celebrate outstanding contemporary design. This prompted us to approach surface makers & designers, Mirrl of Glasgow, to create an eye-catchingly good looking and contemporary fountain. Mirrl had exhibited in DES 2018 & DES 2019, so their inventiveness, openness to collaboration & overall enthusiasm were known. And of course with rising concerns about single-use plastic, they too thought time was ripe to revive the drinking fountain and make clean and fresh water more freely available in public places.
Four years on from these early conversations, we are delighted that the University of Dundee's Botanic Garden have acquired a Dixon drinking fountain. Newly installed near to the Garden's entrance, it brilliantly welcomes visitors with the offer of free and clean Scottish water. Purchased by the university to celebrate their 2022 Festival of the Future, Dixon will be a permanent feature of the gardens. A wonderfully mottled pink and green, the colours were inspired appropriately by a well-know herbaceous perennial, rhubarb, botanical name rheum rhabarbarum. As Simon Harlow of Mirrl says, 'When I visited the Garden I was struck by the different shaped leaves, everything is super-detailed, layered, colourful and deep. This got me thinking about how to really explore possible colour ways, and how to make the Dundee Dixon both stand out and blend in – rhubarb with its pinks and greens was the inspiration.'
Simon founded Mirrl with fellow Glasgow School of Art graduate Lewis Harley in 2018, with the express aim of developing a beautifully robust surface material. Consisting of layers of coloured resin which are sanded back to reveal a wonderfully mottled pattern – a technique very much inspired by Japanese lacquerware – they named their new material mirrl, after the old Scot's word for pattern. It is a water-tight, wipe-clean material, so perfect for a new breed of drinking fountains!
'I wanted to achieve a level of decoration that I had not previously achieved, so I experimented with an array of colour combinations. In all 15 different colours were used, all inspired by the surrounding foliage and of course the vivid pinks and greens found in rhubarb. And it's Dixon's angular profile that makes it stand out from the soft edged foliage and the rhubarb-inspired colourway also acts as camouflage. I like this!
Simon Harlow of Mirrl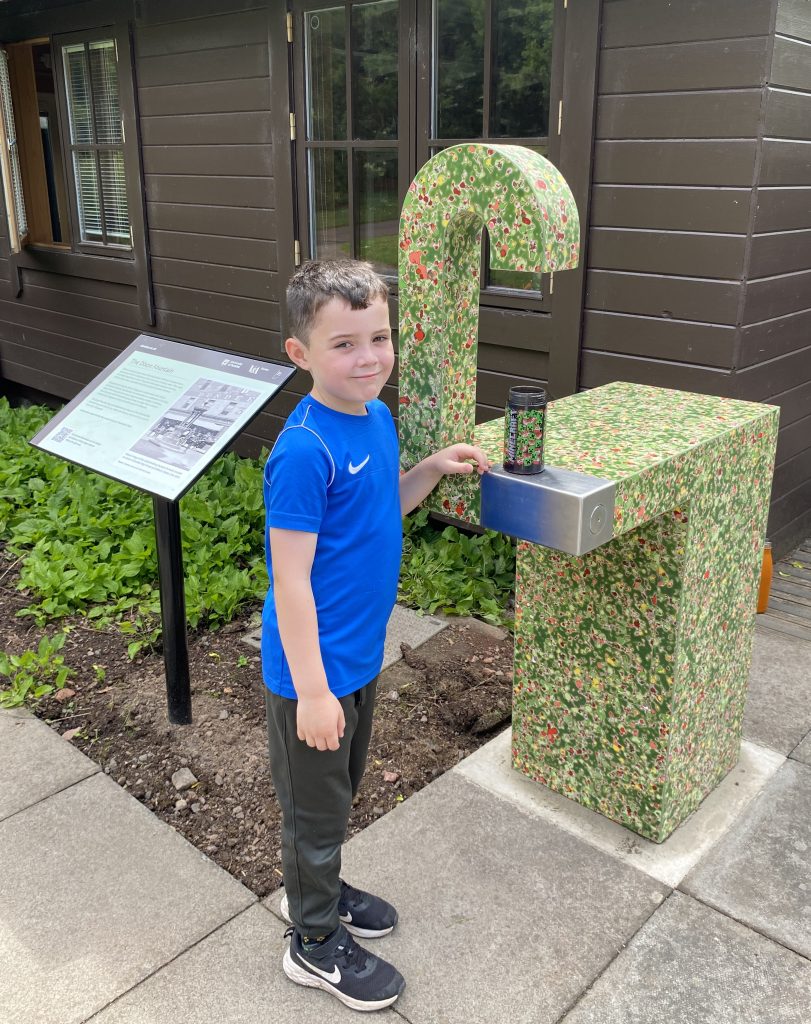 Designing Dixon
It was back in 2019 that DES secured funds from Scottish Enterprise, Scotland's economic development agency, to work with Mirrl on designing a drinking fountain fit for the 21st century. Teaming up with Neptune Fabrications, metalworkers from Ibrox in Glasgow, over a period of months we batted ideas back & forth. We wanted to create a drinking fountain that was sculptural but had visual clarity, was easy to use and accessible to people using wheelchairs. We were after a fountain that could be installed temporarily for say festivals, or permanently outdoors or indoors. Form and function were to be on equal footing and it was vital that Dixon would catch-the-eye and be a brilliant addition to our everyday landscape.
The resulting design of strong angular lines was inspired by what Simon describes as the 'pragmatism of the Dutch de Stijl movement'. An early 20th century design movement that advocated simplicity over the decorative, it was a visit a few years back to the Rietvald Schroder House in Utrecht designed by the Dutch architect Gerrit Rietvald in 1924, that confirmed Simon's belief in strong lines.
'The real joy for us was having the freedom to explore and interrogate the idea of the drinking fountain until we were satisfied and proud of our design. We hope that it can be adopted by councils, institutions, festivals, clubs and individuals alike and really help make a significant impact on reducing further plastic waste.'
'It was staring me in the face: the tap is a universal visual symbol that signposts a water supply and its shape is no accident. The curving shape of a tap is the most effective way of pushing water upwards from its supply, downwards into, say a sink or a water bottle. A curve is much simpler to produce than three jointed components.'
Simon Harlow of Mirrl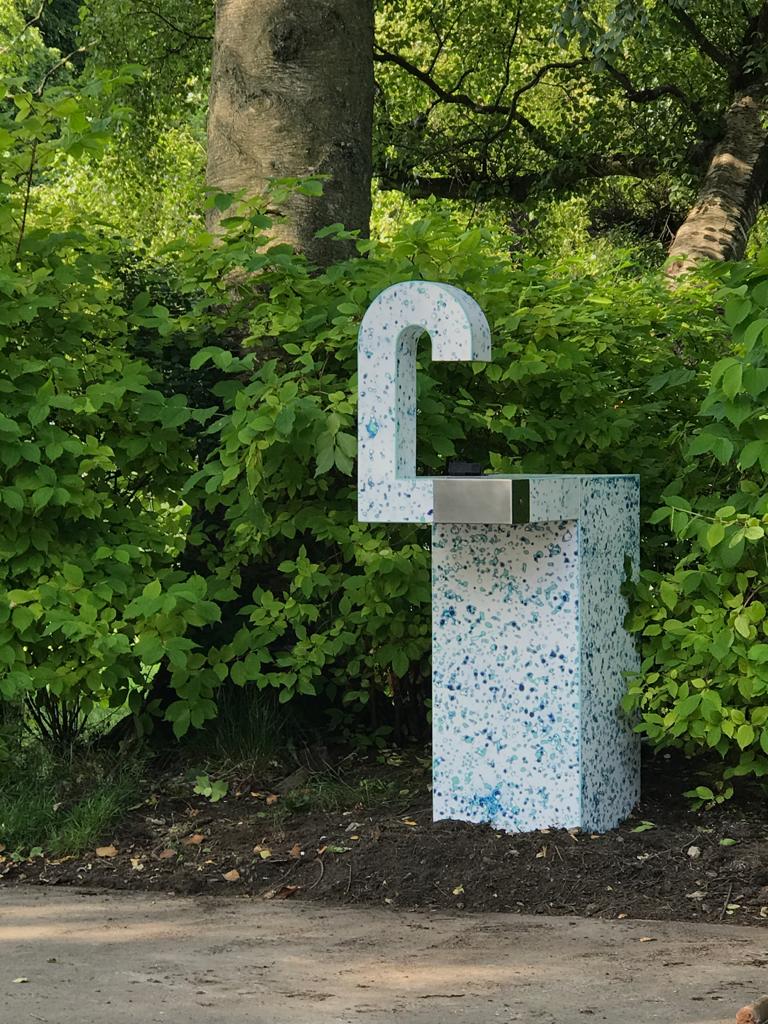 Dixon in London
In 2021 Dixon made its London debut as part of DES's exhibition Design for Our Times, that formed part of London Design Festival / Brompton Design District. Thanks to South Kensington Estates we were able to site the fountain outside South Ken tube, a hop & a skip from the V&A. Unsurprisingly, Dixon cut a dash! It remained in position until early 2022 before travelling on to the world-renown design museum Vitra, in southern Germany, to form part of Plastic: Remaking Our World, co-curated with V&A Dundee. The exhibition explores the challenges of plastic – arguably an indispensable material that we produce in abundance but when 'thrown away' simply pollutes. Plastic has since toured to V&A Dundee, MAAT in Lisbon and will soon be heading to the National Museum of Singapore and Hyundai Motorstudio in Busan.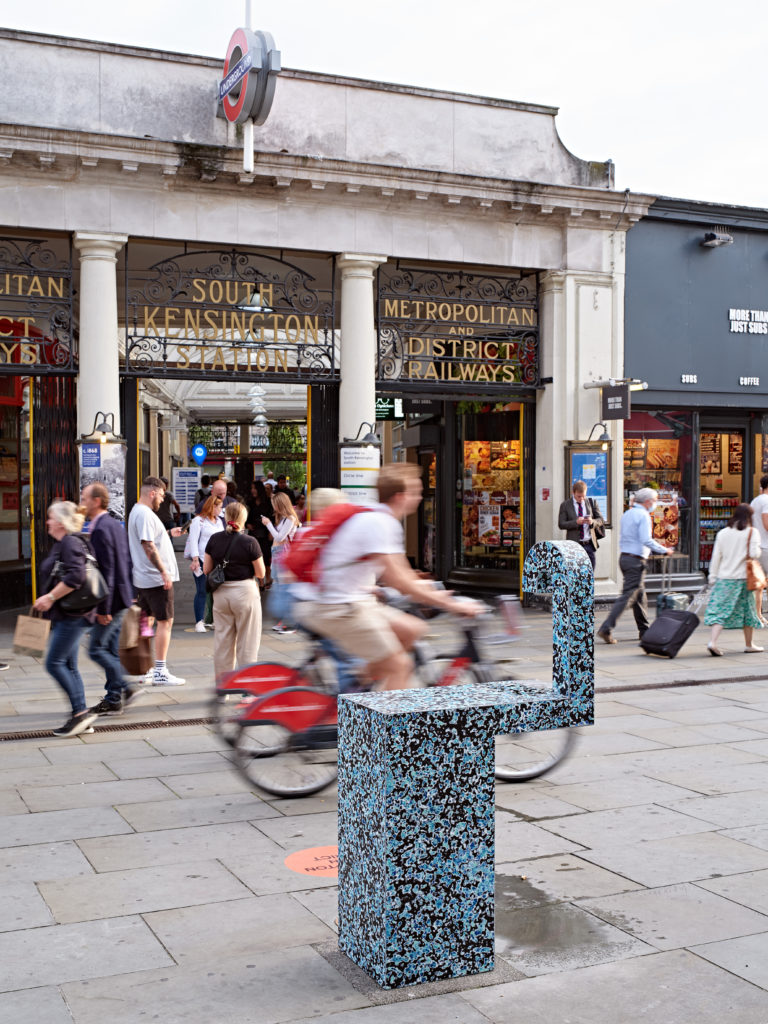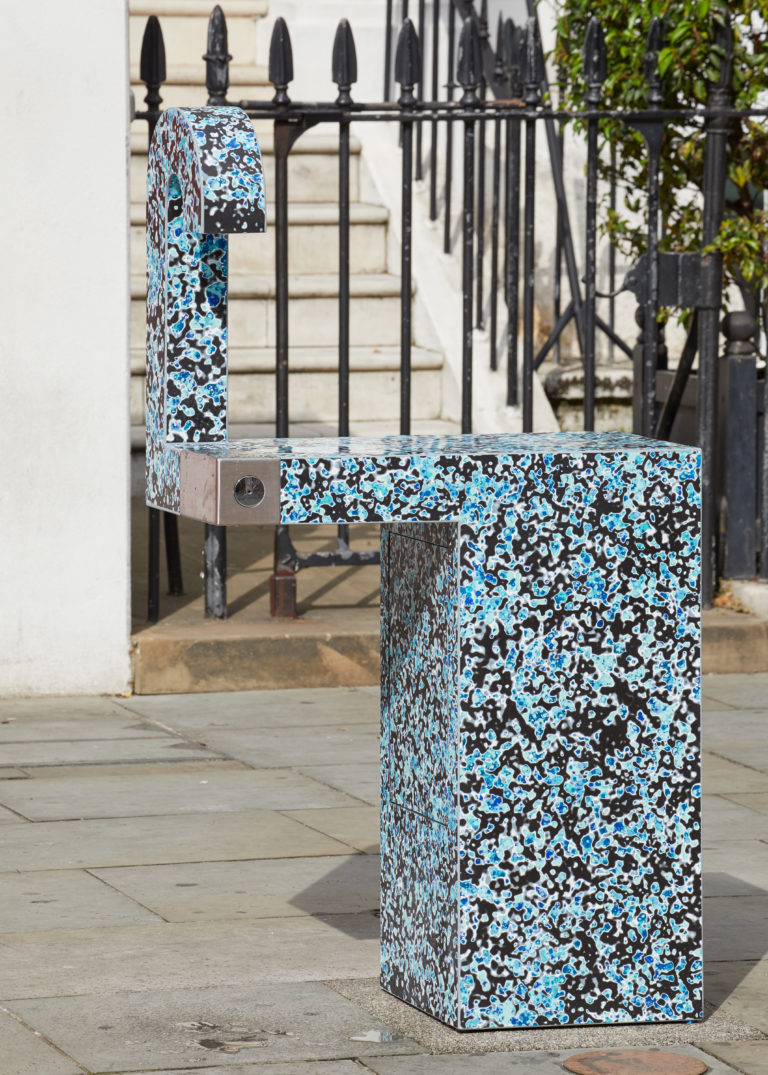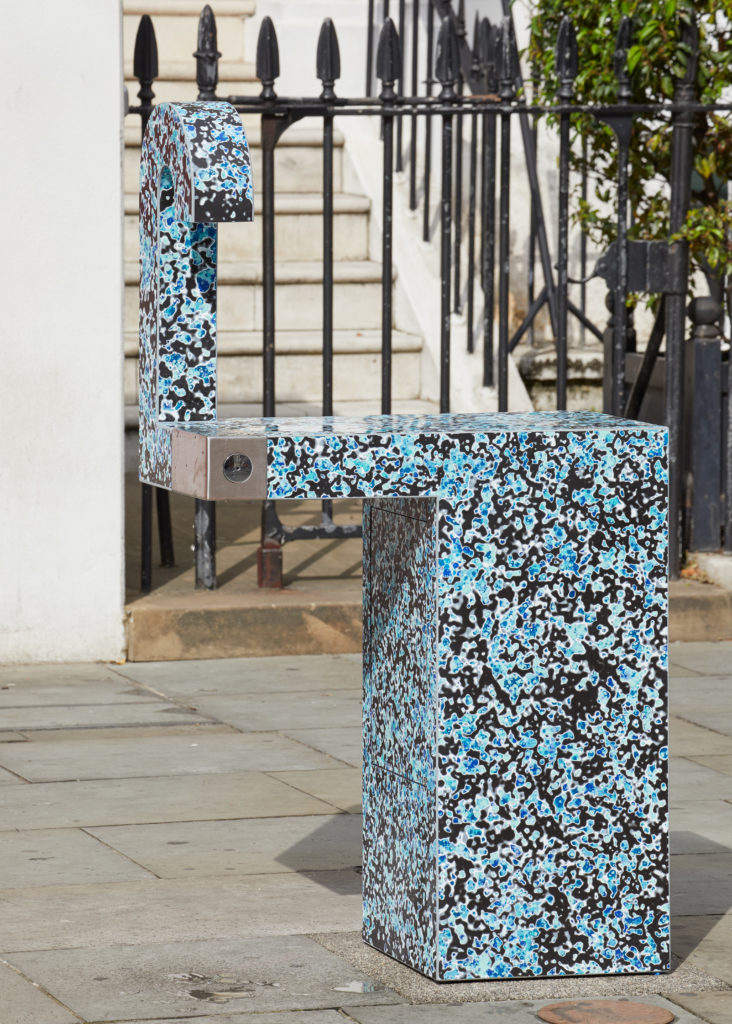 But why is the fountain named Dixon? Simon explains: 'I thought of various watery names but settled on Dixon as homage to Dixon Avenue in Govanhill in Glasgow where we have our workshop. Named after William Dixon, an industrialist who founded Govanhill Ironworks in the early 19th century, the countless furnaces became known as 'Dixon's blazes' that glowed day and night to feed factories with iron and steel.
Dixon on a global tour – Plastic: Remaking Our World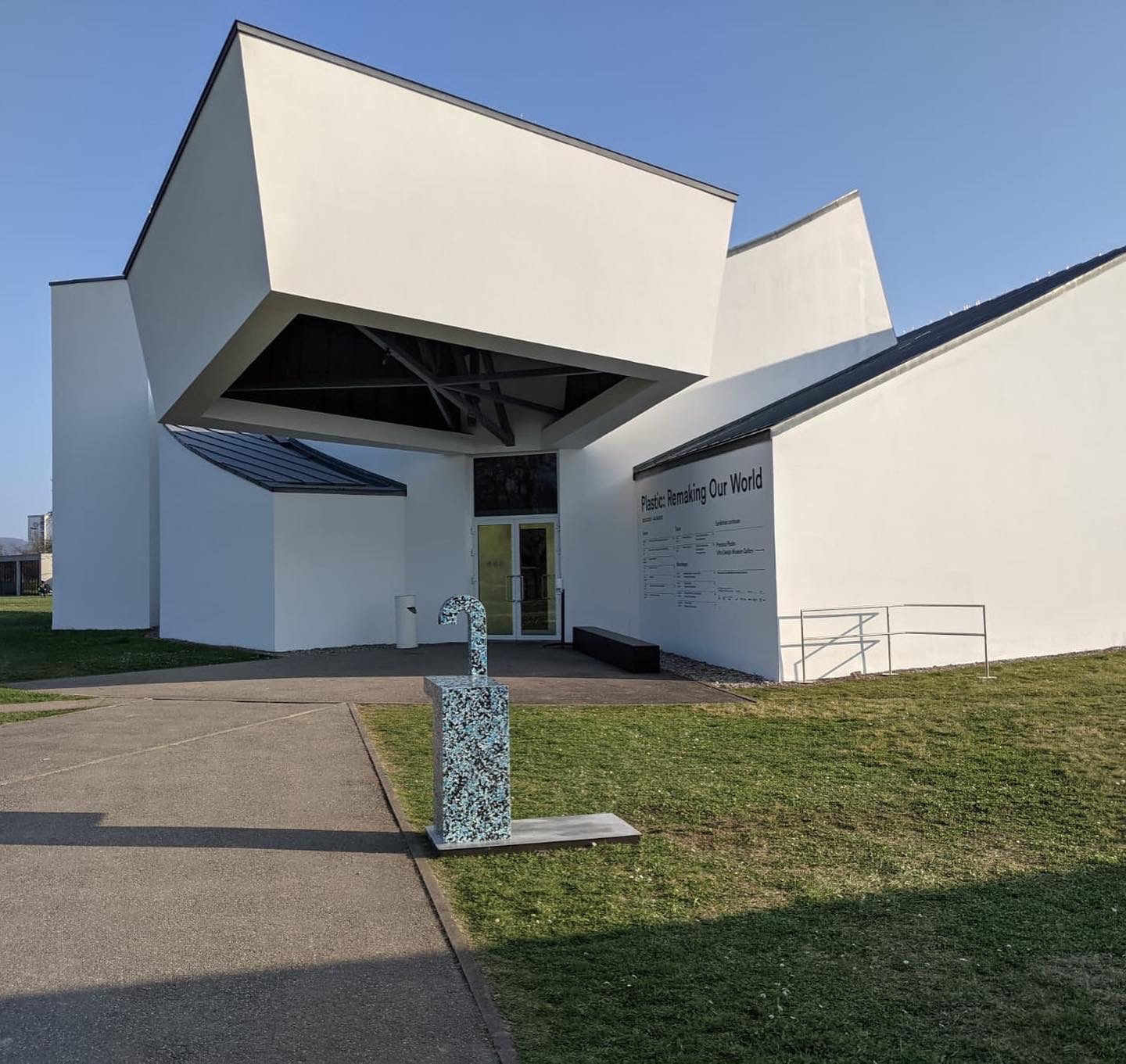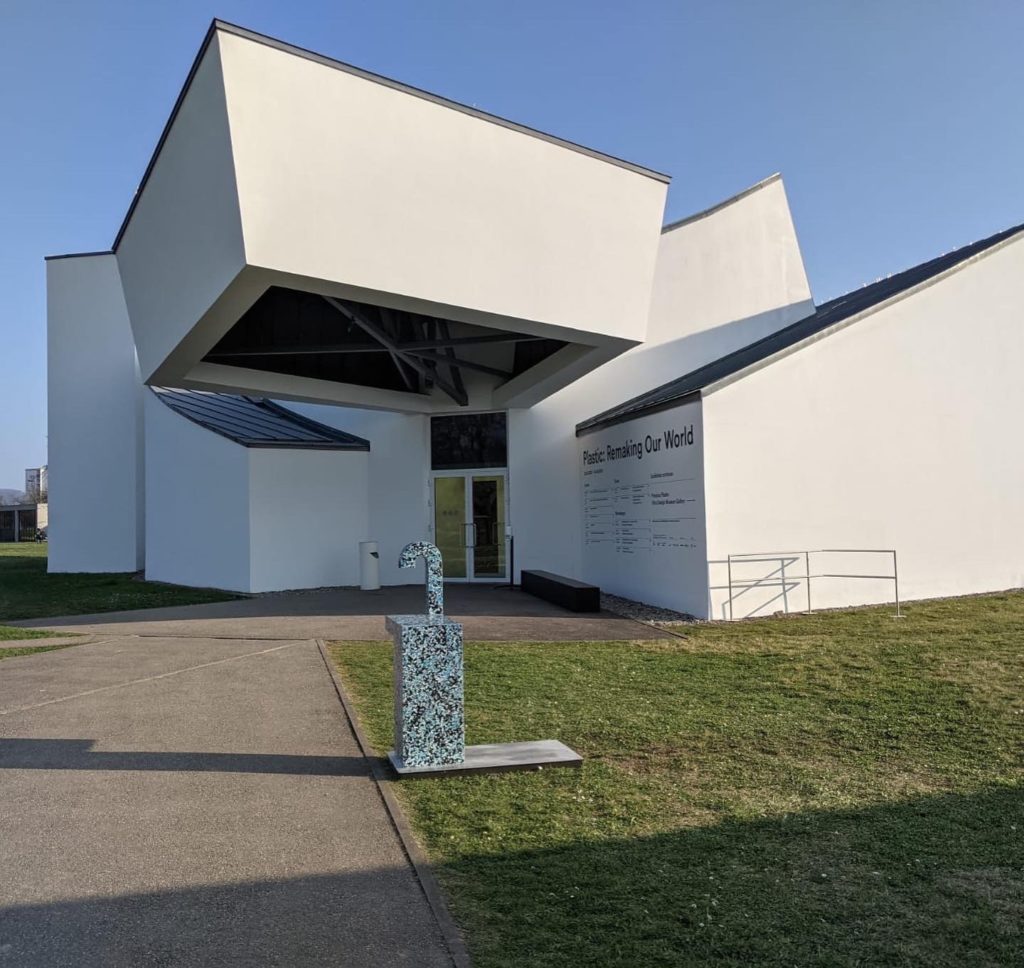 'We were totally thrilled to see Dixon installed in the grounds of Vitra. I have always been a huge fan of the museum so to see Dixon's sharp angles echoed in the Frank Gehry designed museum is awesome. It is brilliant that our drinking fountain is celebrating fresh & free water & offering an alternative to buying plastic bottled water.'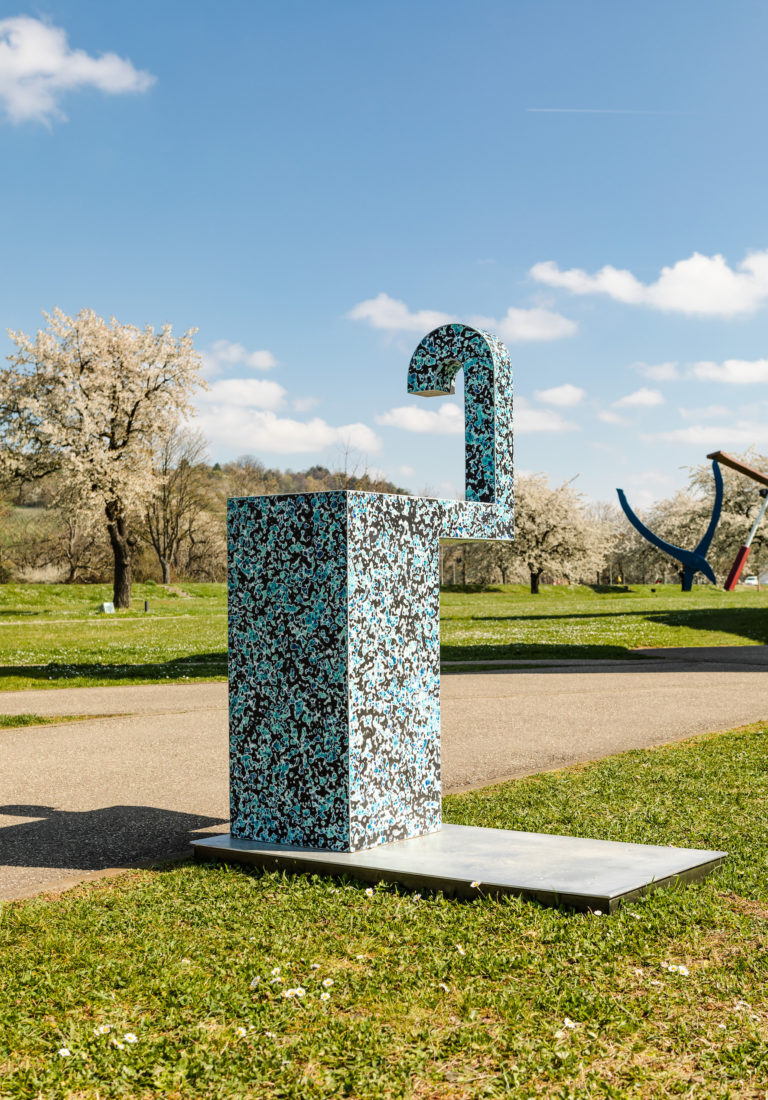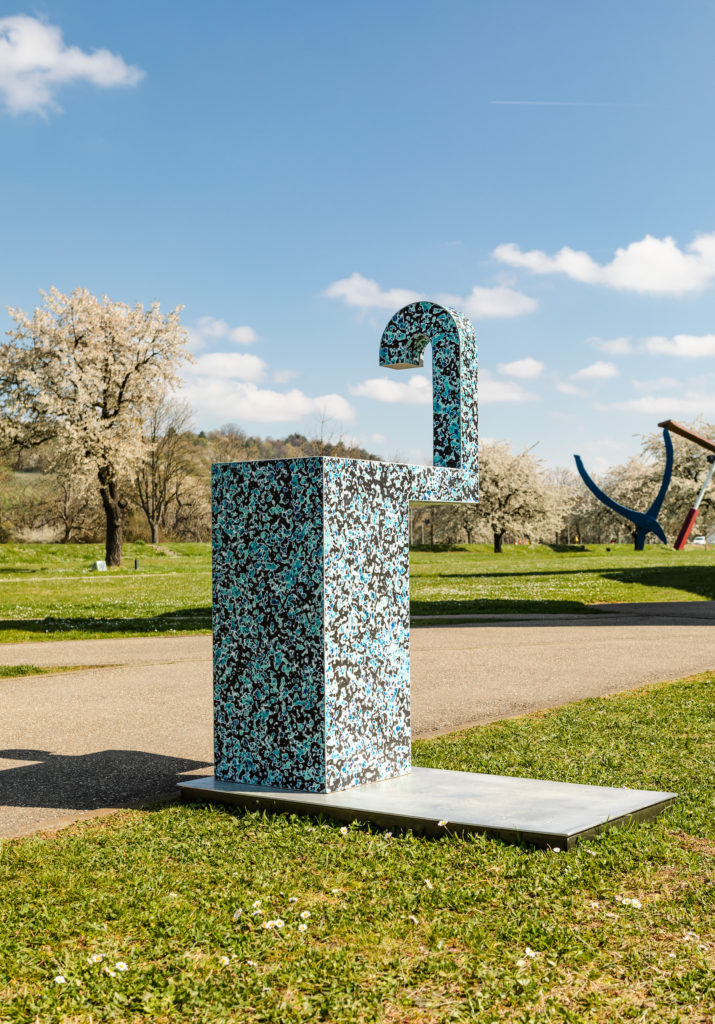 Dixon – The inspiration
Once a common sight across Victorian Britain, drinking fountains were a generous and civic celebration of free and clean drinking water. Following outbreaks of cholera and the realisation that polluted water was the cause, it became imperative to install drinking fountains to supply fresh and clean to an increasingly urban population. The fountains that resulted were invariably beautifully crafted, frequently flamboyant and eye-catching affairs. Yet many of today's drinking fountain and top-up tap are mundane and near-invisible creations. This prompted DES to work with designers, artists & manufacturers to develop drinking fountains for both indoors and out – fountains that are brilliantly designed, catch the eye and celebrate free and clean water.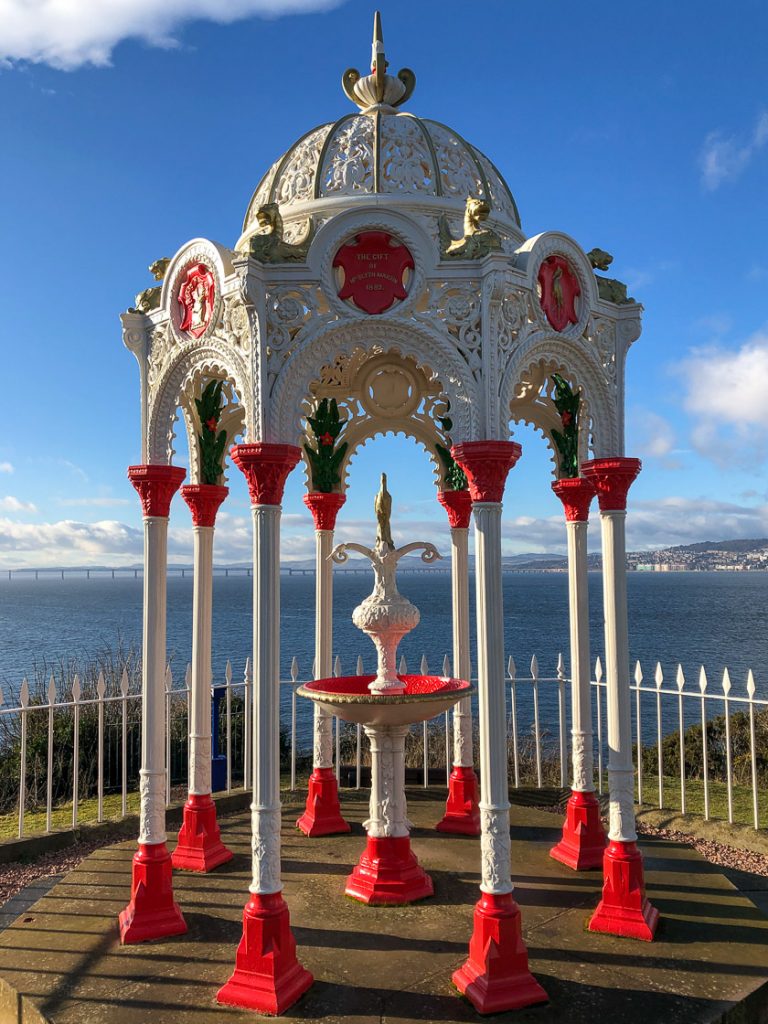 A particular inspiration to DES were the fountains designed and manufactured by Walter Macfarlane & Co at Saracen Foundry in Glasgow. Georgina Grant, Curator of Technology at the National Museums Scotland which is home to Macfarlane's No 21 drinking fountain, is likewise a fan. On display in their Grand Hall, Georgina sees the No 21 drinking fountain as a great example of the versatility of cast iron, marrying art and design with technology. 'What Walter Macfarlane & Co. were doing at the time was not new, but they did it with aplomb. The technology of casting in iron, particularly in terms of mass production and the ability to create almost anything in iron – or so iron foundries would have you believe – was well developed by the latter half of the nineteenth century. The skill, design and quality of the castings produced by Walter Macfarlane & Co., made them stand out from the crowd,' believes Georgina.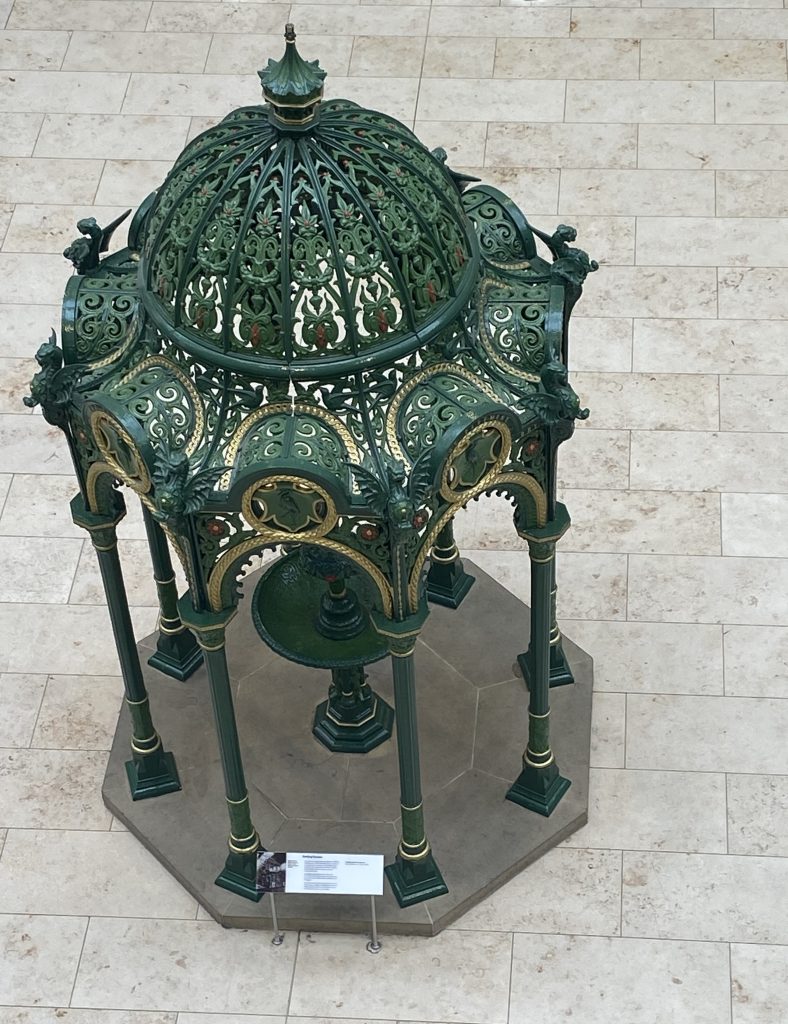 At their peak, Walter Macfarlane & Co. were without equals. Their foundry at Possilpark in Glasgow, constructed in 1872, covered 80 acres and employed around 1,200 people. Using agents and catalogues, they marketed their goods incredibly well, both at home and abroad. The sheer scale of production, the dizzying range of goods available, the quality of design and business acumen all propelled them towards being world leaders in the manufacture of architectural castings.
Georgina Grant, Curator of Technology, National Museums Scotland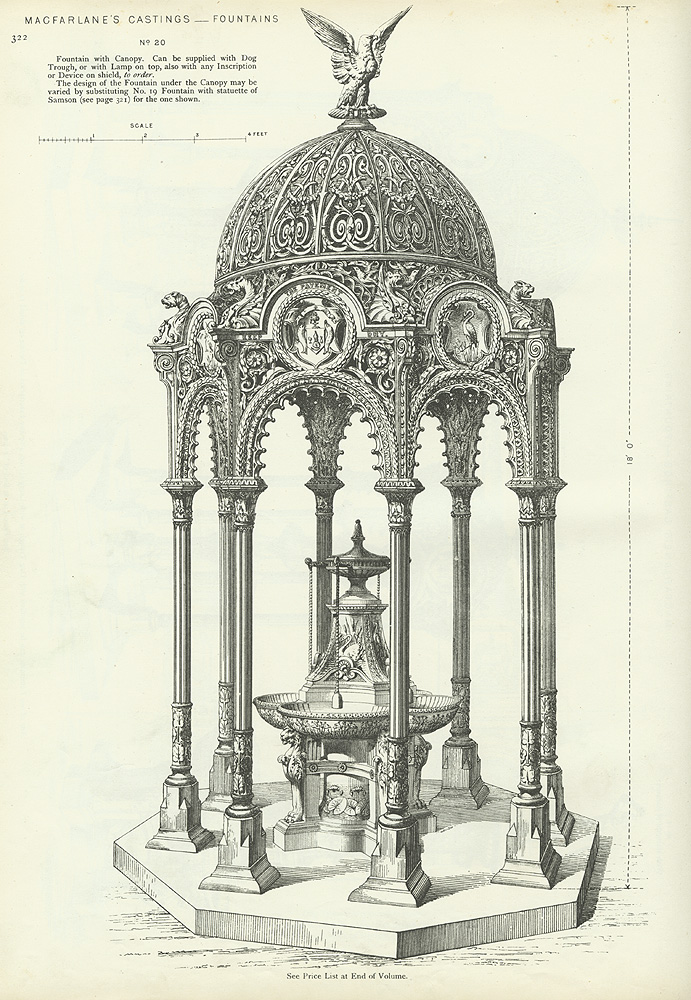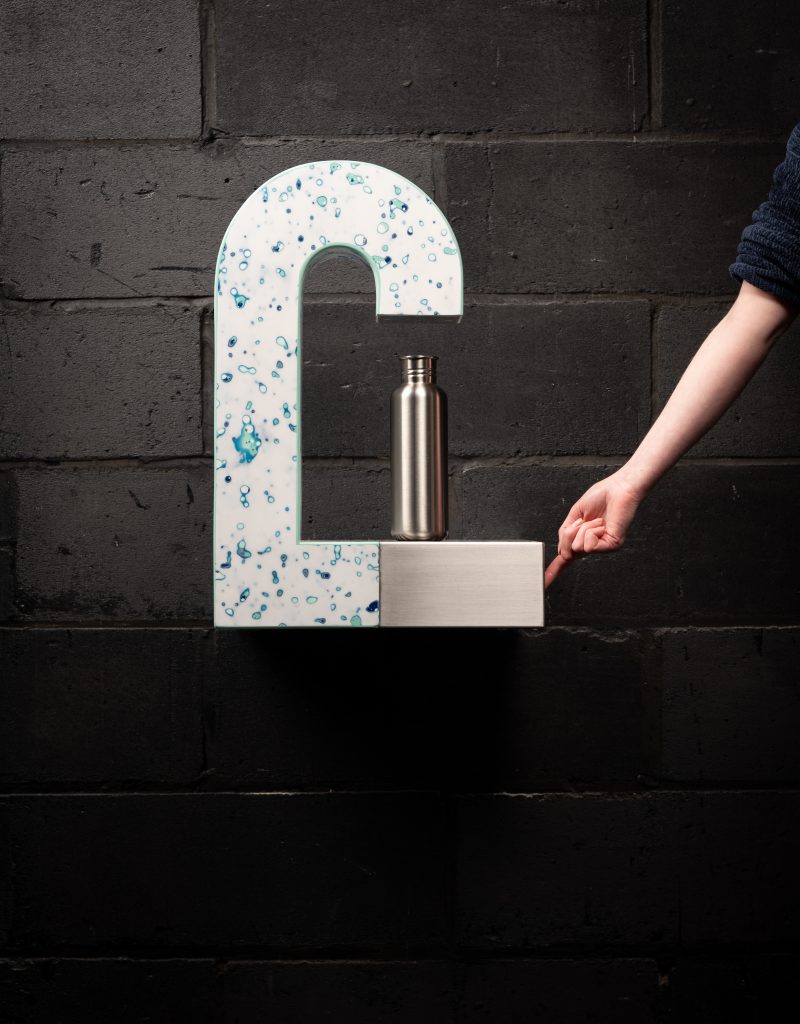 If you would like to find out more about acquiring a Dixon drinking fountain or working with Design Exhibition Scotland on commissioning a drinking fountain, please get in touch with susanna@designexhibitionscotland.co.uk
Photography Johnny Barrington | Susanna Beaumont | Ruth Clark | Andy Stagg