Design Exhibition Scotland is updating the drinking fountain for the 21st century. Once a common sight across the country, drinking fountains were a generous and civic celebration of free and clean drinking water. They were invariably beautifully crafted, frequently flamboyant & eye-catching affairs. Susanna Beaumont reports & quenches her thirst.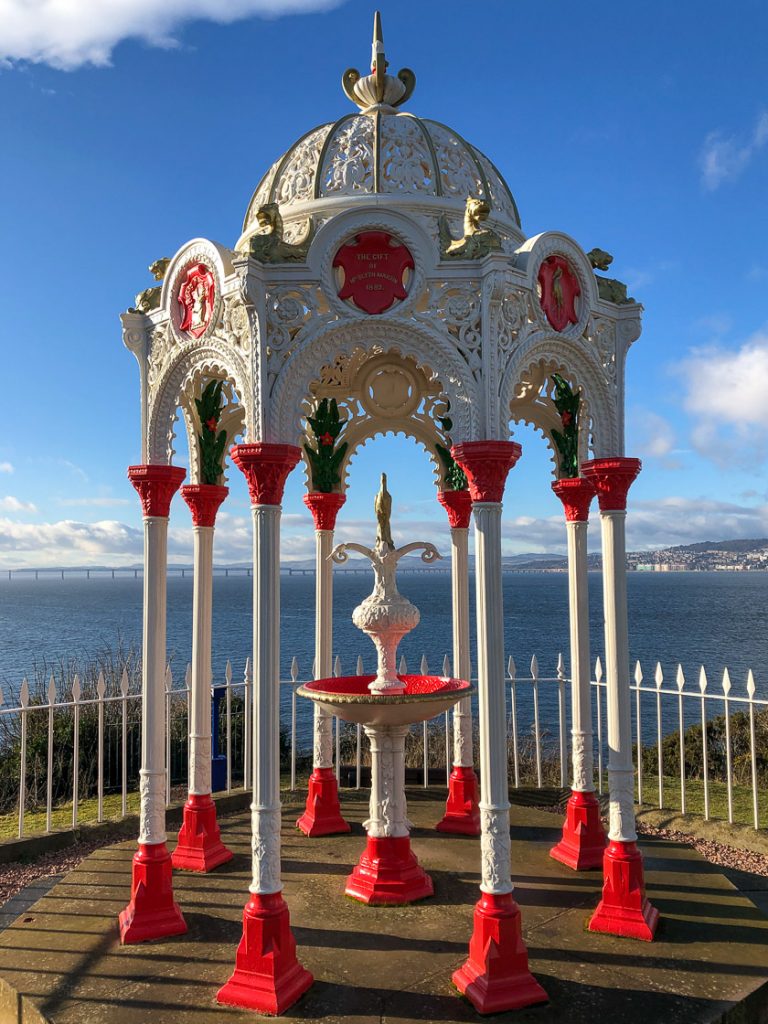 Yet many of today's new breed of drinking fountain and top-up tap are modest, mundane and near-invisible creations. So Design Exhibition Scotland is bucking the trend and working with designers, artists & manufacturers to develop drinking fountains for both indoors and out . . fountains that are brilliantly designed, catch the eye & celebrate free & clean water!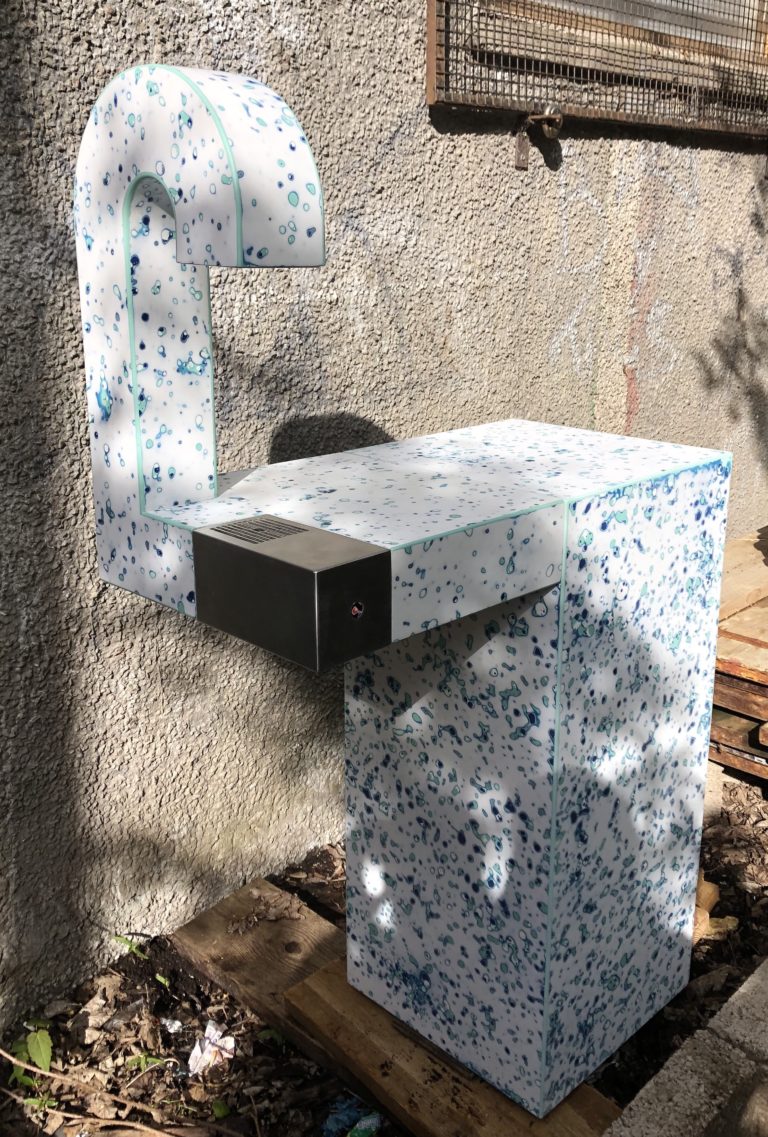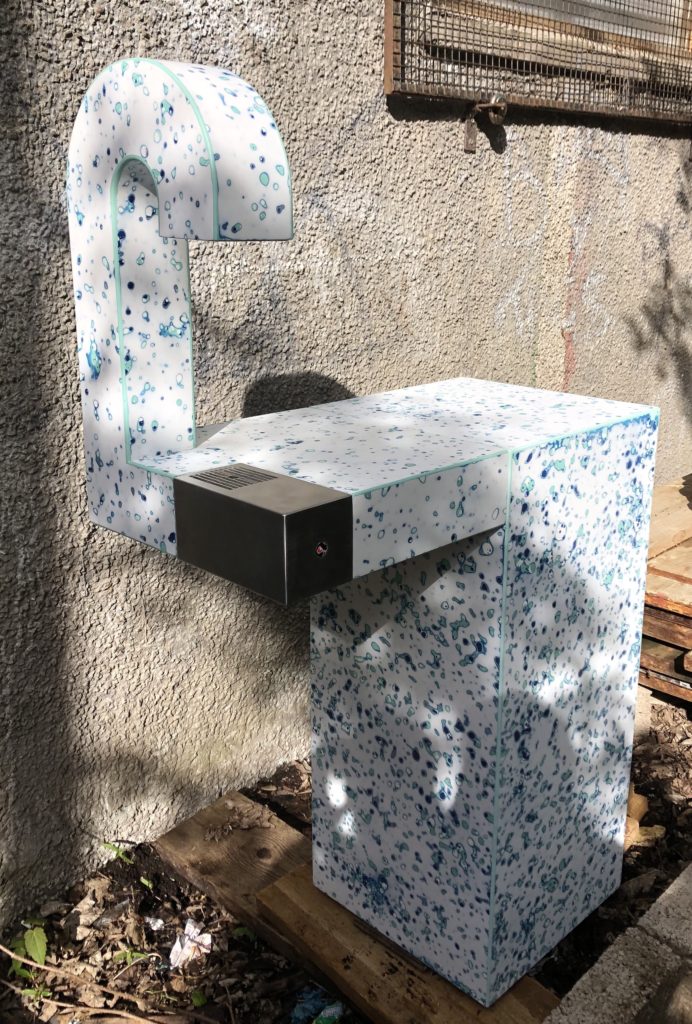 So we are delighted to introduce Mirrl of Glasgow's prototype drinking fountain . . Dixon!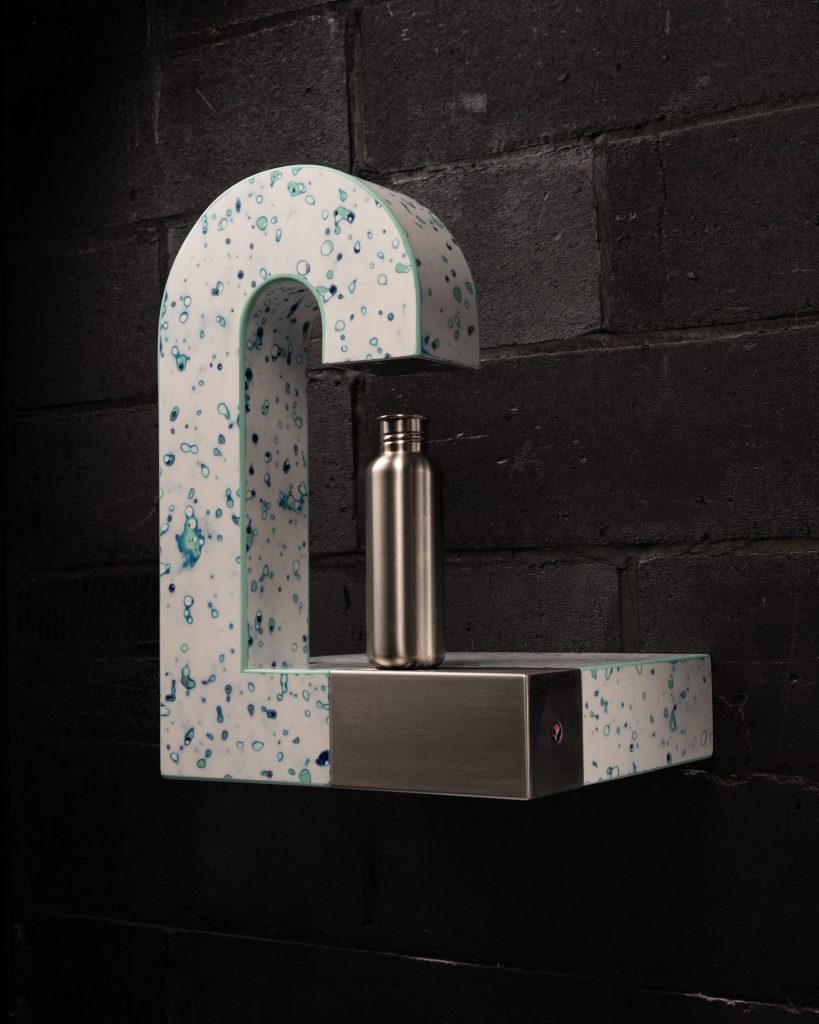 It was last year that DES approached Mirrl to discuss the possibilities of working together on a drinking fountain that was resolutely contemporary & good looking. Mirrl had shown their work at both DES 2018 & DES 2019, so their inventiveness, openness to collaboration & overall enthusiasm was known. And of course with rising concerns about single-use plastic bottles, they too thought time was more than ripe to revive the drinking fountain & to make clean water more freely available when we are out and about. In short, we all wanted to kick back at the habit that has developed over the last twenty years or so, of spending good money on water that is drunk in minutes but wrapped in plastic that will survive for centuries.
'The real joy for us was having the freedom of time to properly explore and interrogate the subject and its development until we have reached a point we are really satisfied with and an object we are really proud of. We really hope that it can be adopted by councils, institutions, festivals, clubs and individuals alike and really help make a significant impact on reducing further plastic waste,' Simon Harlow of Mirrl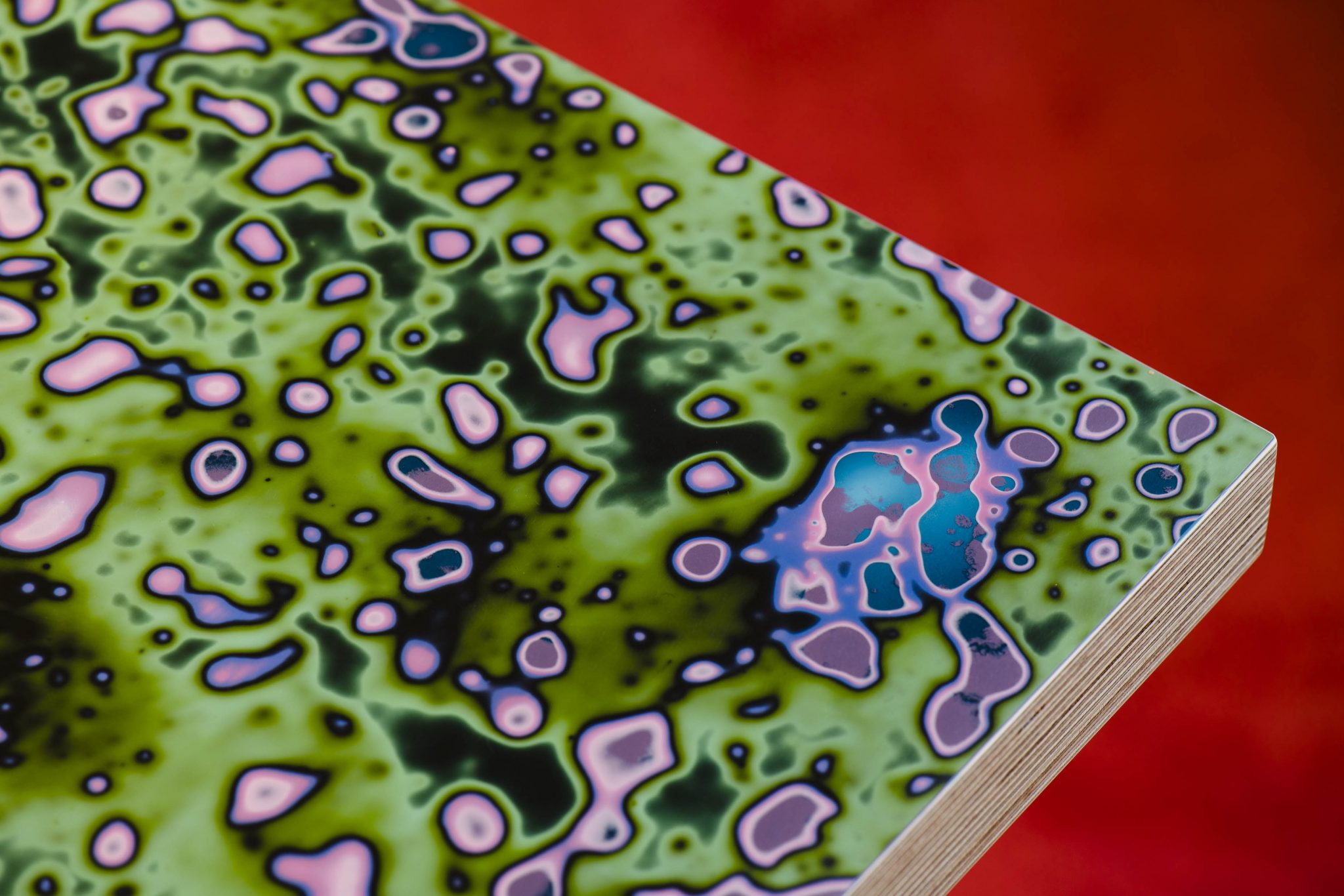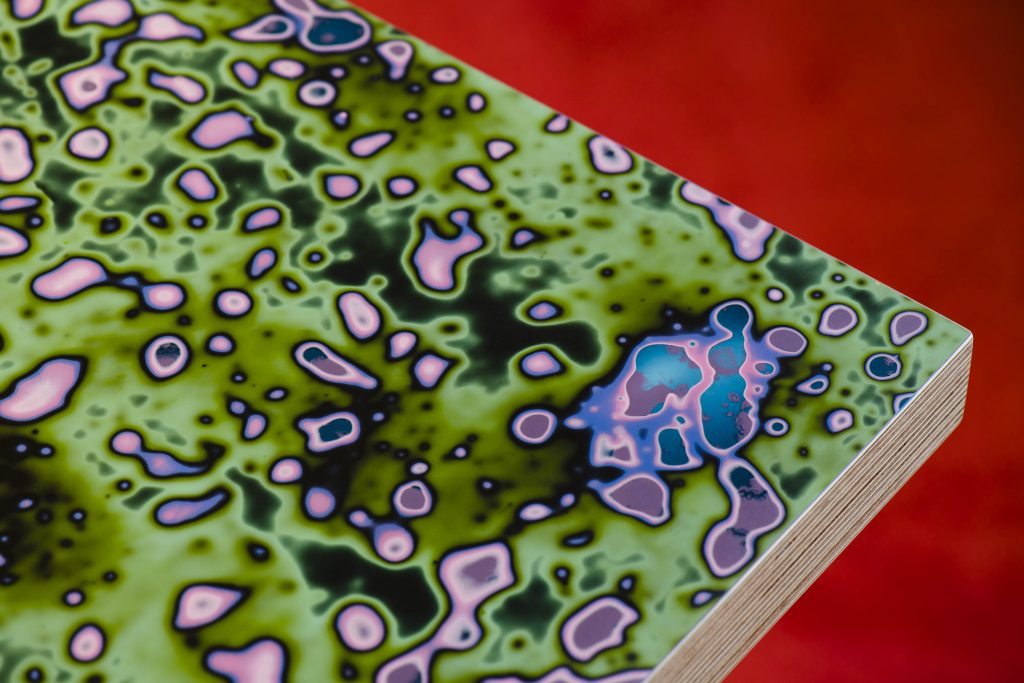 Mirrl of Glasgow was founded in 2018 by Glasgow School of Art graduates, Simon Harlow & Lewis Harley. Ever adventurous & explorers of new materials, Harlow & Harley they named their new surface material, a beautifully robust resin, mirrl. They leapt at the opportunity to become fountaineers. DES developed a brief & secured financial support from Scottish Enterprise. We teamed up with Neptune Fabrications, metalworkers of distinction from Ibrox in Glasgow, and over a period of months batted back & forth ideas. We wanted a prototype fountain that could be installed temporarily, for say festivals or permanently outdoors or inside. Carefully considering accessibility, form and function and the importance of catching-the-eye and adding the well-designed to our everyday landscape, Mirrl have developed a prototype fountain, clad in their beautiful yet robust new surface material, mirrl.
'It's a new departure for us' explains Simon Harlow, 'and the first time Mirrl has collaborated with Neptune Fabrications. It was Jim Whitelaw, Neptune's founder who researched and developed the internal mechanisms thinking about ease of installation, maintenance, hygiene, effective means of production at a high level and technical efficiency & proficiency.'
As to the actual design, Simon declares it was 'starring me in the face, a tap is a universal visual symbol that is understood to mean a water supply and its shape is no accident. The curving shape of a tap is the most effective way of pushing water upwards from its supply, downwards into, say a sink or a water bottle. A curve is much simpler to produce than three jointed components.' Harlow's design was also shaped by what he describes as the 'pragmatism of the Dutch de Stijl movement, an early 20th century design movement that advocated simplicity over the decorative. 'It was a visit to the Rietvald Schroder House in Utrecht, designed by the Dutch architect Gerrit Rietvald in 1924, that really confirmed my belief in strong lines.'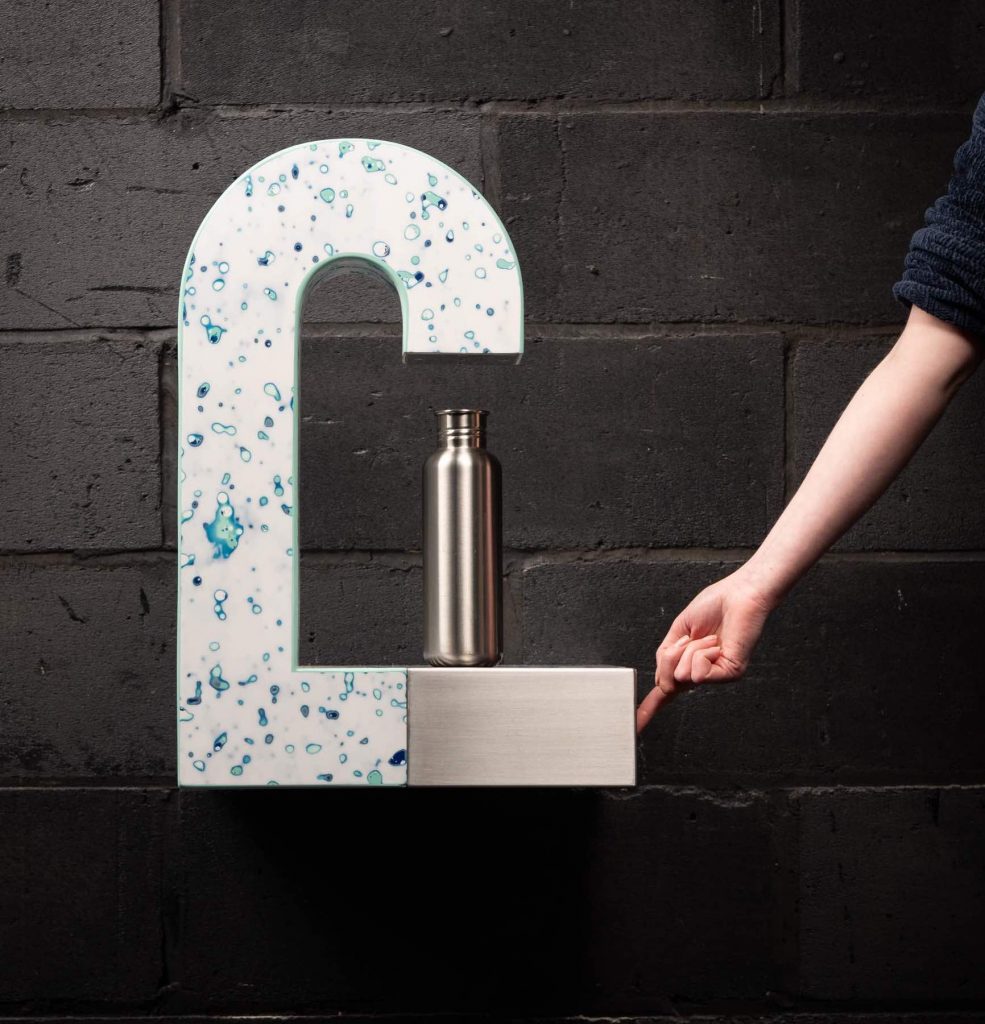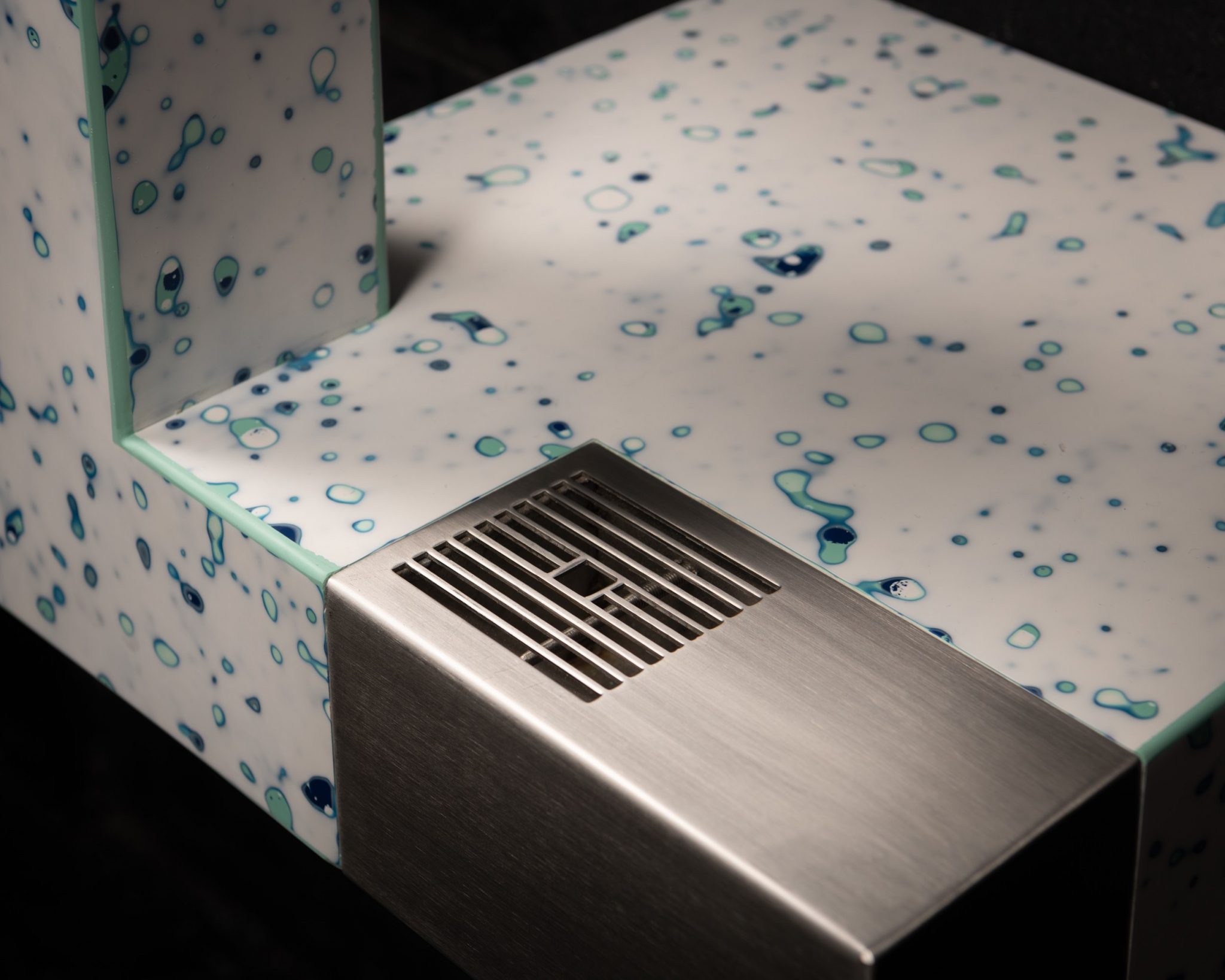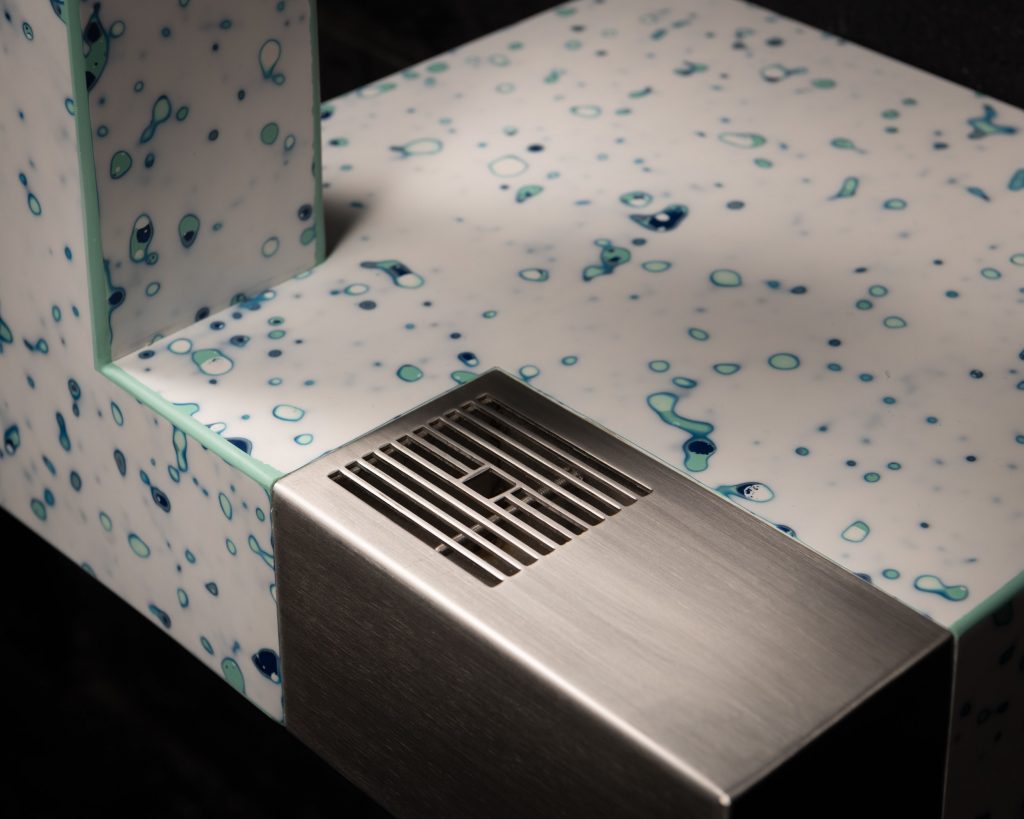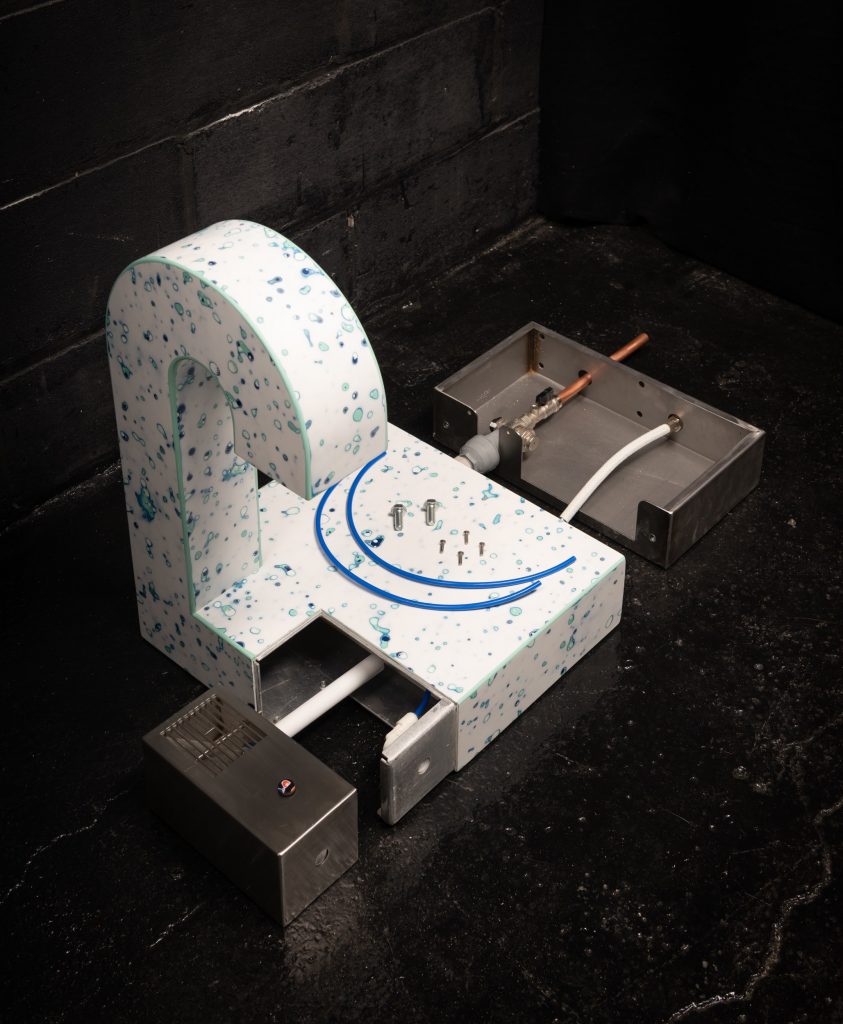 As to why the fountain is named Dixon, Simon explains: 'I thought of various watery names but settled on Dixon as homage to Dixon Avenue in Govanhill where Mirrl has its workshop. The avenue is named after William Dixon, an industrialist who founded the Govan Ironworks in the early 19th century. The countless furnaces became known as 'Dixon's blazes' as they burned and glowed day and night to feed industry with iron and steel. It is also the place where the company Allscot has been based since the 1970's. We've been buying our polyester and fibreglass from them for the last 15 years. So Mirrl originates in material form from there.'
As to future, DES & Mirrl are now further developing Dixon, exploring ways to start production & to create an outstanding range of outstanding fountains.
More drinking fountains commissioned by DES
Drinking fountains are fast becoming a passion for DES. For last year's Design Exhibition Scotland, we invited artist Tania Kovats and Laura Aldridge and James Rigler of Bad Furniture, to develop and design a series of fountains that responded to a brief that invited a sense of adventure. Tania Kovats has long charted rivers, seas and oceans through drawing, text and sculpture. For her 2014 exhibition, Oceans at The Fruitmarket Gallery, she presented flasks of water collected from the oceans of the world; and her installation at Jupiter Artland, entitled Rivers, saw her install in a boat house, water drawn from Britain's rivers.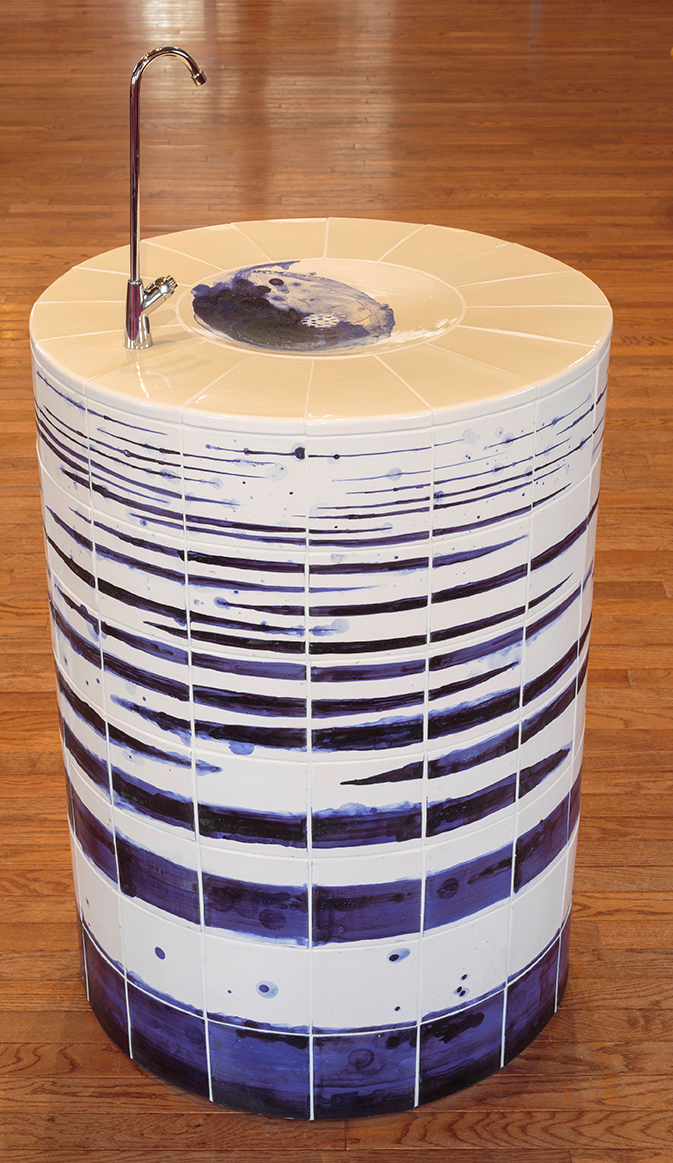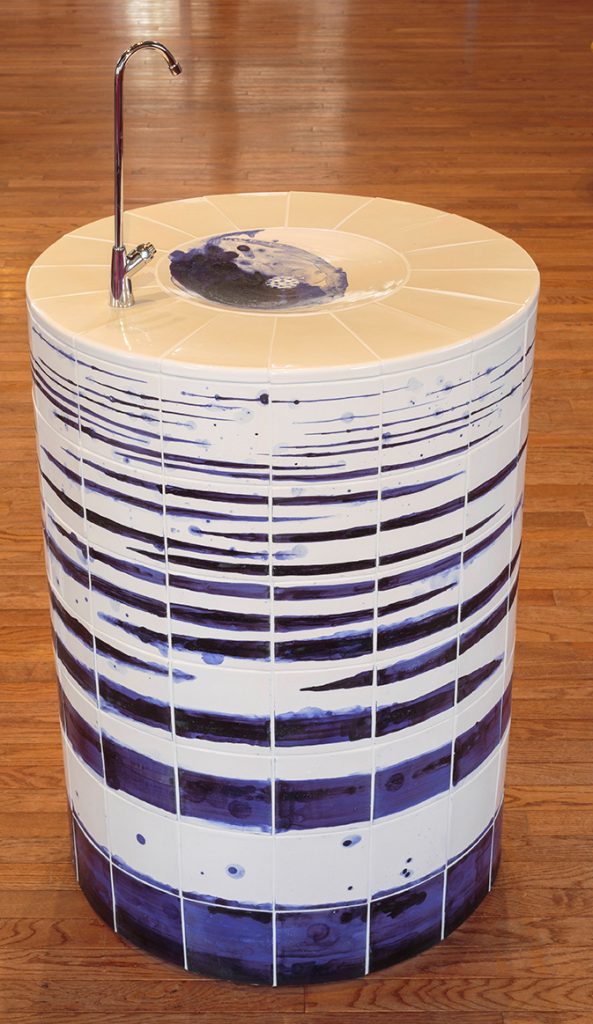 WELL is her first drinking fountain. Circular and free-standing, a specially-conceived interior structure is covered with hand-made tin-glazed earthenware tiles, each hand-painted by Kovats. Loading her paint brush with blue cobalt paint, Kovats led the brush across each tile, leaving in its wake a flow of watery blue colour. Some tiles are darker and more densely filled with colour, on others the lines of paint are finer, the watery liquid having 'pooled'. Reminiscent of ink blots, tidelines and horizons, Kovats suggests both watery depths and the warm shallows.
And we are delighted to say that the UK Government Art Collection have acquired WELL and that Tania is now designing a further drinking fountain. She has been commissioned by The Fruitmarket Gallery to create a site-specific fountain for their revitalised and extended new space, in Edinburgh which will open in 2021.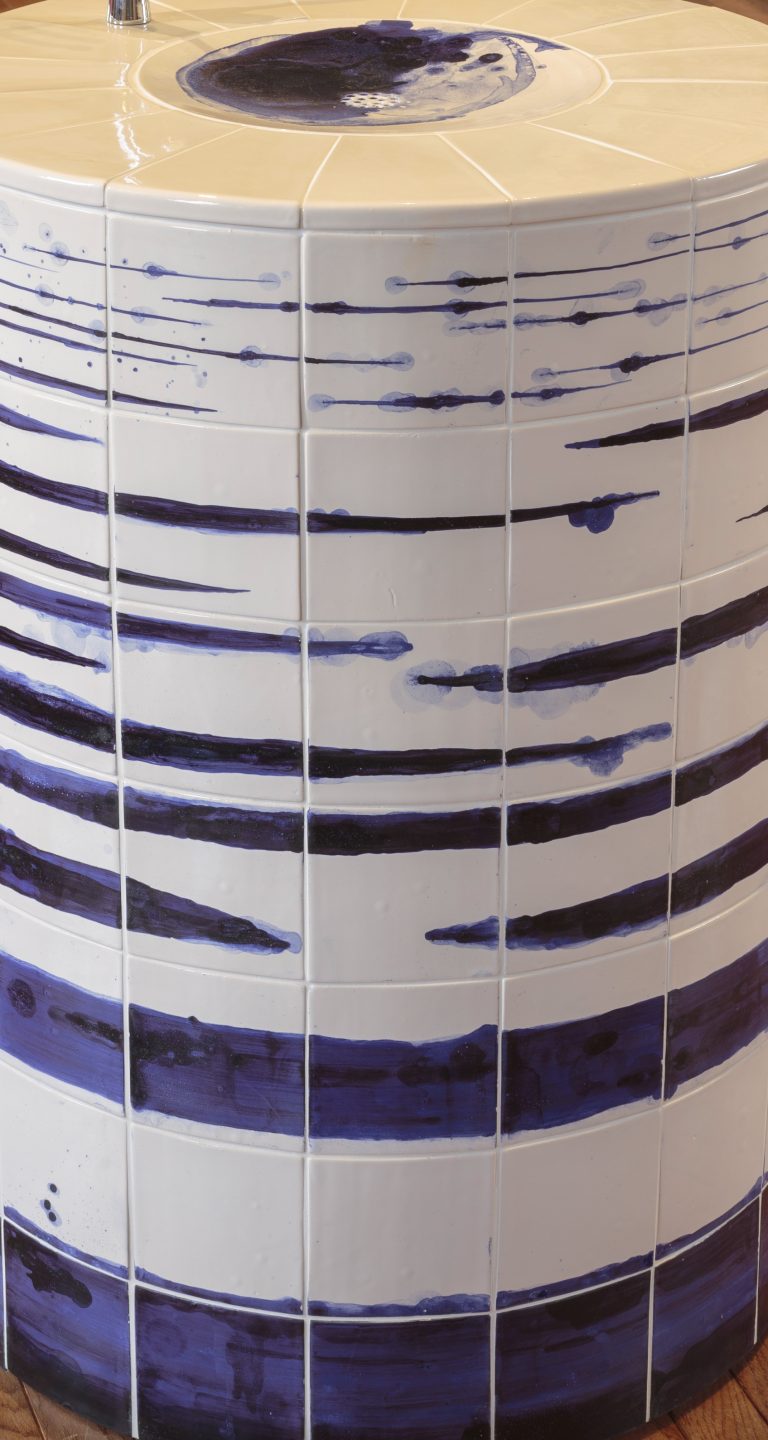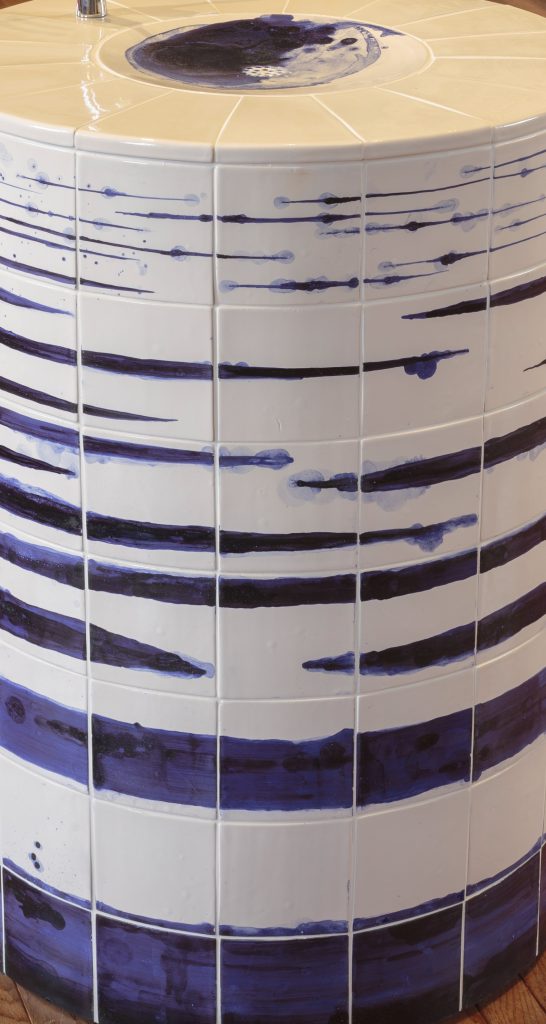 Bad Furniture is the collaborative practice of Glasgow-based artists Laura Aldridge and James Rigler. Their Proposal for a drinking fountain (indoors) combines the playful and the pragmatic. A central ceramic circle signals the water's source, its dimensions allowing water bottles to be easily filled. The backdrop is sheet aluminium, heralding the fountain's presence and creating a beautiful sculptural and eye-catching form. The image of cavorting individuals is from a woodcut entitled The Fountain of Youth, 1536 by the German artist, H S Beham.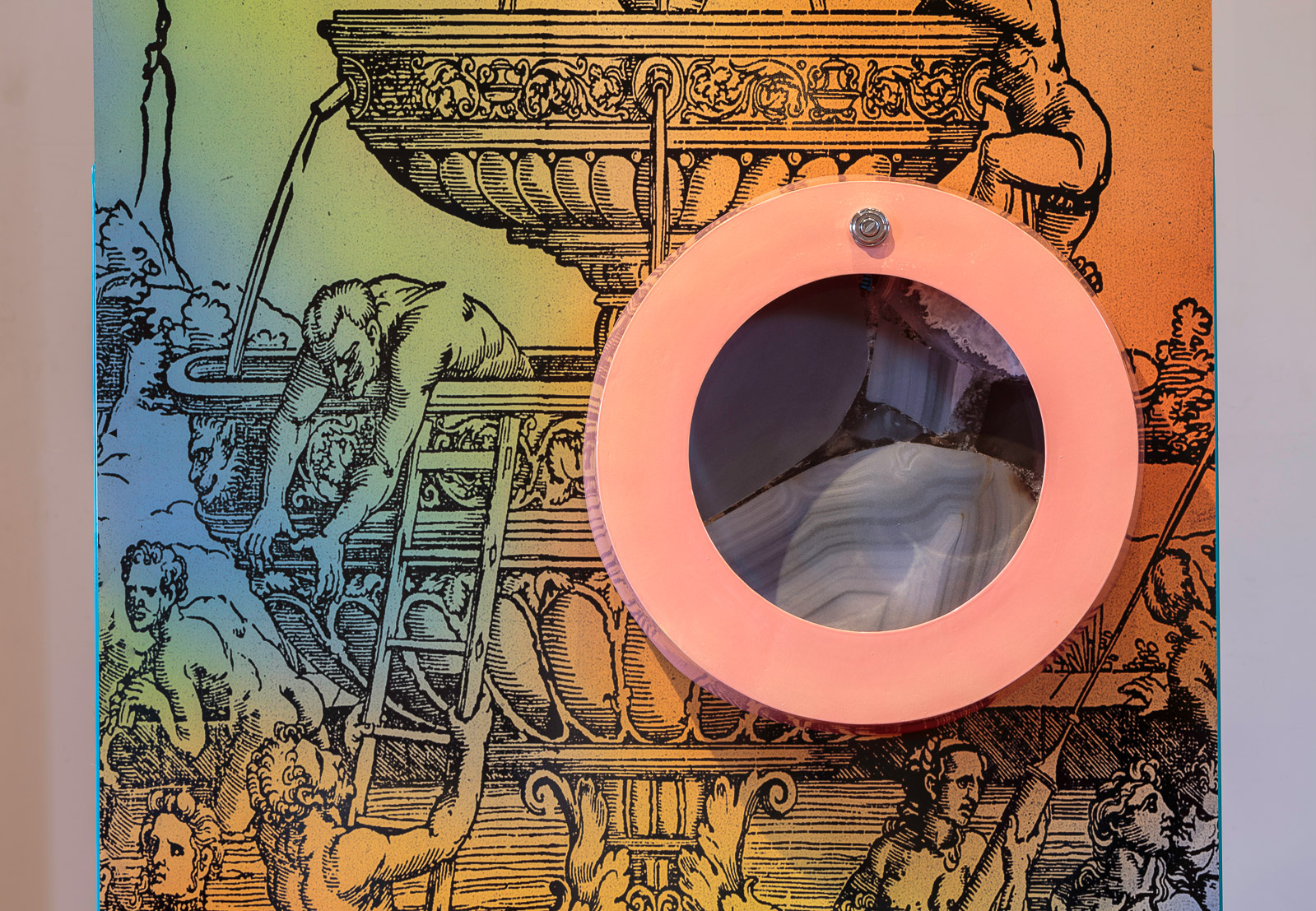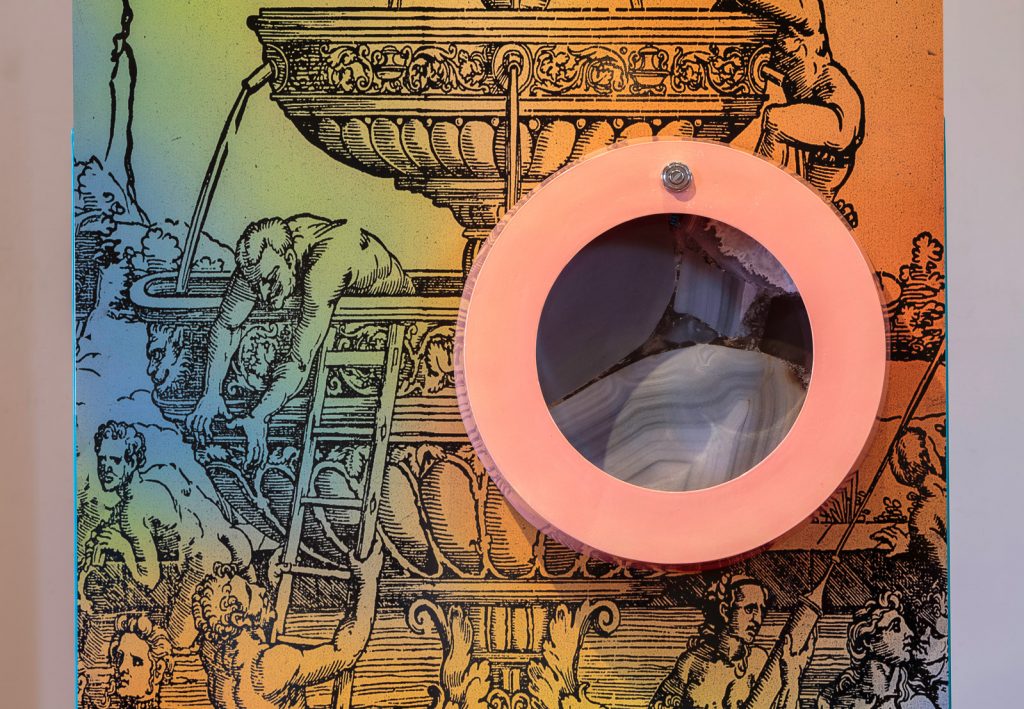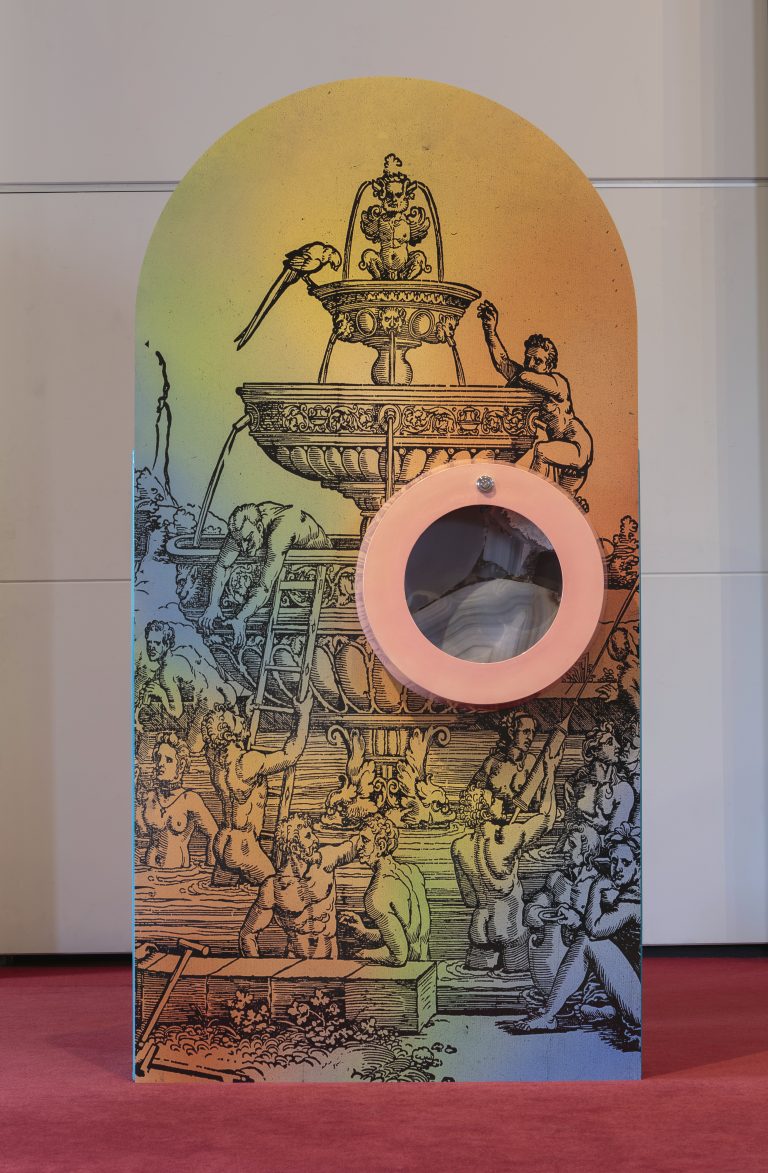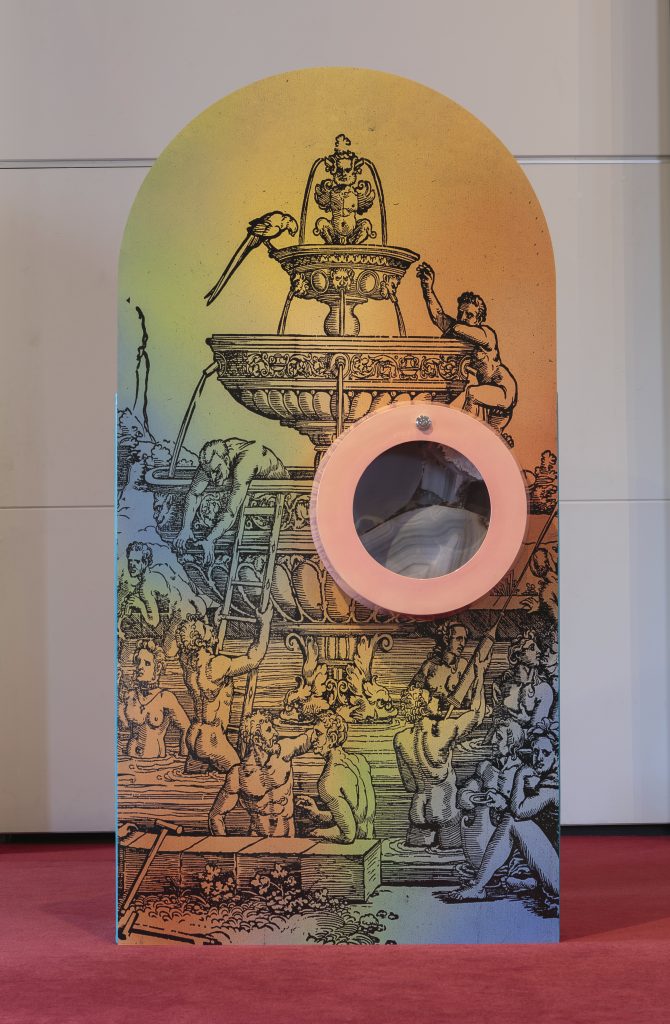 Their Proposal for a drinking fountain (outside) again catches the eye with a botanical drawing printed on to the fountain's aluminium backdrop. The fountain is linked directly by a pipe to mains water. Fresh cool water is then released by pressing a small button and delivered via a spout set within the orange ceramic circle. On the ground sits a semi-circular drinking trough for thirsty dogs.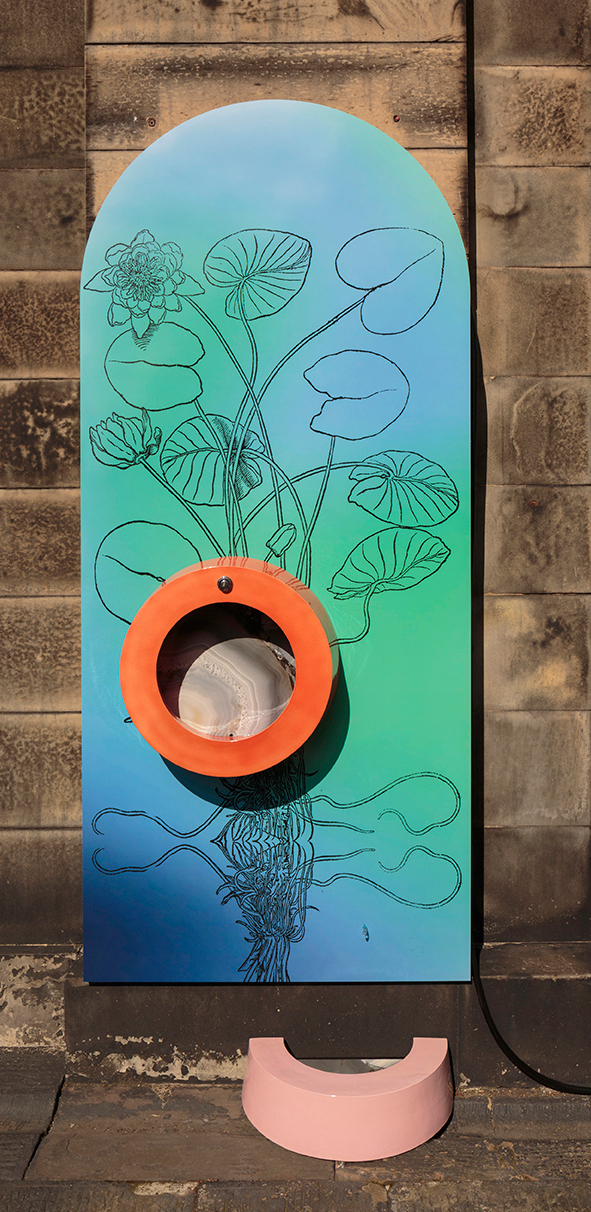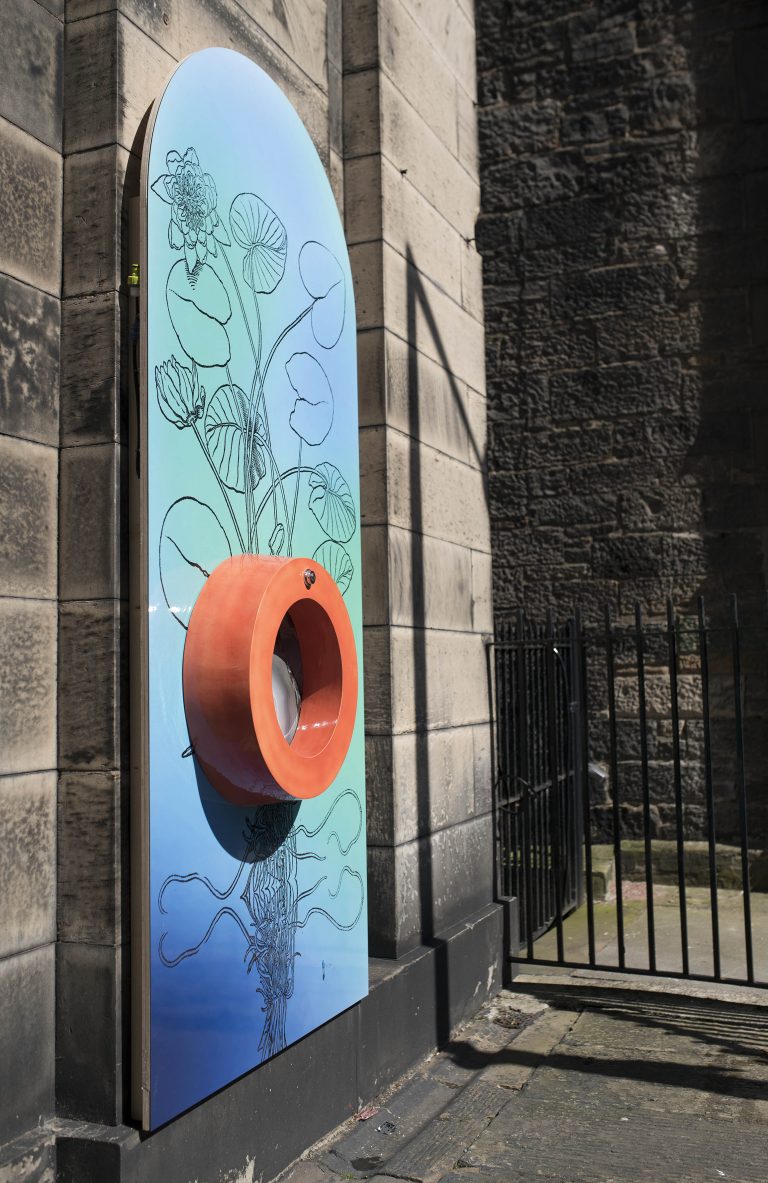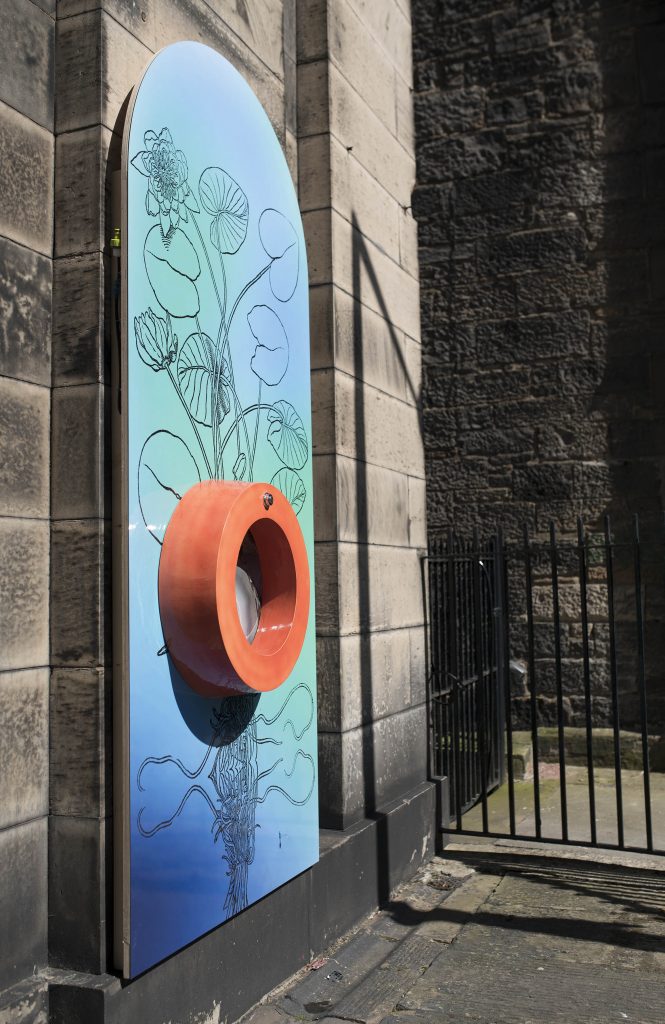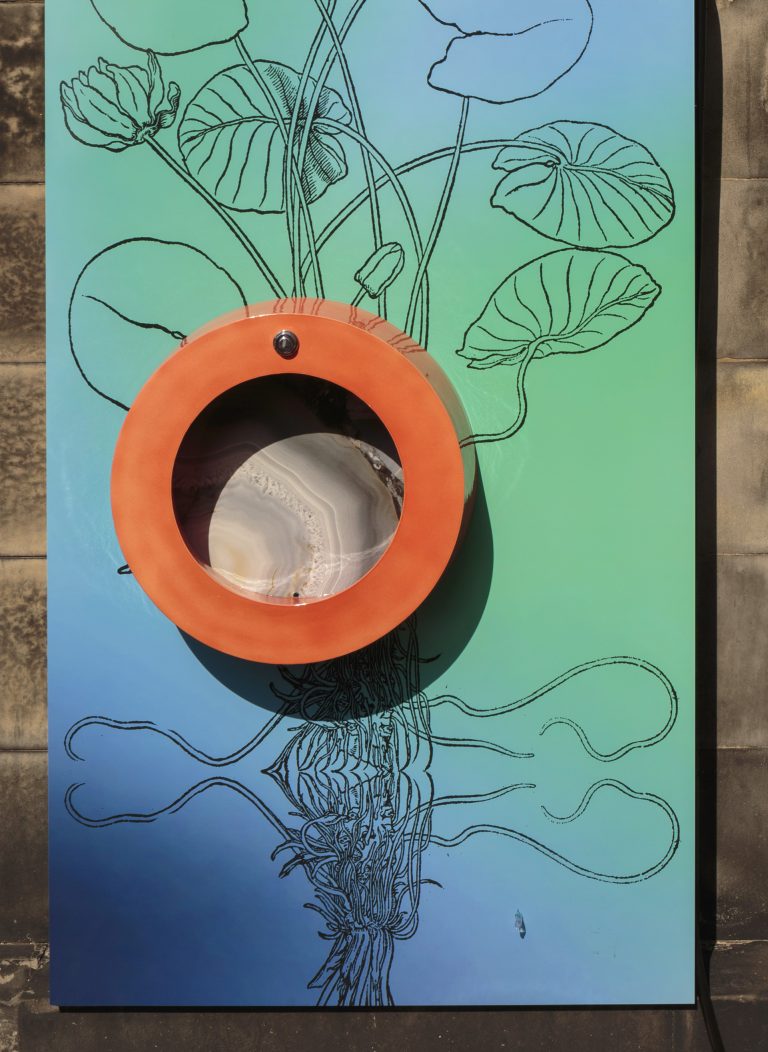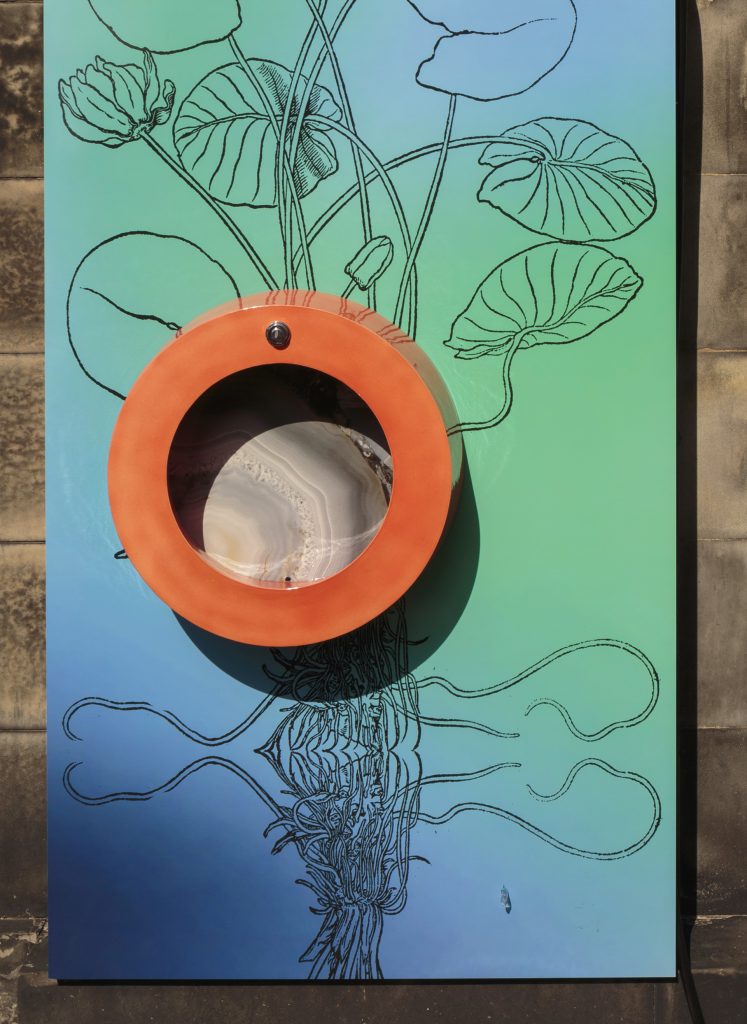 Photography Johnny Barringotn | Ruth Clark
Find out more about fountains, please email Susanna Beaumont.