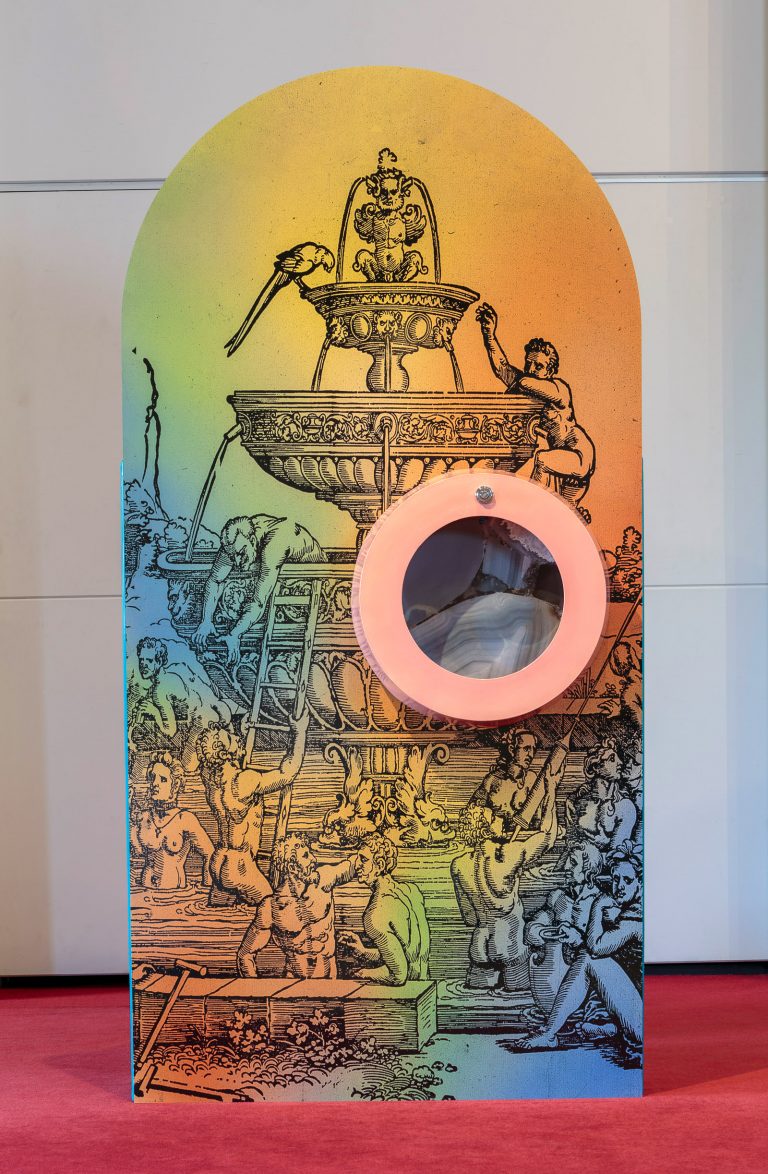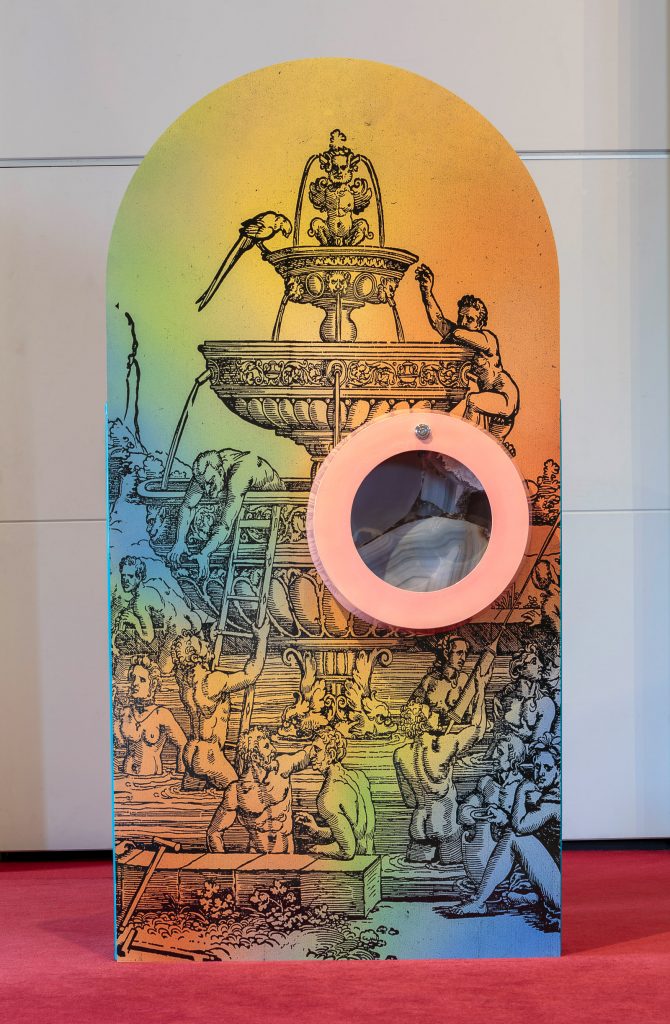 In 2019, Design Exhibition Scotland commissioned three prototype drinking fountains. Once a common sight in Britain's towns and cities – many were manufactured by Walter Macfarlane Ltd at the Saracen Foundry in Glasgow and Greyfriars Bobby from the 1870s, in Edinburgh's Old Town was originally conceived as a drinking fountain for both humans and dogs. These fountains were beautifully crafted, a generous and civic celebration of free and clean drinking water. Design Exhibition Scotland wishes to revive the drinking fountain for our contemporary age.

Bad Furniture is a collaborative practice between two artists, Laura Aldridge and James Rigler. Given a brief to design a contemporary fountain they first looked at the public drinking fountains of the past. Often exuberant, they felt today's fountains and top-up taps are mostly modest, mundane and frequently dull affairs. They wish to inject a sense of exuberance and the celebratory into the fountain, to create a functioning yet beautifully sculptural form.

Their Proposal for a drinking fountain combines the playful and the pragmatic. A central ceramic circle signals the water's source, its dimensions allowing the user to easily fill up their water bottles. The backdrop is sheet aluminum, brilliantly heralding the fountain's presence. The image of cavorting individuals is a detail from The Fountain of Youth, a woodcut by the German artist H S Beham from 1536.

As Proposal for a drinking fountain was a temporary installation at Lyon & Turnbull, Aldridge and Rigler chose to show the workings of the water's delivery. And importantly the simplicity. Design Exhibition Scotland plans to work further with Aldridge and Rigler on further developing this prototype.
Laura Aldridge  lives and works in Glasgow. She works with a broad range of media; photography, textiles, ceramics and glass are all incorporated into a sculptural practice that she describes as an expanded form of collage. Aldridge's installations explore the double-bind of subjectivity and objectivity, making versus experiencing, viewing versus participating. Her most recent installations emphasise display and presentation, exploring her own intuitive response to material and physicality. Her sculptures invite an impulsive response that is interrupted by the barrier of not being able to physically engage with the work itself. At this intersection Aldridge allows the intuitive and the sensory to unfold. Recent solo exhibitions include: Go Woman Go! British Council UK/NG, Abuja (2017); Inside all my activities, Koppe Astner, Glasgow (2016); One-to-another, One-to-one, Passerelle Centre D'Art Contemporain, Brest (2015); California wow!, Tramway, Glasgow (2015).

www.lauraaldridge.co.uk

James Rigler  lives and works in Glasgow. He is a ceramicist who works across disciplines of art, design and craft. His work grows out of a fascination with the languages of architectural decoration that still shape much of our built environment. He studied at the University of Brighton and Royal College of Art, but his formative years were spent as a model-maker and mould-maker in the architectural terracotta industry. His sculptures and furniture are in the collections of the Victoria & Albert Museum and Chatsworth. Rigler was awarded the Jerwood Makers Open in 2012 and the European Ceramic Context Prize for New Talent in 2014. Primitive Forms, Rigler's first major public and permanent installation opens later this year at Aberdeen Art Gallery.

www.jamesriglerstudio.com