Carys Wilkins, assistant curator in Modern & Contemporary Design at the National Museums Scotland, explores how the pandemic has influenced furniture design, in particular the park bench & in turn the museum's acquisitions programme.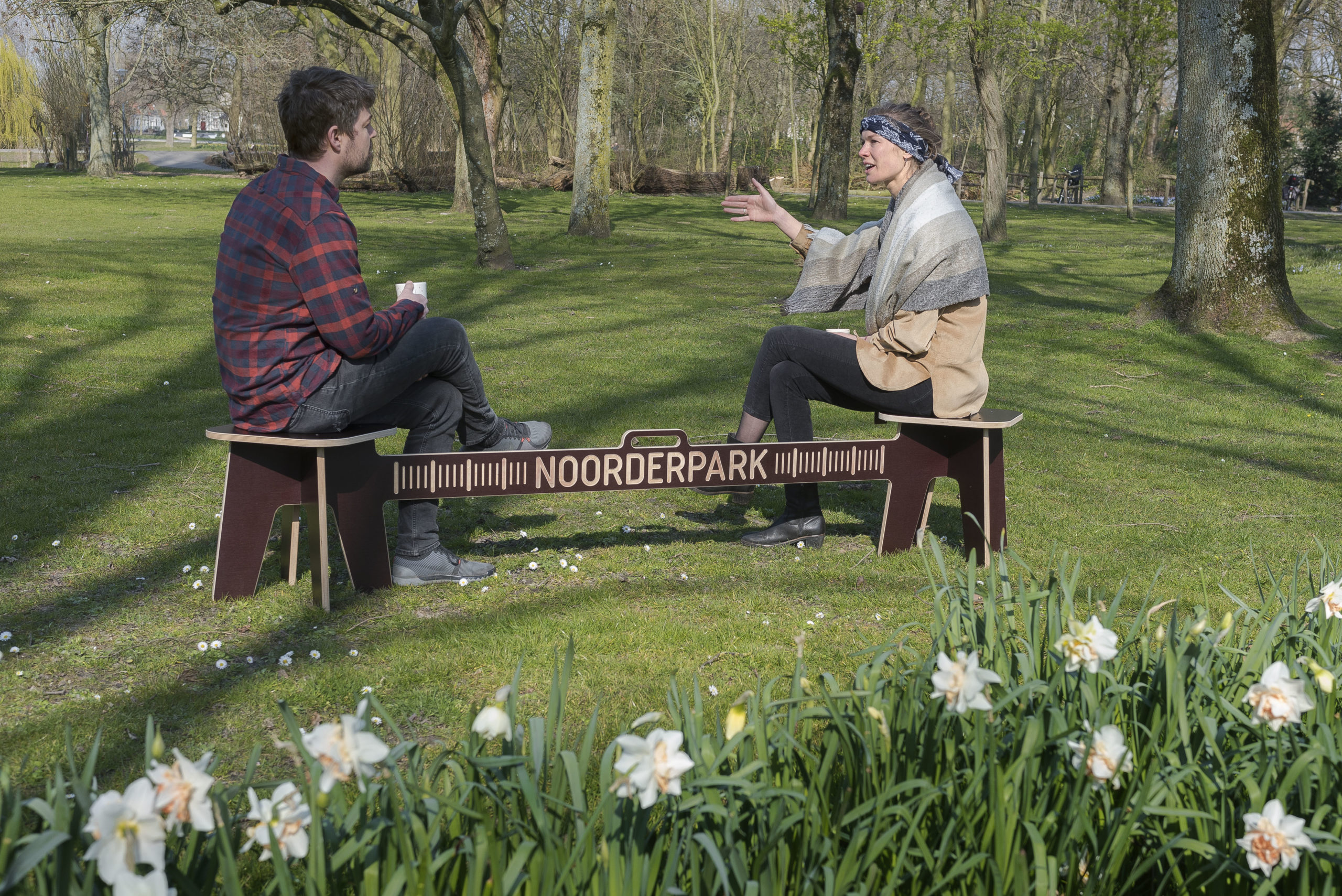 Like many museums, National Museums Scotland has been collecting during the pandemic, attempting to document and make sense of living through COVID-19 in real-time and preserving this material for posterity. Reflecting both the diversity of the collections held by the museum, and the scale of the wider socio-political impact of the pandemic and other seismic events across 2020-2021, collecting has focused on six main themes:  Public Health, Hospitals and Treatment; Politics; Economy; Tourism; Education; and Everyday Life.
In everyday life, the nature of public space and the ways in which we interacted with it changed overnight. Practical responses by designers helped us navigate the pandemic and our altered reality.
Many designs emerged during 2020, developed in a limited time frame by designers who were themselves working under lockdown. NMS has sought to collect work that reflects design innovations, interventions and emotive responses from across the UK, Europe and the USA, and which echo both individual and collective experiences of lockdown. The role of furniture – particularly chairs – during the pandemic may not be immediately obvious, but for furloughed and non-essential workers more time was spent in our homes than ever before. This was reflected in an increase in consumer demand for 'Work From Home' needs and a general boom in spending on home furnishings.
According to research from the media regulator Ofcom, we spent on average a third of our waking hours glued to our screens, watching TV and online videos in the UK in 2020. Based on that statistic alone, sitting is certainly an activity that defined many people's experiences of lockdown.
Outside of the home, the transformation of public space particularly in urban settings during the early months of the pandemic was immediate and at times stark. Street furniture[1], particularly seating took on a new significance, as people struggled to adapt to life in accordance with public health guidance and government-imposed restrictions.
The simple act of sitting on a park bench became one of transgression, anti-social and highly politicised. The park bench, a once innocuous permanent feature of our urban green spaces was brought sharply into focus. Unable to adapt to the new social distancing requirements, many local authorities blocked access to pre-existing street furniture.
Early in the pandemic, there was concern over the potential spread of the virus through touching contaminated surfaces. As a consequence, public seating cordoned off with caution tape or temporary signage quickly became a familiar sight. Some seating was removed altogether. Parks were a welcome refuge for city dwellers not fortunate enough to have access to private gardens. Such measures and interventions made green spaces hostile to users, particularly those less able to stand. As restrictions began to ease after spring 2020, the role of public seating emerged as both an agent of sociability and a means of keeping people apart as a social distancer.
When sat on a park bench, aside from considering the level of (dis)comfort offered, do you think about why it looks the way it does, or who has access to it? Temporary interventions during the pandemic transformed public seating into hostile architecture [2]. But this form of social engineering is a permanent purposely-designed feature of much street furniture and yet hides in plain sight. Street furniture, whilst intended for public benefit, has a history of in-built features designed to deter certain bodies and behaviours.
Examples of 'hostile architecture' are commonplace in towns and cities. Sloped seats in bus shelters or spikes inserted in window ledges and entrances discourage sitting or loitering. Benches feature armrests, spines or curved surfaces positioned to stop people lying on them or as anti-skateboarding features. The pandemic added a new measure – social distancing. A term which quickly entered the pandemic lexicon.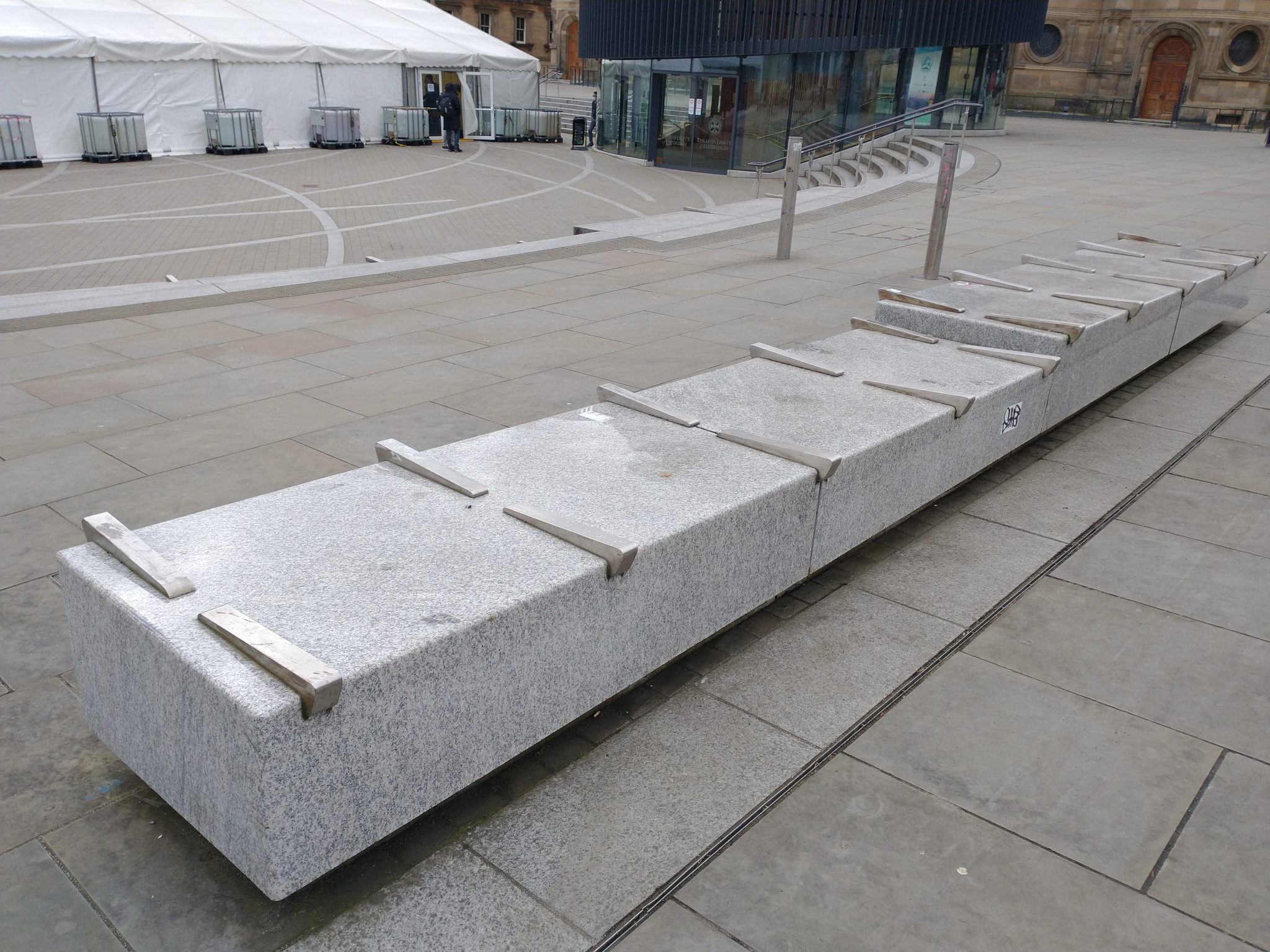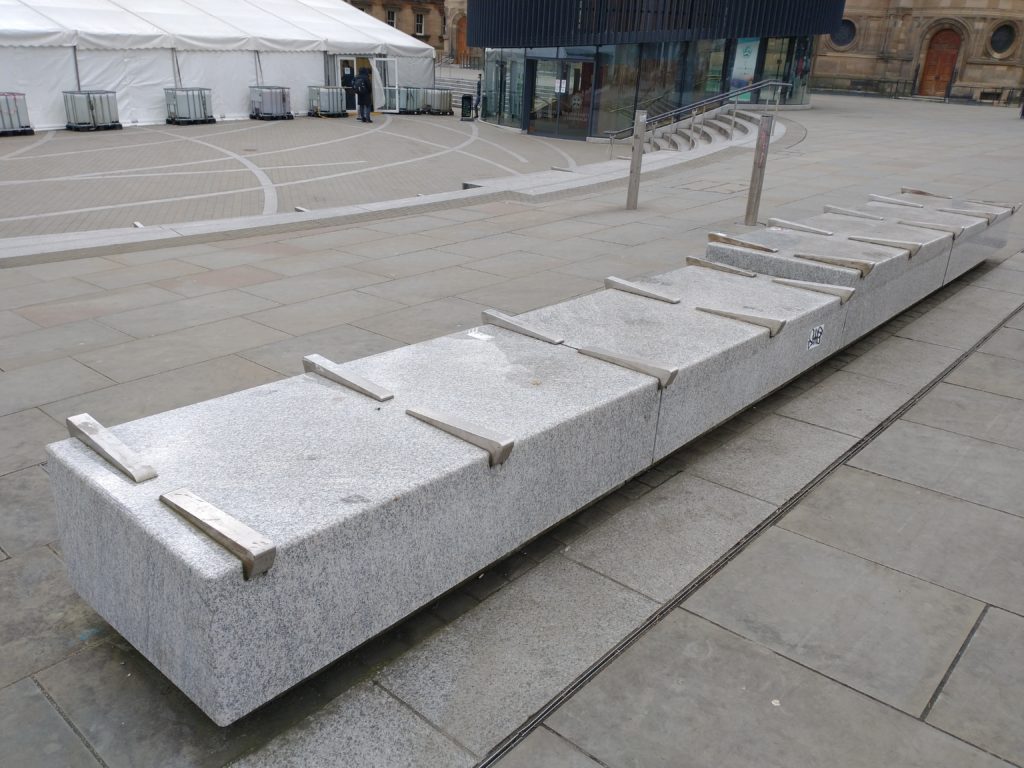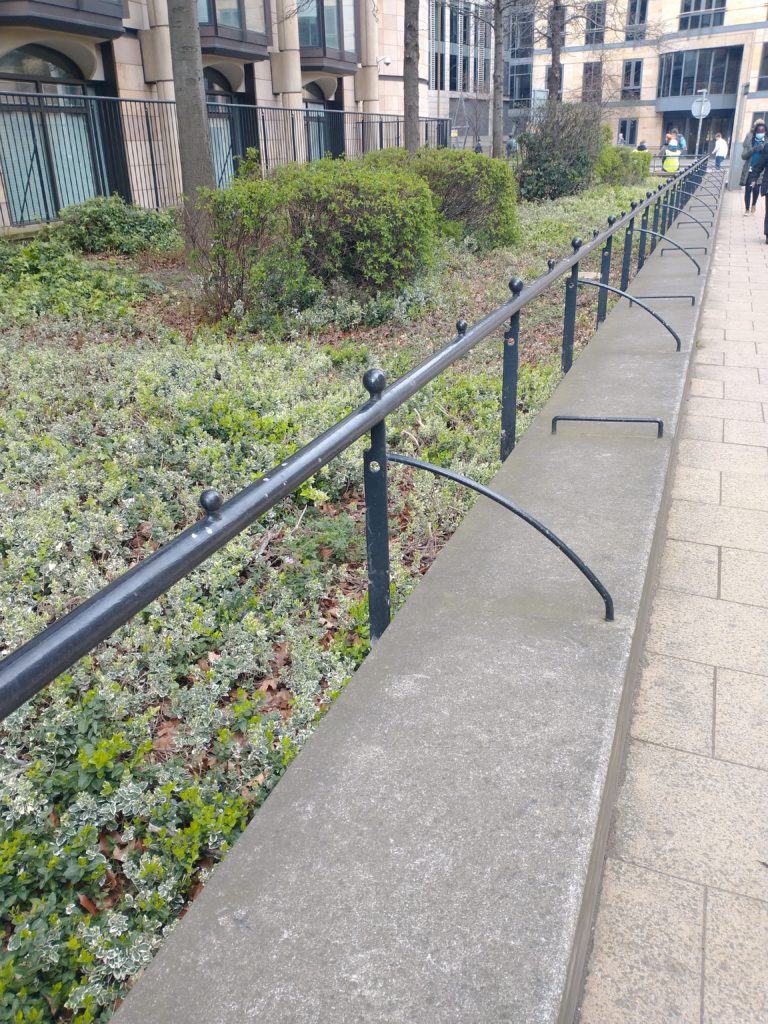 In the UK, the public were asked to stay 2 meters away from each other. As the wealth of signage that emerged in public spaces, and in retail and hospitality settings suggests, most people struggled to gauge how far apart 2 meters actually is. The differing regional guidelines in the UK and beyond, paired with different rules for outdoor and indoor settings added to the confusion.
The CoronaCrisisKruk acquired by National Museums Scotland, acknowledges this difficulty in navigating the shifting parameters of social distancing in order to socialise safely in an outdoor setting. The CoronaCrisisKruk is a portable bench designed for social distancing, shortlisted for the Dezeen Awards 2020 in the seating design category. The design encourages social interaction in public spaces, allowing users to sit together whilst staying at a safe distance. The handle and lightweight frame allow the bench to be easily picked up and moved, affording flexibility not usually associated with street furniture, which tends to be fixed.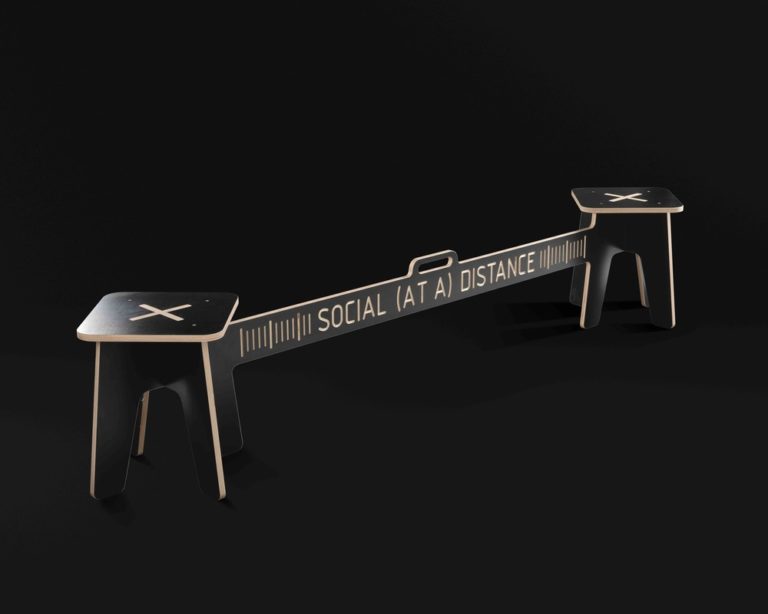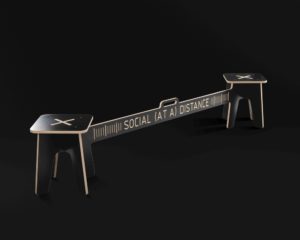 'CoronaCrisisKruk', social-distancing bench of CNC-milled birch plywood, design by Björn van den Broek, Object Studio in 2020: Dutch, Amsterdam, 2021.
© Björn van den Broek and Object Studio. Image © National Museums Scotland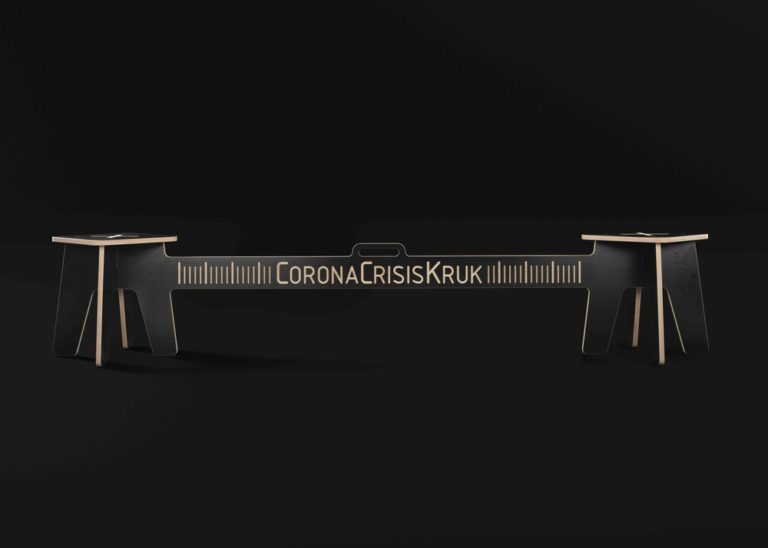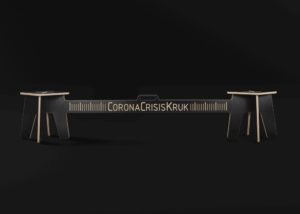 The studio produced a custom version of the bench for National Museums Scotland, retaining the original 1.5-meter distance to reflect the original intention of the design for use in the Netherlands, but including the phrase: "Social (at a) Distance".
Industrial designer Björn van den Broek, founder of Dutch design studio, Object Studio, noticed that people in his local park in Amsterdam were struggling with the new social distancing guidelines. His solution was a simple bench comprised of two stools ('krukken' in Dutch), connected by a 1.5-meter beam with graphic ruler-style markings to immediately help people to visualise the necessary safe distance to maintain. The distance reflecting Dutch government social distancing regulations at the time of its conception in 2020. Van den Broek's design was initially produced as an edition of six benches in March 2020 and fabricated locally in Amsterdam. The benches were placed around the Noorderpark in the Amsterdam-Noord district for use by local residents and featured social distancing puns such as "met afstand het leukste park" ("by far the nicest park") to provide some light relief to users.
In 2020, the pandemic temporarily shifted the meaning of public space and access to it. The CoronaCrisisKruk exemplifies the often rapid-response design solutions that emerged towards the start of the pandemic in Europe, capturing and reflecting reactions within the design community to the crisis. As we move away from remaining restrictions and the status of the virus shifts from pandemic to endemic, the Coronacrisiskruk invites you to stop, sit down and socialise in safety.
1 Hostile architecture uses features of the built environment to condition or curb certain behaviours or activities. It is frequently used to discriminate against specific groups of people, namely youth, poor and homeless people and is often employed to deter activities such as rough sleeping, skateboarding, loitering and public urination.
2 Street furniture is the collective term applied to a variety of designed objects found in the built environment intended for public use, typically street lights, traffic lights, street signs, post boxes, bollards, public toilets, fountains and benches.
Carys Wilkins is assistant curator, Modern and Contemporary Design at National Museums Scotland.