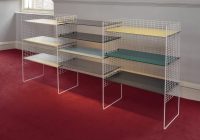 Inspired by modular furniture units, particularly mid 20th century German and Scandinavian designs, Becky Šik uses welded mesh to create light, geometric and adjustable shelving units.

The powder-coated units can be combined with shelves made in varying sizes from a number of different materials such as wood, birch plywood (which can be hand finished with coloured edging) and steel, expanding the unit's functions and varying its aesthetic. The hanging mechanisms offer a playful solution to height adjustability and adds colour.
Becky Šik lives and works in Glasgow. Her practice spans installation, film, sculpture, furniture, functional objects, sound and publishing. Becky studied at The Glasgow School of Art. Recent projects include: Collective Satellites programme Edinburgh (2019); Solo exhibition, QPRC Glasgow (2019); the group exhibition Next Top Model, GPS, Glasgow (2019); Fiducial Marker, Project Room Gallery, Glasgow (2018); Human Machine Interface, Hilbertraum Gallery, Berlin (2017). Šik is a member of the artist collective Made by ME.