A student at the Glasgow School of Art in the late 1970s and early 80s, where he studied printed textiles, Fraser Taylor went on to the Royal College of Art and with fellow students David Band, Brian Bolger & Helen Manning established The Cloth. Helena Britt celebrates his work and the archive he donated to GSA in 2014
Fraser Taylor and David Band
In September 1977, Fraser Taylor began as a student on the general first year course at Glasgow School of Art. On the first day he met fellow student, David Band and they became friends. Within the Georgian terrace at Blythswood Square, activity in the first-year studios provided a creative foundation centred on drawing and painting in preparation for students entering the art schools' specialist departments. Initially, Fraser wanted to study painting, and David possibly graphic or interior design, but both were drawn to printed textiles due to the experimental approaches and energy of the department, led by Jimmy Cosgrove, supported by tutors Chuck Mitchell and Liz Munro.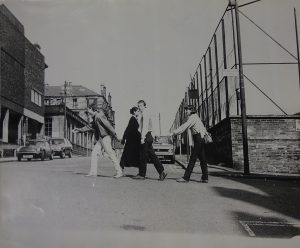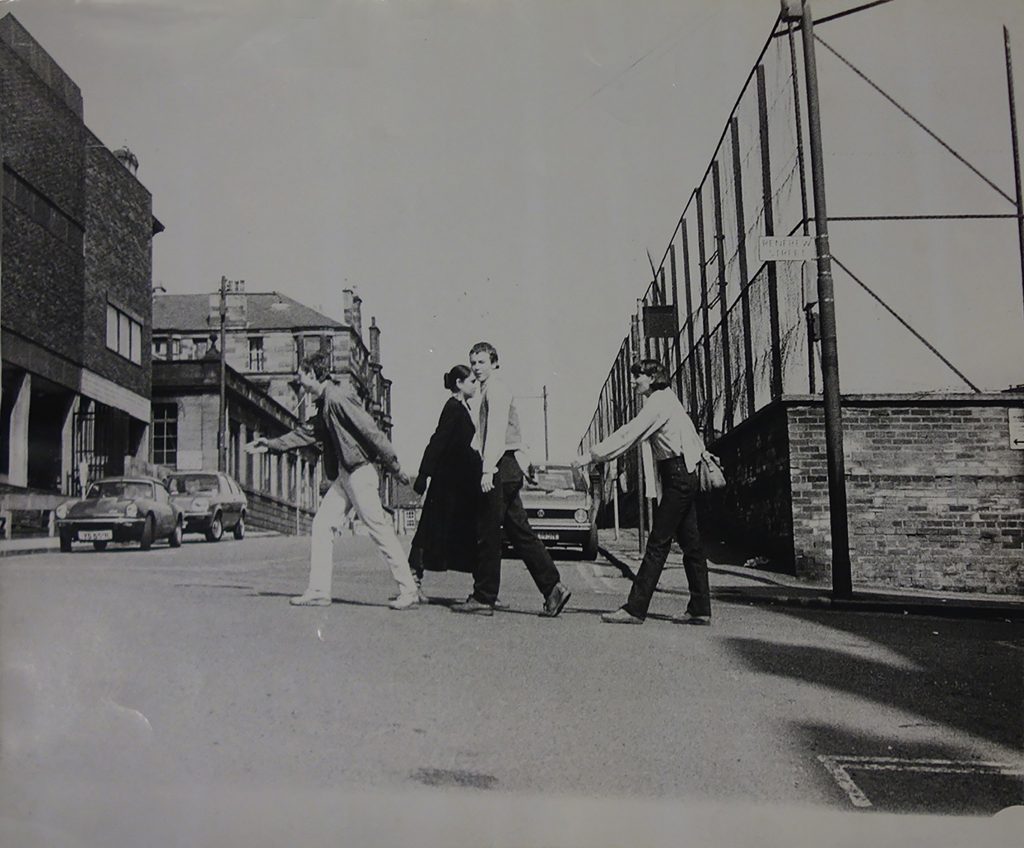 As a printed textiles student, Fraser filled sketchbook upon sketchbook with expressive drawings, paintings, mark making and textures. Working with gouache, ink, acrylic, pencil, pen, mono-printing and collage – experimenting with combinations, deconstructing, layering and reconstructing compositions. Working in the studio paralleled learning technical skills, supported by technicians – drawing and painting onto kodatrace, exposing images onto screen, mixing pigments, dyes, stencilling, screen-printing and painting onto fabric, photography and paper printing. Work experience at the Citizens Theatre with costume designer Trisha Biggar, gave Fraser insight into forming garment shapes and construction. The GSA fashion show provided an opportunity for Fraser to build on this experience and create garments featuring his textiles. An annual showcase of student work, the fashion show was a popular event, organised and run by printed textiles with involvement from students in other departments and with input from others outside of the School. For the 1980 show, directed by Fraser and fellow student Lesley Robeson, David designed the poster, ticket and programme for the event.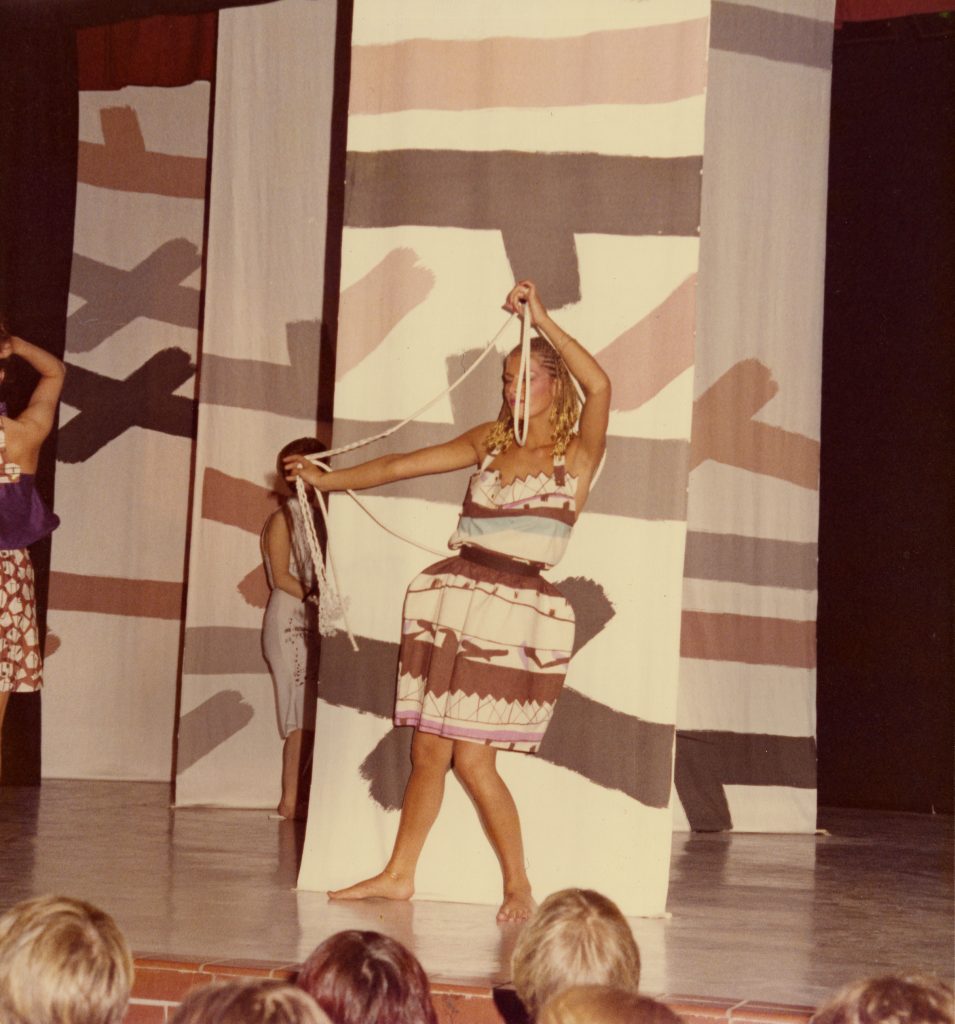 GSA's refectories, Haldane Building and later Victoria Café were important social spaces for forming close and significant alliances. Working in and going out to Glasgow's bars, pubs and clubs including The Griffin, Nico's and The Rock Garden, connected Fraser, David and their friends to the city's wider and developing creative scene. After meeting in a clothes shop, David and the actor and singer, Clare Grogan (who Fraser worked with at the Spaghetti Factory), became friends. So as the band Altered Images were starting out, David designed for them, producing artwork for record sleeves, video backdrops and promotional t-shirts. At the start of final year, Fraser had creative block, tutor Liz Munro suggested joining a visit to Morvich in the Highlands, which inspired a series of A4 drawings exploring the figure and landscape; themes which remain significant to Fraser's work today. Sections of these drawings developed into paper maquettes and larger scale paintings transferred into repeating printed lengths for his Degree Show in June 1981.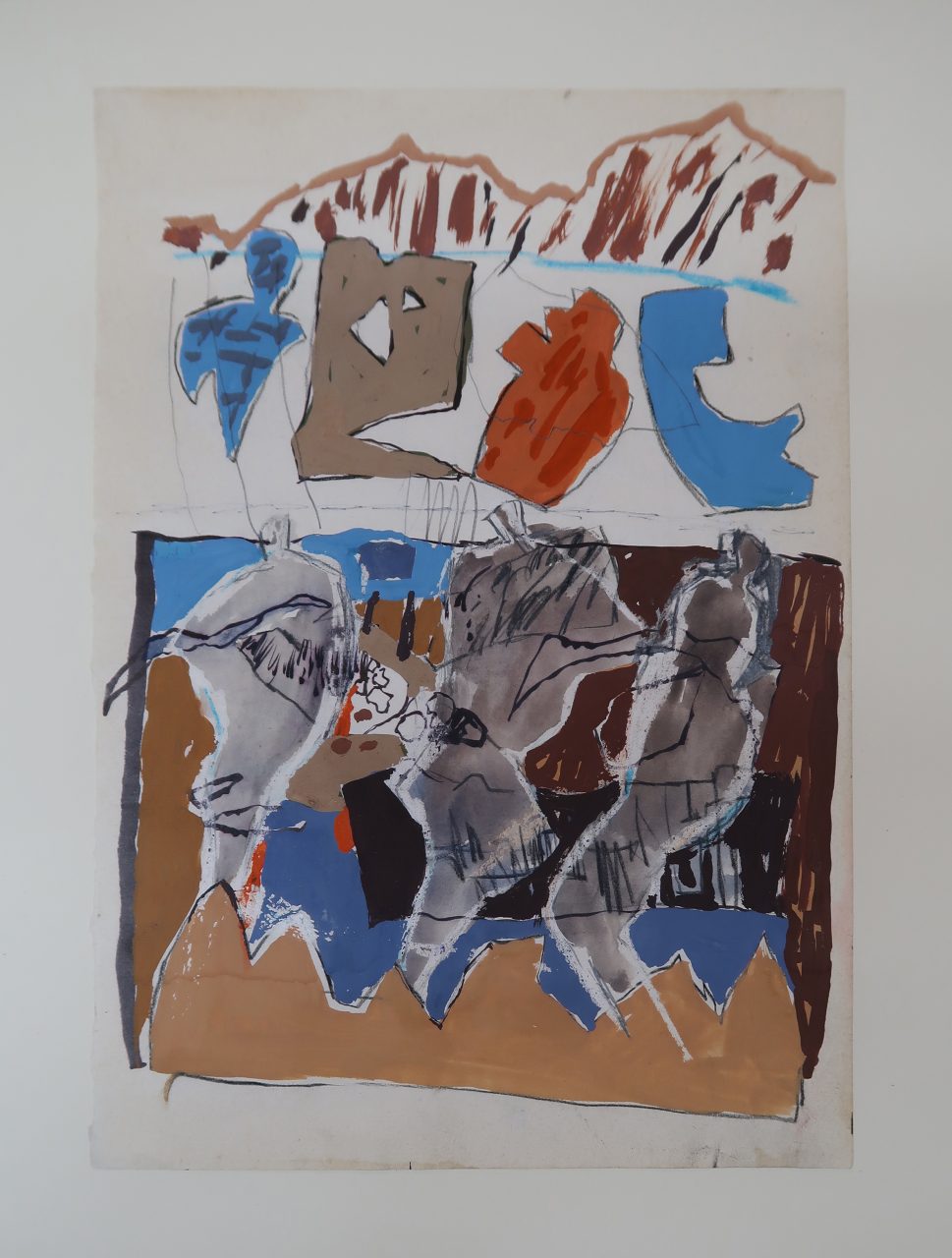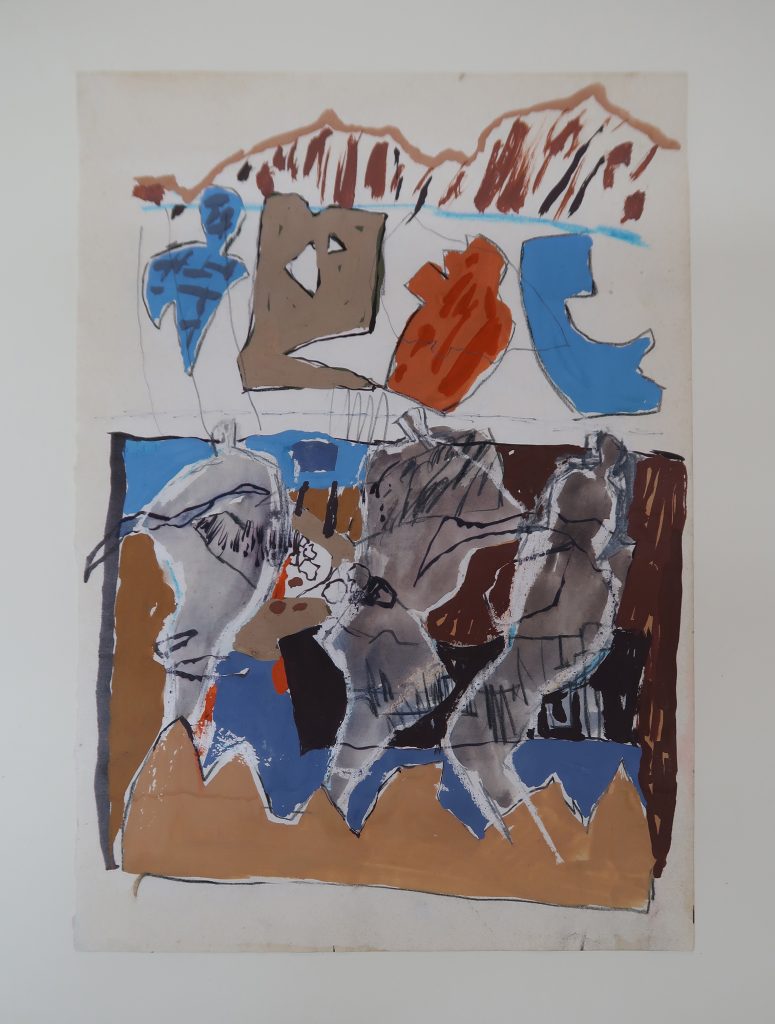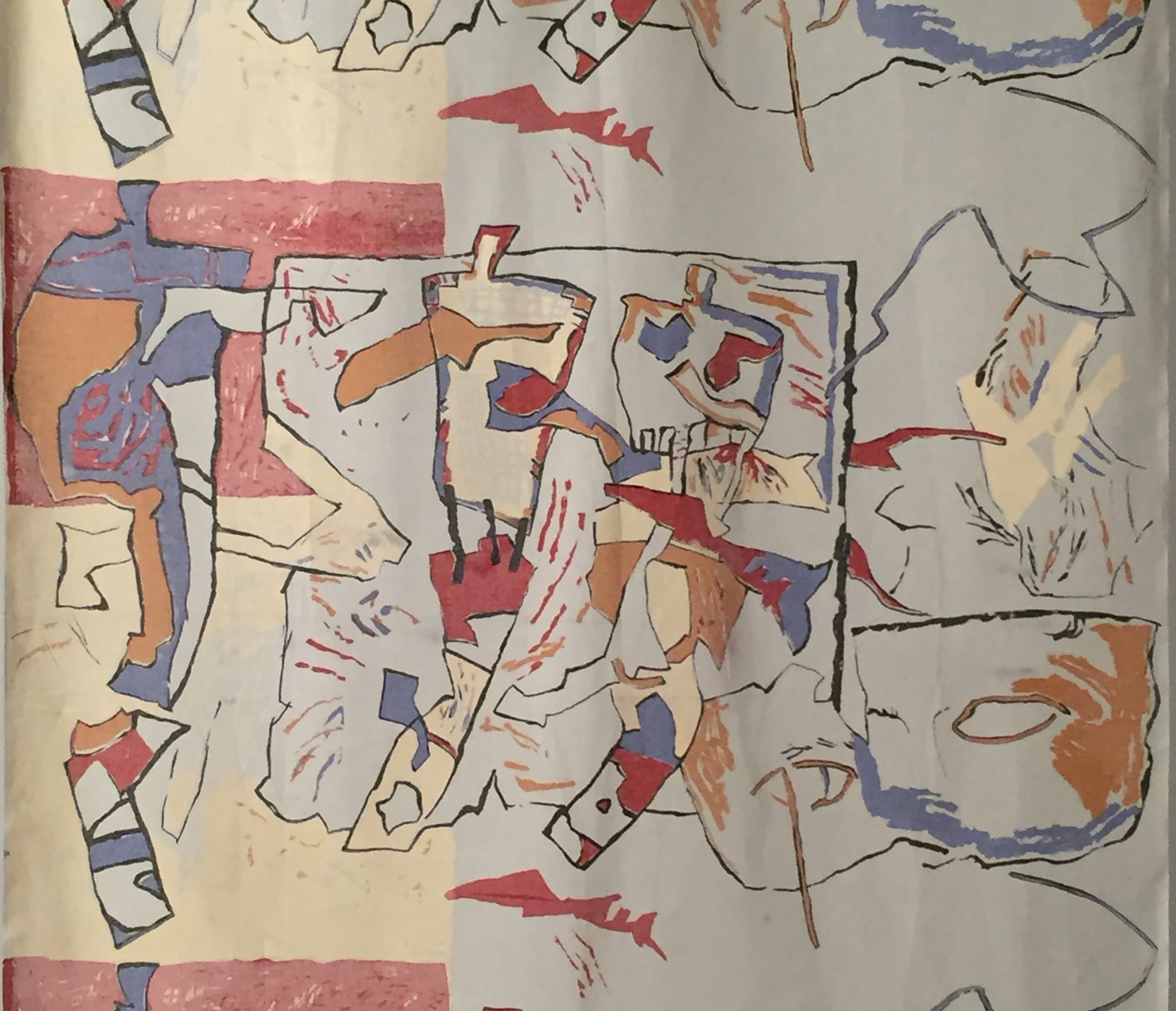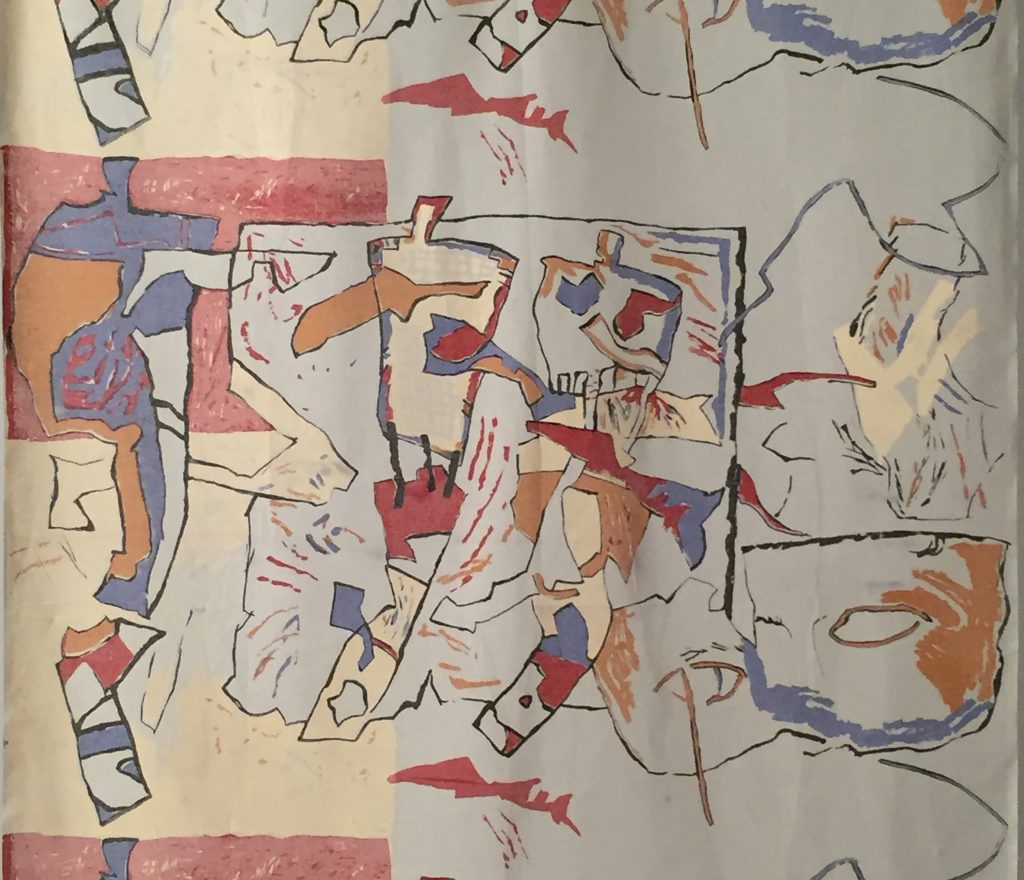 From Glasgow to London
Fraser and David were drawn to London, and both were accepted to study printed textiles at the Royal College of Art (RCA). Upon arrival, Fraser was told that he couldn't draw and sent off to practice! Tutors Barbara Brown, Sheridan Barnet, Brian Harris and Natalie Gibson promoted a culture of independence, the brief was to 'make work'. Small student numbers meant metres of space in the print room, access to numerous screens and unlimited technical support. As was the case in Glasgow, Fraser and David worked and partied. Part-time jobs in The Coach and Horses, Covent Garden, (a meeting place for Glaswegians living in or visiting London), nights at The Art Bar and then onto The Wag Club or Camden Palace widened their network of friends and collaborators. David excelled at meeting people and making connections. Clare Grogan introduced him to Gary Kemp of Spandau Ballet, so during David's time at the RCA he was making artwork for both bands. For Fraser, themes explored within his work in Glasgow evolved at the RCA. Forms, tones and details sketched in the British Museum and from visiting the island of Iona, developed into bold figurative paintings. Large lengths of fabric on the print table provided a blank surface to spontaneously compose image, shape, colour and texture through screen-printing and stencilling with dyes, discharge paste (a textile bleaching process) and pigment, working onto cotton and wool. Scarves and t-shirts became other surfaces for image transference.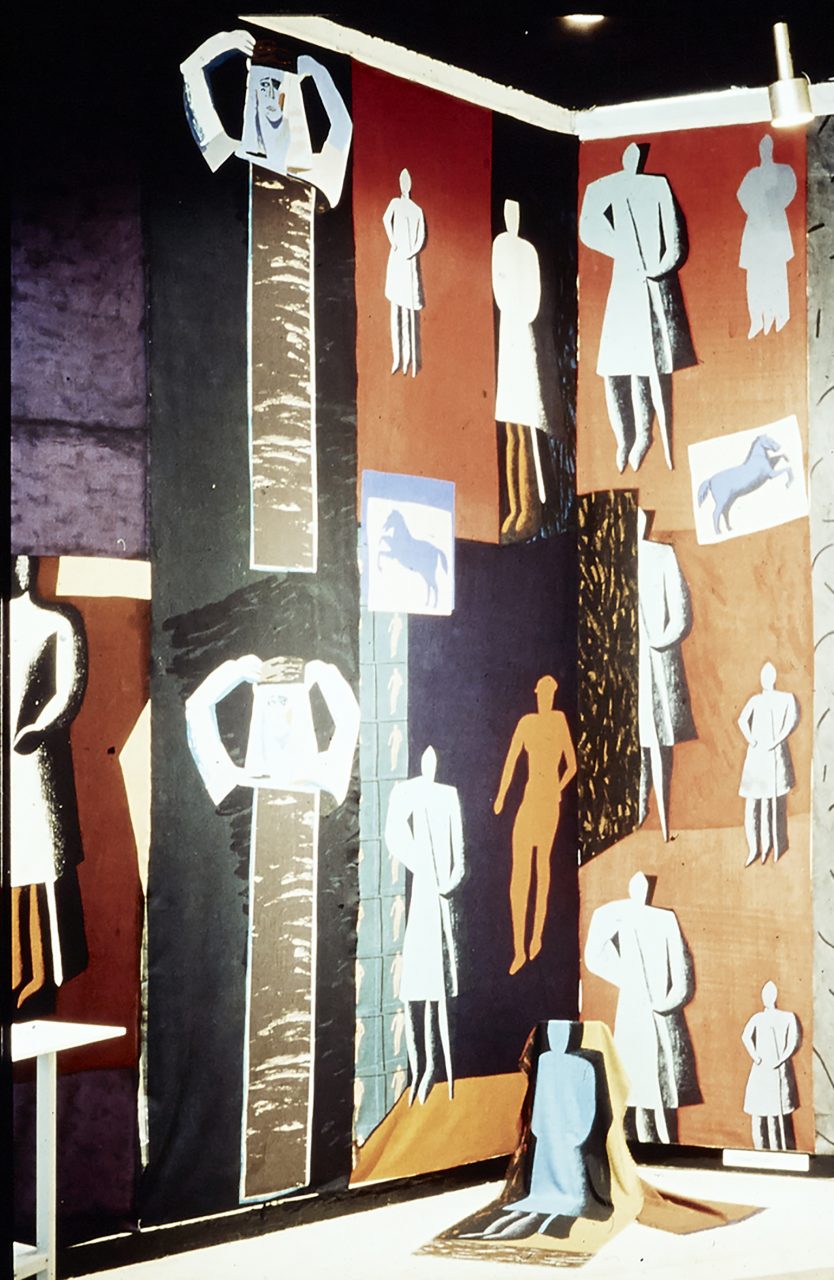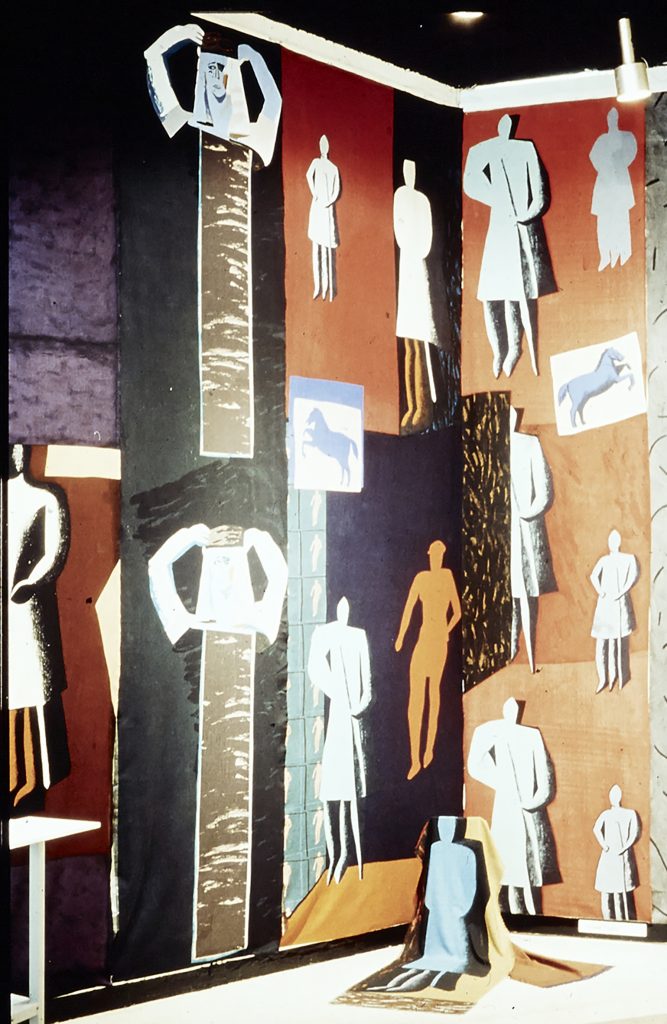 Forming The Cloth
In December 1982, eight second-year RCA textile students organised an exhibition of drawings and paintings, titled Beneath The Cloth. Fraser and David, with fellow printed textile students Brian Bolger and Helen Manning, were part of this group. Prior to the RCA, Brian studied at Dundee, whereas Helen was at Middlesex. As they worked towards their final show, the shared ethos of producing large scale bold printed textiles led Fraser, David, Brian and Helen to exhibit together in June 1983, although frowned upon at the time by the RCA. Creating contemporary work, the groups' collaborative approach, humour and impactful aesthetic made them appeal to those looking for new ideas. The Cloth was formed and they set up a studio in Union Street in south-east London. When meeting with a client they would present a combined portfolio of work. If the client liked the work of one, they would work with that individual, if they liked the work of more than one, they would work together.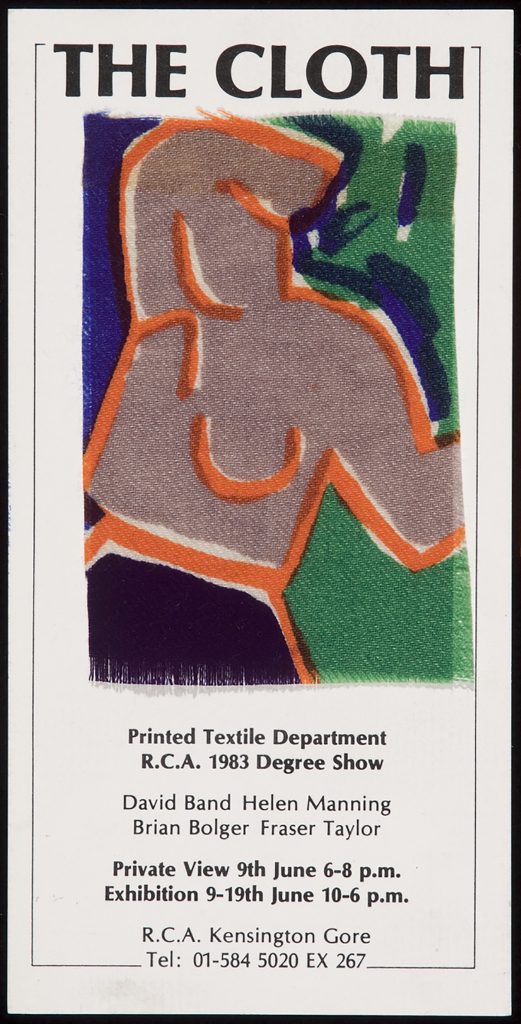 Within The Cloth studio, David continued working for Spandau Ballet and others including Bourgie Bourgie (his brother's band which he also managed) and Aztec Camera, as the merchandising side of the music industry exploded. David's connections led to Fraser creating record sleeves for The Bluebells based on his RCA work and he continued painting. Exhibiting as one of Britain's best textile graduates, Brian's work caught the eye of the designer Betty Jackson and he created prints for her subsequent fashion collections. Helen printed and made garments for legendry boutiques BOY and Demob. The Cloth were in demand. PR and marketing guru Lynne Franks and her team, connected The Cloth to a wider network of designers, stylist, photographers, buyers and magazine editors, at a time when style magazines, i-D, The Face and Blitz were in their infancy. To generate income each member of The Cloth designed a limited-edition t-shirt which quickly sold out. Supported by Lynne Franks PR, The Cloth developed clothing ranges, working with young, and at the time relatively unknown, stylists and photographers. The clothing sold to retail outlets such as Liberty of London, The Warehouse in Glasgow, Corniche in Edinburgh as well as to America and Japan.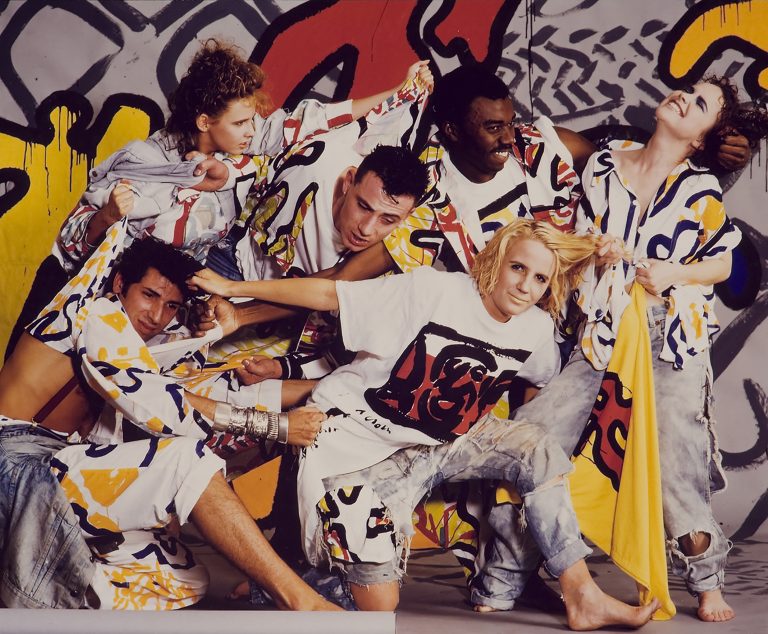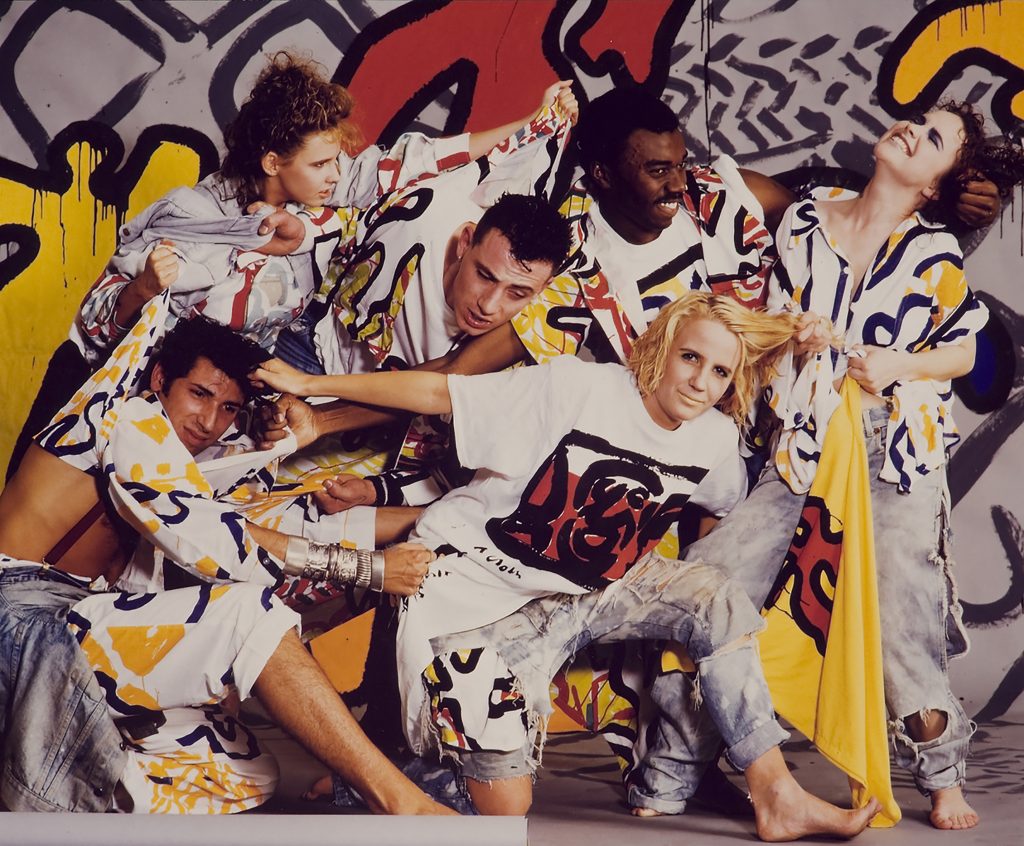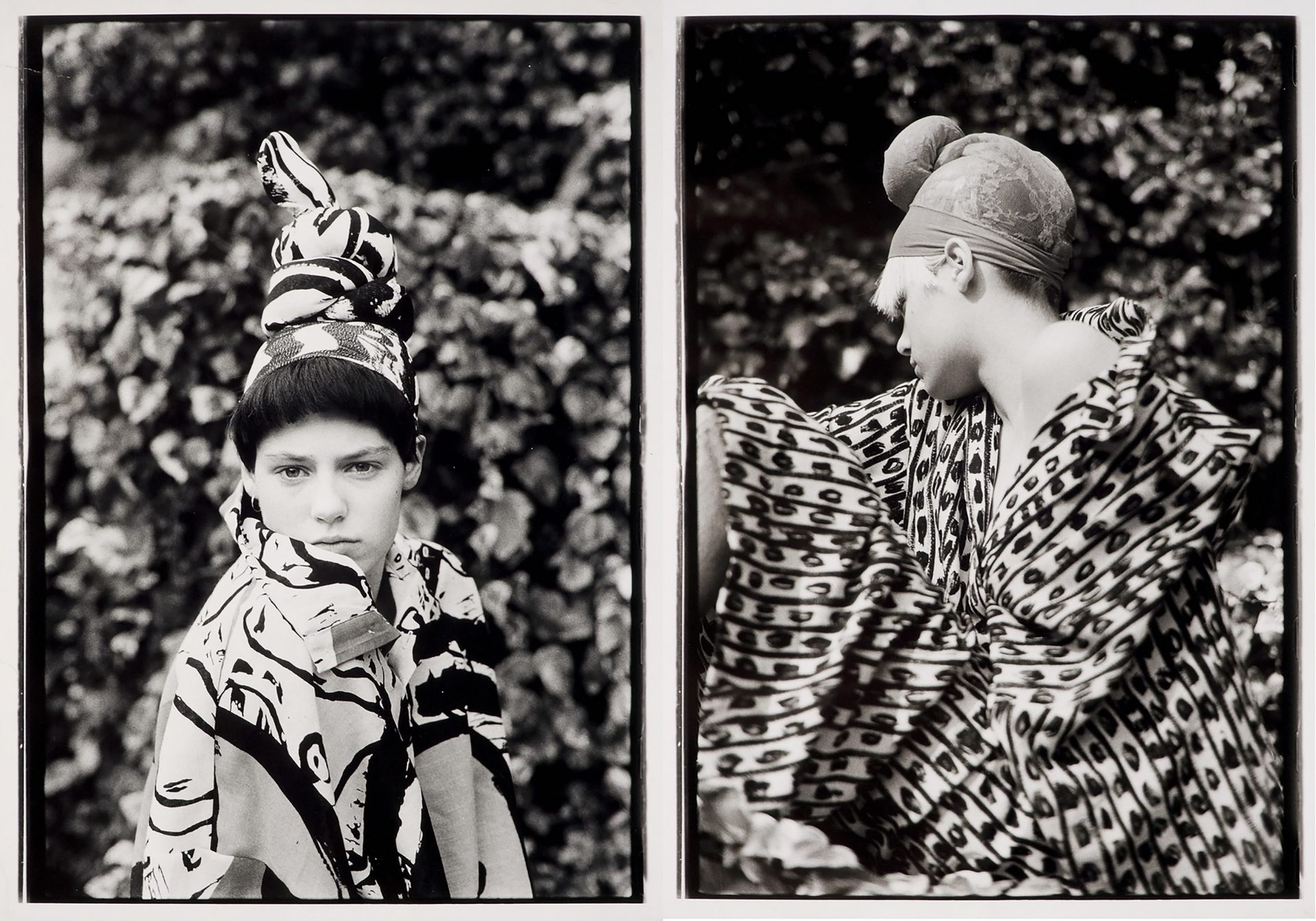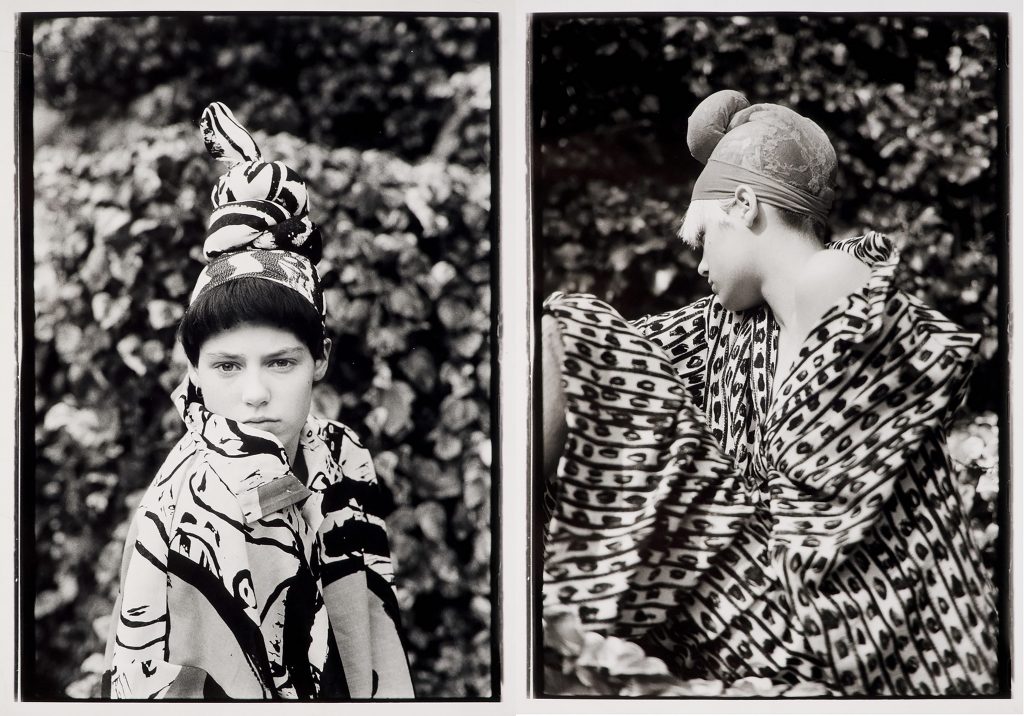 The Cloth also produced designs for fashion brands including Paul Smith, Yves Saint Laurent, Liberty, Browns, Joseph, Warehouse, Marks & Spencer and Next. They went on trips, selling numerous textile designs to clients overseas, and creating interior textiles. They frequently exhibited paintings in venues such as Oliver & Pink, The Thumb Gallery, L'Escargot and The Royal Academy in London. Individually, they continued with record sleeves, moved onto book covers, illustration for magazines, graphics and corporate identity. The Cloth's work adorned the walls of clients' homes, shops, restaurants and club interiors. From printed textiles, Fraser, David, Brian and Helen were able to adapt and evolve their style and way of working across creative disciplines depending on the project, client or context. This adaptability, their collaborative approach, bold and painterly aesthetic, humorous attitude and prolific creative productivity made them true innovators of the 1980s scene. The Cloth's existence was timely, coming after major decline for the UK textile industry but as the uniqueness and marketability of London's talented graduates began to be recognised. This era saw growth in and support for designers as entrepreneurs. The network of friends and contacts that The Cloth evolved was significant to their success. After 4 years, they decided to disband in order to pursue their individual interests.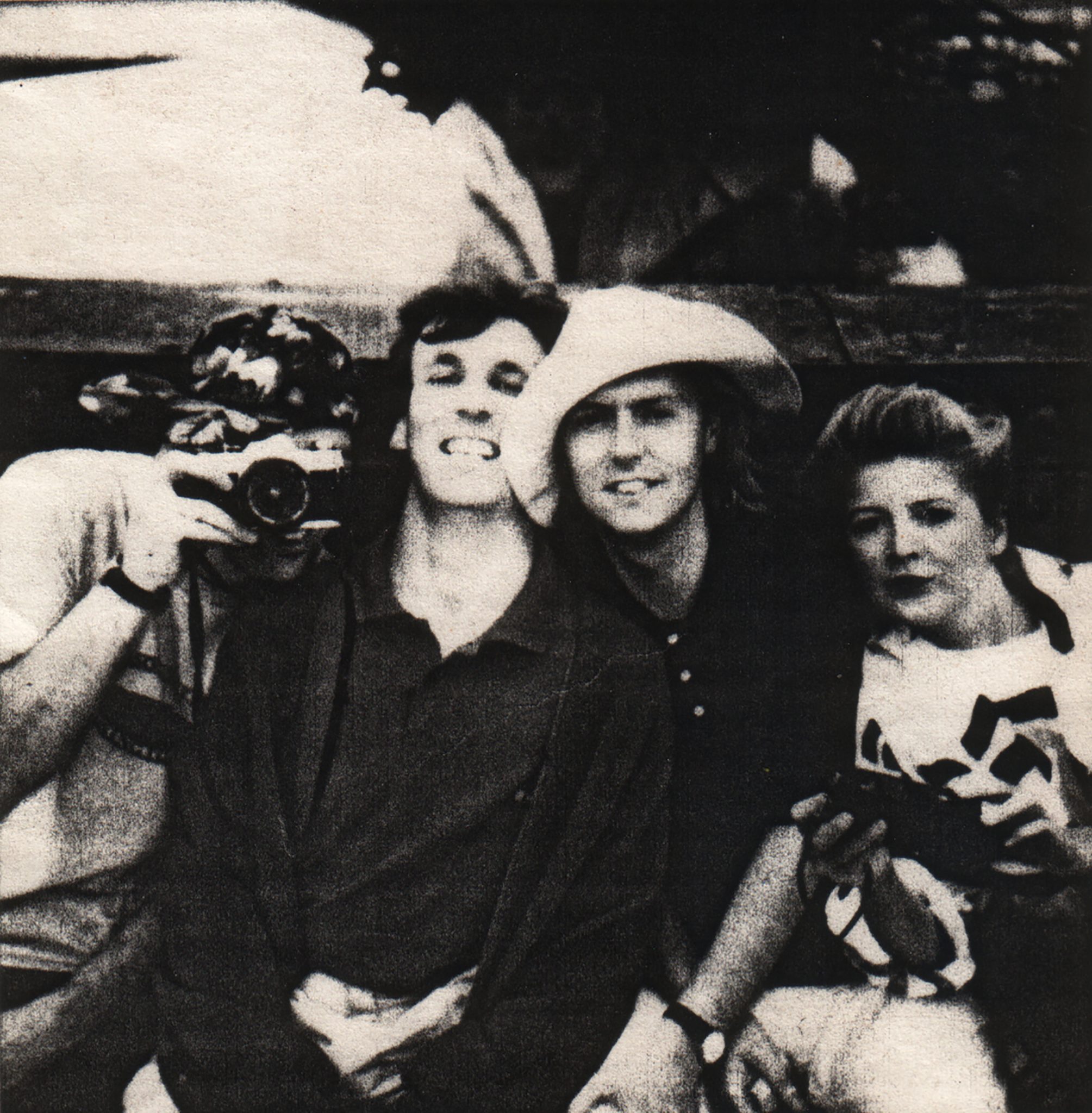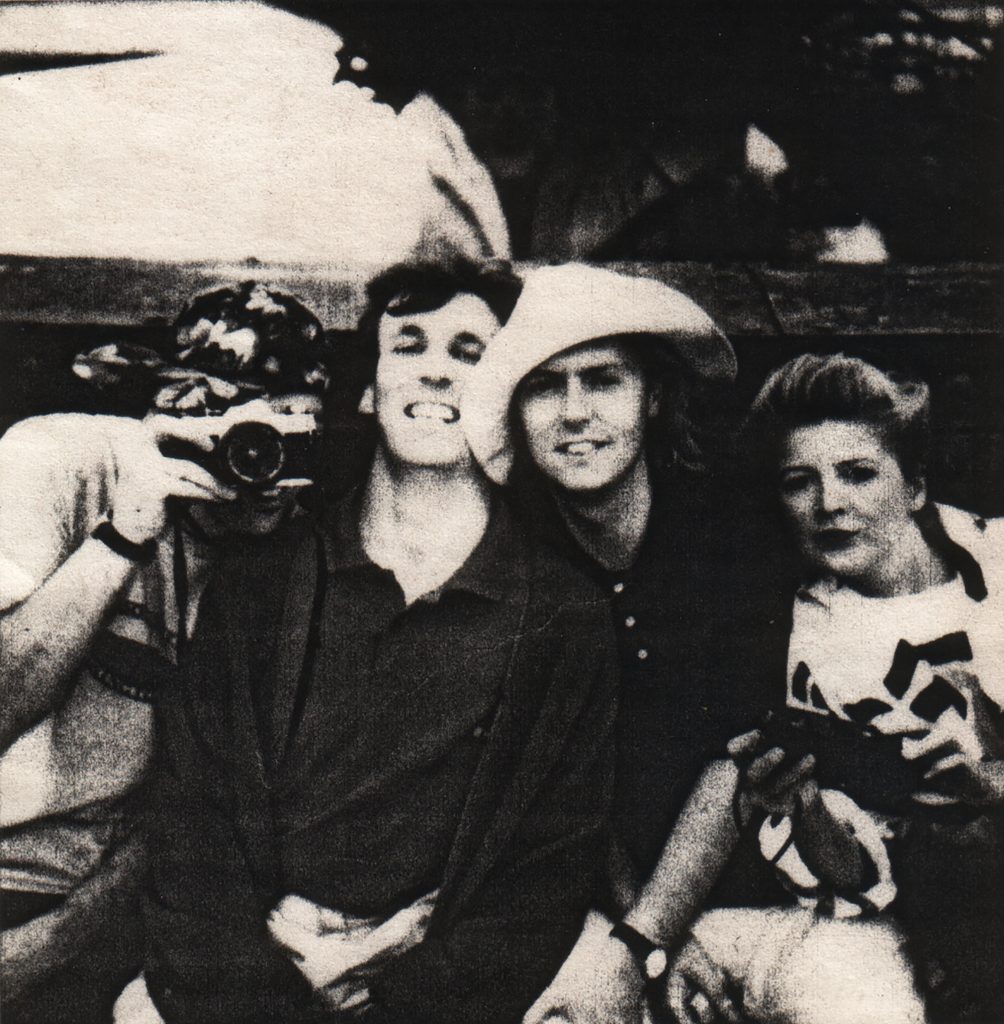 Fraser's archive at Glasgow School of Art
After living and working in Chicago, and on returning to Glasgow, Fraser cleared out his lock-up and a collection of earlier works resurfaced, which he decided to donate to GSA's Archives and Collections (A&C). This archive represents Fraser's time as a student at GSA, the RCA and as part of The Cloth. There are also a handful of items related to Fraser's later work and career. The collection now held by GSA A&C, contains a range of items – textiles, garments, sketchbooks, artworks, designs, slides, photographs, correspondence, posters, records, press, magazines, and even Fraser's GSA matriculation card. As a lecturer at GSA in the Department of Fashion & Textiles, I am fortunate to use the School's extensive archive and library resources. Previous projects include investigation surrounding the Stoddard Templeton Design Library, resulting in the exhibition, Interwoven Connections in GSA's Mackintosh Museum in 2013 and an accompanying publication. Funded by the Leverhulme Trust, the current project that I am working on centres on the collection Fraser donated to GSA. With initial funding from The Textile Society, working with Susannah Waters (A&C Manager) and Carrie Skinner (Project Archivist) it was possible to catalogue and digitise Fraser's collection. Work has also been undertaken by The Scottish Conservation Studio and students from the Centre for Textile Conservation at the University of Glasgow. For the current project, I am trying to find out more about items within Fraser's collection, locate other relevant materials, compile a timeline of The Cloth's outputs, examine processes used, collaboration, cross-disciplinary working, and find out about educational experiences. It is fascinating to see other material that exists and to hear memories of this time. The intention is to compile a publication and hopefully work towards an exhibition. If you have any items by The Cloth, Fraser, David, Brian and Helen from the late 1970s and 1980's please get in contact.
Instagram @thecloth80s
A Q&A with Fraser Taylor features in Panel's June newsletter
Helena Britt is a printed textiles lecturer in the Department of Fashion & Textiles at Glasgow School of Art. Research interests include textile design history, archives and collections; printed textiles and digital technologies; art and design education. Helena holds an MA from the Royal College of Art, PhD and PGCert Supervision in Creative Practices from GSA. She has worked as a textile designer on a freelance and commission basis for a range of clients.