Alice Jacobs the founder of Flux, the Glasgow-based laser & CNC studio, talks PPE masks, Land Rovers & bands
You have recently moved into new premises after 7 years in The Whisky Bond, Glasgow. How are you settling in? It must be particularly challenging time to be expanding a business?
The move was in the pipeline for almost two years, so I have had a good amount of time to get use to the idea. The Whisky Bond was an amazing space to set up Flux – supportive, friendly, other people in the same self-employed boat – running your own business can sometimes be lonely.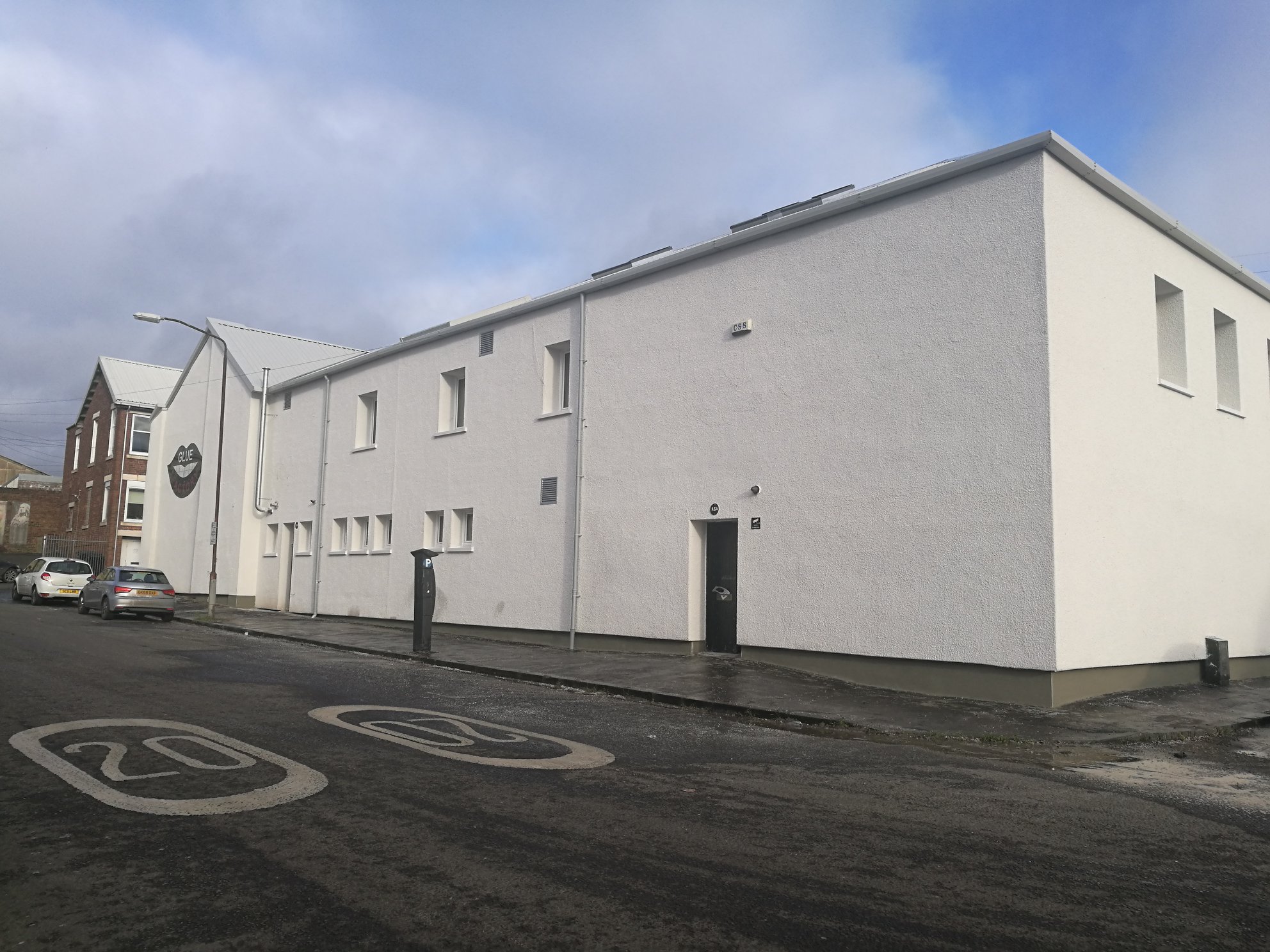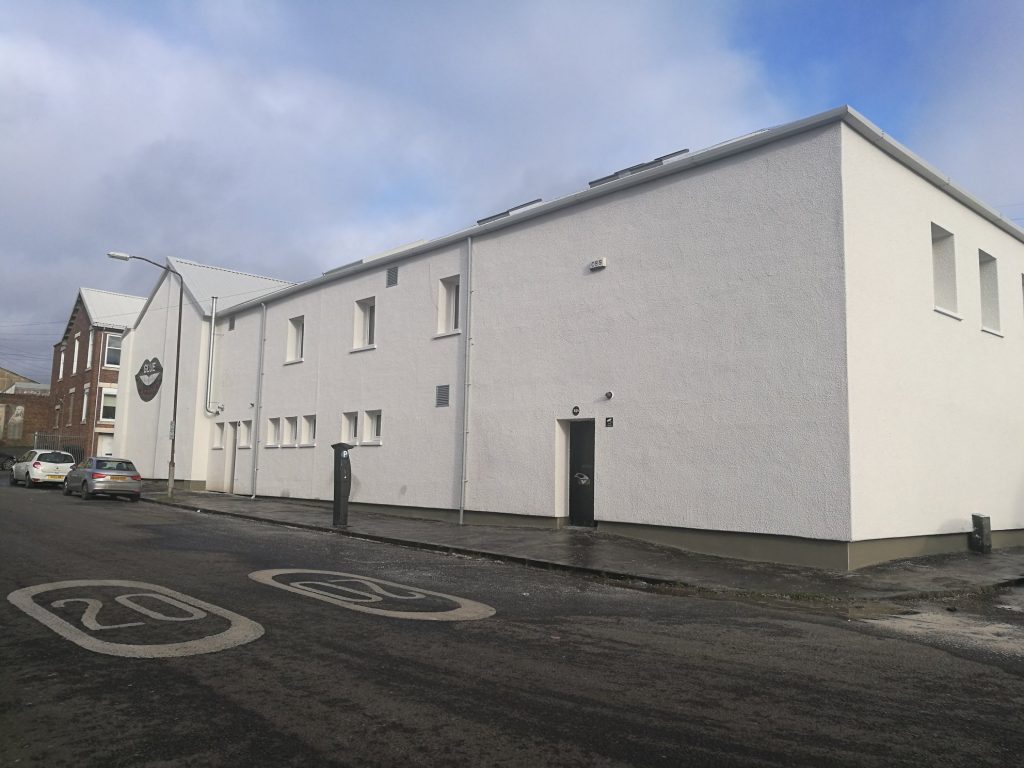 Our new building is on Burns Street – just north of the city centre, between the canal and Garscube Road, next door to the Glue Factory – and was once part a factory built for British & Foreign Aerated Water Co. Ltd in 1897 by Honeyman & Keppie Architects, the firm Charles Rennie Mackintosh worked for as a young draughtsman. The whole building is in the region of 300 sqm, with Flux being the main tenant occupying the ground floor. We are looking forward to getting neighbours into our new studio spaces post-lockdown.
And yes is has been challenging, having Brexit thrown at us, then the virus but I have been in a very lucky position in that Flux can continue to operate. I work in isolation – my wonderful staff have been furloughed – so it's like going back to the good old days of starting up, with just me!
You studied at Glasgow School of Art, graduating in 2012 – what lead you to setting up Flux?
I have a degree in sculpture, but in all honesty I studied art because I liked making things and for a while those things happened to be art. I don't think I had the personality or drive to continue making art. The design side of things was easier for me, having a brief and a client – limitations and constraints removed the fear of a blank page.
In terms of Flux, I had experience of laser machines from school and college and saw them used by many friends at GSA but access to them was not always easy. So along with a fellow sculpture student, we wrote a business plan in our final term and applied for start-up funding (we were unsuccessful – the plan was declared 'unrealistic and unsustainable') so we bought our first machine with money saved from summer jobs. We opened in August 2012 at The Whisky Bond.
Explain a little more about Flux's specialisation in laser and CNC cutting ?
We laser and CNC (that's Computer Numerical Control) cut and engrave just about everything and anything from plywood, MDF, plastics, paper, textiles and most non-metals . . the list can go on. Importantly our focus has always been on the creative sector – we speak that language and have worked with artists Andrew Miller, Claire Barclay, Christine Borland for example. I love a challenge and trying to work out how to make something with the machinery and materials we have, often to a very strict (or unrealistic) budget and generally with a very short time frame. The basics of what we do is work with sheet materials and digital files. Our machines turn screen-based lines into components for say, an architecture model, artwork, furniture or parts of a miniature satellite to be sent into orbit.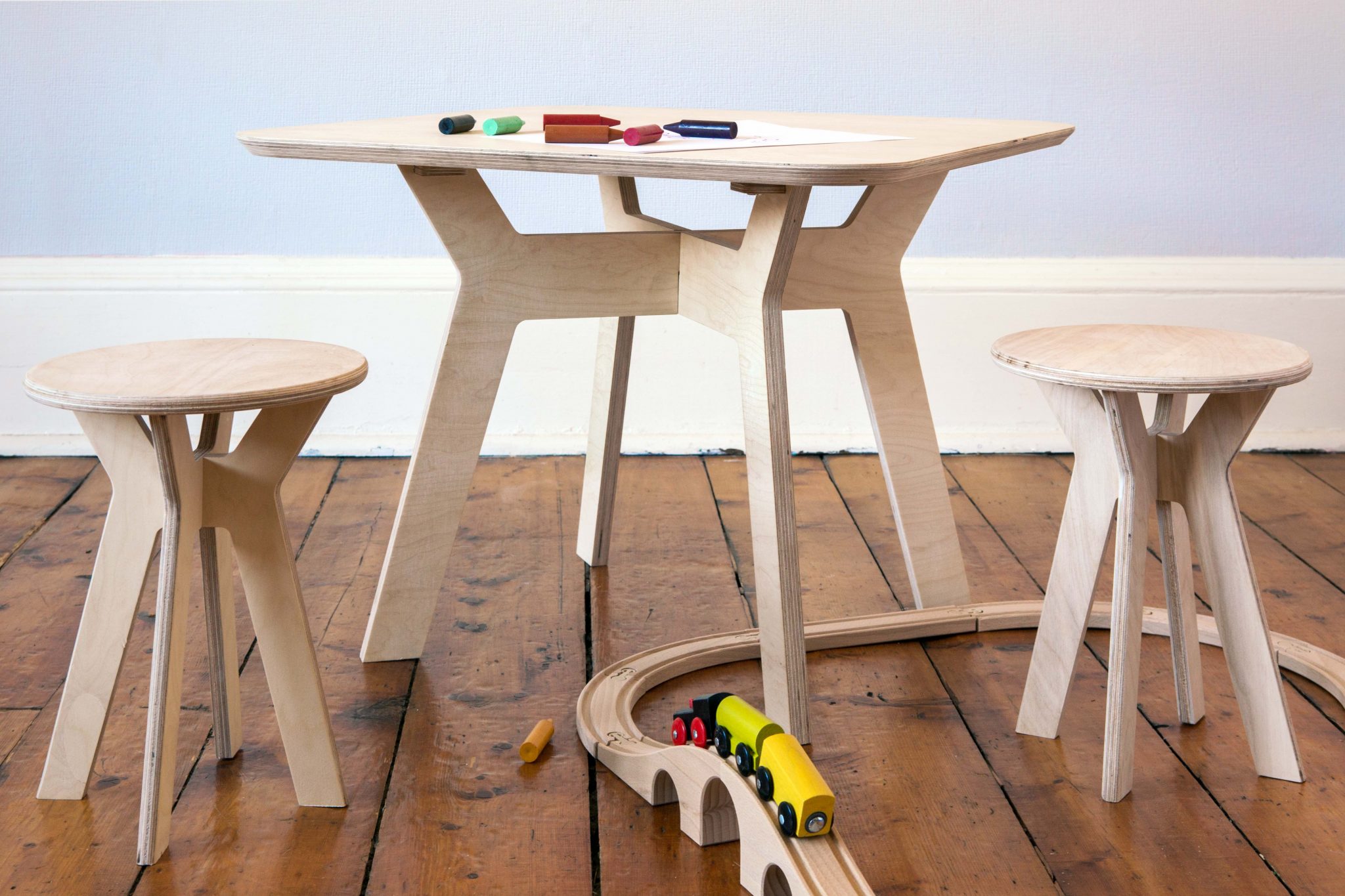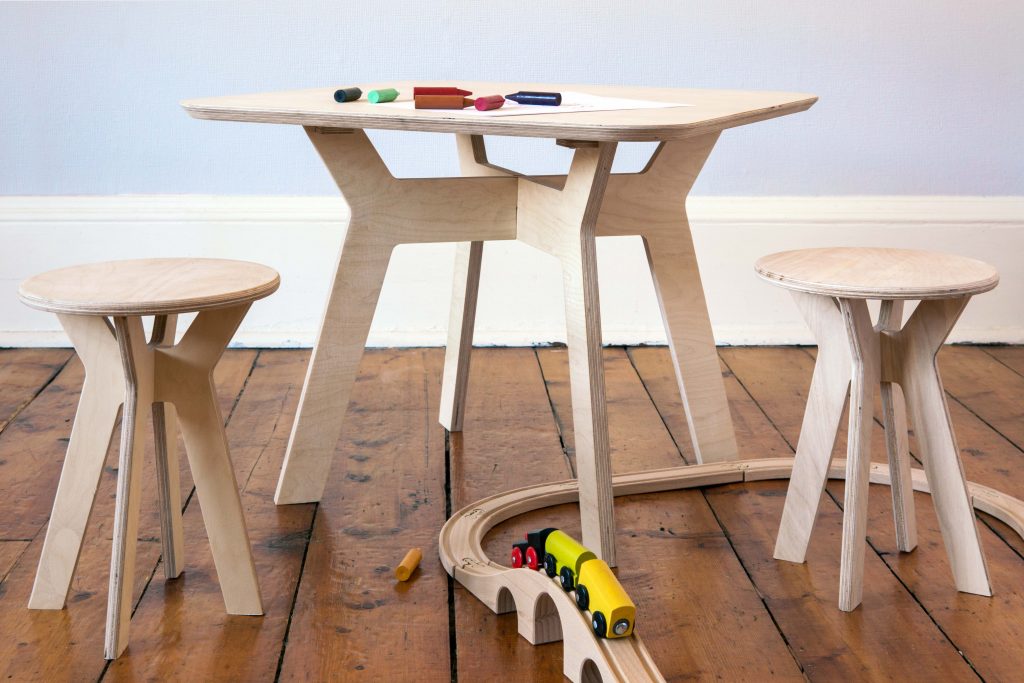 You have recently been busy making PPE visors. How did this come about?
We were approached by the Glasgow arts venue, SWG3. They were working with a network of schools headed up by the Innovation Centre at Kelvinside Academy. They had been using their lasers and 3D printers to print and cut parts for visors for the NHS and care homes across Scotland. Demand was far exceeding their capabilities. So were invited on board, enabling daily production to quadruple. We have now cut over 5000 frames for visors – it is a good feeling to have been able to help out. And SWG3 have been instrumental in raising over £75,000 in order to buy materials, cover costs and logistics.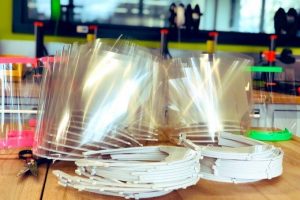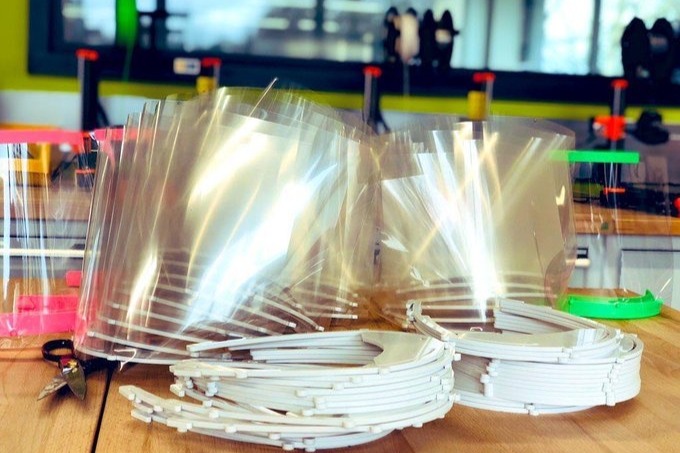 In 2018 you exhibited the Utility Stacker chair made of CNC-cut FSC certified plywood, at the first edition of Design Exhibition Scotland. It caught the eye of Architecture & Design Scotland, leading to a commission to design furniture for Our Lady of the Missions Primary School in East Renfrewshire. Tell us more.
DES 2018 gave me probably my first opportunity to design something without a client and a chance to experiment and expand upon our 2017 range, Ply-Works, a flat pack collection of furniture.
And on seeing the Utility Stacker, Architecture & Design Scotland, invited us to work with OLM primary school, highlighting areas which could be improved upon with specially-designed furniture. Our starting point was pupil workshops. Our junior designers worked to our 'brief', iterating the problems and possible solutions, first in drawings then through model making. These initial explorations influenced ideas and design elements of the final scheme which I designed which were then cut, finished and installed by Flux.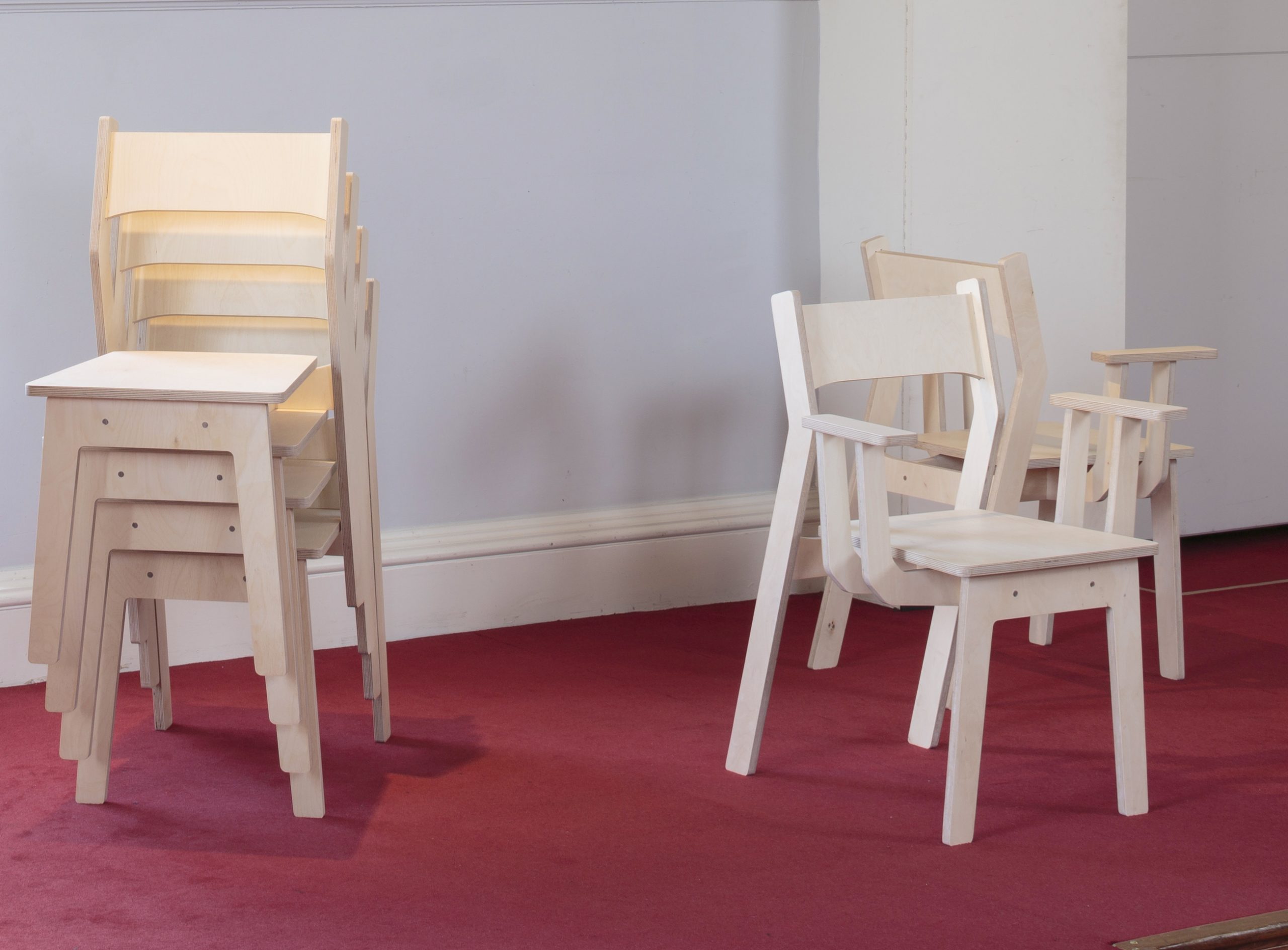 We have also worked on a slightly different programme with Craigbank Primary School in Alloa, with slightly less pupil engagement and a focus on a library learning environment. The result was the Arc Bench-Shelf unit which was shown at DES 2019. This led to Flux being commissioned to design an up-scaled version for offices in London.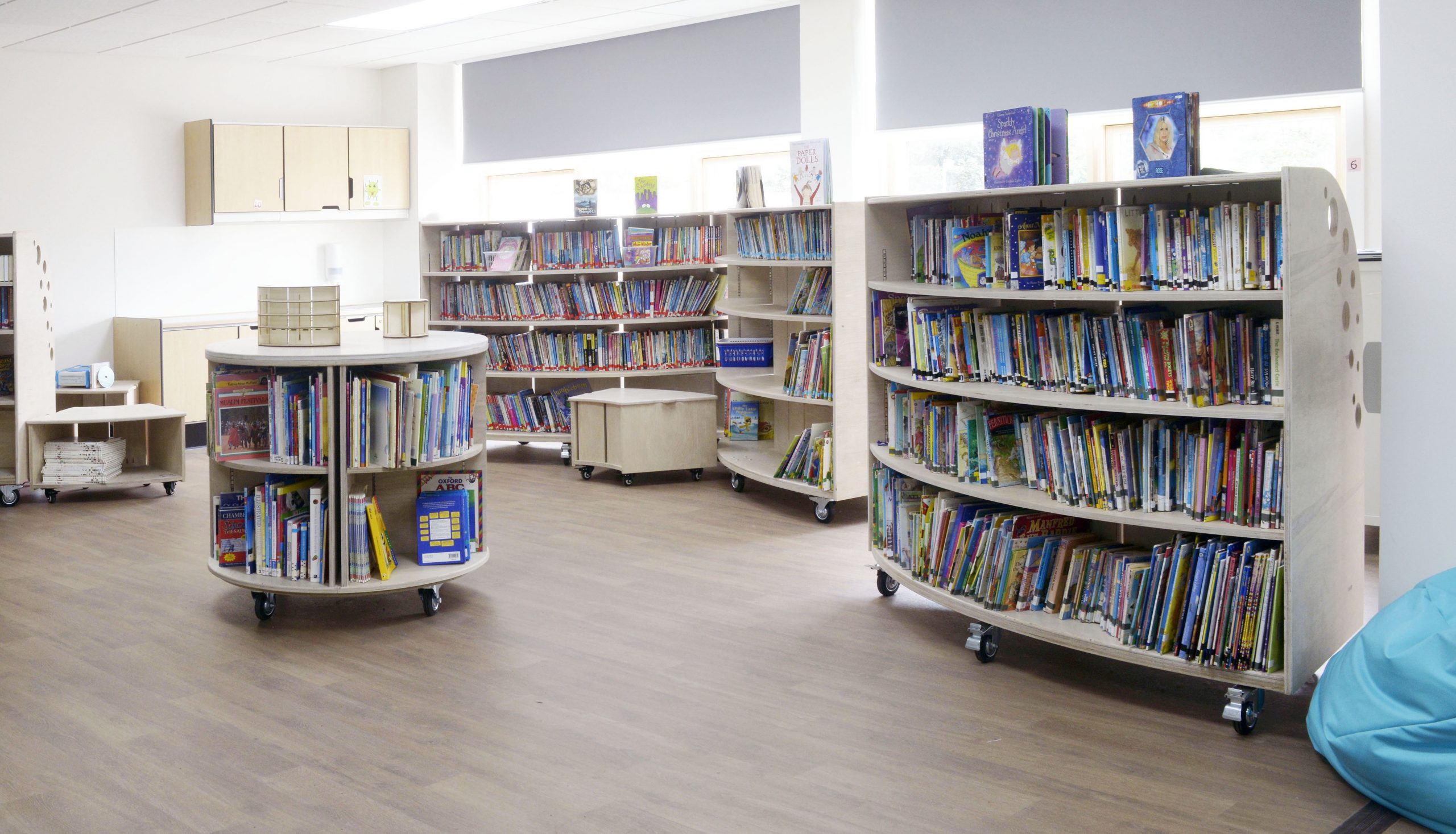 It would be great to work with more schools in the future – the hope is that we can then create an alternative catalogue for academic furniture that is flexible in how and where it can be used. It is really inspiring to see the pupils take ownership of their design input and pride in their school and having a long lasting impact, beyond just their time in the school.
As to process, I pretty much always start digitally, my weapon of choice being Adobe Illustrator. I design almost always in 2D with a lot of notes in the margins of dimensions and how parts fit together, tolerances, offsets etc. Once I have the rough idea of a design, it is then a question of how it will fit together, both in terms of the parts as a finished piece and also how they will fit onto a sheet. As so much of what I design is for production runs, being able to fit pieces economically into the material is important, both to keep the unit cost down, but also in terms of reducing waste.
Sometimes I create a scale model or full scale mock up. This was case for The Utility Stacker chairs. If say a chair is made of 18mm ply, I will laser cut a 1/6th scale version, to enable me to look at the shapes, the lines, the function. They may work in theory on a computer but scale models enable me to check in practice.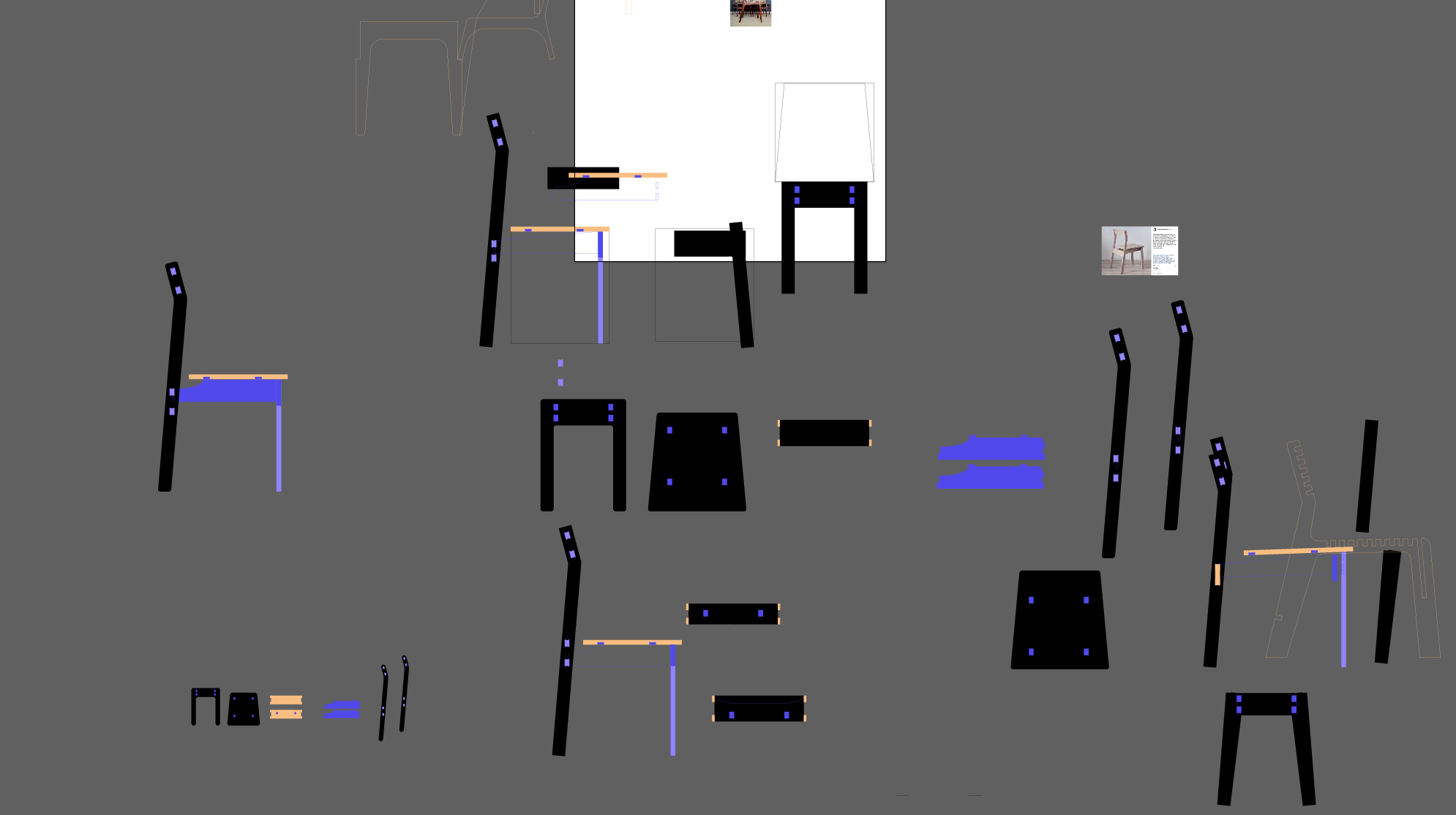 What are your ambitions?
World peace and happiness would be great, but sadly that isn't something my laser and CNC cutters can make. Failing that, ambitions are to continue working on interesting projects and being an important part of art and design fabrication in Scotland. The addition of a metal cutting laser would be very exciting!
I understand you have fondness for Land Rovers. What's your favourite model and from what year?
Other people dream of sports cars, luxury, speed and comfort but true happiness is behind the wheel of a Landy, with a top speed of 53 mph and limited internal electrics. British design engineering at its finest!
I have a 2003 ex-police 110 Station Wagon in Chawton white and recently galvanized chassis. Uncomfortable, noisy and slightly impractical, but my dream car all the same.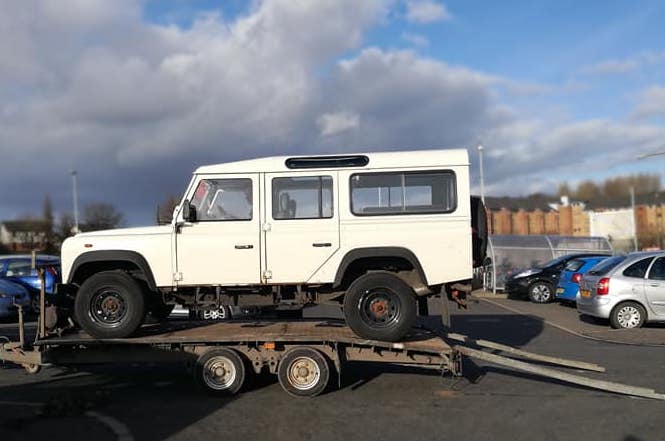 What makes you tick?
After making things – be that jewellery, baking, sewing, welding, furniture, laser or CNC-ing – probably Yorkshire tea, Scottish beer and swimming. Going away in our camper van Ambulance, reading a book in the sun, cycling in the country, being in my parents' garden in summer, relaxing in the sun on our Ercol (read: very uncomfortable but beautiful) sofa in the sunshine with my cat, Kitchen.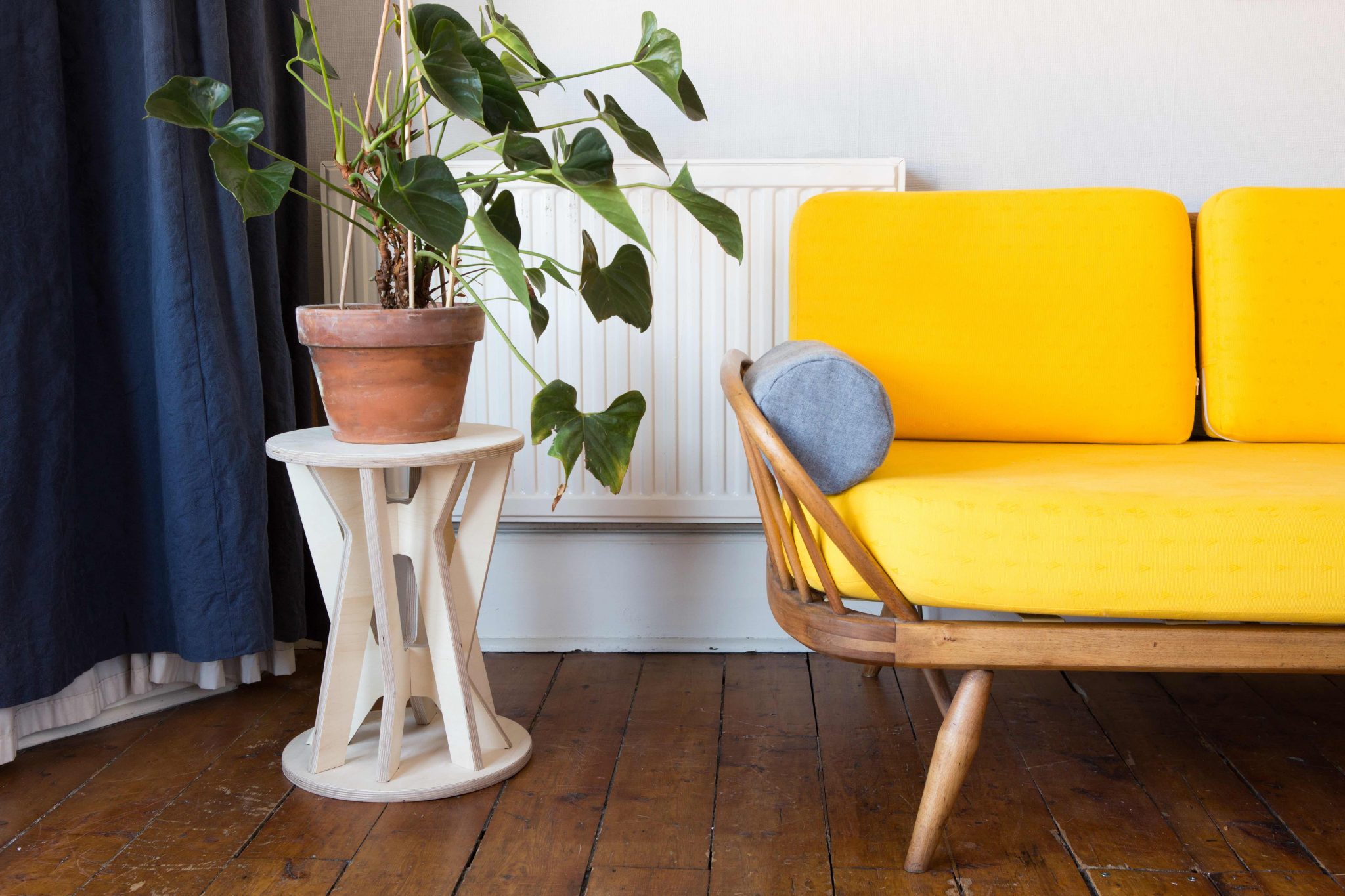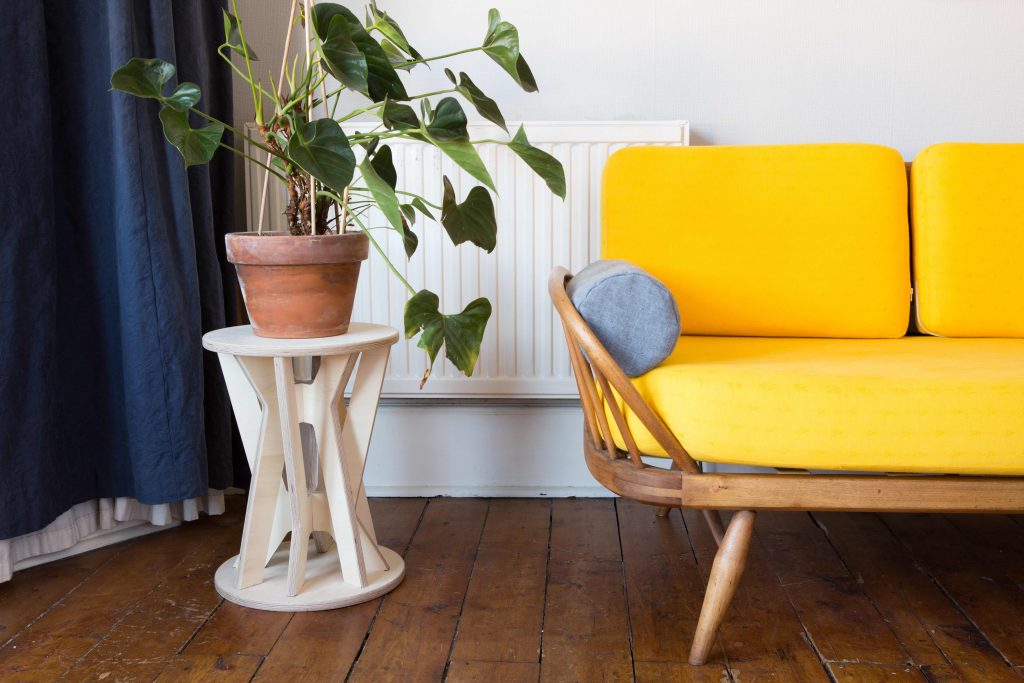 Do you have a particular song, book or food that is keeping you going during lockdown?
I usually listen to Radio 6 from the moment I wake up until the end of the work day but I am finding the news and chat quite stressful, so I am listening to music, Tiny Desk Sessions on Youtube, a series of NPR recordings of acoustic sessions by a massive range of musicians and bands. It has introduced me to a few new favourites – Gaelynn Lea, Front Bottoms, Super Organisms to name a few — which I play very loudly on my own in the studio.