Episode Two The Orkney Chair
by Helen Voce
If you've sat in an Orkney Chair, you'll have experienced how the high straw back, and perhaps hood, envelops you. And if said chair was facing a well-stocked fire, you'll have felt the sustained warmth of being in that insulated spot. Offering protection from the cold, drafts and some say noise, the design of the Orkney Chair makes sense when considering its place of origin.
Orkney is an archipelago of around 70 islands off the north-easterly coast of Scotland, 20 of which are inhabited. Settled for at least 8,500 years, Orkney has some of the oldest and best-preserved Neolithic sites in Europe with The Heart of Neolithic Orkney – Skara Brae, the Ring of Brodgar, the Standing Stones of Stenness, and Maeshowe chambered tomb – designated a UNESCO World Heritage Site in 1999.
Working the land and living in stone floored, thatched crofts, historically Orcadian crofters were resourceful, making useful and necessary furniture as needed from what they found about them. The mostly flat lands, buffeted by winds off the Atlantic and North Sea, are notable for the lack of trees, so driftwood, often from shipwrecks, was a vital construction material. The inferior yet hardy crop of black oats – grown to feed livestock, it thrived even on poor land, ripened by the summer's near constant daylight – provided supple and robust straw.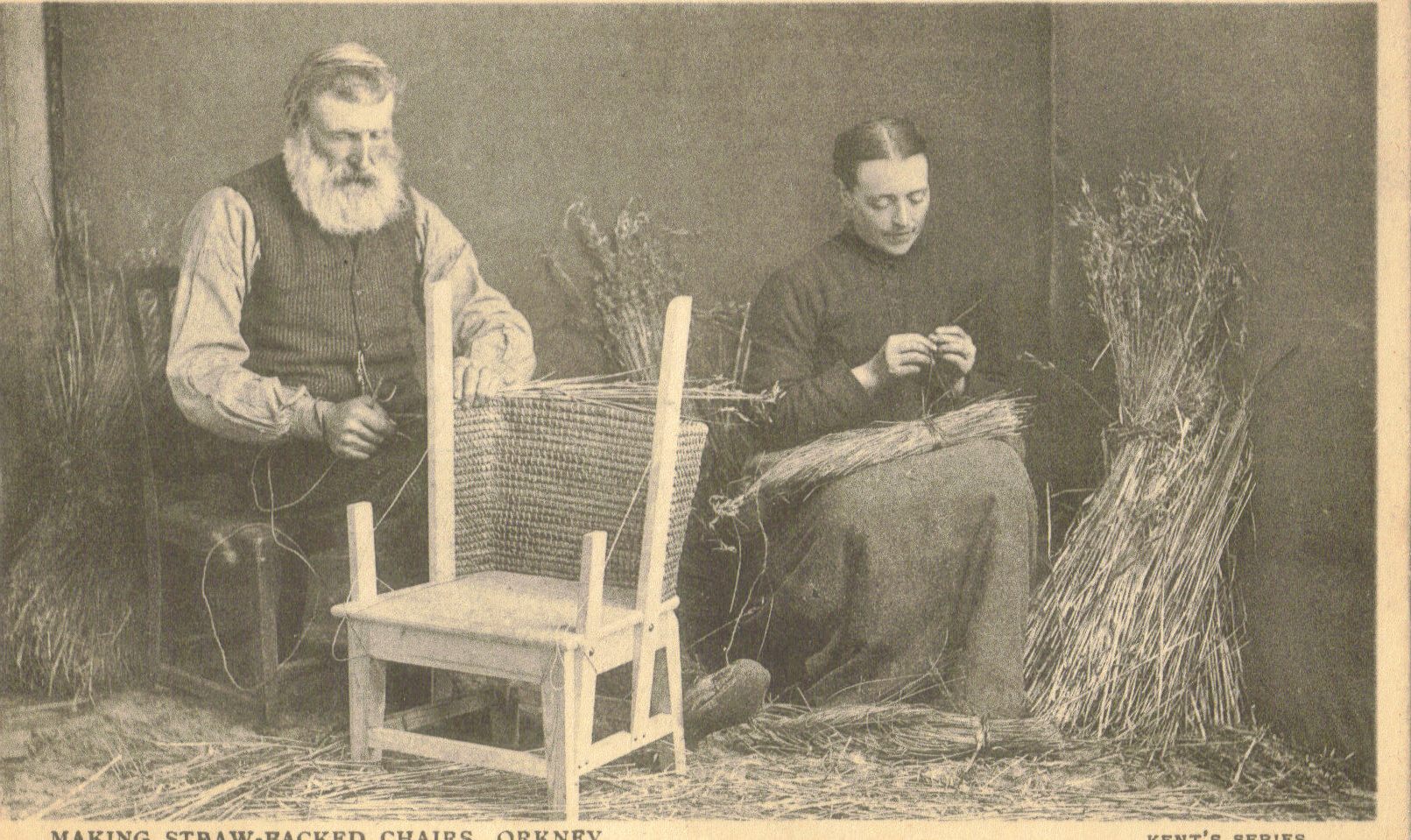 Traditionally the vernacular straw chair is constructed of a wooden frame, whether driftwood or repurposed wood, with a back of oat straw built up in a rope-like fashion. Stitched to the frame with seagrass, known as bent, it's shaped purely by the maker's experienced hand and eye. Straw chairs have been made in Orkney and Fair Isle for centuries. They evolved from simple stools, with or without backs, made predominantly of straw on a minimal wooden frame, they were often low from the ground, ensuring the sitter avoided the sooty air of peat fires. The Orcadian farmer and folklorist, Walter Traill Dennison wrote eloquently of this in the Orcadian Papers in 1905, reprinted in Manufacture of Straw Articles in Orkney in The Orkney News, 2017. An early example of a low chair made almost entirely of straw can be seen in the Orkney Museum in Kirkwall.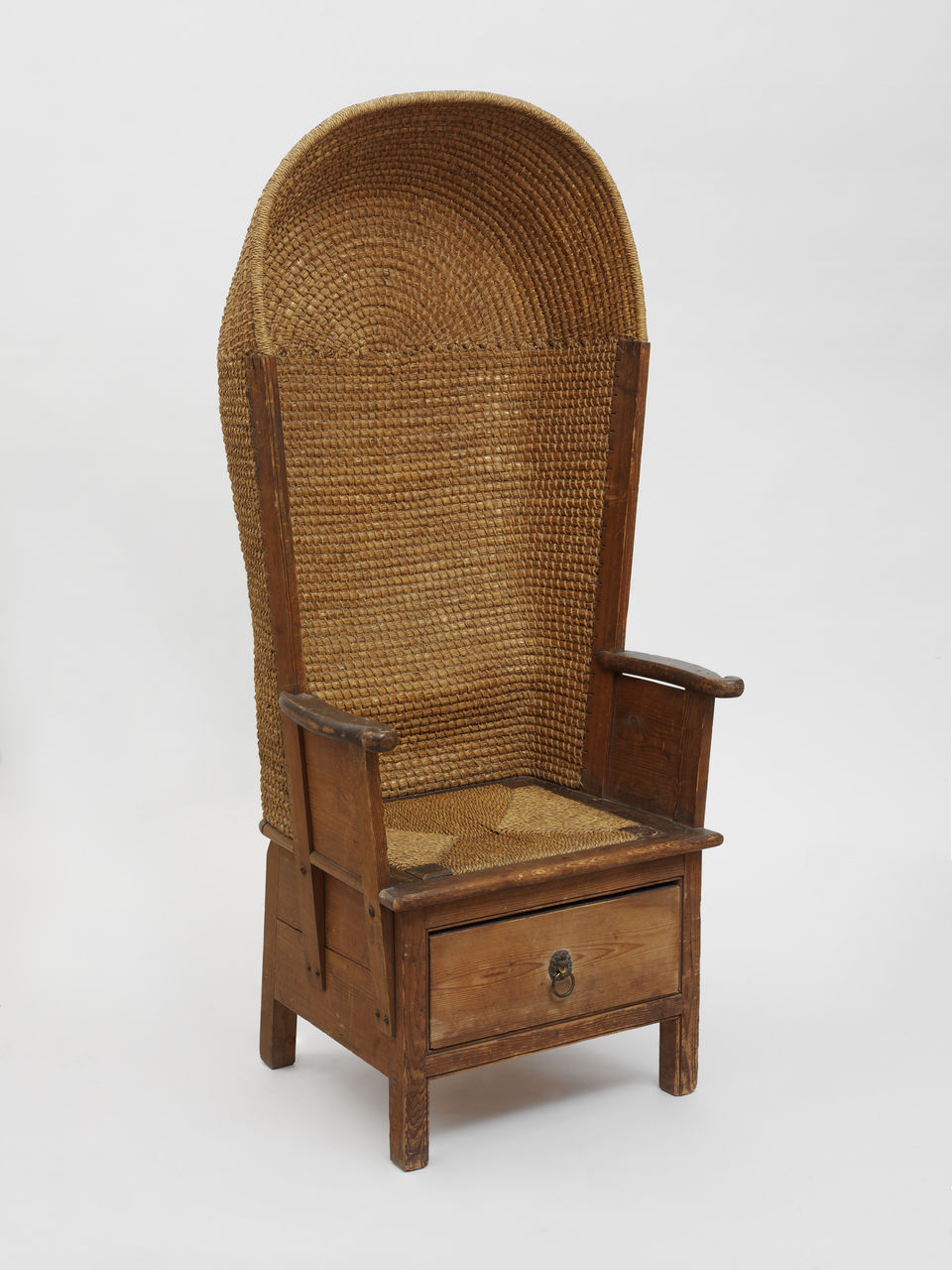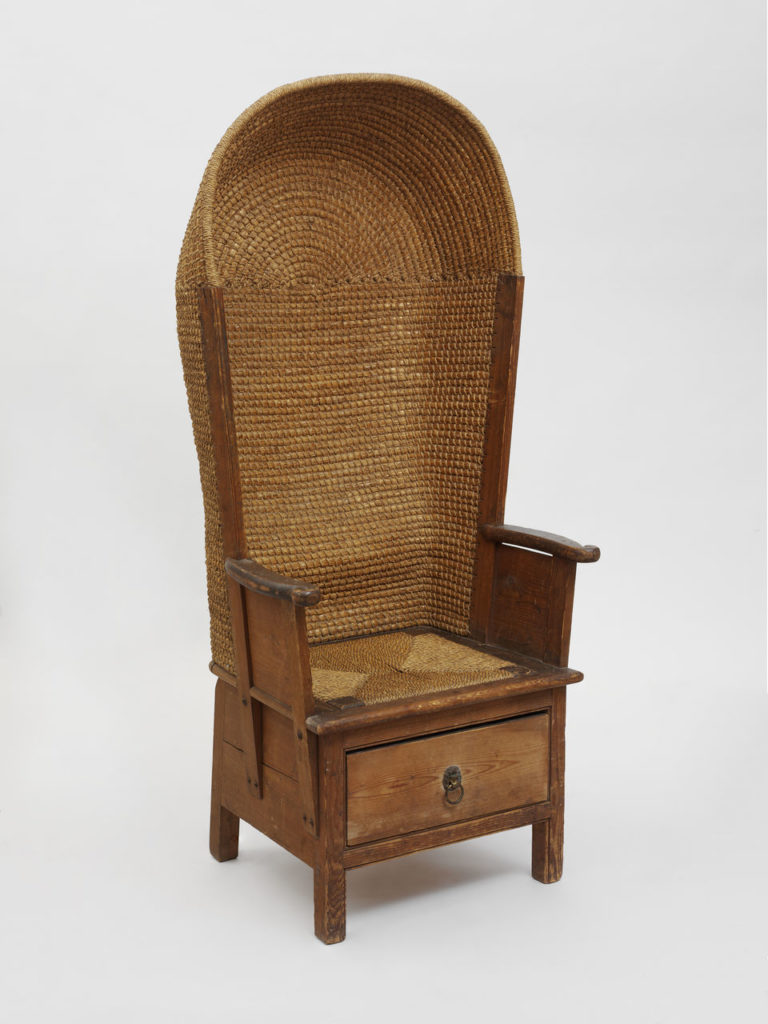 In discussing Orkney Chairs in the V&A's collection, specifically David Kirkness' Hooded Chair (c.1890-1900), Glenn Adamson, then Head of Research at the V&A, explains how today's familiar high backed chairs with a more considerable wooden frame, often with a drawer under the seat for books, whisky or knitting came to prominence:
"The Orkney chair really snaps into focus, you could say, in the late 19th century, at the very moment that it's commercialised, especially by David Kirkness, one of the prominent makers of that period and the person who made more examples than any other, supposedly 14,000 over his career."
Born in 1855 to a family of joiners on Westray, the 'Queen o' the Isles', David Kirkness moved to Kirkwall to serve an apprenticeship with the firm John P. Peace. He later established his own workshop in the 1870s, making straw-backed chairs with crofting outworkers – often fishermen and farmers. By the 1890s, the workshop was concentrating on the production of chairs for an international market of fashionable, predominantly female clients. This was thanks to the support of the Scottish Home Industries Association which was founded in 1899 by the Countess of Rosebery to ensure both fair payment of craftspeople and the promotion of their work at British and international exhibitions. Kirkness's chairs were exhibited at the fifth Scottish International Exhibition held in Edinburgh in 1890. They went on to feature in drawing rooms designed by Charles Rennie Mackintosh, to be presented to King Edward VII and from 1909 were sold in Liberty of London. Whilst the vernacular work of 'folk' craftsmen such as Kirkness can't be identified as Arts & Crafts, the turn of the century movement that sought social and moral as well as aesthetic reform clearly adopted such pieces.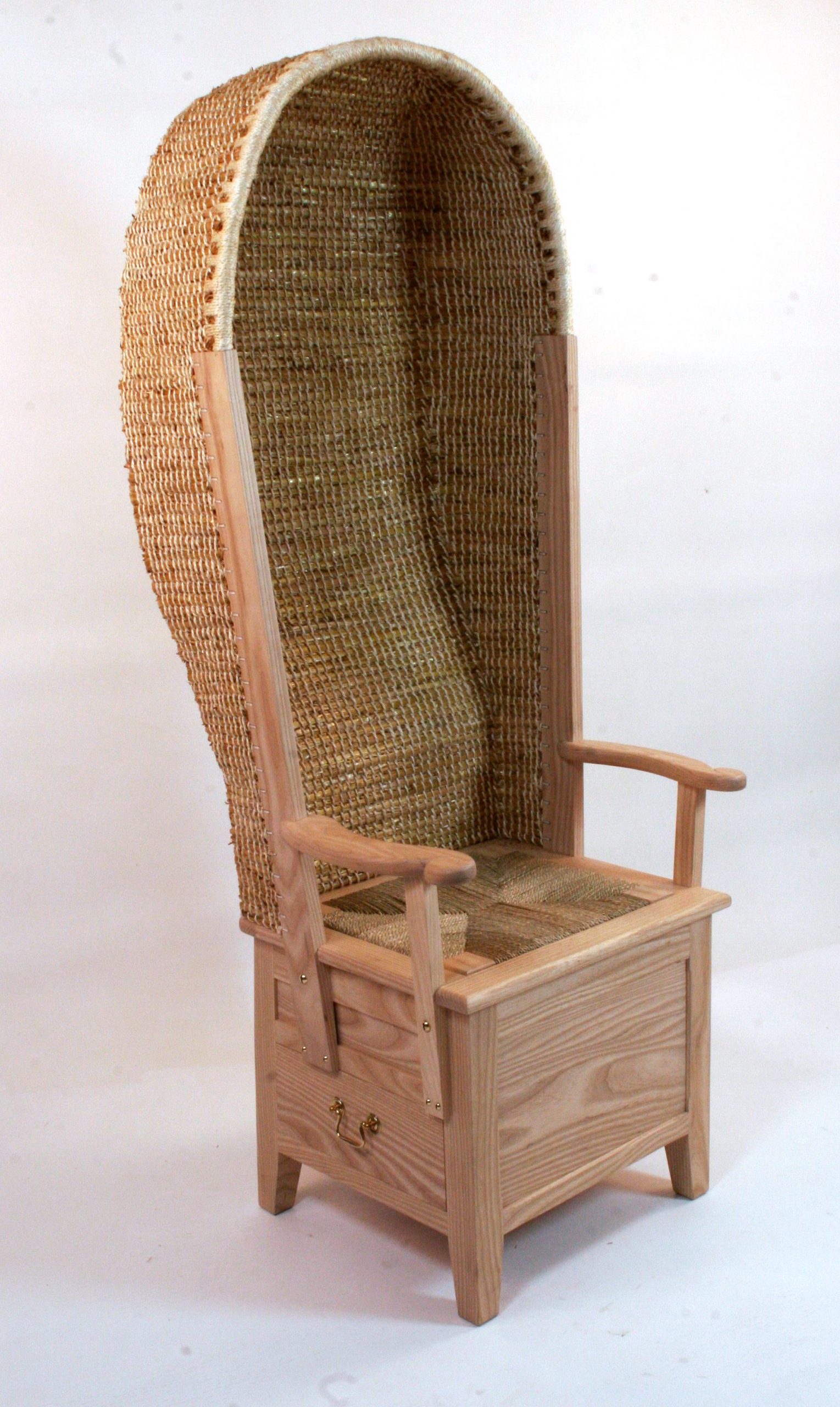 As Adamson says, the straw chair became known as the Orkney Chair only when it left the islands in the late 1890s, its place of origin romantically referred to as a way of embodying its local identity. Traditionally made to measure, Kirkness standardised the Orkney Chair to enable scale of production into four models; gentleman's, lady's, children's and hooded. After the Second World War, the maker Reynold Eunson took over Kirkness' workshop, and assisted by former employees, continued to make Orkney Chairs, with one being acquired by the V&A in 1971. Today only a handful of Orkney chairmakers work on the islands: Jackie Millar of Scapa Crafts, Fraser Anderson of Orkney Hand Crafted Furniture, Robert H. Towers, the Orkney Chairmaker and Kevin Gauld, The Orkney Furniture Maker.
Born and raised in Orkney, with boat builders and furniture makers as forebears, Kevin established in 2007 The Orkney Furniture Maker's workshop on the family farm. Employing traditional skills, he works with Scottish hardwoods felled from sustainable woodlands and oat straw he grows on the farm. Cut in September, the straw is sheaved and left to dry and turn golden. It is then dressed by hand and stitched in a continuous rope – its thickness regulated by a metal ring – with a sail needle threaded with sisal onto the wooden frame, to create the chair's curved straw back. Wayward straw ends are trimmed and singed with a blow torch.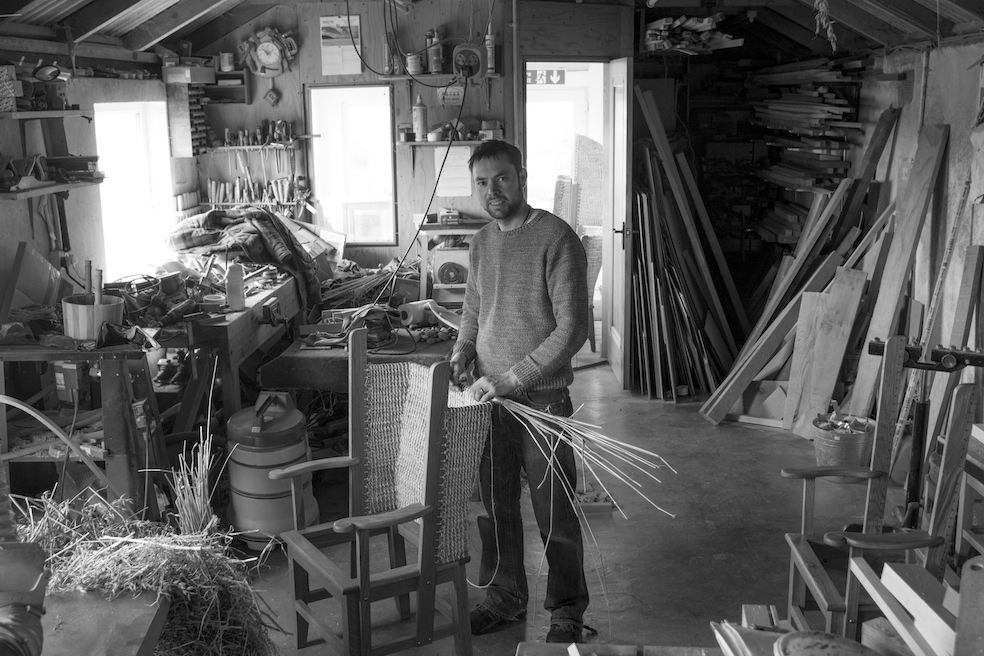 "It's rewarding to produce work when people appreciate where it is made, how it is made, and why it is made the way it is. It's good that people are willing to support a traditional craft and save it from being resigned to the history books like so many others are."
Vital to Kevin's practice is developing new designs. His collaboration with London-based designer Gareth Neal on the Brodgar Occasional Chair for The New Craftsmen, is a case in point. Described as '… a timeless and unique example of contemporary design and traditional craftsmanship combining in a truly authentic way,' the collaboration came about when The New Craftsmen invited Gareth to reimagine the vernacular Orkney Chair to showcase a contemporary object rooted in craftsmanship and an historical narrative. Gareth's design for the Brodgar Chair draws on the English Windsor chair frame, combined with the traditional straw work of the Orkney Chair. At the 'Portrait of Place: Orkney' at last year's London Design Festival, The New Craftsmen launched the Brodgar Collection, which includes a lounge and dining chair along with a side table to the existing occasional chair and bench. Since its launch, the Brodgar Occasional Chair has been one of The New Craftsmen's bestsellers.
Whilst the making of the Orkney Chair is classified as a 'viable craft' by the Heritage Crafts Association (HCA), Fair Isle straw back chair making and straw working are classified as critically endangered and endangered respectively on HCA's Red List of Endangered Crafts. Distinct from the Orkney Chair, with its different frame construction and the use of cotton to knot the straw, the Fair Isle chair is endangered due to just one ageing practitioner on the island and a decrease in Shetland black oat crops being grown. However, thanks to HCA and Shetland Amenity Trust funding, Eve Eunson, originally from Fair Isle, has established the Fair Isle Chairs Project, to record all existing Fair Isle chairs and to inform the making of an example of each type. Working alongside Kevin and other chairmakers, Eunson was to have presented an exhibition and film this summer at Shetland Museum and Archives. It is now postponed.
Meanwhile with a full order book, Kevin is expanding. In 2019 the V&A acquired a Brodgar Occasional Chair. On display in the Dr Susan Weber Gallery alongside David Kirkness' chair and chair by an unknown maker – this is a huge accolade for both contemporary and traditional skills, processes and materials, believes Kevin.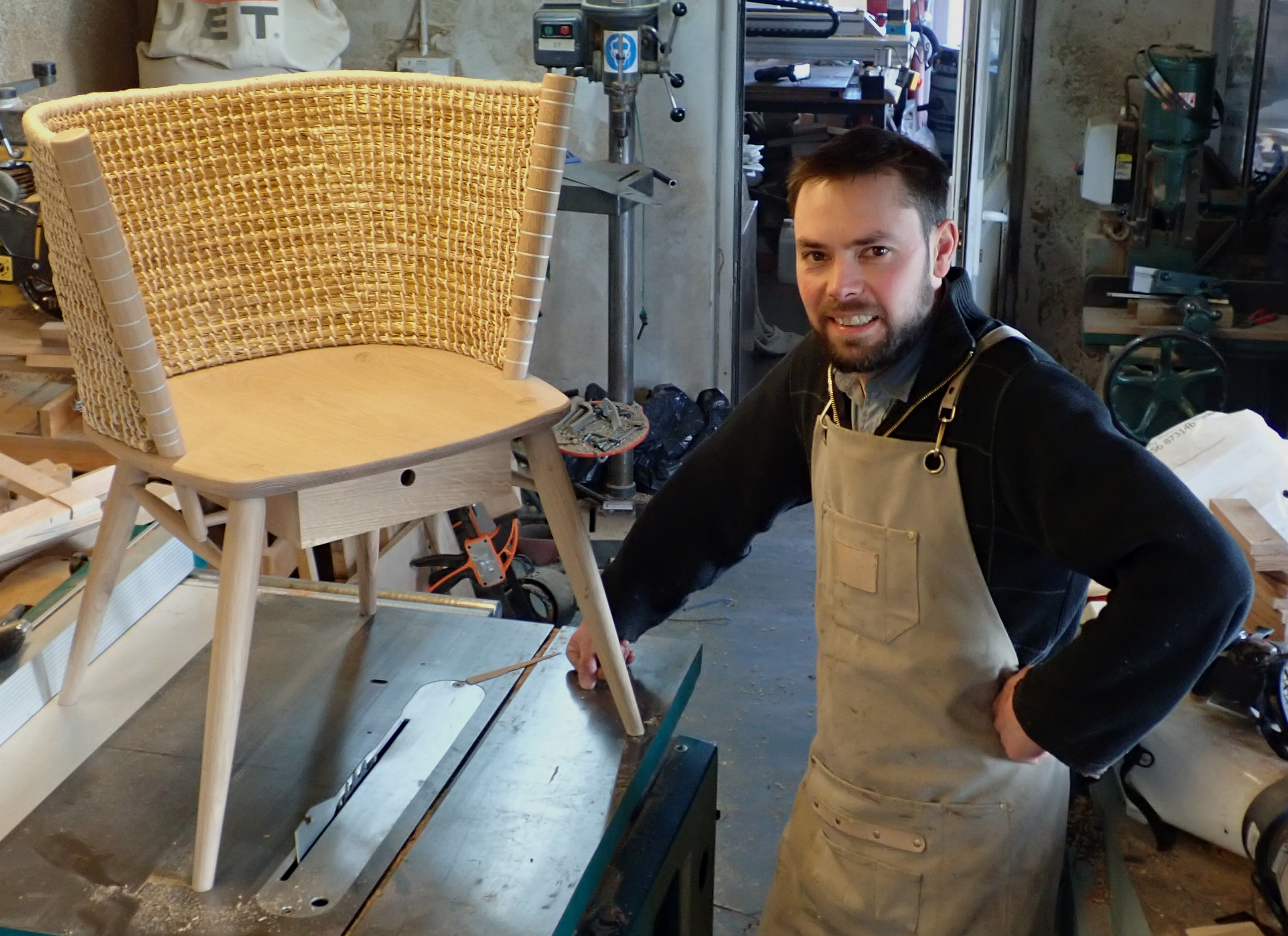 "Having the Brodgar Chair acquired by the V&A, is probably one of the highest achievements I will have in my career. I never expected my work to take me to the places it has and to meet the people I have. For the Orkney Chair, I see it as another step on the ladder of its development, that hasn't been done before; a new way to look at a traditional piece of furniture."
And there is expansion:
"I'm building a workshop extension, which is currently stalled at floor height. The joiner will be back after lockdown to finish. The main thing with expanding the workshop is to have a better, larger display area to show my work and a bigger work space to in which I can make bigger pieces to order and also speculate on bigger pieces. I will also have more room to take on further help in the workshop, to work on the wooden and straw elements, if the orders come back again!"
Until you can physically visit Orkney Museum to see historical straw chairs, take a trip to London to see Kevin and Gareth's Brodgar Occasional Chair in the V&A, or indeed the V&A Dundee's Scottish Design Galleries to see a David Kirkness Orkney Chair, you can explore the following online, perhaps whilst listening to music by Orkney Band The Chair.
Helen Voce is an independent producer working locally, nationally, internationally and voluntarily in the creative industries. Her professional specialism and personal interest is in contemporary craft and design in Scotland, the UK and beyond. Current projects include the MAKE Manifesto, Make Works Scotland, mentoring for Vanilla Ink and Craft Scotland, the Tanween Development Programme at Tashkeel in the UAE, plus professional development projects for Applied Arts Scotland. Former clients include Cove Park, Crafts Council and Firstport.