In December 2021, Design Exhibition Scotland launched an Open Call to designers, artists & architects from across Scotland to design a park bench. From over 50 submissions, we selected four designers, inviting them to work up their proposals. The final prototype benches were installed in the summer of 2022 in the grounds of Mount Stuart House on the Isle of Bute off the west coast of Scotland. Earlier this year the benches were exhibited at V&A Dundee.
Rekha Maker
Vista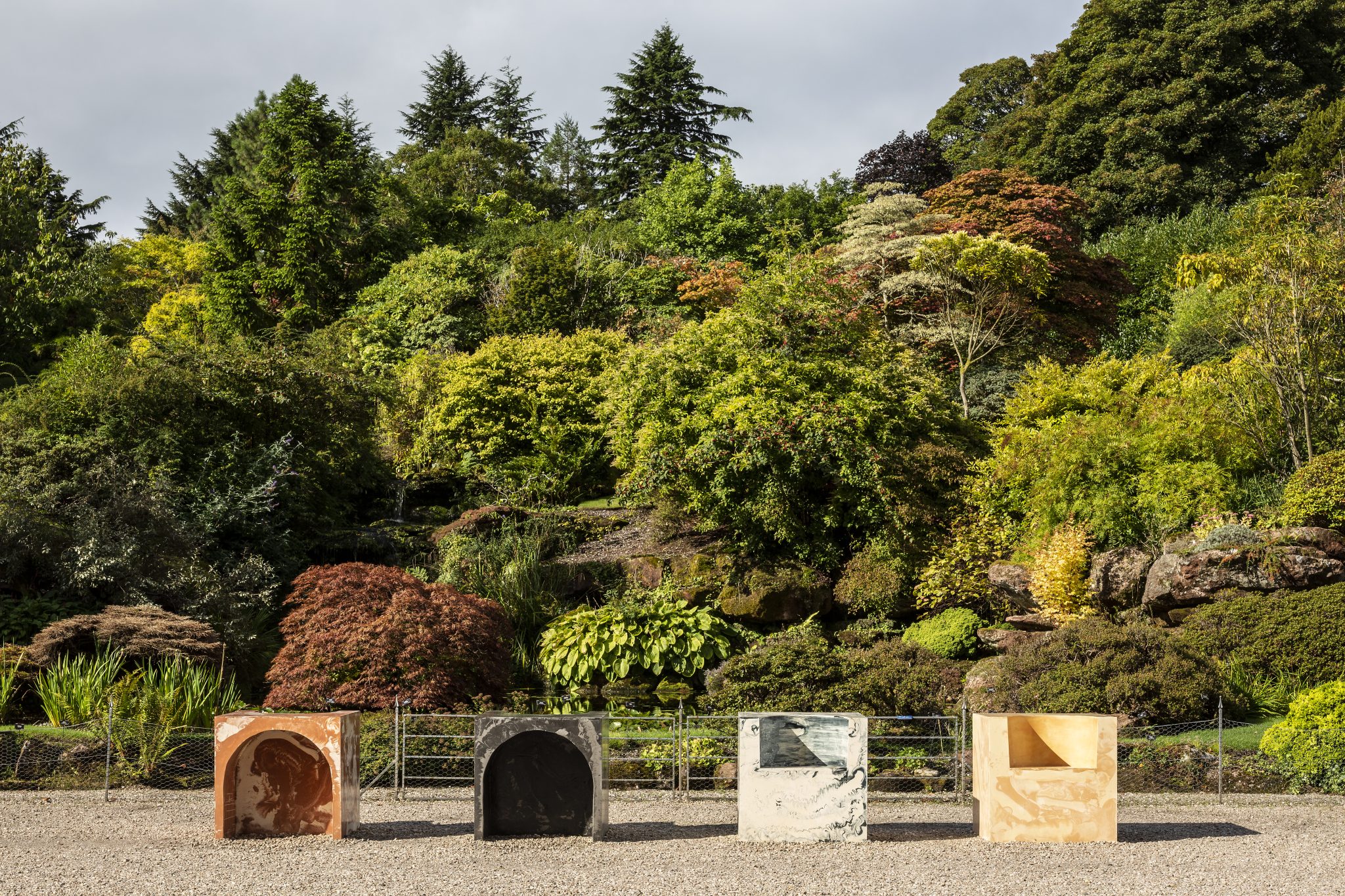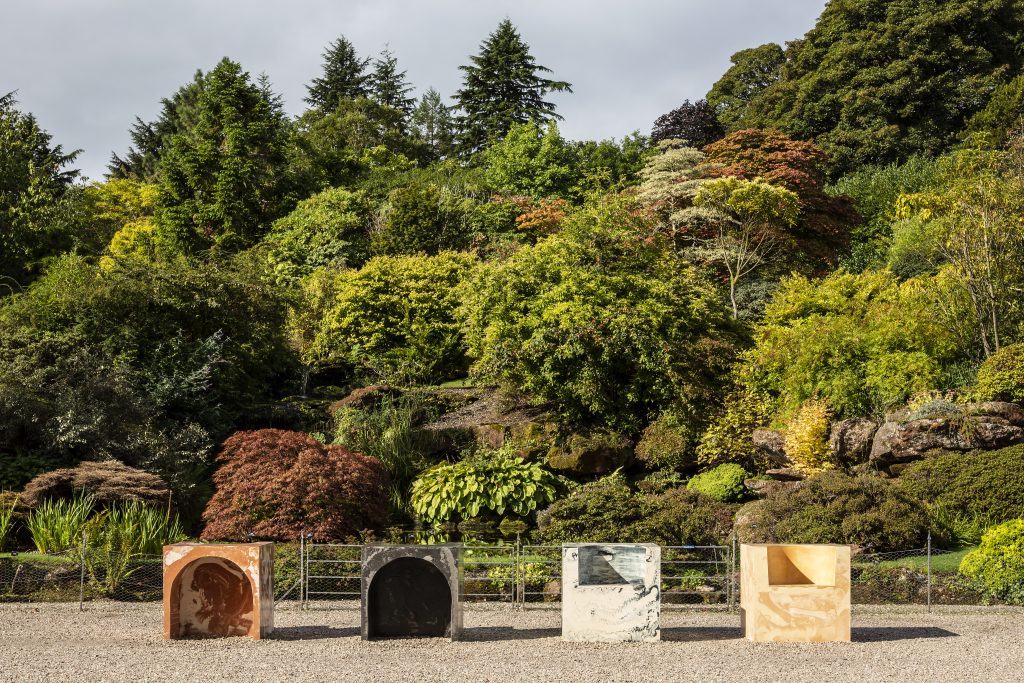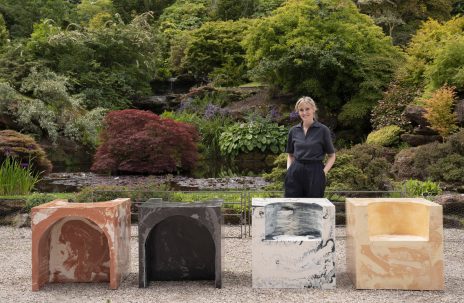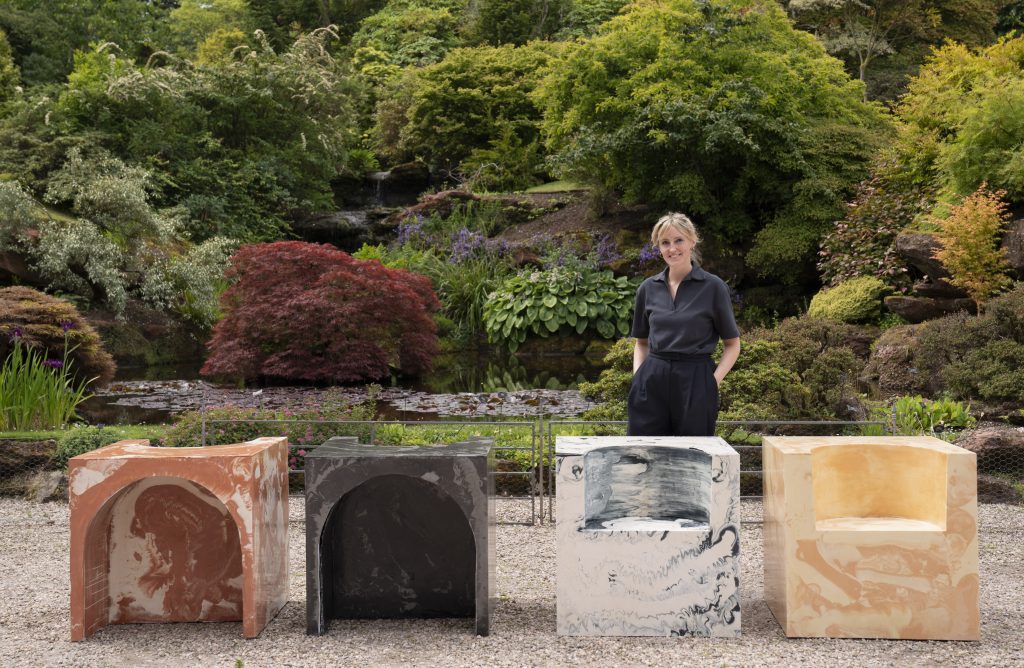 Rekha Maker's Vista is a beautifully rhythmic massing of moulded marblised modular forms. Conceived to provide a place to sit and enjoy views both of the north façade of Mount Stuart House and the Rock Garden, Vista also offers an array of flat surfaces on which to lean or place picnics or books. Rekha's design also carefully considers how the park bench can welcome those in wheelchairs: the arched recesses enable wheelchair users to be able to use the flat surfaces. Inspired by the architectural motifs and rhythms of Mount Stuart House, and its richly decorated interior, Vista is a clean-cut sculptural functional form. Made of Jesmonite, a gypsum-based material that is similar to plaster of Paris, the colour palette is inspired by Mount Stuart's sumptuous Marble Hall.
Vista is part of Rekha Maker's ongoing investigation into scale, functionality and perceived luxury using simplified architectural motifs. Although the modules are positioned in a row, one can imagine infinite configurations.
Rekha Barry is an architect who designs functional objects. Based in Glasgow she founded Rekha Maker in early 2020. She has since produced a range of homewares & in 2020 Local Heroes commissioned Rekha Maker to make the award for the winner of The Scottish Album of the Year. Rekha also works as an architect for the Glasgow based practice of Anderson Bell + Christie.
C. A. Walac
Keen to explore how to effectively 'repurpose' unwanted materials, C. A. Walac's benches are constructed from materials salvaged from and around Glasgow Sculpture Studios. Embracing the given forms of the found materials, Walac has created two benches that are both functional & eye-catchingly sculptural. Entitled 'Bending your knees without falling' the benches welcome visitors to pause and observe Mount Stuart's Victorian Gothic facade or look across the landscape to the Forth of Clyde beyond.
A cross-disciplinary artist who is particularly drawn to exploring the relationships between the physical body, architecture and everyday furniture, C. A. Walac's work investigates the abstract realm of objects. Working across construction & assemblage to create functional objects, she conjures up playful sculptural forms. Originally from France, Walac is based in Perthshire. She exhibited at Design Exhibition Scotland 2019, Dutch Design Days with Movimento in 2020 & more recently in The Future of Home at London Design Festival with Local Heroes. Last year she had a solo show, Flat Versions on at Custom Lane, Leith.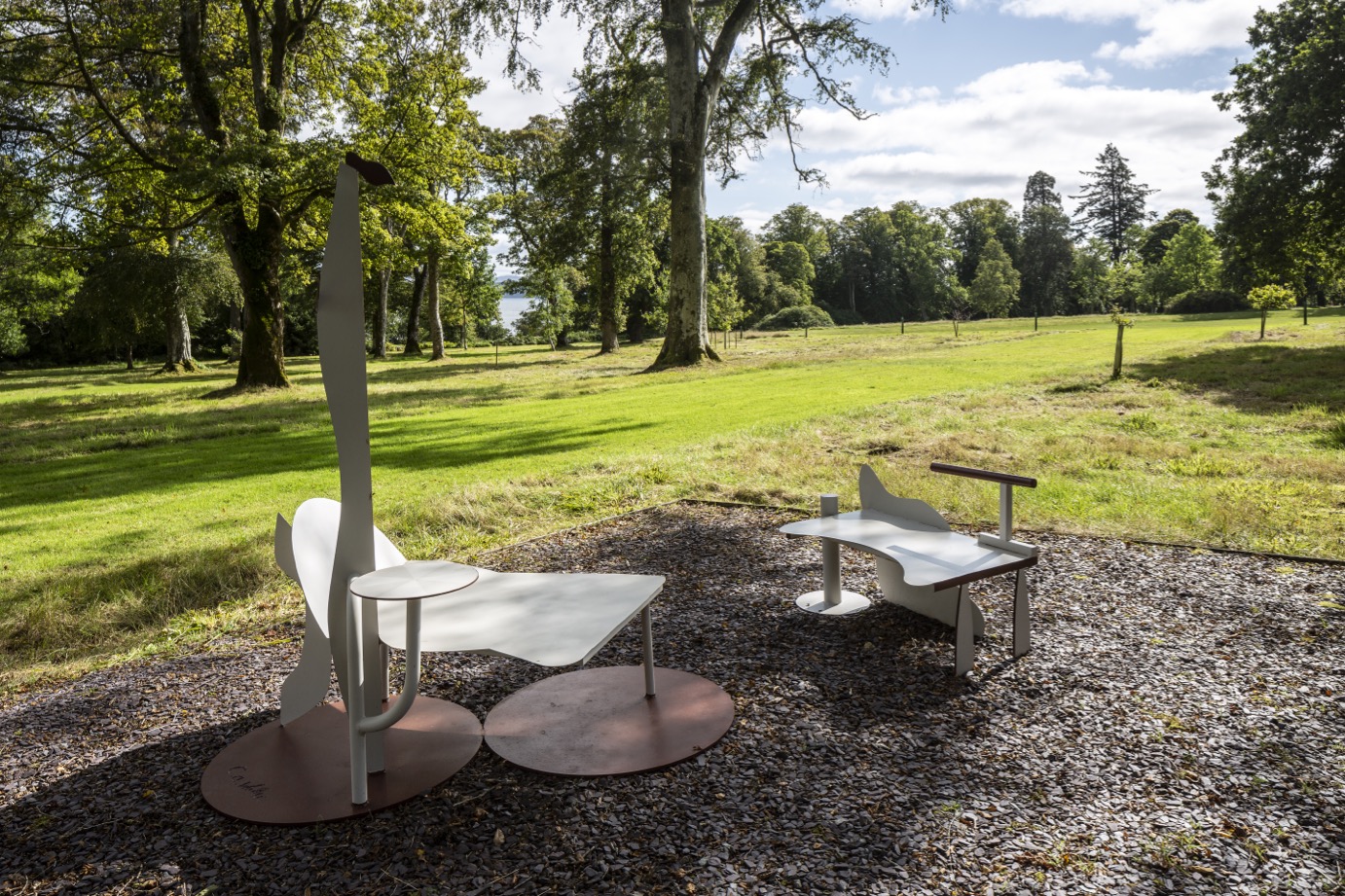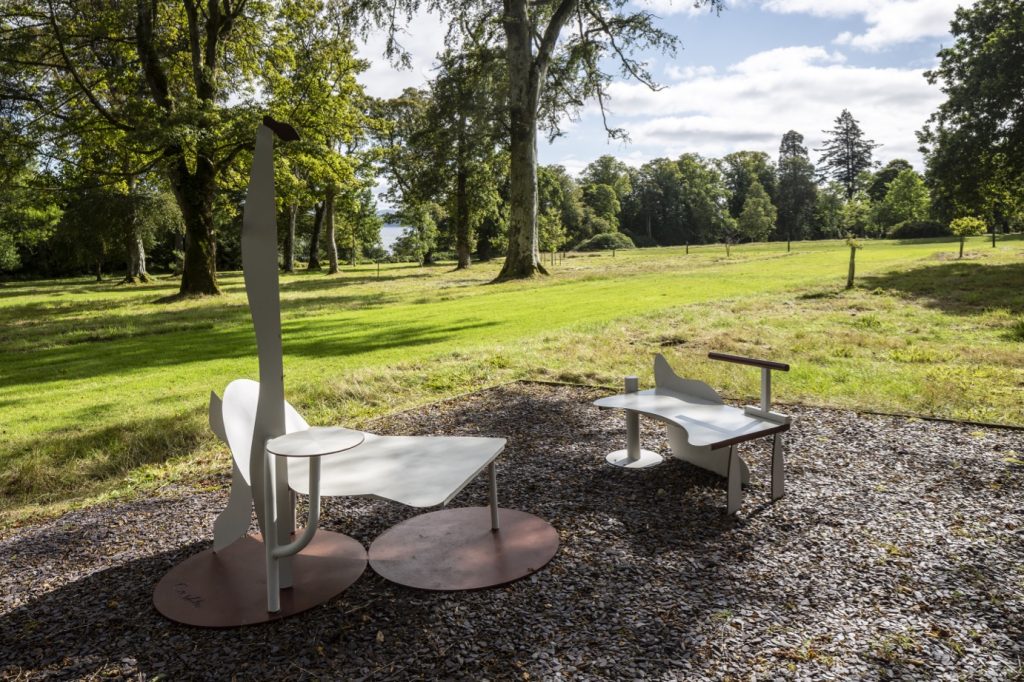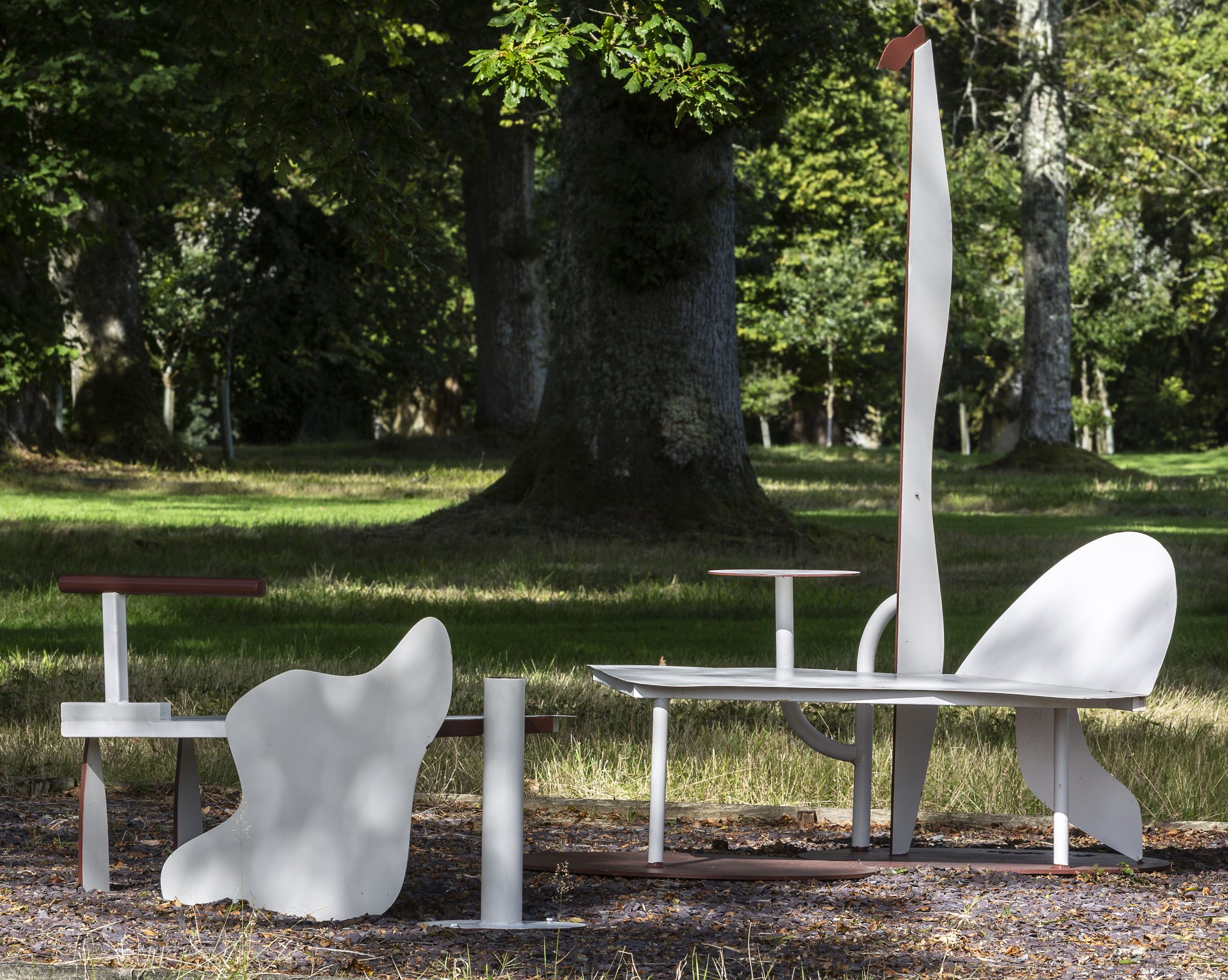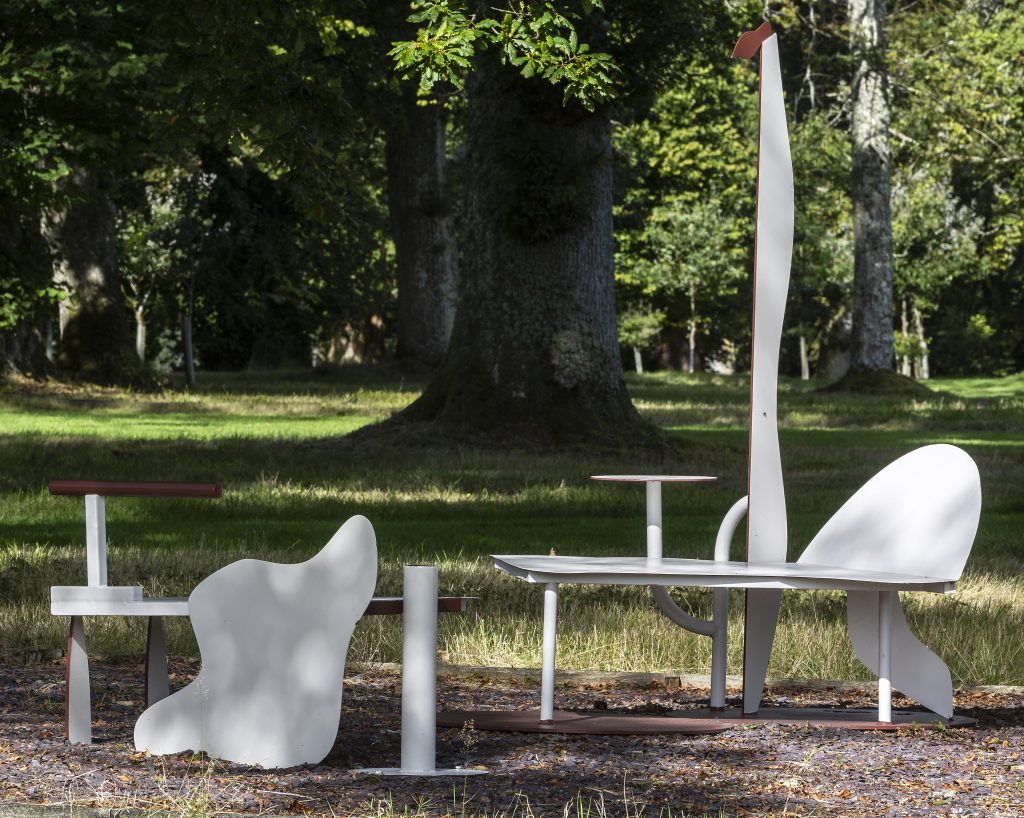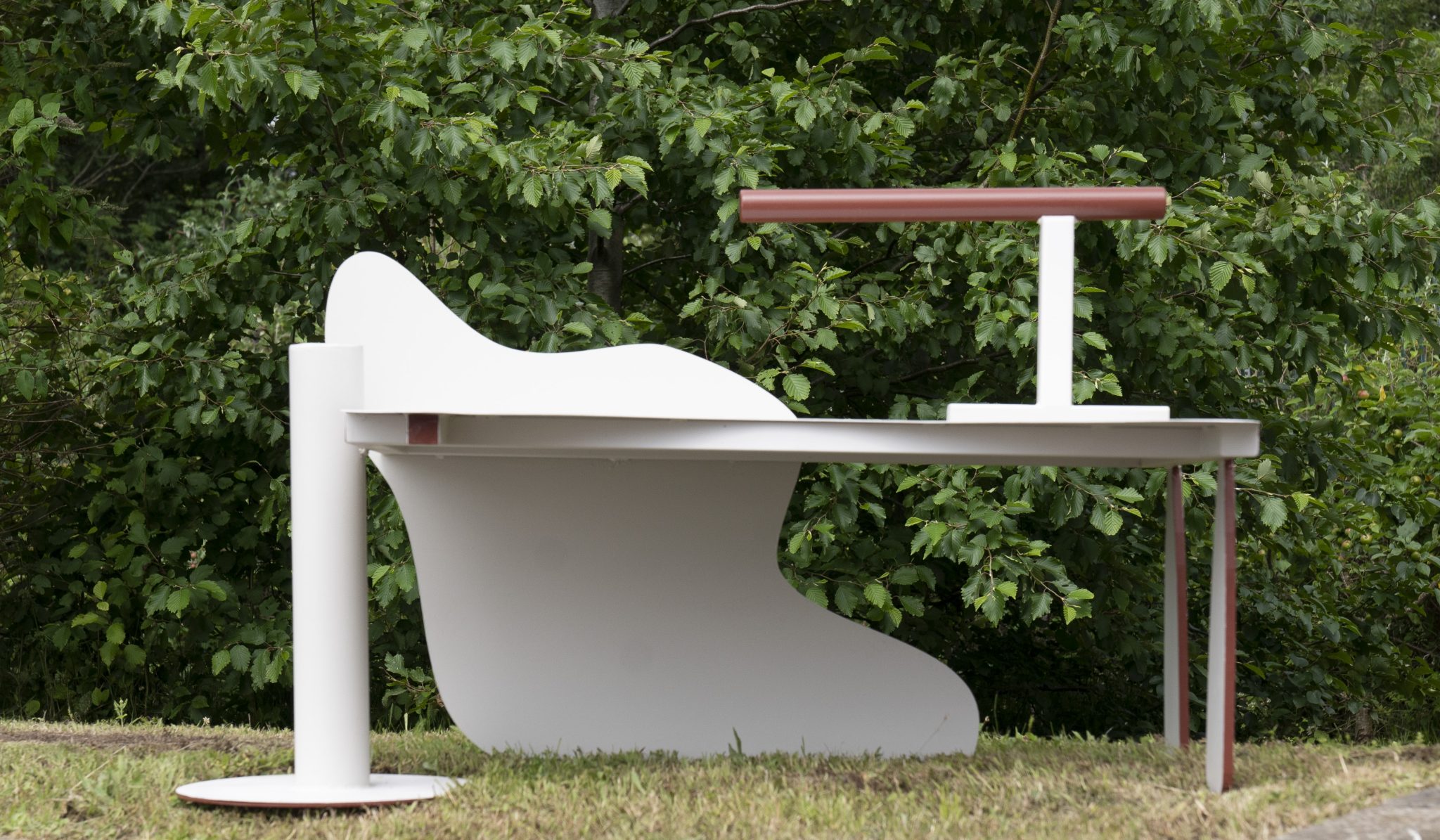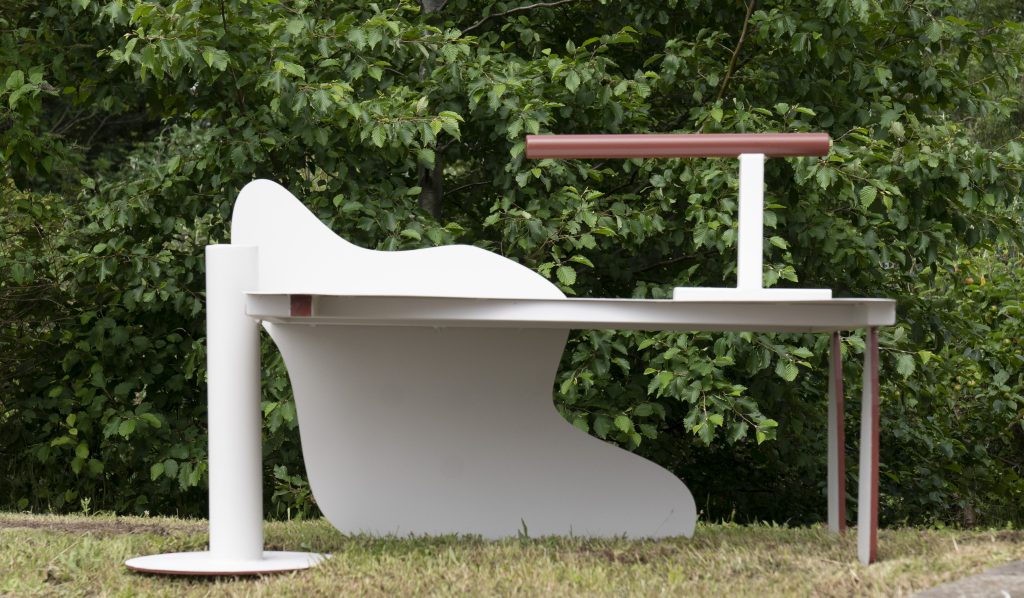 Dress for the Weather x Stefanie Cheong
Stone + Plastic Bench 01 + 02
Responding to the geology of the Isle of Bute, Dress for the Weather x Stefanie Cheong's two seats are formed from a monolithic piece of Devonian sandstone, dating back around 400 million years.
Inspired to design a bench that disrupts classical proportions of the pleasure garden and carefully cultivated and ordered landscapes often found surrounding stately homes, DftW x SC bring together the ancient and modern to create brilliantly solid chunky seats. The geological past and the most ubiquitous pollutants of our Anthropecene era, plastic are brought together. Working with Bute's Ambrisbeg quarry, DftW x SC salvaged sandstone from a demolished church which they then tooled in to bench-like forms. The plastic inlay is 100% recycled packaging and provides a wipeable and warm seat when compared to stone-cold rock – the deep past meets the present day.
Dress for the Weather is an architectural practice based in Glasgow founded by Andy Campbell and Matt McKenna. The practice experiments with sampling to connect craft, ecology and construction. Stefanie Cheong is a designer and maker who explores geology and rock formations to inform her work. She brings contemporary aesthetic to traditional lapidary process by cutting found and discarded rock. She has recently started making her own rocks from waste streams.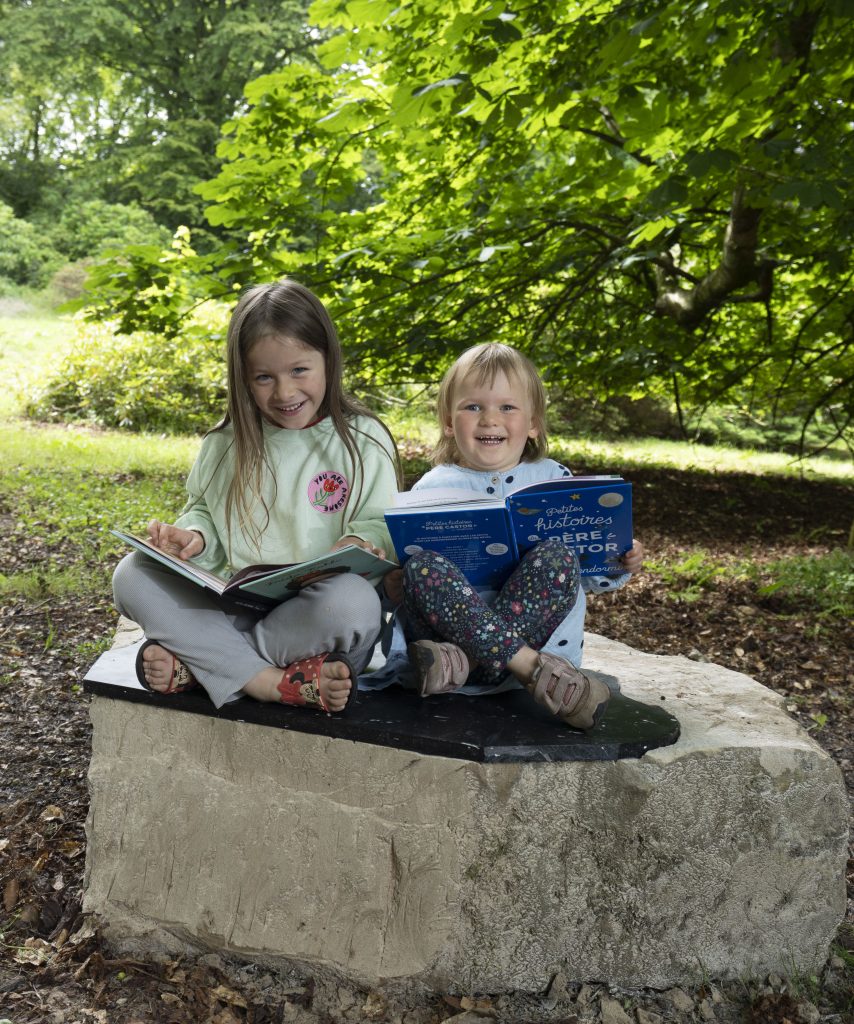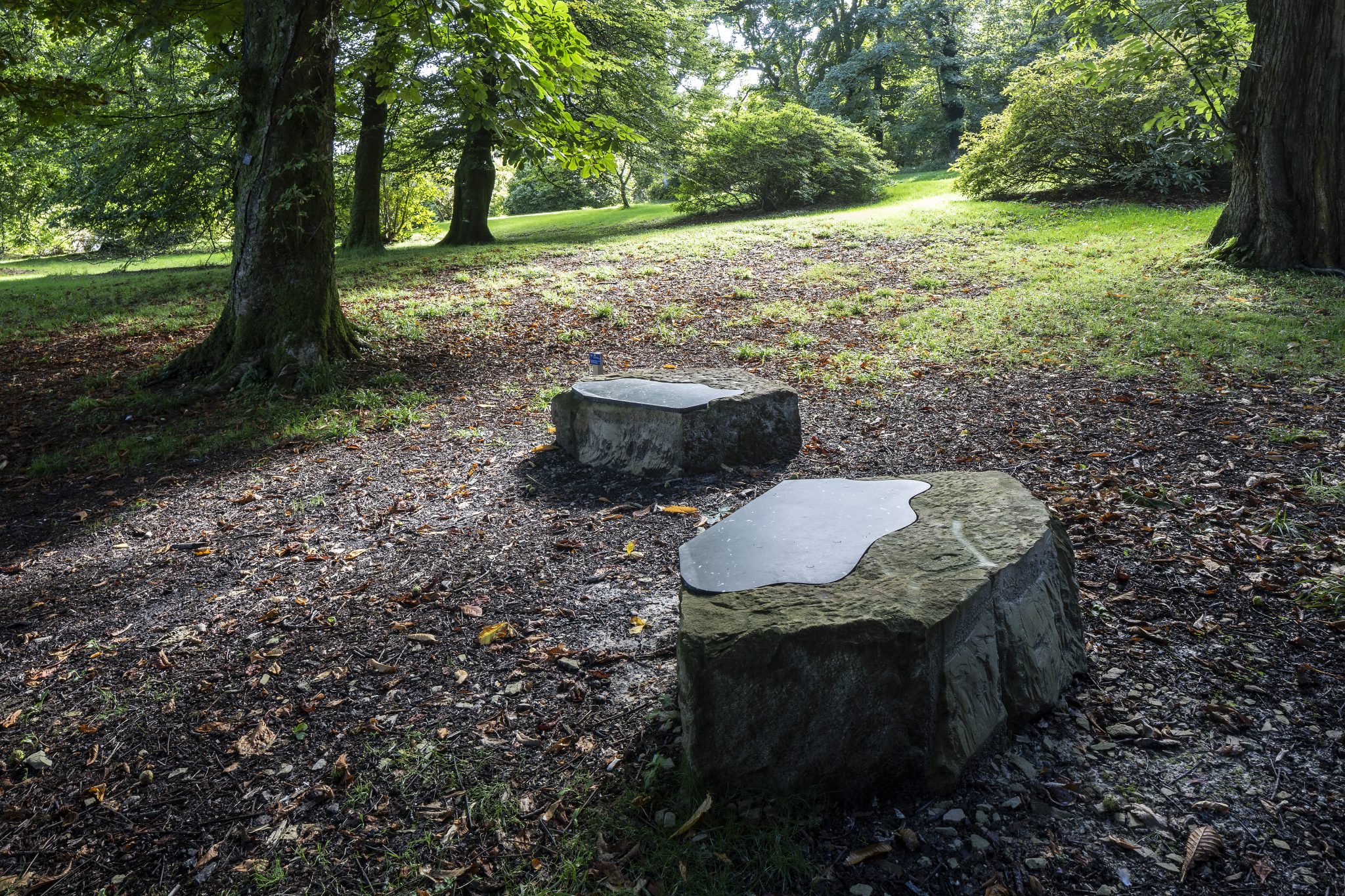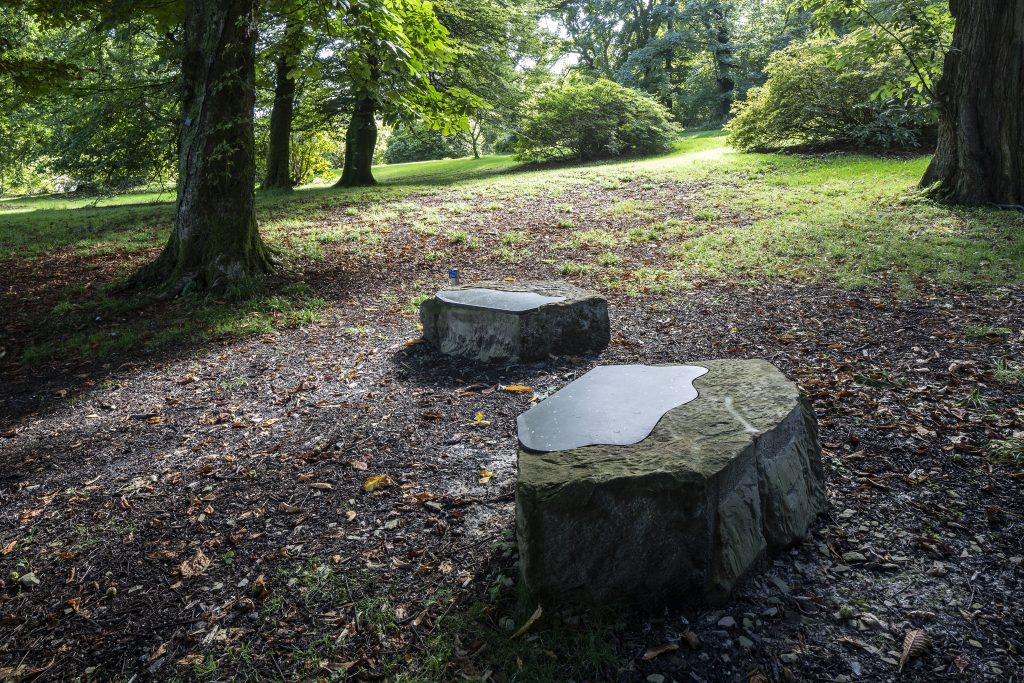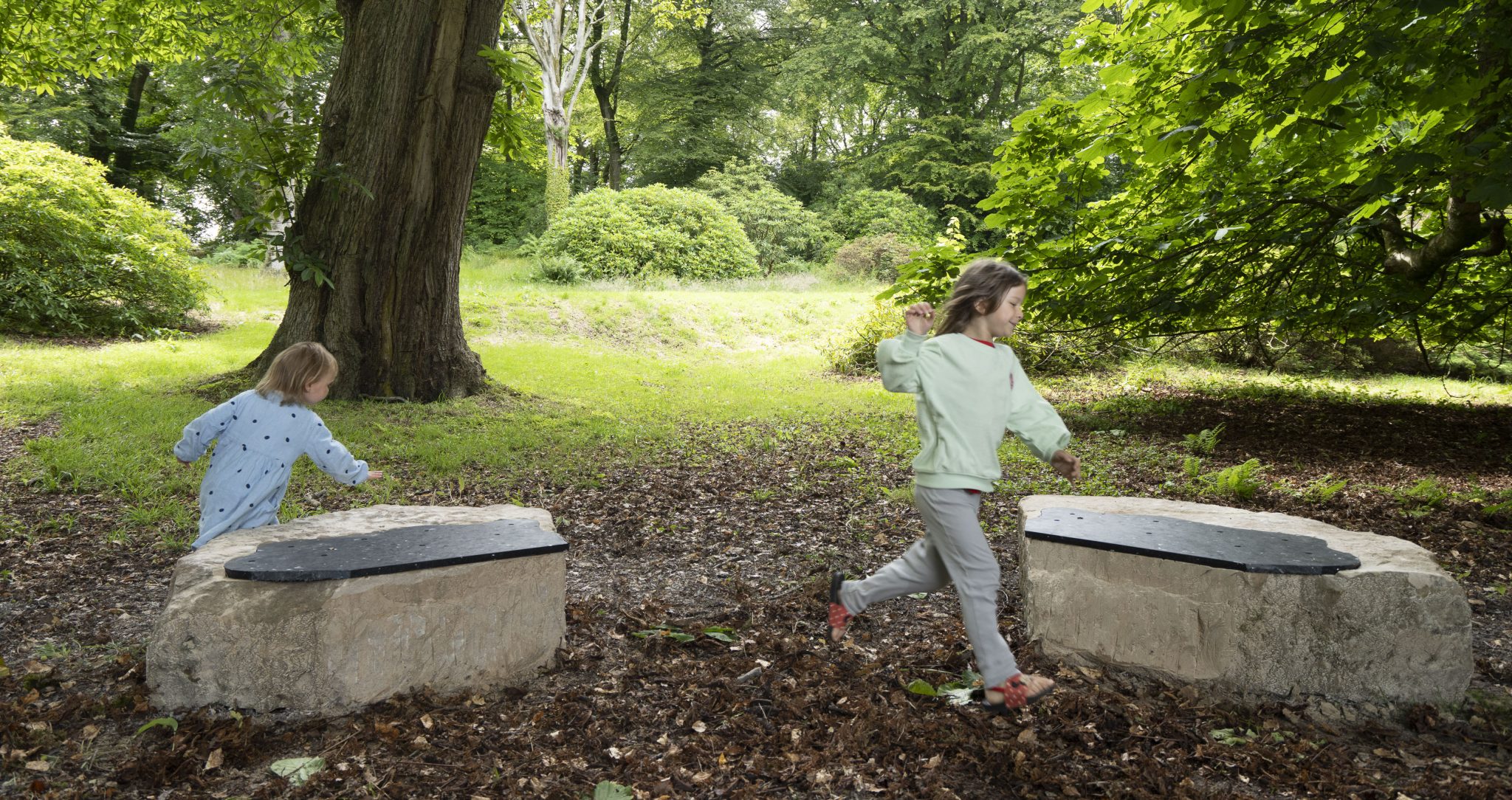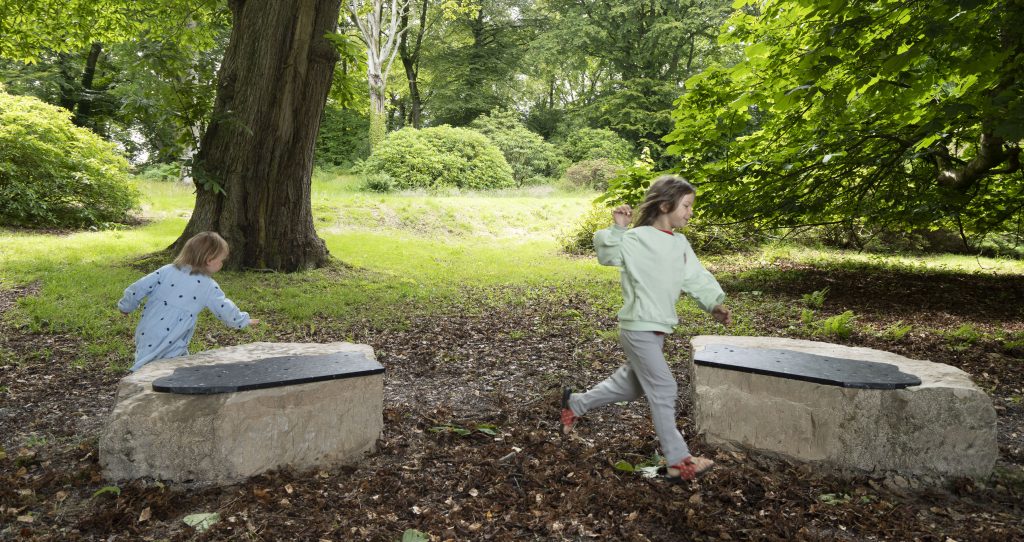 Chris Dobson
Monolith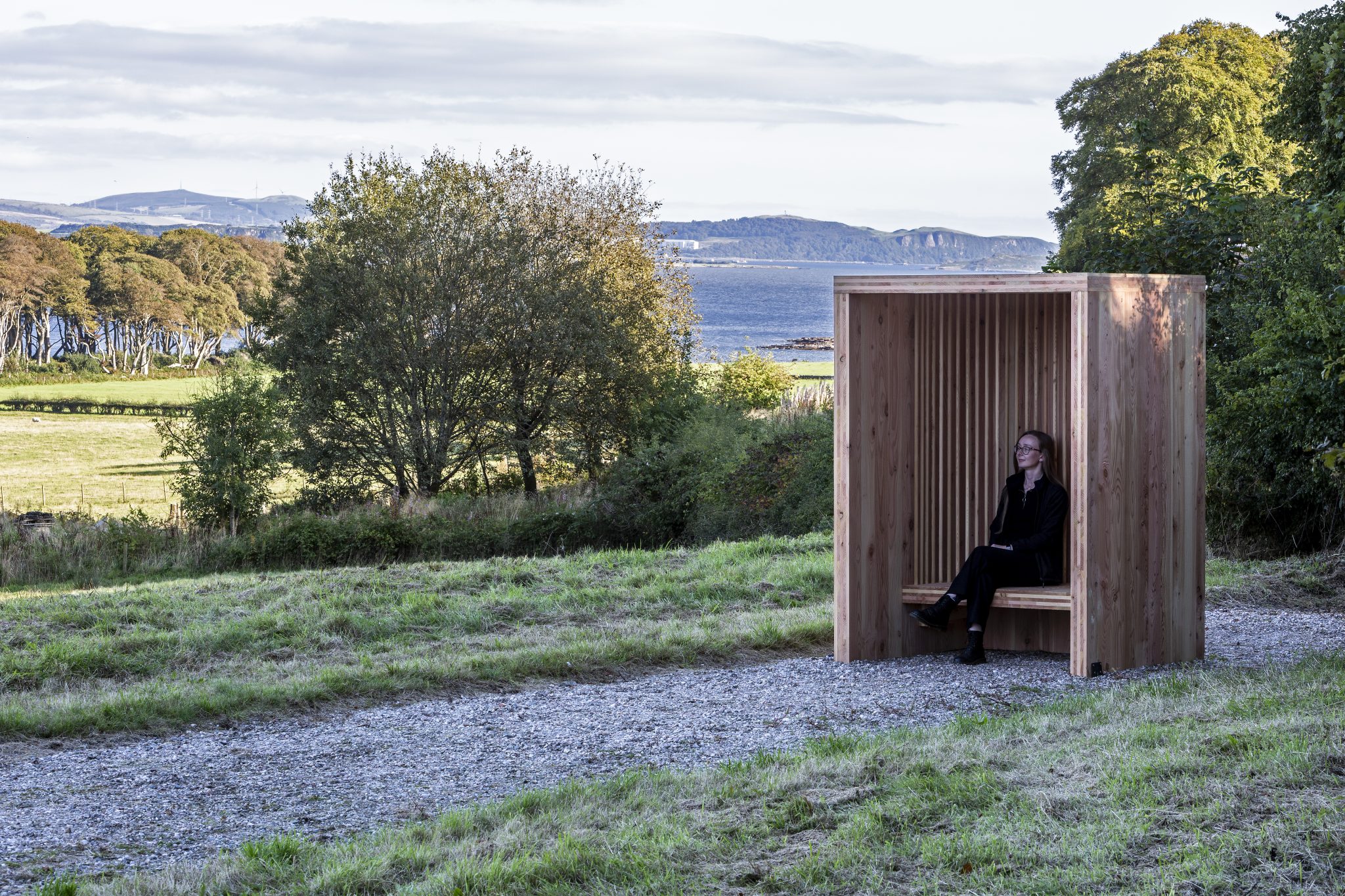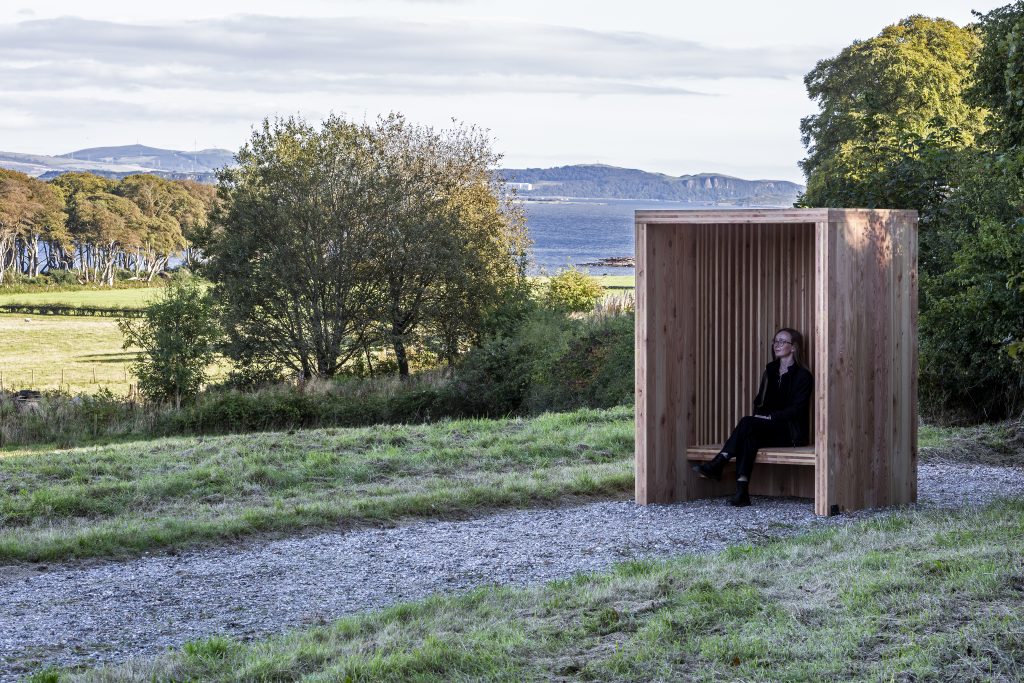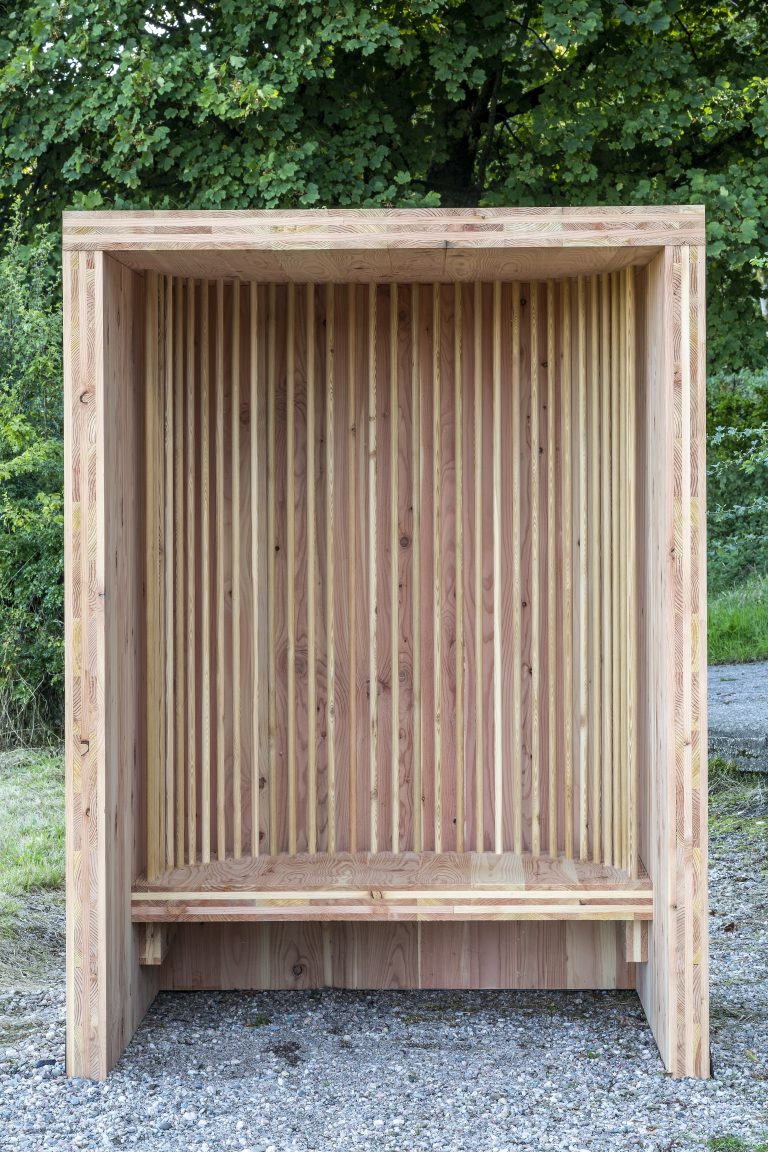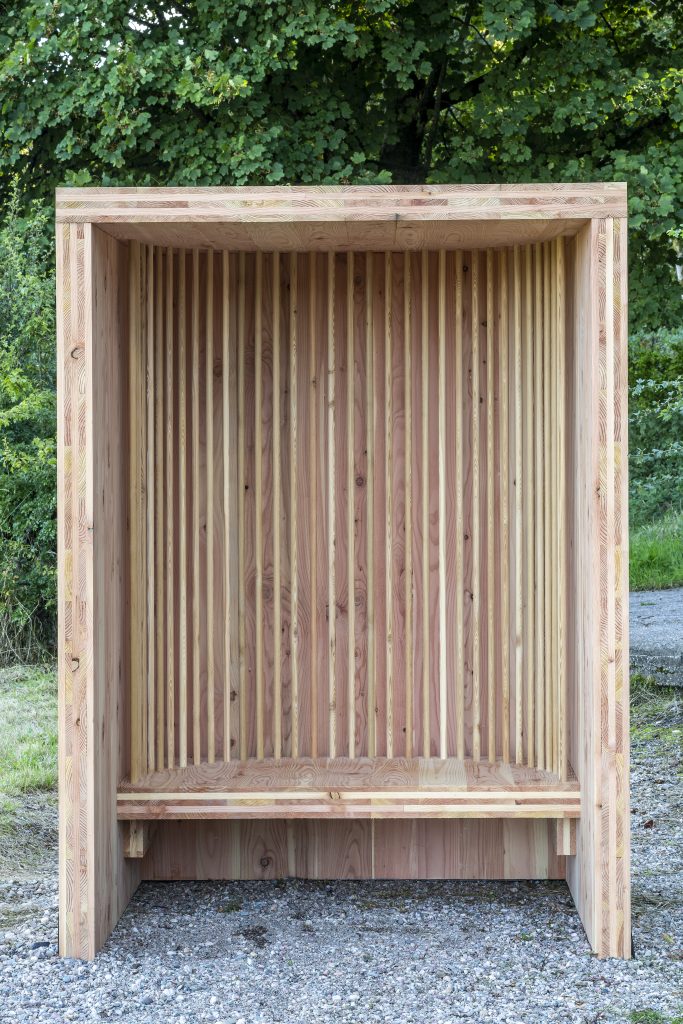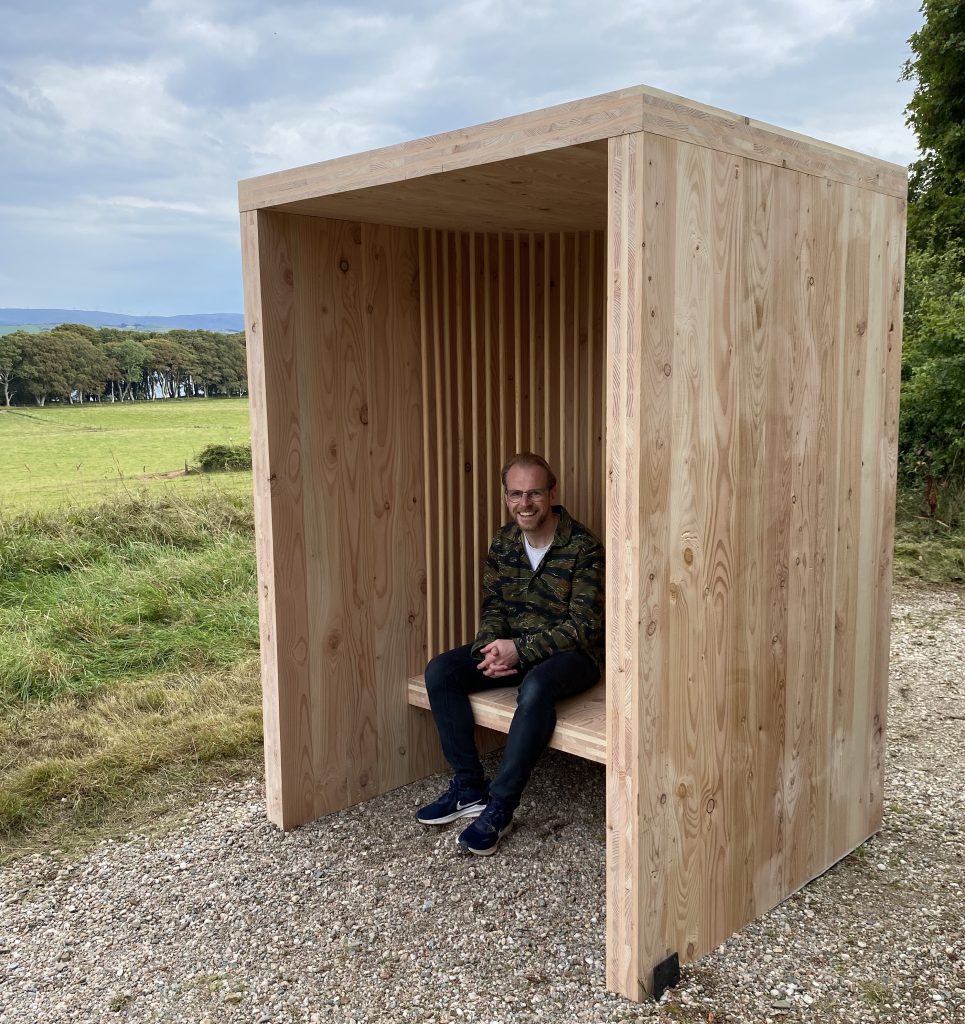 Monolith weaves together two very different traditions: the traditional hand made Orkney chair and the more 20th century 'brutalist' concrete bus shelters found on the Isle of Lewis. In thinking how to provide a bench that could also offer shelter, Chris Dobson merged these two forms to to provide a communal bench with a protective hood.
Constructed of Scottish larch cross-laminated timber (CLT) which gives Monolith a robust near monumental appearance, its curving dowel back provides a welcoming embrace, indeed a draught-excluder as found in the woven straw curving backs of the the Orkney Chair. Working in collaboration with BE-ST (Built Environment – Smarter Transformation) formerly Construction Scotland Innovation Centre), the bench represents a further trial of homegrown timber CLT, testing its viability and durability in an outside environment.
With thanks to BE-ST, Eco-Systems Technologies and Peter Wilson (Timber Design Initiatives / Mass Timber Academy).
Chris Dobson is an architect with the Edinburgh office of the UK practice of 3D Reid. He is a co-producer of Archi Fringe, a bi annual festival of events based around the built environment.
James Rigler
Passing Bench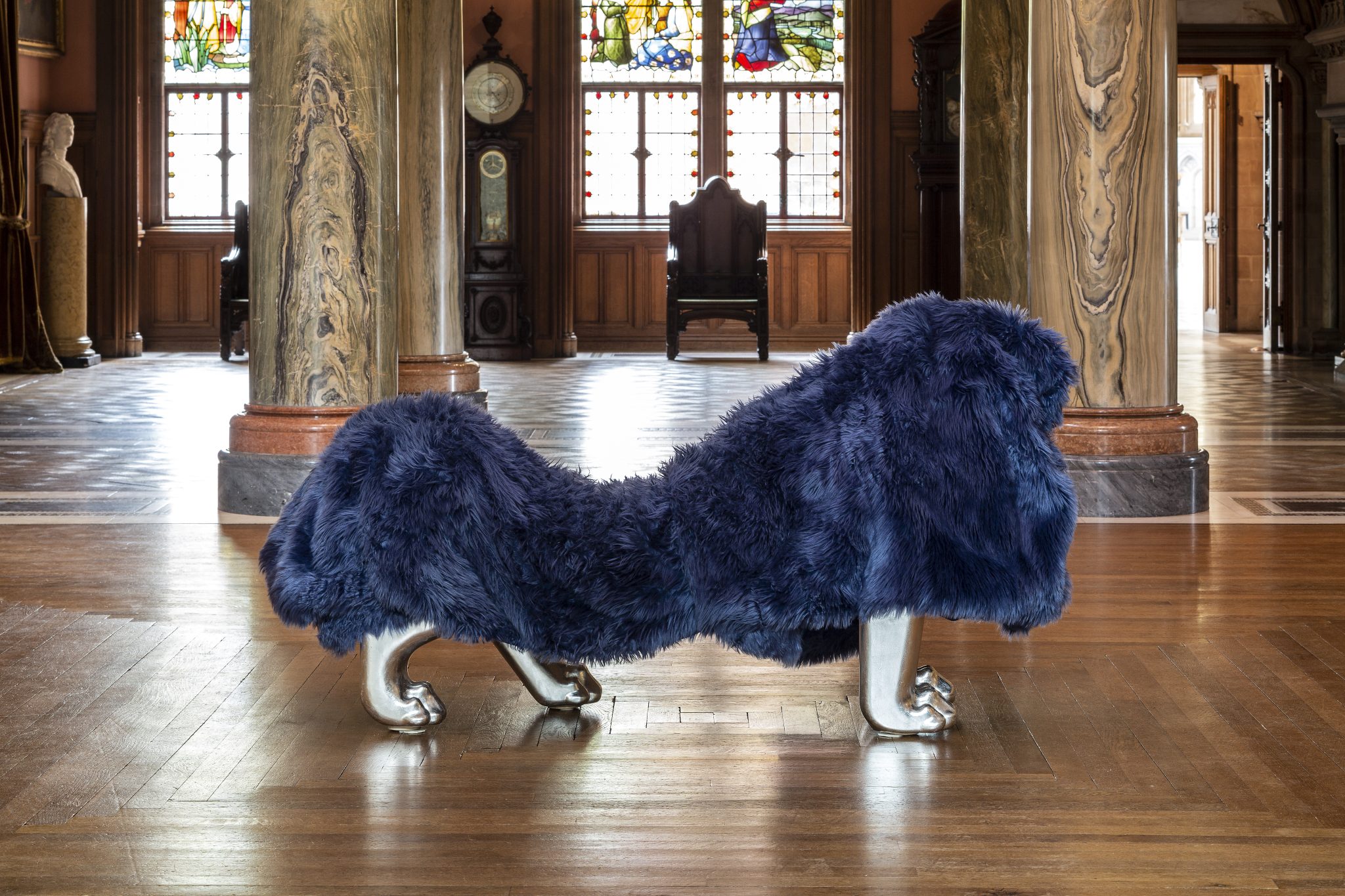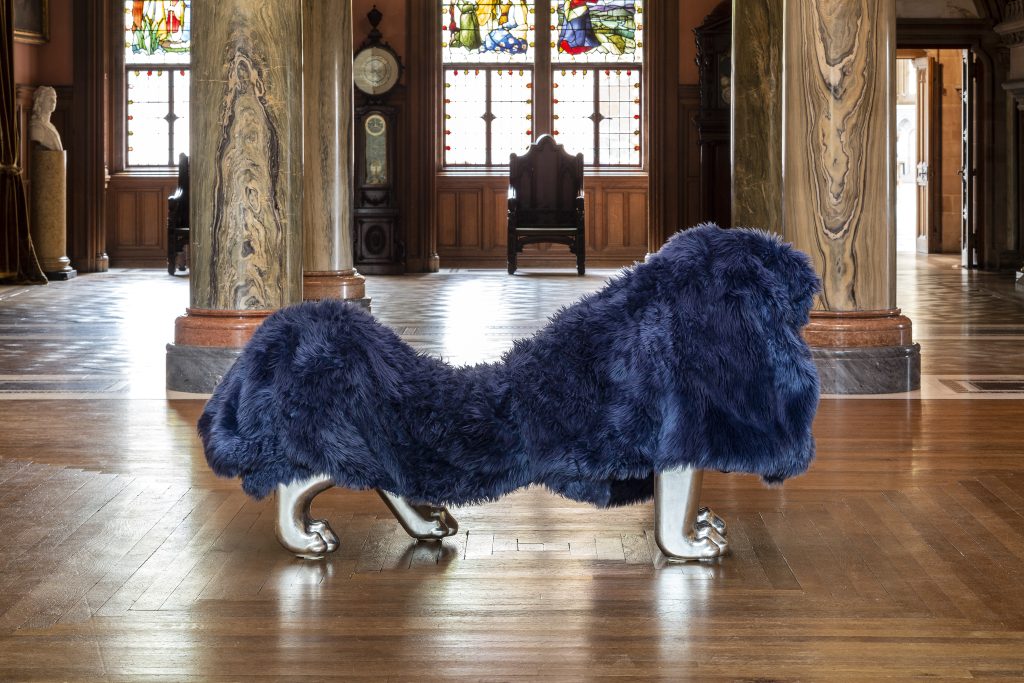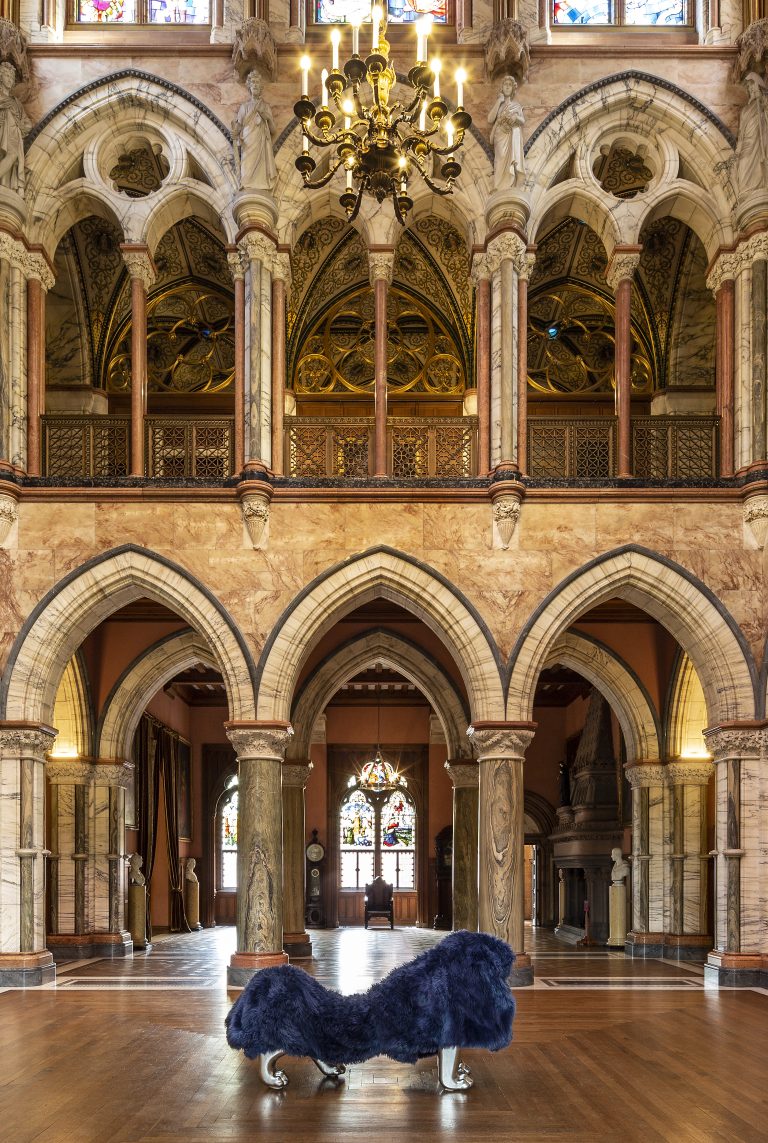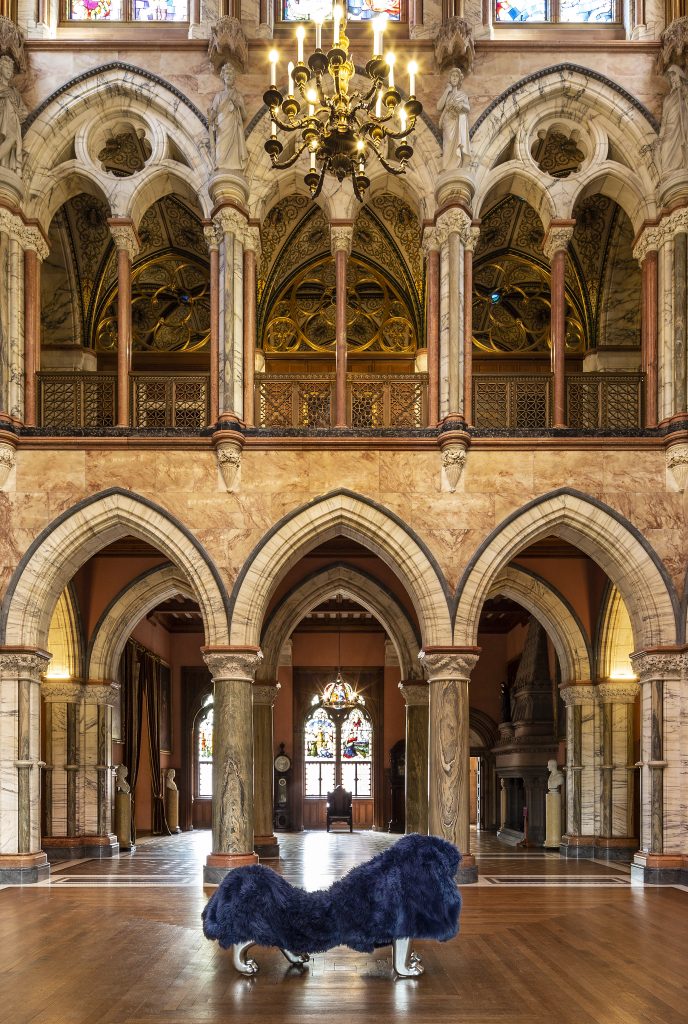 Once we had selected four design proposals for our park bench Open Call, we felt we could not overlook the sumptuous interior of Mount Stuart. Designed by architect Robert Rowand Anderson, the house is a triumph of Victorian Gothic. James Rigler, a Glasgow-based artist and maker, frequently makes work in response to architecturally flamboyant interiors, so DES invited him to create a bench for Mount Stuart's Marble Hall. A beautifully elaborate interior space, punctuated by marble columns and pointed arches topped with a series of stained-glass windows and a soaring heavenly blue ceiling, inset with stars and the signs of the zodiac, its a space that without doubt grand.
Placed at the centre of the hall, Passing Bench is made of glazed ceramic gilded with imitation silver leaf. Cloaked in deep blue faux fur, it has four clawed leonine legs and more than suggests a lion-like beast. It gives a sense of being an elegant impostor that invites visitors to sit down and gaze upwards at the shifting patterns of light and the ornate decoration.
James Rigler is based in Glasgow where he predominantly works in ceramic crafting & moulding forms that are frequently inspired by architectural details and interiors. He exhibited at London Design Festival with Local Heroes & in 2019 he completed a permanent commission for Aberdeen Art Gallery. He exhibited at DES 2018 & in 2019, and was commissioned by DES to design a drinking fountain in collaboration with Laura Aldridge.
Read about Sitting Pretty in Dezeen.
Read about Sitting Pretty in Wallpaper*.
Thanks to the Hope Scott Trust for their generous support of Passing Bench. We also thank Lyon & Turnbull Auctioneers, Inches Carr Trust, DES Suppporters and Mount Stuart Trust.
Photography – Mark Gibson, Keith Hunter, Susanna Beaumont
Design Exhibition Scotland thanks its supporters