For 2019, Design Exhibition Scotland has commissioned three prototype drinking fountains. Once a common sight in Britain's towns and cities – many were manufactured by Walter Macfarlane Ltd at the Saracen Foundry in Glasgow – they were beautifully crafted, a generous and civic celebration of free and clean drinking water. Design Exhibition Scotland wishes to revive the drinking fountain for our contemporary age.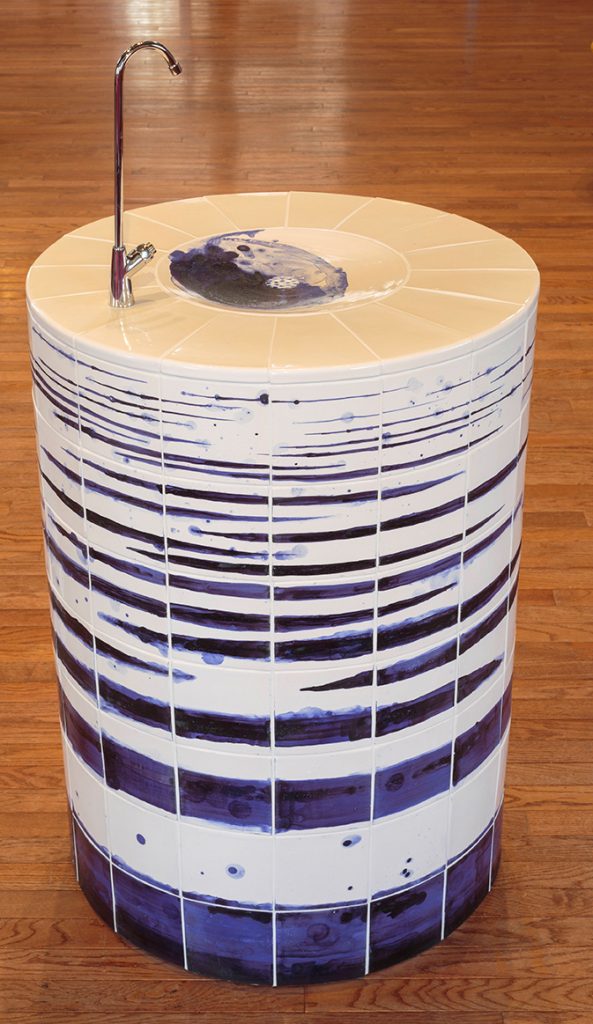 WELL is by the artist Tania Kovats. A circular drinking fountain, each tin-glazed earthenware tile has been hand-painted by Kovats. Loading a paint brush with blue cobalt, she has taken the brush across each tile, leaving in its wake a flow of watery blue colour. Some tiles are darker and more densely filled with colour, on others the lines of colour are slender and the watery liquid has 'pooled' and is reminiscent of ink blots. Kovats suggests both watery depths and horizons.

"Water has been at the centre of my work for some time now. It shapes my sculptures, writing, drawing and thinking. This has meant reflecting on geopolitical issues and critical environmental concerns alongside swimming out into deeper waters questioning what our liquid selves might be. I am currently making works that arise from experiencing water as boundary. This was something I could literalise when I walked the River Tweed where the river forms a national boundary between England and Scotland. WELL is a work where I celebrate the simple act of taking water into ourselves, drinking water, a basic human rite, critical for life, an everyday luxury in our part of the world, and can be done without causing harm environmentally if we reduce the use of single use plastic water bottles. I am currently making plans to visit some of the long marked healing wells in Scotland. In some small way public shared drinking fountains help remind us that all our waters are connected."

With thanks to Jonathan Wade and Glasgow Ceramic Studio.
Tania Kovats lives and works in Devon. Her work explores how our culture negotiates how we connect to the natural world, with a particular focus on water as a vital element that forms and defines the landscape we live in. Kovats investigates the psychological and poetic, as well as employing water as a means to explore critical environmental and socio-political questions. Kovats' work has reflected on the seas and oceans, river systems, the river as a boundary, maritime culture, coral bleaching, islands, water pollution, flooding, tides, and the beauty of the horizon line.
In 2018 Kovats curated a series of talks for Edinburgh International Book Festival, in 2014 she had a solo show at The Fruitmarket Gallery, Edinburgh and in 2010 Rivers, a permanent installation was unveiled at Jupiter Artland.
Drawing is also a key aspect of Kovats' practice. The Drawing Book: Drawing as a Primary Means of Expression explored the cross-disciplinary nature of drawing, making a case for drawing as the most democratic of art forms. Her more recent publication Drawing Water looked at drawings thematically linked by the sea. Kovats is Professor of Drawing at Bath Spa University.

@kovats66