Episode 6 – by Helen Voce
So far, Travels by Design has taken a historical look at place and making in Scotland, exploring how the evolution of textiles, boat-building and furniture has been shaped by people, place, history, resources and materials. In this, the sixth and final episode, we showcase contemporary explorations of place and making, with a celebration of work by students from across Scotland who are graduating this year in design, craft and the applied arts.
Exploring the potency of place and making, the seven graduates engage with the theme of a less impactful, a more harmonious relationship with the land and seas that surround us. Clearly the landscape continues to inspire creativity and invention. So huge thanks to all graduates who responded to our open call, we wish you all well in the future.
BA (Hons) Silversmithing and Jewellery Design, The Glasgow School of Art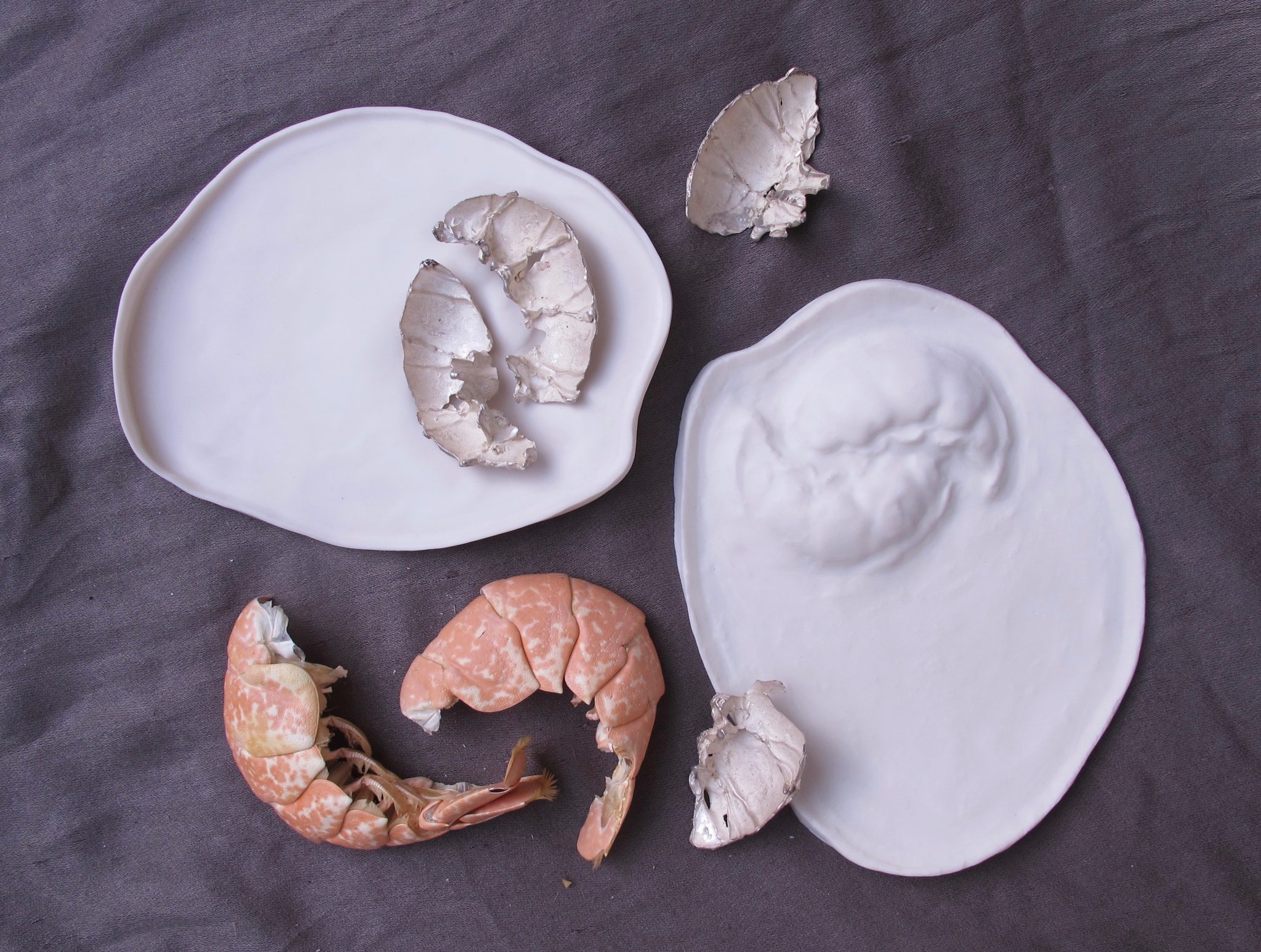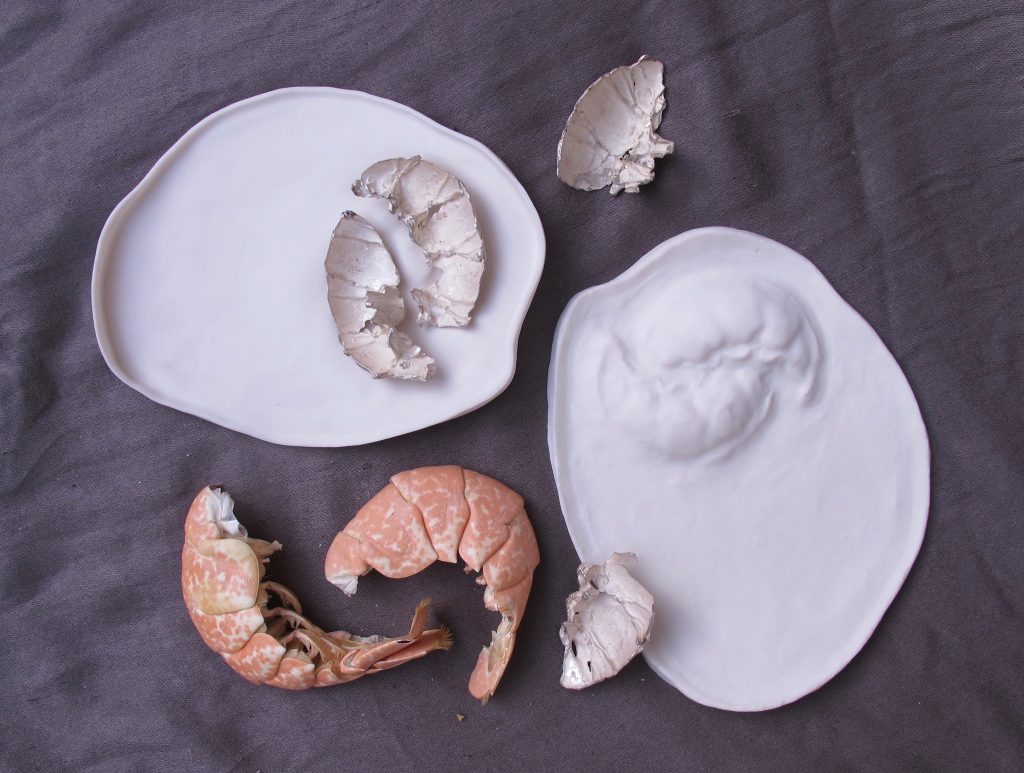 'Féasta' challenges the specific values inherent in the possibility of food being a 'material', as well as vital nutrition. Isla Cruickshank's collection of functional and sculptural pieces is inspired by and recognises the deeply-embedded cultural significance of food sourced from remote Scottish estates, farms and kitchen gardens. Reflecting social habits over many generations of the cultivation, production and preservation of food, Isla focuses on eggshells and crustacean shells, with the aim of altering our perception. Seeing it not as 'waste' but through embedding an appreciation beyond consumption, not only the beauty of the raw form, but the industries and people involved in producing them. The Féasta collection captures an eternal life-cycle, from Scottish produce to plate, object and experience, with each piece designed to enhance the intimate and sensory experience of enjoying a fine food: craft precision brought into alignment with distinctive culinary knowledge.
The presence and transferability of craft between the kitchen and the studio is a pertinent part of Isla's practice. Her work encompasses ideas combining knowledge of agriculture and food production with sustainability and rural life, from her upbringing on a rural Aberdeenshire farm and working as a seasonal cook in traditional sporting lodges. From these experiences, Isla's practice as a maker draws on the craft skills required in the kitchen and studio. She makes meaning from natural and sustainable produce with responsibly sourced materials and conscious outcomes.
BSc (Hons) Product Design, Duncan of Jordanstone College of Art and Design, Dundee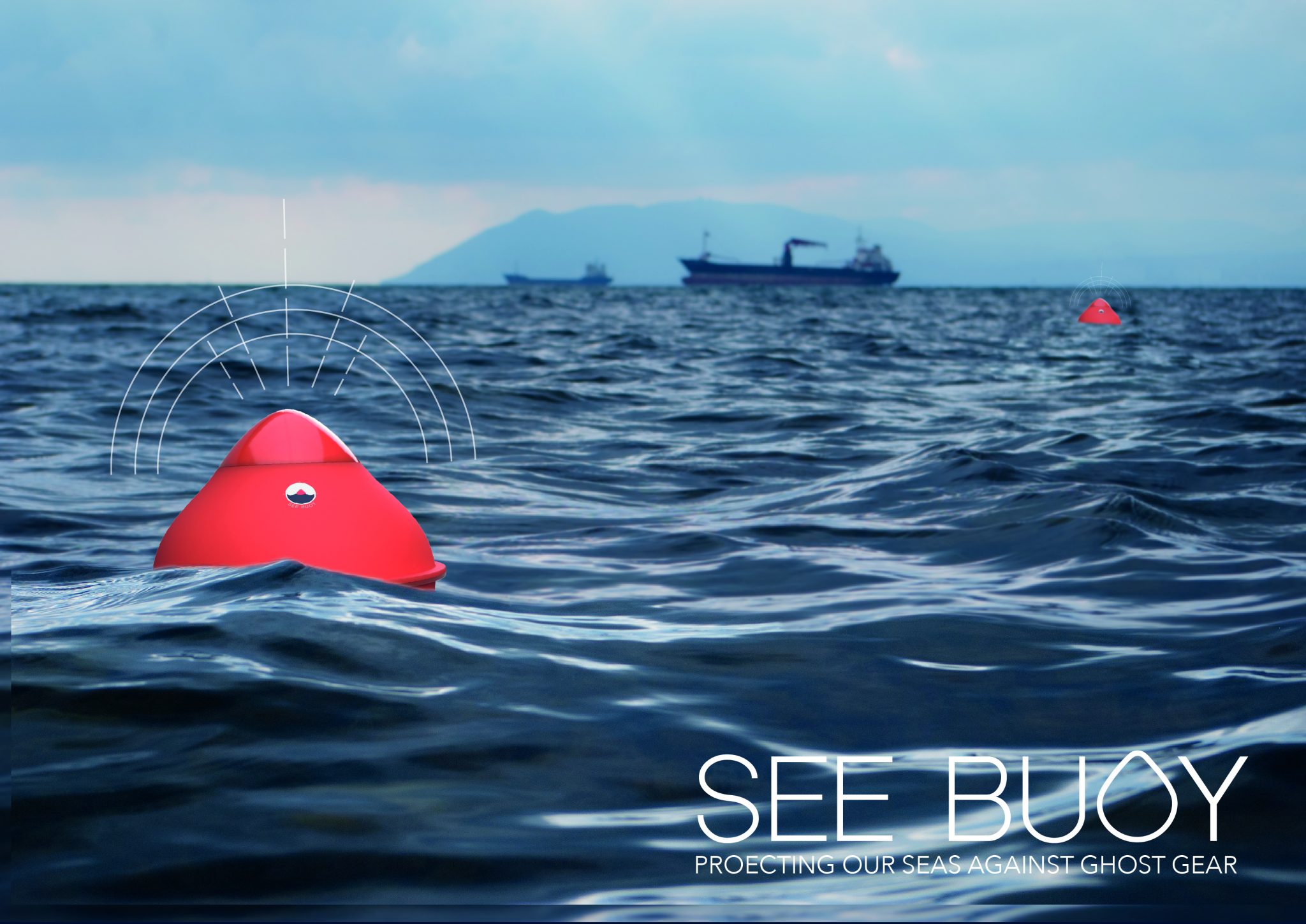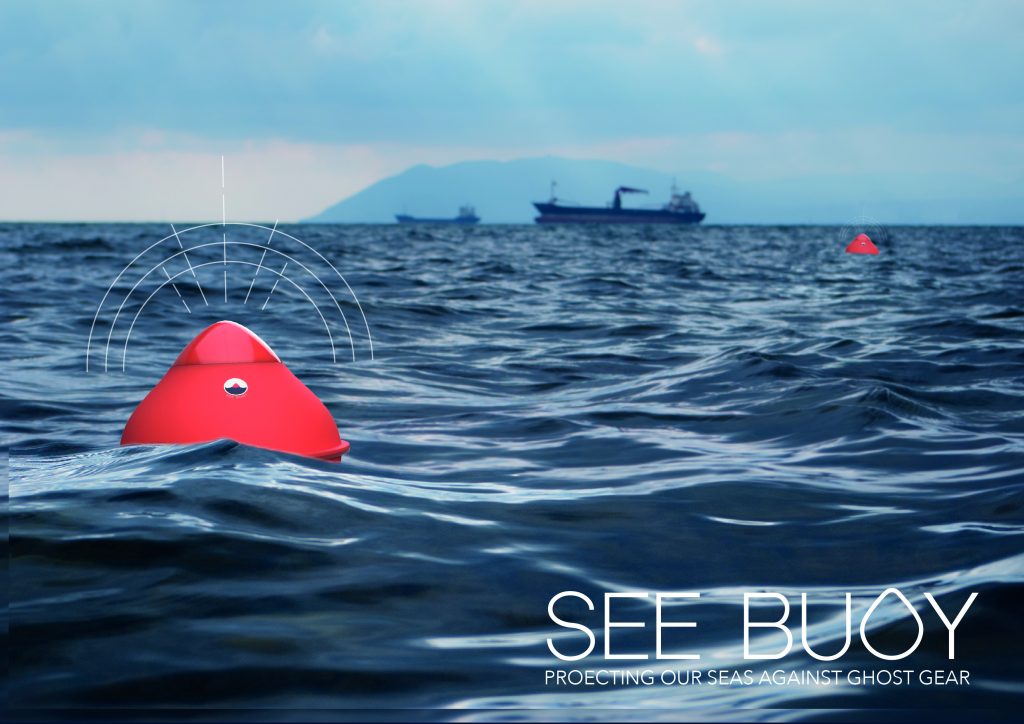 Kim Burke's research into the fishing industry found it pollutes our oceans with 640,000 tonnes of discarded and lost fishing equipment each year. It is referred to as ghost gear. Whilst the destructive impact is frequently below sea level, the heart of the issue lies above with the lack of visibility of buoys to mark the presence of fishing nets and creels. Scotland's ferry routes restrict fishing grounds, resulting in fishermen being forced to edge closer to un-fished paths. Frequently in the hours of dark, ferries collide with buoys, resulting in snapped lines, lost nets and equipment. Catch in creels becomes bait, creating a vicious cycle of trapping and killing marine life.
Harnessing the oceans natural forces, See Buoy uses wave technology to emit a high frequency flashing white light, ensuring fishing equipment is visible at sea, so protecting both costly equipment and marine life and ending the destruction of our oceans with ghost gear. Witnessing first-hand the challenges facing marine life, while a crew member on a commercial fishing vessel off the Sound of Jura, Kim developed See Buoy to safeguard marine ecology and fishermen's livelihoods.
Kim is a product designer who creates meaningful and tactile responses to environmental issues. Her love for the sea stems from growing up on the west coast of Scotland. Her vision is to design for a cleaner future by harnessing the powerful energy present in nature with an effort to reduce ocean pollution.
BA (Hons) Textile Design, specialising in weave, The Glasgow School of Art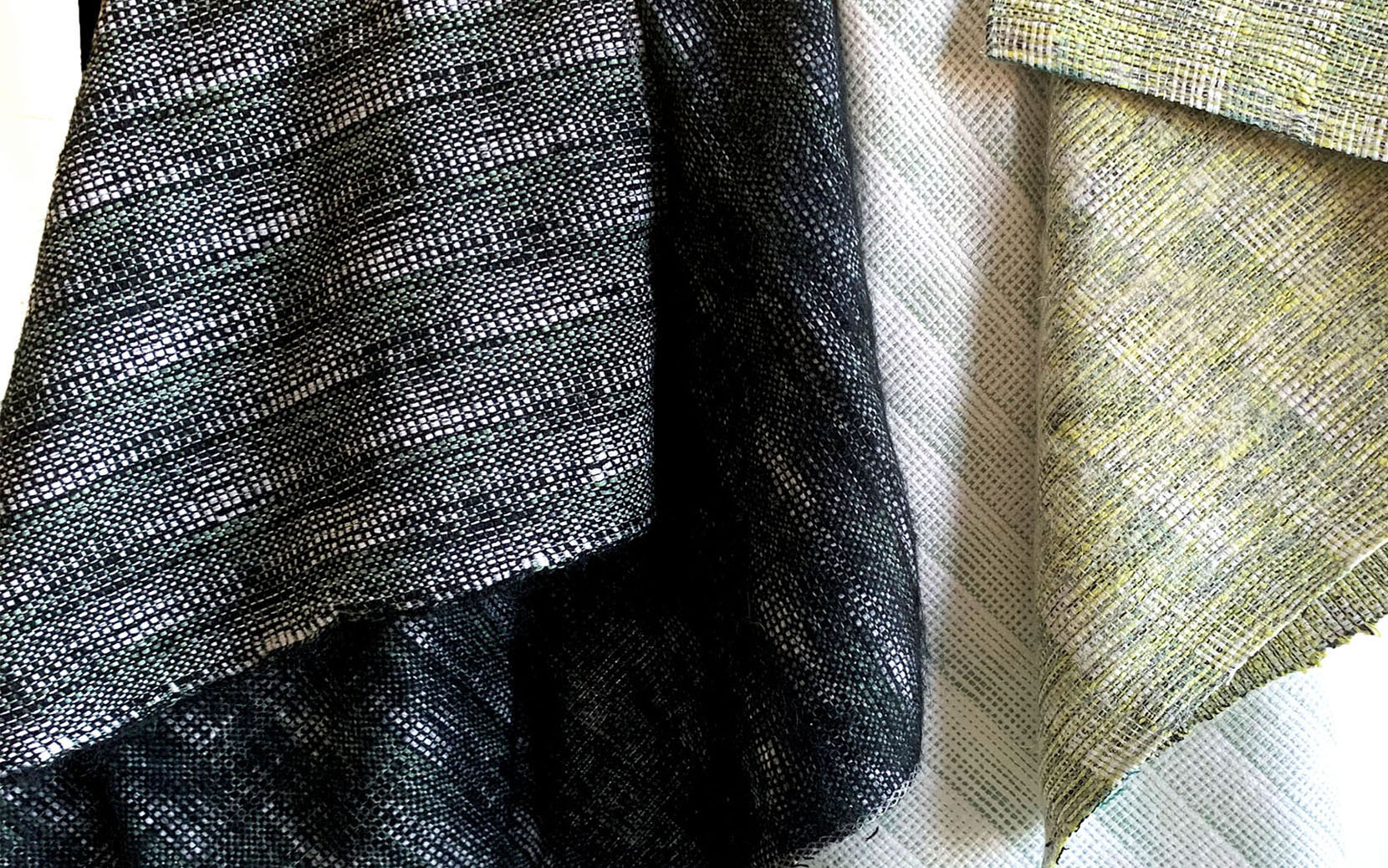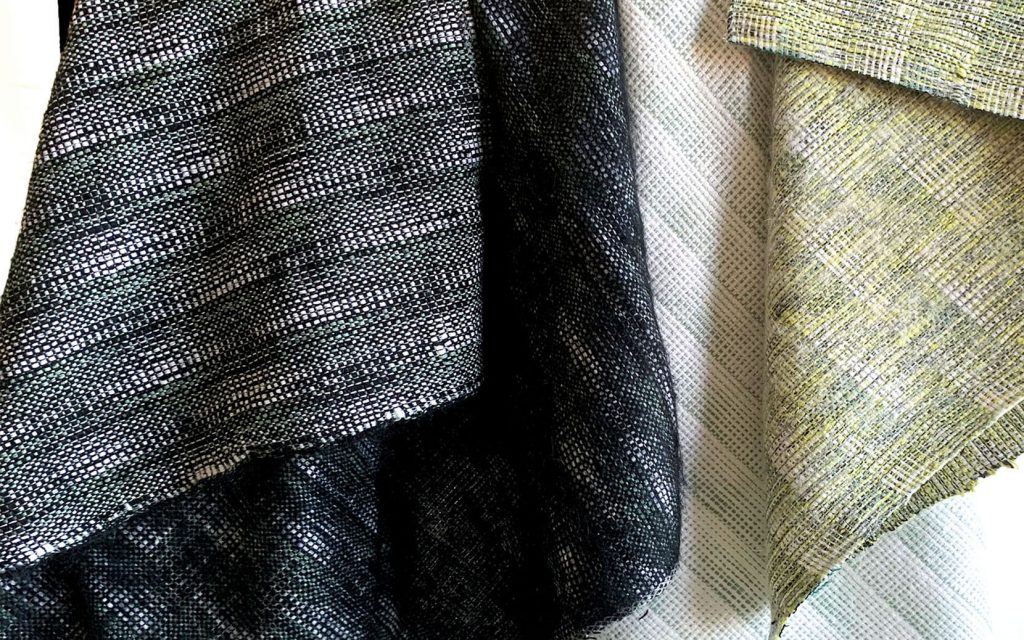 Isabelle Murray's inspiration for her Staffa collection was a series of photographs she took of the Hebridean island's unique basalt columns on a self-conducted research trip. Her dramatic imagery captured the geological forms' linear, structural and textural elements. Whilst the columnar landscape informed Isabelle's project, it was enhanced by a deep personal connection with the island – her grandparents' Scottish sailing adventures which included Staffa and the playing on one occasion Mendelssohn's 1832 overture Fingal's Cave. On her own journey to the island, Isabelle recalls the blue-green sea frothing white cascading waves over the monochromatic basalt columns, the upper sections coloured bright lime green with lichen.
Isabelle combined this reduced, yet vital, colour palette, with research in to Josef Alber's Interaction of Color from 1963. This provided the basis of the woven designs, also drawing on the graphic qualities of the columns when viewed from various angles.
Knowledgeable and passionate about structural textile design for interiors and fashion, Isabelle's experience of various looms focuses her exploration and development of the technical aspects of woven structures to produce considered and commercially viable designs. Isabelle has worked with a wide variety of textures, patterns and weights of cloth. Her specialism in woven textiles is complemented by her multi-disciplinary practice in photography, graphic design, fine art and life drawing.
BA (Hons) Textile Design, specialising in embroidery, The Glasgow School of Art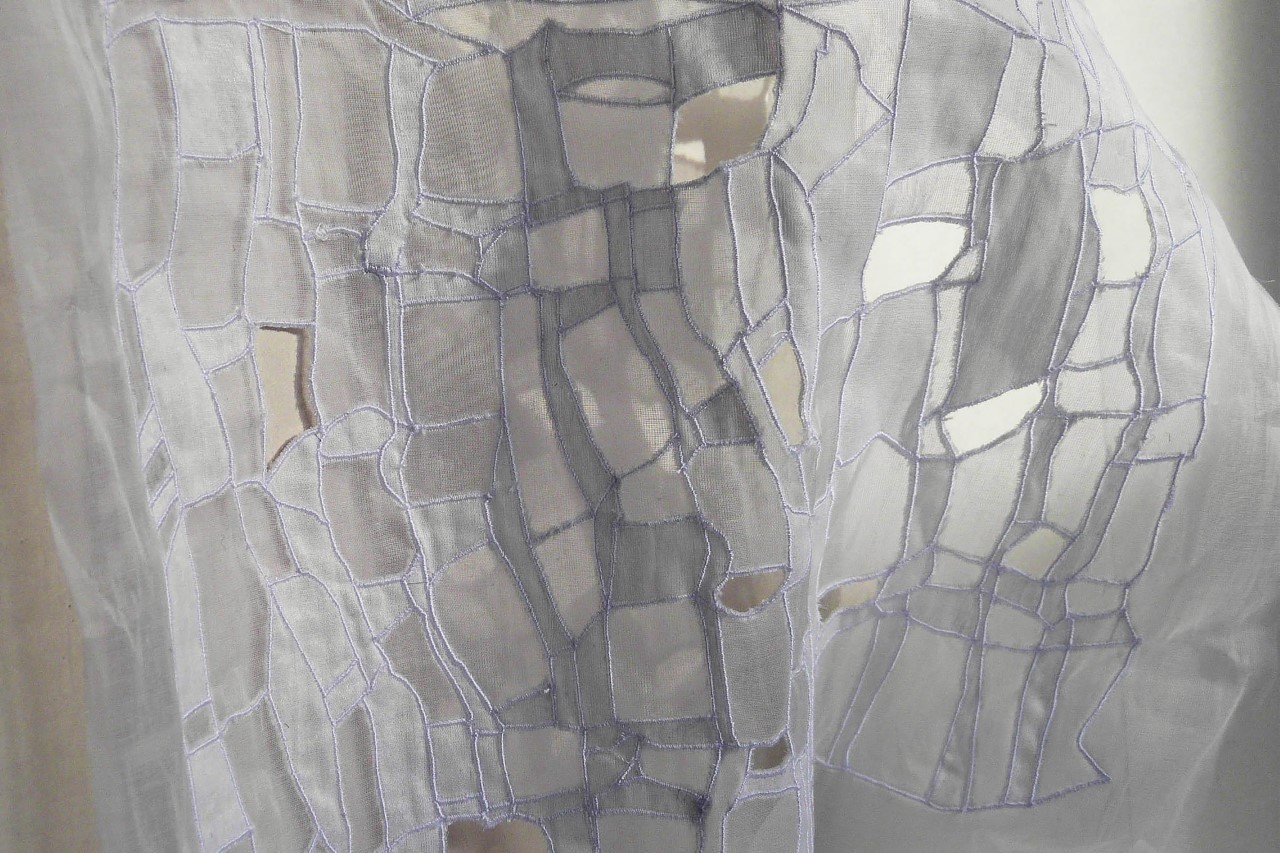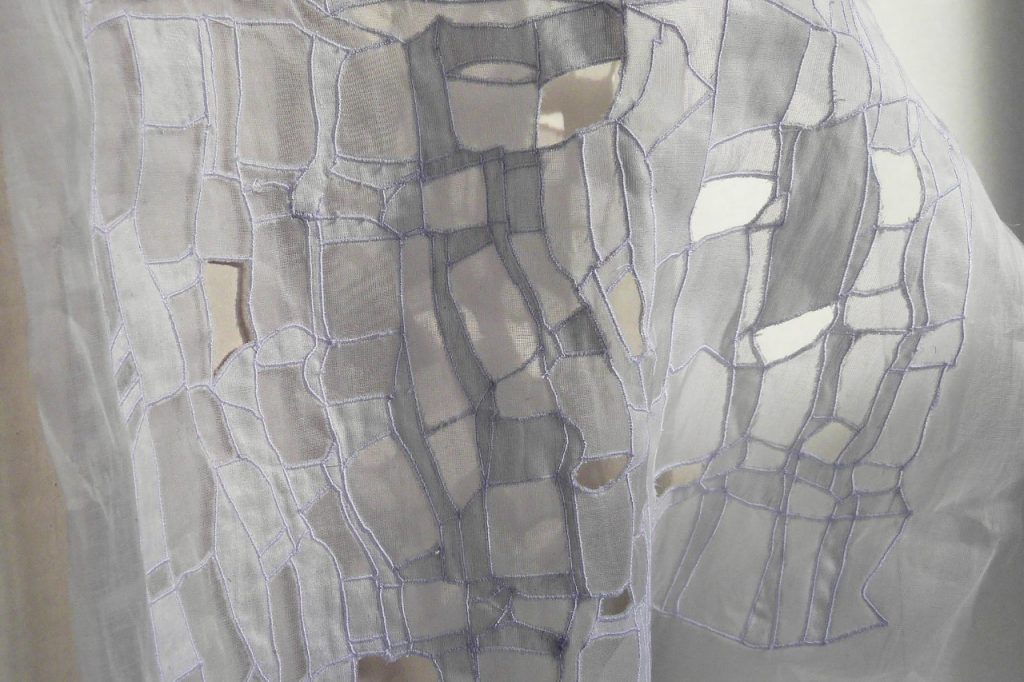 Eating Flowers by Emma Jones is a work in progress textile collection that considers the sublime in landscape, the tradition of Celtic Twilight and the romanticism attached to certain landscapes. The textures, forms, colours and composition of the Outer Hebrides and the Isle of Skye provide inspiration. Not wanting to emulate the popular romanticism of Sir Walter Scott, Turner and Wordsworth of the 18th and 19th centuries, associated with development of tourism in Scotland, Emma was rather inspired by the engravings of the Enlightenment geologist, James Hutton. Emma's research focused on Hutton's engravings of Gneiss rock structures, and how the flow, light and water affects the perception of colour and texture. This resulted in the creation of a tactile translation of the 'sublime Scottish landscape' rather than the familiar tropes of tartan, tweed and the wild highlander.
Emma uses embroidery to explore the crossovers between design, sensory experience, emotions and memory. Her designs focus on illustrative texture and the material qualities of translucency, opacity and intense stitch work with colours inspired through the tonal layering and inversion of the shades of landscape in her drawings to create an emotional rather than literal translation. Emma visualises her textiles within fashion, adorning the body as a new landscape of textures, structures, colours and translucencies to play over and interact with.
Emma's design practice focuses on landscape as an ever-present part of our lives and seeks to translate the sublime details of it into embroidery that excites and elevates the ordinary. With a passion for the intricate, time consuming process of embroidery and slow design principles, Emma designs bespoke textiles using mostly natural fibres that hold a story for the wearer. With a student bursary from The Textile Society, Emma developed a vocabulary of textile qualities that reflect and abstract details of nature and engage the wearer/viewer in a sensory interaction. Her creative process combines print and embroidery processes to explore the impact of dye and sublimation print on unconventional materials that are then stitched, manipulated and embellished to make textiles that can form a language of both craft and emotion.
On Drawing: The Leviathan in Leith, Edinburgh by Jiamin Zhong
MA (Hons), The University of Edinburgh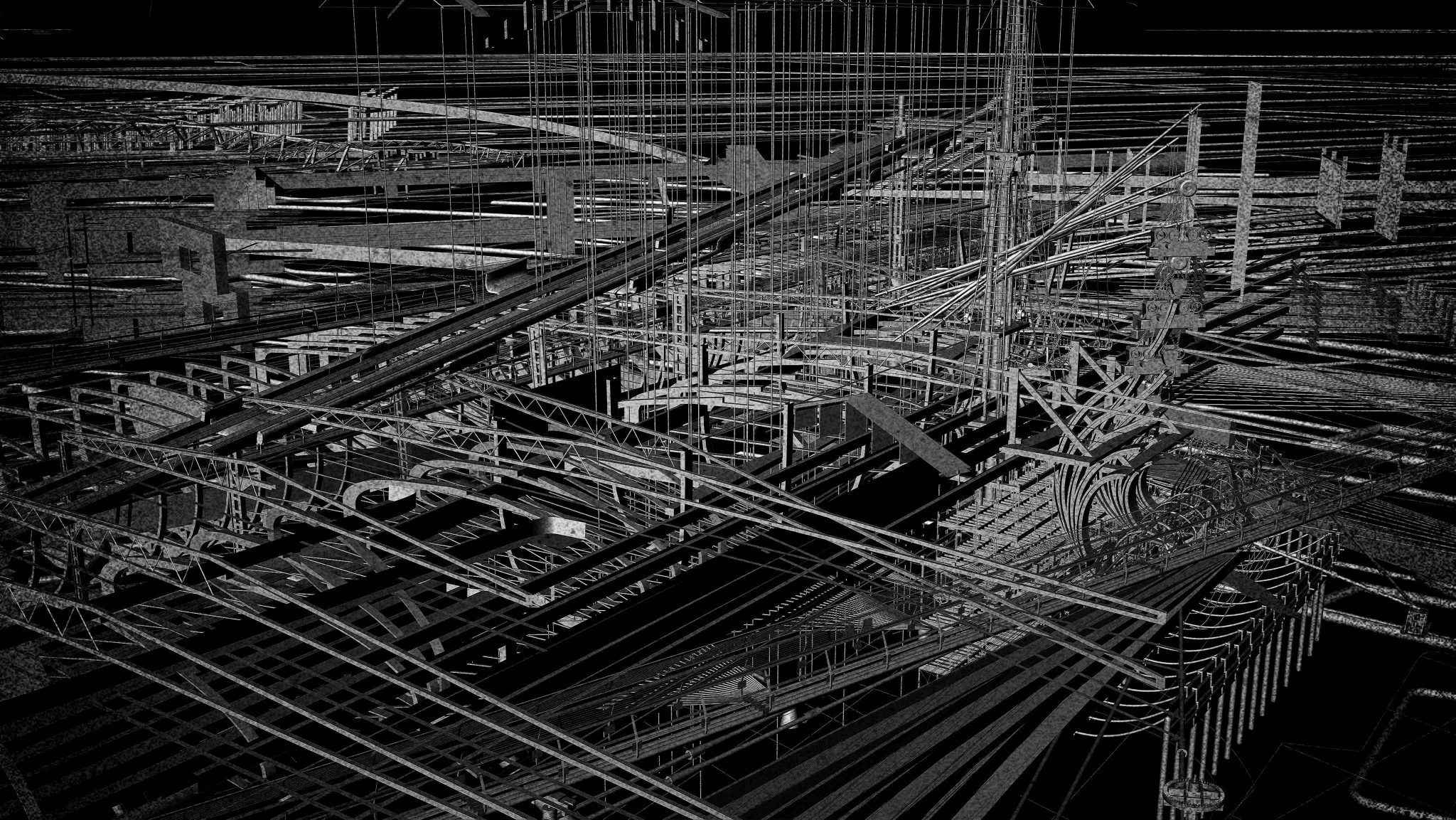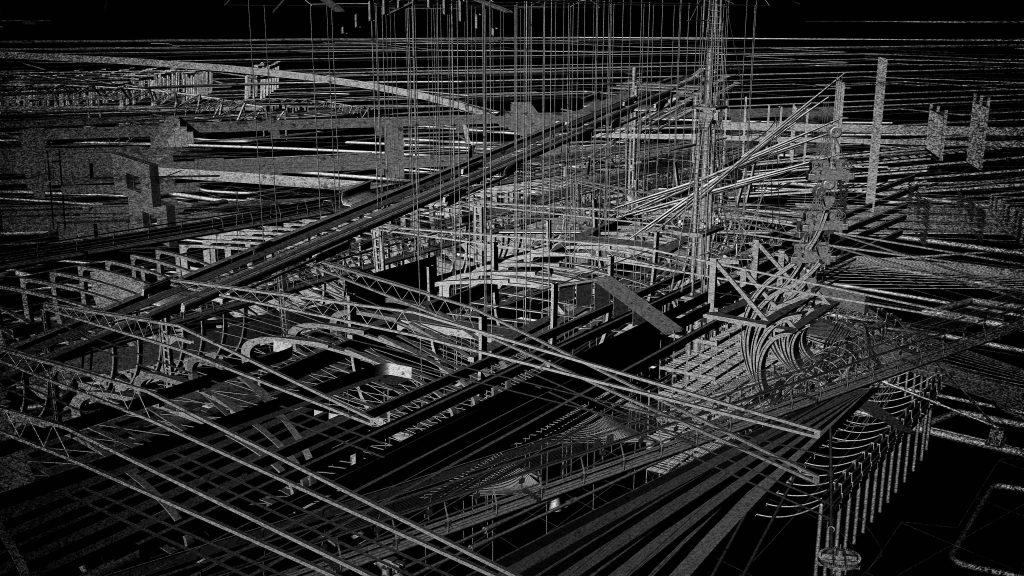 On Drawing: The Leviathan in Leith, Edinburgh reimagines and represents the historical sites of the 18th century whaling industry in the Port of Leith, Edinburgh through the medium of drawing. Informed by the past, the project explores a future architectural language relevant to the history of a new era. Primary fieldwork and reference to historical photographs, plans and maps identified the complexity and presence of the industry's infrastructure on the built landscape – including the shipyards that built the whaling vessels and the places where whale blubber was processed – which once simulated deconstructed and abstracted significant sites and the relationships between them. Jiamin's triptych of abstract architectural drawings and four-minute digital 3D model animation takes 'The trajectory of human industrial production activities and the movement of important historical events in the port has been extracted and combined into a dynamic panorama.'
Influenced by his father's architectural career as a senior engineer, Jiamin looks at architectural concepts, experimental visual art, installations, product and fashion design. This informs his own architectural language. Jiamin aims to reinterpret the significant past for future developments to respond and express the concept of site relationship, landscape context, deconstructive elements, human consciousness, perception, movements of the path, events, time and productivity to redevelop and redefine a coherent architectural syntax. During his studies, Jiamin reflected on how to transform theoretical philosophy and site exploration into ground breaking architectural experimental language with artistic atmosphere and innovative visual forms, through experimental drawing, digital modelling and physical installations.
Jiamin Zhong Youtube video
BA (Hons) Textile Design, The Glasgow School of Art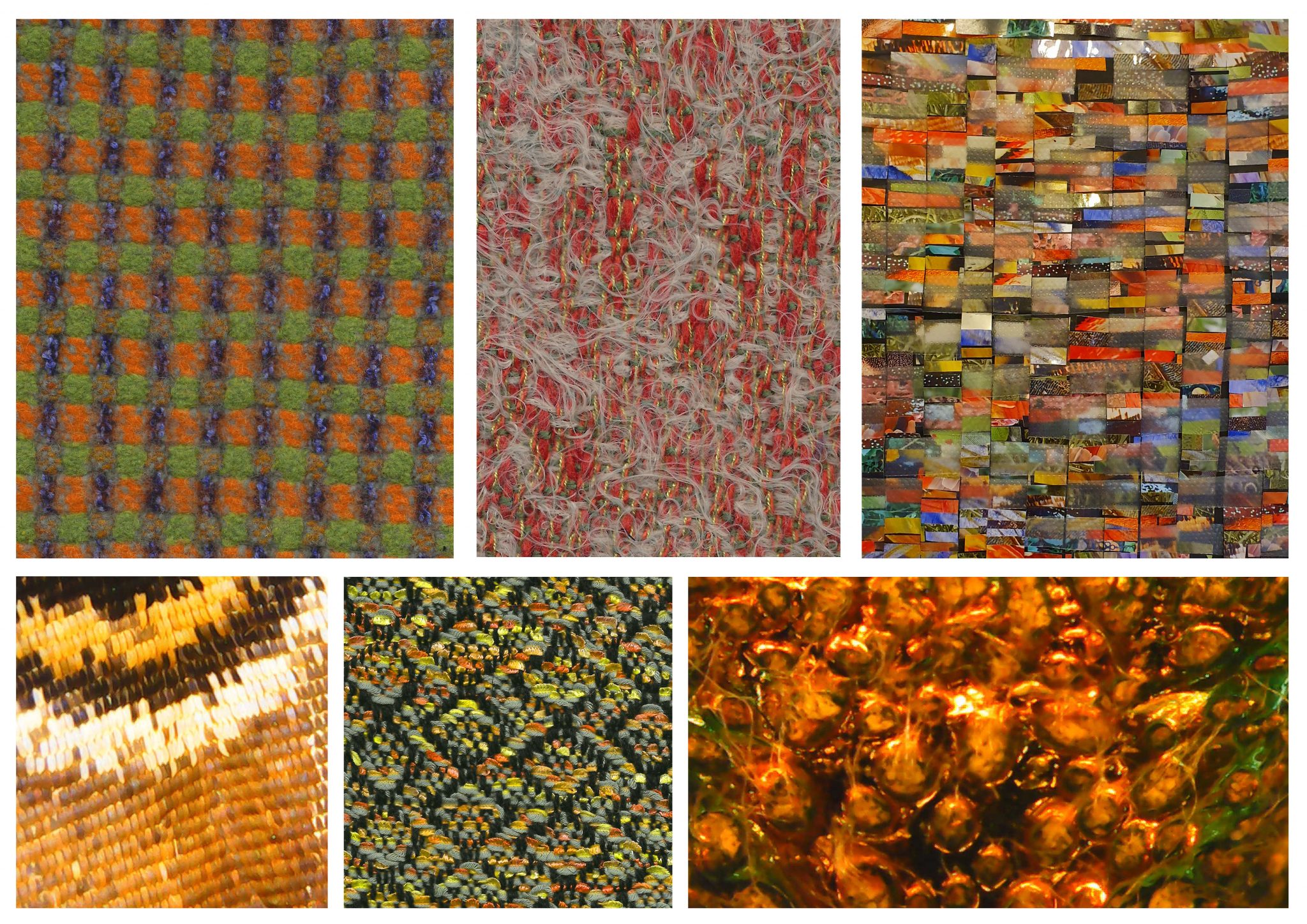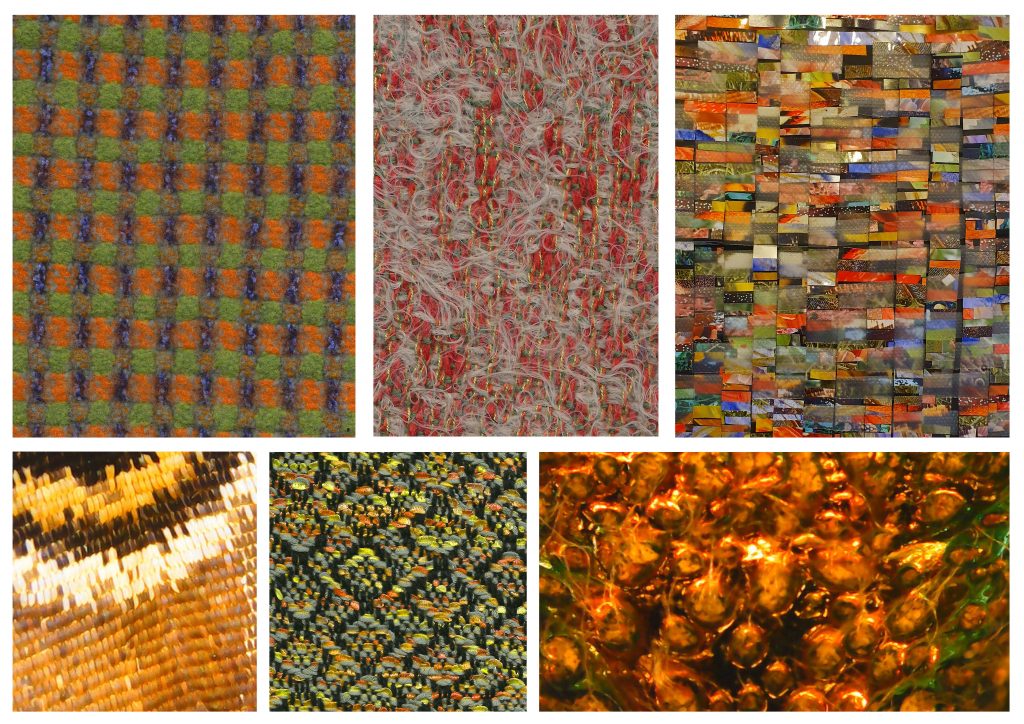 Jonathan Mackinnon's graduate collection is inspired by entomology – specifically translating the survivalist properties of insects into textile design. Jonathan's material heavy collection of bold couture cloth developed from primary research into insects, blended with his knowledge acquired through a previous career in science. He has a desire to invent and his Scottish/Glaswegian roots and heritage. His primary microscopic research resulted in new imagery and initial ideas complemented by his contextual and secondary research in the entomology departments of the National Museum of Scotland and the Hunterian Museum, Glasgow and historic research of woven fabric production at Bute Fabrics, Rothesay and Halley Stevensons, Dundee and Heriot Watt's archives of designers Bernat Klein and EY Johnston. Of his graduate collection Jonathan reflected 'If it was not for Scotland and its rich history in the textiles I would have struggled to complete my collection as passionately as I did. After literally travelling north, south, east and west of the country, Central is where my collection should sit.'
Jonathan's previous ten-year career in microbiology informs his approach to creating work: hypothesising, researching, testing, developing and sampling. He often embraces mistakes to figure out how to overcome problems to realise resolved, solid outcomes. Jonathan's large scale drawings and paintings inform ideas to push his design development before creating woven samples on the loom by contrasting yarns of texture, colour and material, to translate depth, structure and feeling. Jonathan's diverse portfolio includes new methods of handwoven plastic fabrics, digitally printed warp windings, and technical yarns. Jonathan continues his studies on an MDES Fashion at The Glasgow School of Art.
BA (Hons) Knitted Textile Design, Duncan of Jordanstone College of Art and Design, Dundee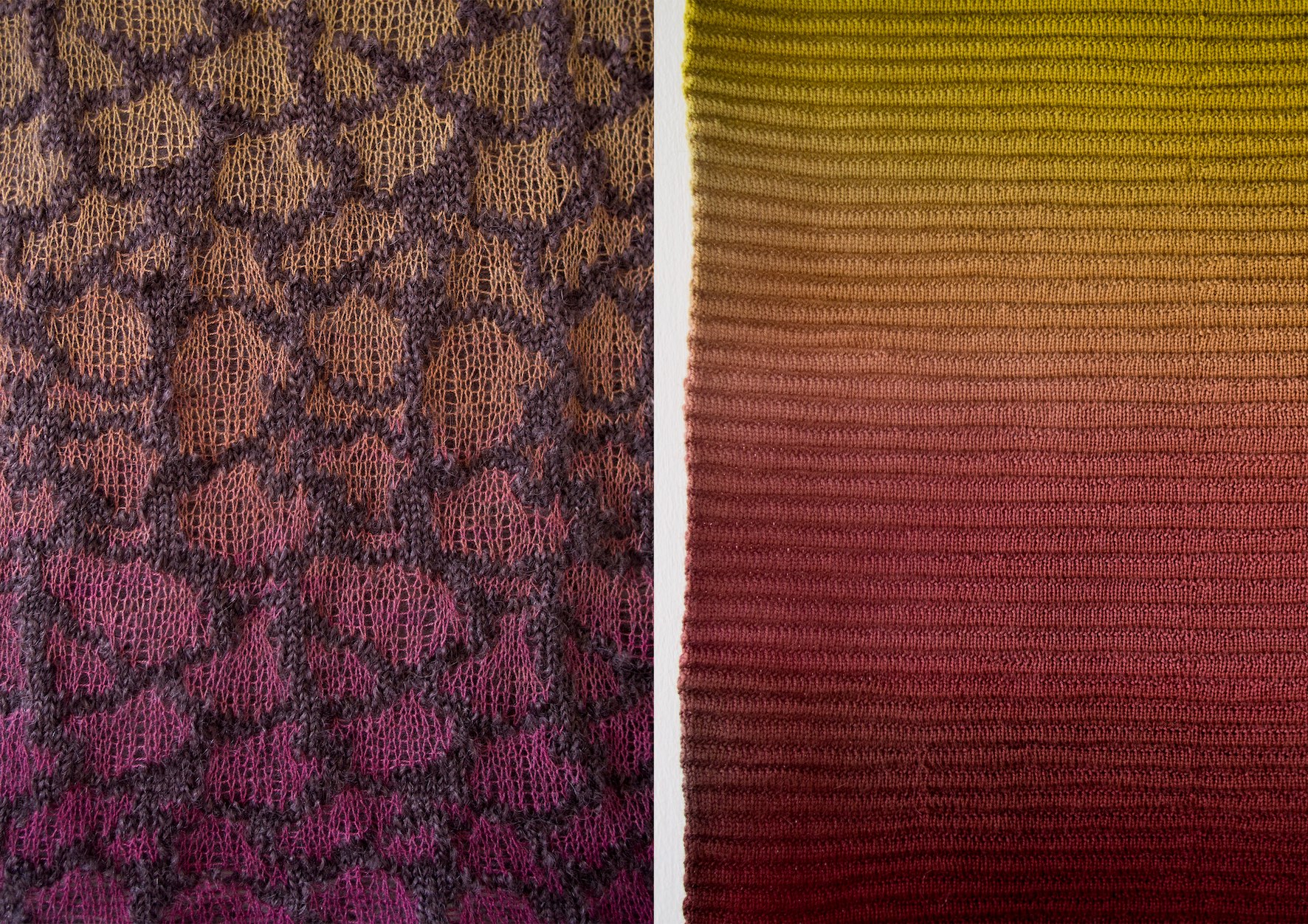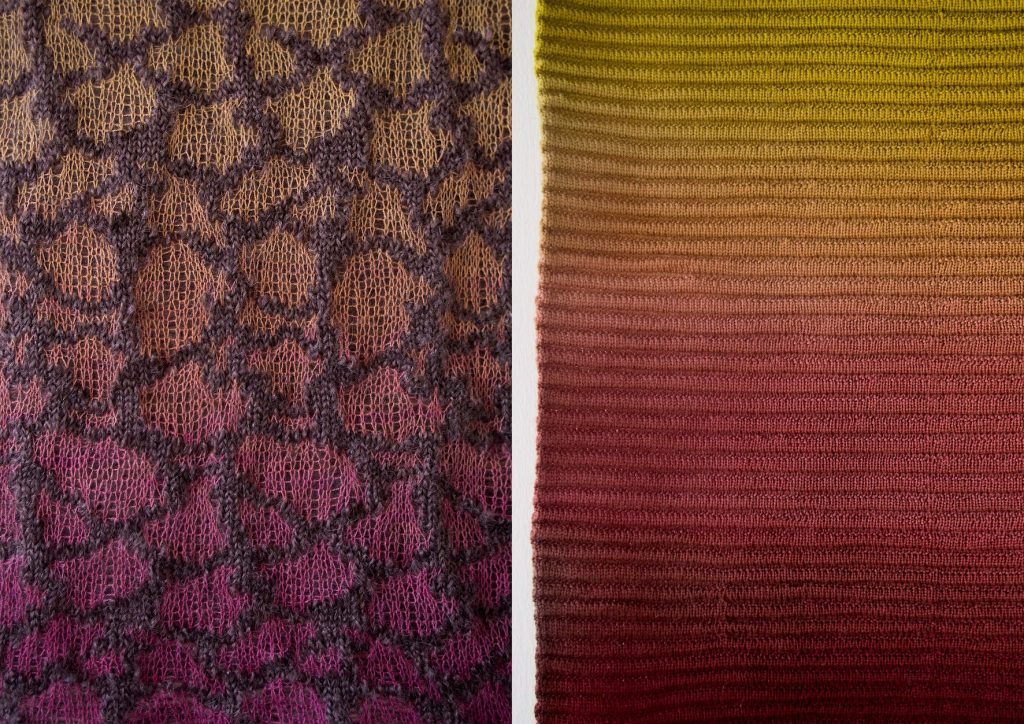 For Kirsten Cronie, 'Coorie' (ku:ri) is Scotland's equivalent of the Danish design phenomenon, hygge. The Scottish art of finding comfort, wellbeing and energy from wild landscapes and convivial interiors. The Highlands and their rough, rugged and breath-takingly beautiful landscape – from the peaks of Torridon, Assynt or the Cairngorms to Glen Shiel, Knoydart and the Cuillins – provides Kirsten with inspiration. Her knitted textile collection focusses on colour and texture by working with mohair and hand-gradiented merino, hand dyed with colours inspired by Kirsten's encounters with the landscape. Reflecting on cosying up in a Highland bothy with candles burning, fire roaring, dram of whisky in hand and rain lashing outside, Kirsten believes 'Coorie is something that can only truly be experienced in Scotland, and as a Scottish designer, I hope to continue this country's proud history of high-quality textile making, and bring this sense of coorie, along with the cosiness, warmth and security it entails, to the textiles world.'
As well as a passion for textiles and the design and craft community, Kirsten has a love for outdoor sports, exploration, and adventure. She has a deep respect for the outdoors community, and is a strong believer in learning more about ourselves and our environment by pushing past our comfort zones in wild and unfamiliar places. She loves the contrast between her passions but also finds great enjoyment in bringing these passions together. Kirsten is skilled in the use of domestic and industrial knitting machines and exploring colour to create her own dyes.
Helen Voce is an independent producer working locally, nationally, internationally and voluntarily in the creative industries. Her professional specialism and personal interest is in contemporary craft and design in Scotland, the UK and beyond. Current projects include the MAKE Manifesto, Make Works Scotland, mentoring for Vanilla Ink and Craft Scotland, the Tanween Development Programme at Tashkeel in the UAE, plus professional development projects for Applied Arts Scotland. Former clients include Cove Park, Crafts Council and Firstport.