Episode One Sanquhar Gloves
by Helen Voce
Sanquhar is a market town in the River Nith valley in Dumfries & Galloway. You may know Sanquhar from travelling on the A76 between Dumfries and Kilmarnock, or because of its claim to have the oldest working post office in the world, dating from 1712, or from visiting Charles Jenck's Crawick Multiverse or a little further south, the arts organisation, Cample Line.
Granted the status of Royal Burgh in 1598 by King James VI, Sanquhar has a long history of producing and trading textiles such as stockings, cloth and carpet. Our focus here is patterned knitwear, namely the Sanquhar Glove, and as with other textile industries, it has seen production, consumption, interest and investment wax and wane over the centuries.
Sanquhar knitwear is distinguished by its two contrasting shades of wool, most commonly black and white, combined in a variety of stitch patterns that features throughout the whole garment. The stitch patterns are split into two main types, dambrod and check / tweed. The former is perhaps the more recognisable, featuring a black grid pattern on a white ground filled with a variation of diamond and saltire shapes. Pattern names, including the Rose, Trellis, Cornet and Drum mark people, events and everyday objects. In the dambord family, the Duke stitch pattern is likely named after the Duke of Buccleuch, a notable patron, whose family seat, Drumlanrig Castle lies 10 miles south of Sanquhar. With equally wonderful pattern names including Midge & Fly and Pheasant's Eye, the check / tweed patterns are distinct through use of smaller motifs which realise a graded, textured look.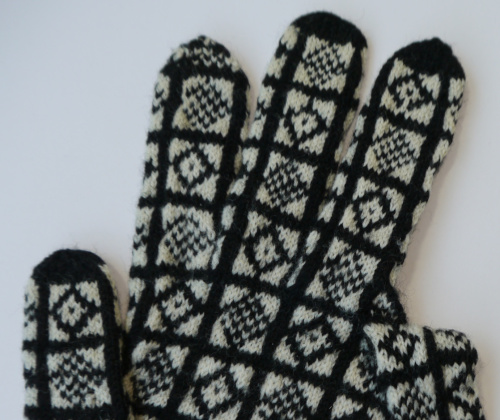 As with many other towns in Scotland, Sanquhar mainly produced stockings in the 16th and 17th centuries, hand knitted by skilled elderly, frail or single women, as piece work to supplement the household income. The distinctive two colour Sanquhar pattern is thought to have developed in the late 18th century, in an attempt to create distinctive hand knitted products that would appeal and therefore provide a livelihood to the knitters – particularly vital with the decline of colonial trade in hand knitted garment with the growth of mechanisation. As with the stockings, gloves are knitted in a similar manner, in the round using multiple 'wires' or needles. Another characteristic of the Sanquhar Glove, from the 1890s onwards, was incorporation of the wearer's initials in the wristband, borrowed from the 18th century practice of initialing the tops of stockings.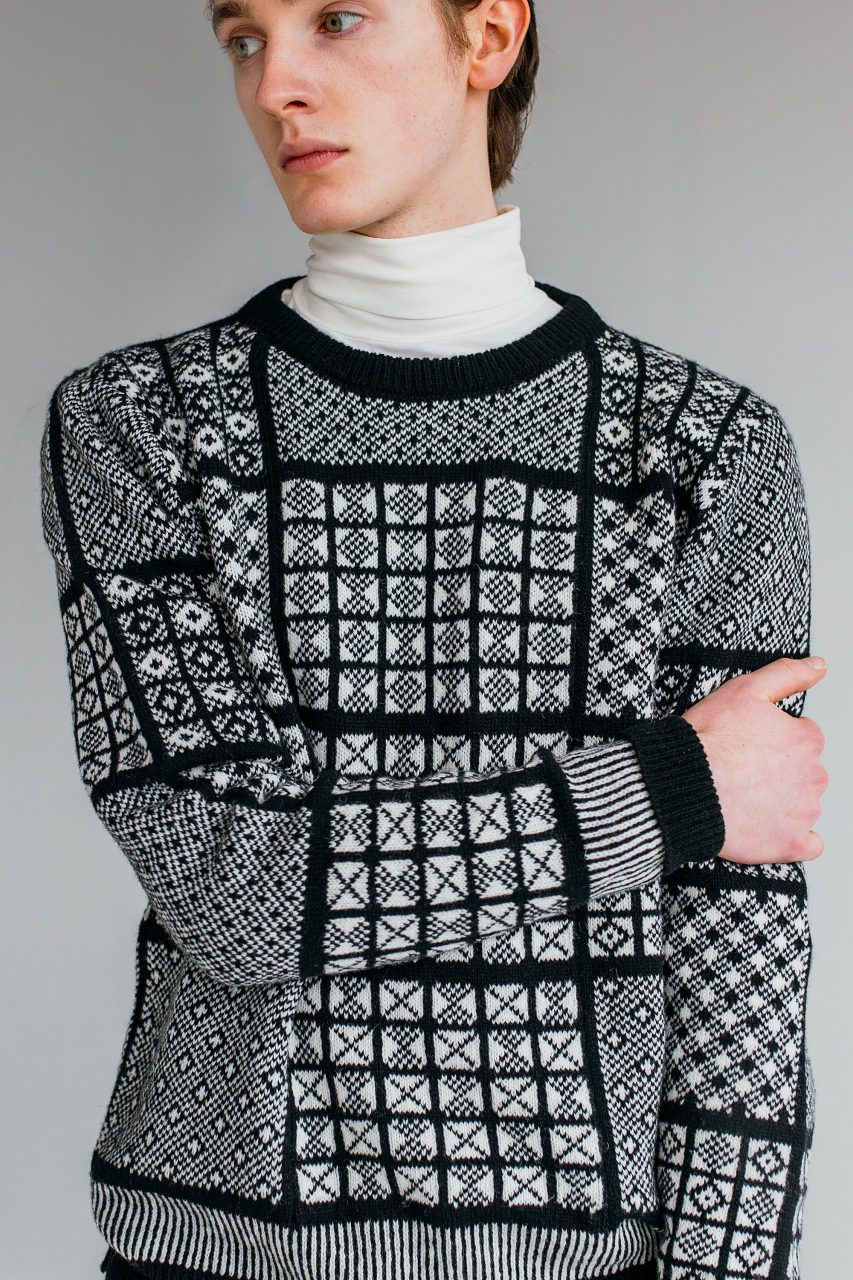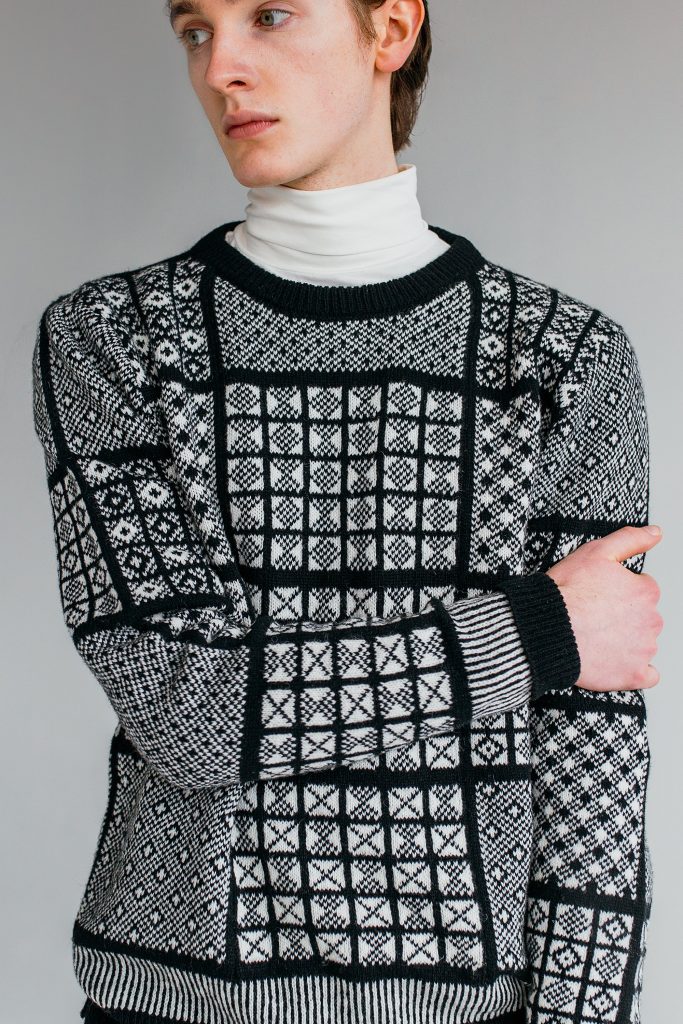 Like other cottage industries, Sanquhar knitting had the potential to be dismissed from history due to its 'invisibility' – a no bricks and mortar factories and often scant financial records. However, the hand craft has survived the centuries, supported by patronage whether from local gentry or trade initiatives. Most recently in 2014, social enterprise Sanquhar Pattern Designs knitting project was established at Sanquhar's A' the Airts community arts and crafts centre, to revive and safeguard the local hand knitting tradition through the teaching of skills, production patterns and long-term goal of producing high-quality knitwear using the traditional distinctive Sanquhar pattern.
Contemporary designers and knitters around the globe are intrigued and inspired by Sanquhar knitting. Glasgow-based contemporary knitwear designer Jennifer Kent's Sanquhar Collection, of machine knitted scarves and jumpers – exhibited at The Lighthouse, Glasgow (Nov 2016 – Feb 2017) with an accompanying text by Dr Fiona Jardine – is a recent example of Sanquhar's ongoing inspiration.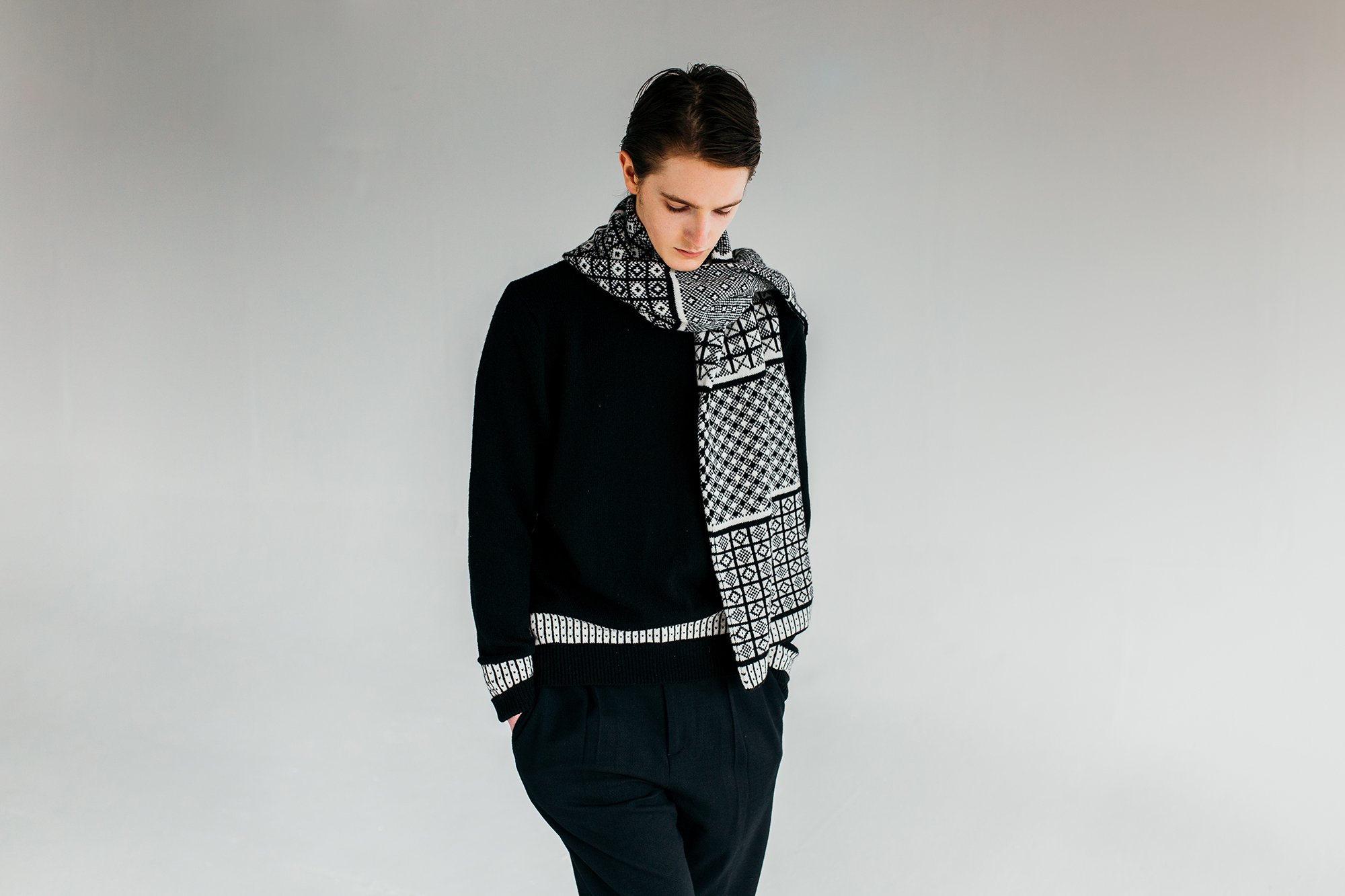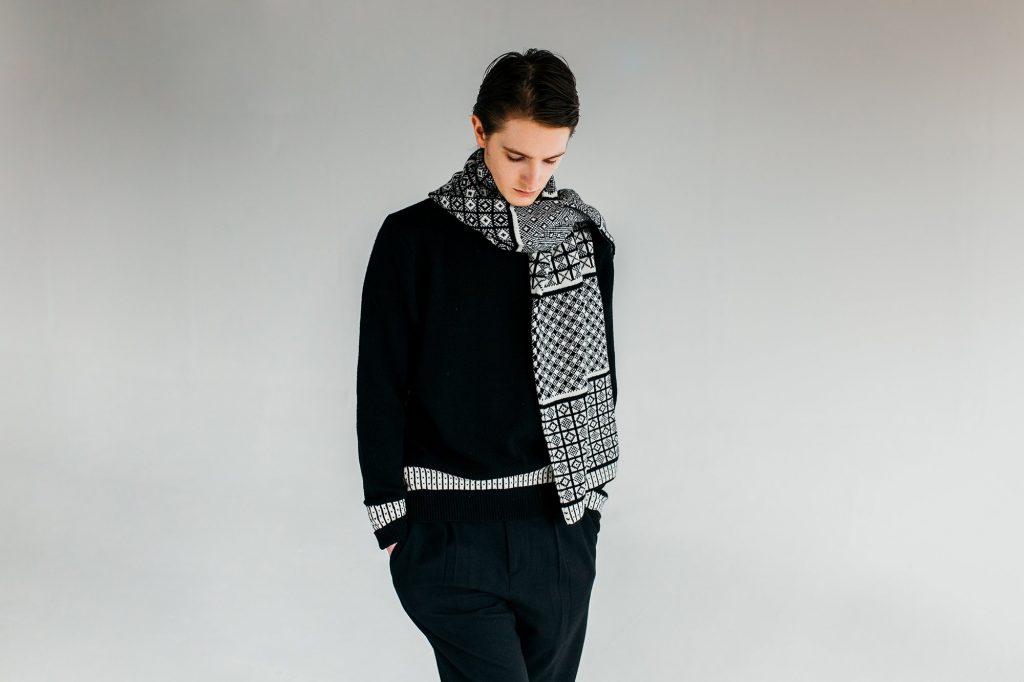 Until you can physically travel to Sanquhar to see examples of traditional gloves and knitwear in the town's Tollbooth Museum and contemporary versions at A' the Airts, you can explore historical pieces online in South West Scotland's Future Museum, buy contemporary pieces from Sanquhar Pattern Designs and watch Sanquhar patterns being knitted by hand or machine in this Discover Upper Nithsdale film. If you've the needles and wool in your knitting kit at home and have the inclination, then do download one of four patterns for Sanquhar Gloves from the Scottish Women's Institute and personalise with your or a loved ones initials in the wristband. Passionate and enthusiastic knitters should read Tom of Holland's A Short History of Knitting in Sanquhar as it has expert hints and tips on casting on, adjusting tension for size and staggering your finger gussets!
Helen Voce is an independent producer working locally, nationally, internationally and voluntarily in the creative industries. Her professional specialism and personal interest is in contemporary craft and design in Scotland, the UK and beyond. Current projects include the MAKE Manifesto, Make Works Scotland, mentoring for Vanilla Ink and Craft Scotland, the Tanween Development Programme at Tashkeel in the UAE, plus professional development projects for Applied Arts Scotland. Former clients include Cove Park, Crafts Council and Firstport.