Paolozzi is celebrated for his robust larger-than-life sculptures but as Sarah Rothwell, curator at National Museums Scotland points out, Paolozzi worked extensively & brilliantly as a designer on the smaller-scale.
If you have ever visited National Museums Scotland on Chambers Street in Edinburgh you may well have encountered an avenue of futuristic Celtic warriors, guarding the entrance to the Early People's gallery. These striking silent figures were commissioned for the then new Museum of Scotland, from the internationally celebrated sculptor, collagist, designer and printmaker, the Edinburgh born Sir Eduardo Paolozzi (1924–2005). Widely regarded as the father of the British Pop Art movement and considered one of the most versatile sculptors in post-war Britain, Paolozzi was born and raised in Edinburgh's port town, Leith. His parents were Italian émigrés, who ran an ice-cream and confectionery shop and if you are walking down Henderson Street in Leith today towards the Shore, you will see a mural of Paolozzi which, it is said, marks the location of the shop. Other reports however instead place the shop on Albert Street, but I digress.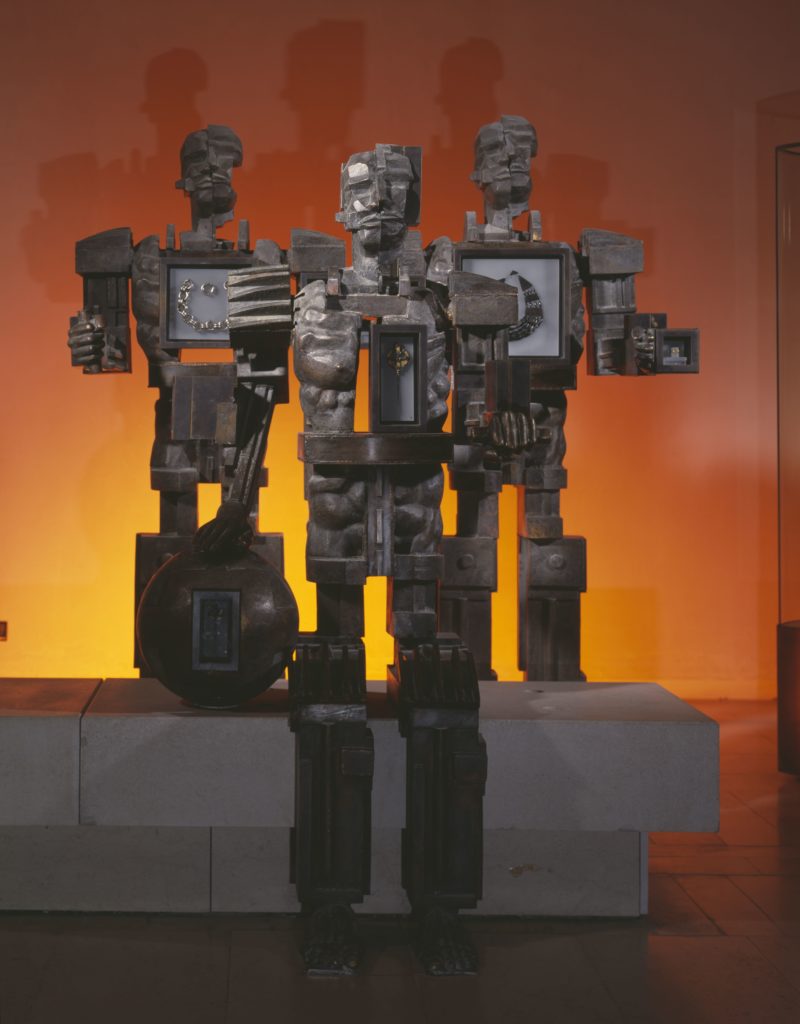 It was within the family business that Paolozzi first cultivated his love for art, and for mixing found media, creating collages from shop packaging. It is therefore quite natural that you can find many examples of his artwork within the urban landscape of his home-city Edinburgh, such as his spectacular disembodied Manuscript of Monte Cassino in Picardy Place; in museums like my own which I will discuss shortly; galleries; public collections & public buildings such as in St Mary's Episcopal Cathedral, where a beautiful stained-glass window illuminates the Resurrection chapel. You can discover these and more works through Edinburgh World Heritage's interactive map, Paolozzi at Large – which not only acts as a guide to the works, but also discusses his legacy here in the city.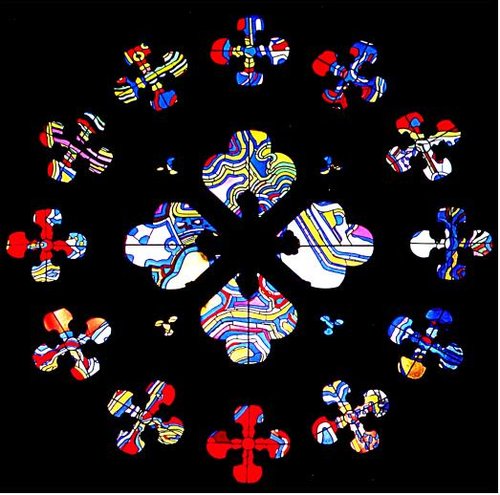 Though Paolozzi is celebrated for working within a variety of media, creating works from the miniature to the monumental, as well as producing numerous public art commissions, his design work for manufacture is not as widely recognised. His textile design for example is a significant part of his cannon. He worked as a freelance textile designer for the majority of the 1950s, collaborating with several British companies such as Horrockses Fashion, Hull Traders, and David Whitehead Ltd. He also taught textile design at the Central School of Arts, London.[1] The earliest example of work for manufacture that National Museums Scotland holds is the only known textile to have been designed by Paolozzi for David Whitehead Ltd. This was recently acquired by my colleague Lisa Mason, Assistant Curator of Modern & Contemporary Fashion & Textiles, as part of her Art Fund New Collecting Award project Collecting Modernist Textiles[2] which explores the development of post-war British textile design.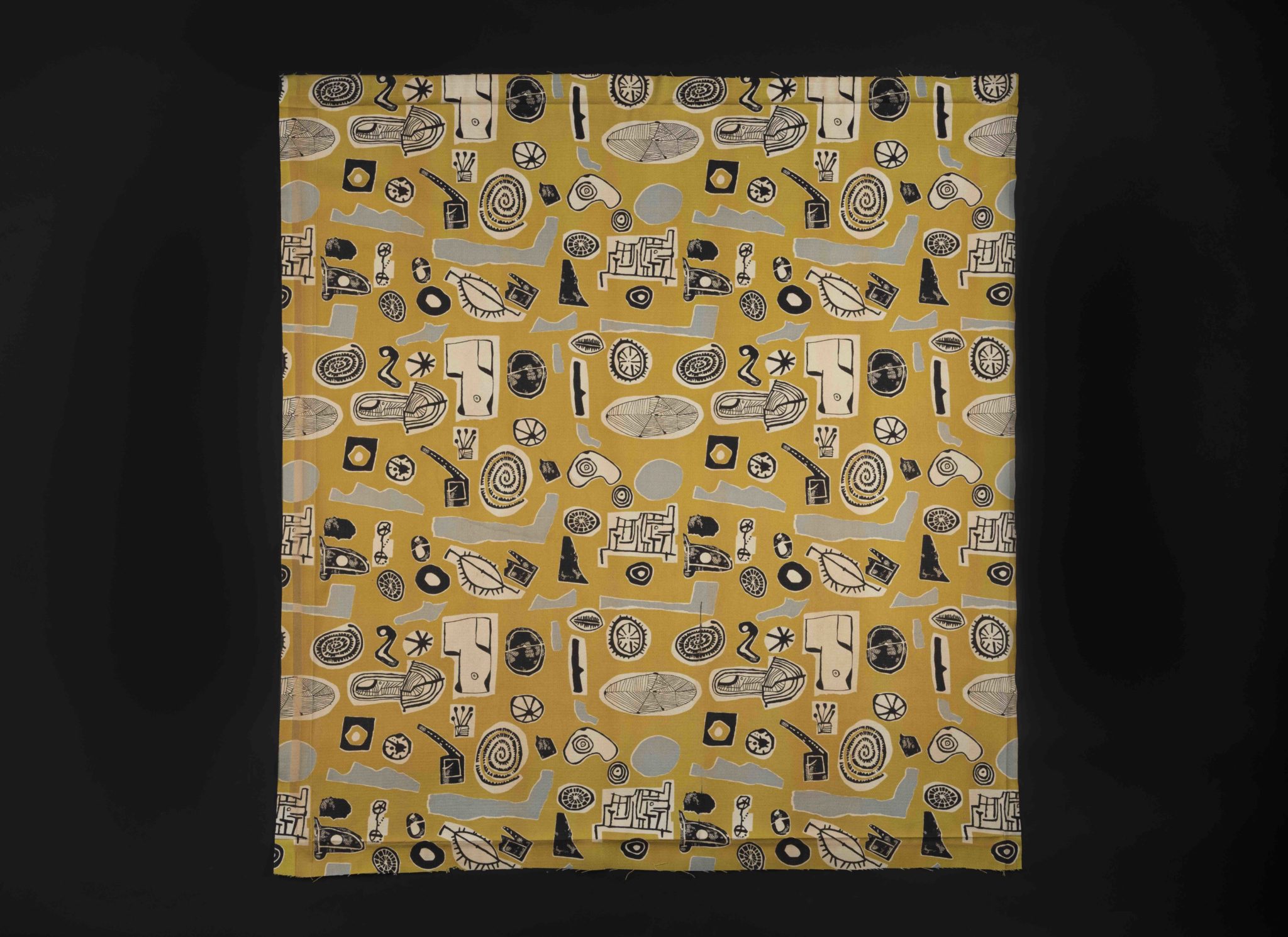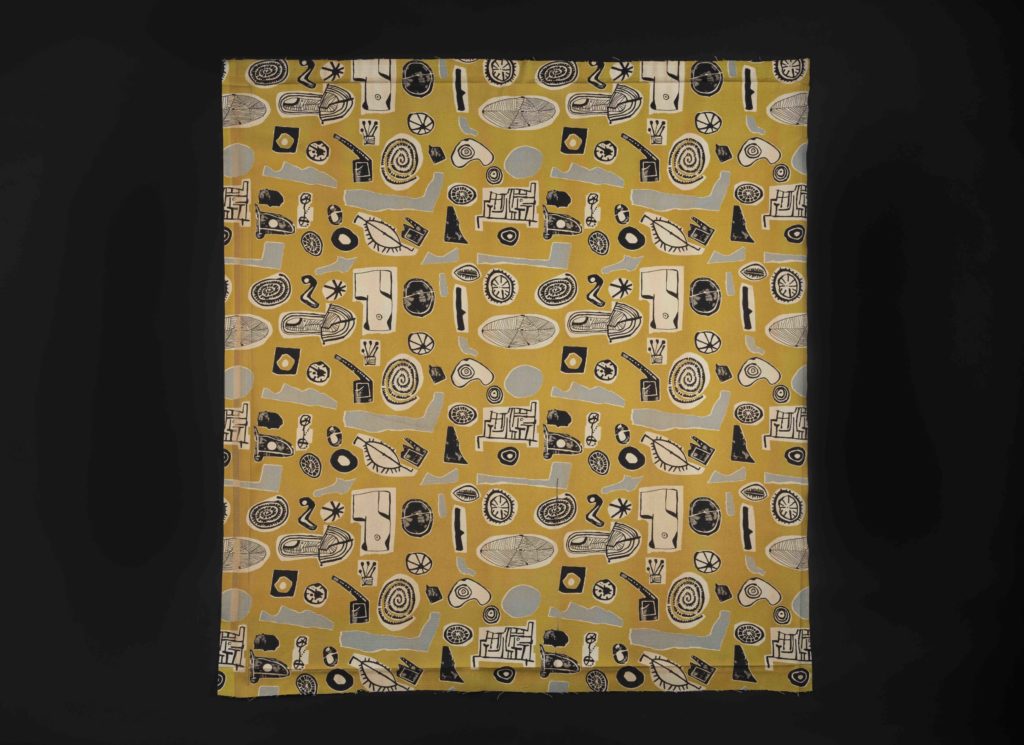 The Lancashire based David Whitehead Ltd was a key player in the British post-war textile design boom. The company operated under the philosophy that good design should be available to a mass market and became associated with the maxim 'cheap need not mean cheap and nasty'.[3] Designs were sourced from practitioners such as Sir Terence Conran – later founder of Habitat in 1964 whom Paolozzi not only taught at the Central School of Arts, but became his lifelong friend and mentor too – John Piper, Marian Mahler, and Jacqueline Groag.[4]
Entitled Collaged Elements,[5] the textile was designed when Paolozzi was teaching textile design at the Central School of Arts (CAS) the period when he first started to experiment with screen printing, translating his collages into print. Its screen-printed imagery, depicting abstract forms and everyday objects such as bicycles, pipes and wheels, in a crowded composition, reflecting 'the frantic and all-consuming nature of modern life', bears a strong visual relationship to his collages and screen-prints of this period.[6] It also demonstrates the increasing fluidity between fine and decorative arts not only in Paolozzi's own work but more widely in post-war Britain. This can be linked in some way to the changes in teaching practices that was taking place in art schools at the time. Painters and sculptors were challenging the conventions of design, teaching students fine art principles and encouraging them to expand the potential of their practice. Paolozzi himself is noted as being an inspirational teacher, influencing a generation at home and abroad.
Another noted individual who studied design under Paolozzi, who also made a significant impact upon British textiles, was Althea McNish (1924-2020)[7]. Caribbean-born, British designer McNish is famed for her innovative printed textile designs for Liberty & Co and Hull Traders. They brought an injection of colour and energy into post-war fashion and the textile industry from the 1950s onwards. Notably McNish was the first designer of African-Caribbean descent in Britain to achieve international recognition. Painted Desert designed by McNish and manufactured by Hull Traders in 1959, can be seen alongside Paolozzi's in the Making & Creating gallery at the National Museums of Scotland.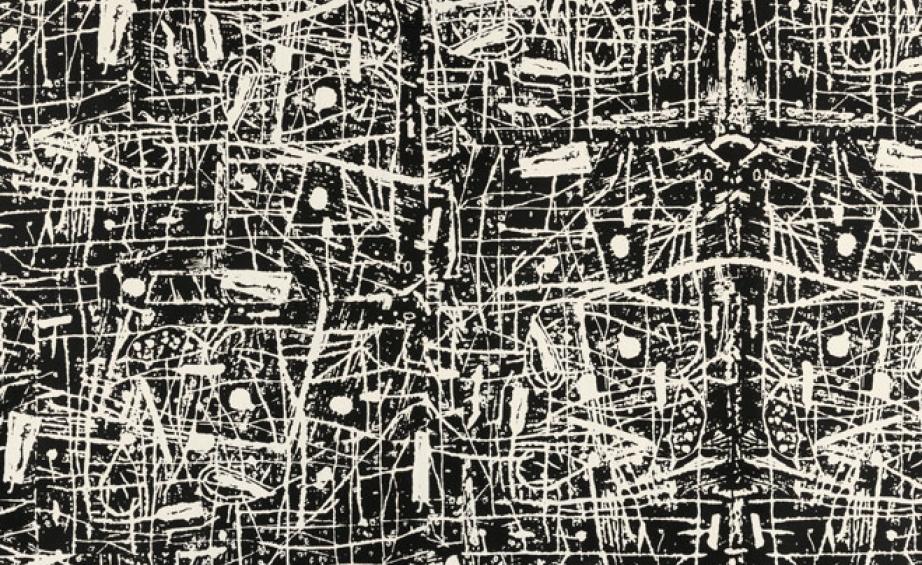 If like me you were able to visit Edinburgh's Dovecot Studio to see the Fashion & Textile Museums touring show Mid-Century Modern: Art & Design from Conran to Quant, you will have seen a selection of Paolozzi's textile designs on display. The design that struck me the most was used to create the fabulous dress by Horrockses for Her Majesty Queen Elizabeth ll's Coronation tour of the Empire and Commonwealth.[8] But textiles would not be the only avenue of design Paolozzi would have an impact upon. It was also in the 1950s that Paolozzi notably founded, alongside Nigel Henderson (1917–1985), Hammer Prints Ltd as a vehicle for their self-declared 'attack on the craft field using the silk-screen as the media to be exploited'.[9] The duo created drawings and designs from an eclectic mix of found images sourced from everyday popular magazines to ethnographic and scientific publications. These were then applied to textiles, ceramics, wallpaper and homewares, creating some of the most radical and influential designs of the time here in Britain.[10] From the very start of his career, Paolozzi aligned his practice within all areas of art, design and craft, even if his intentions were to subvert the design sector with his principles.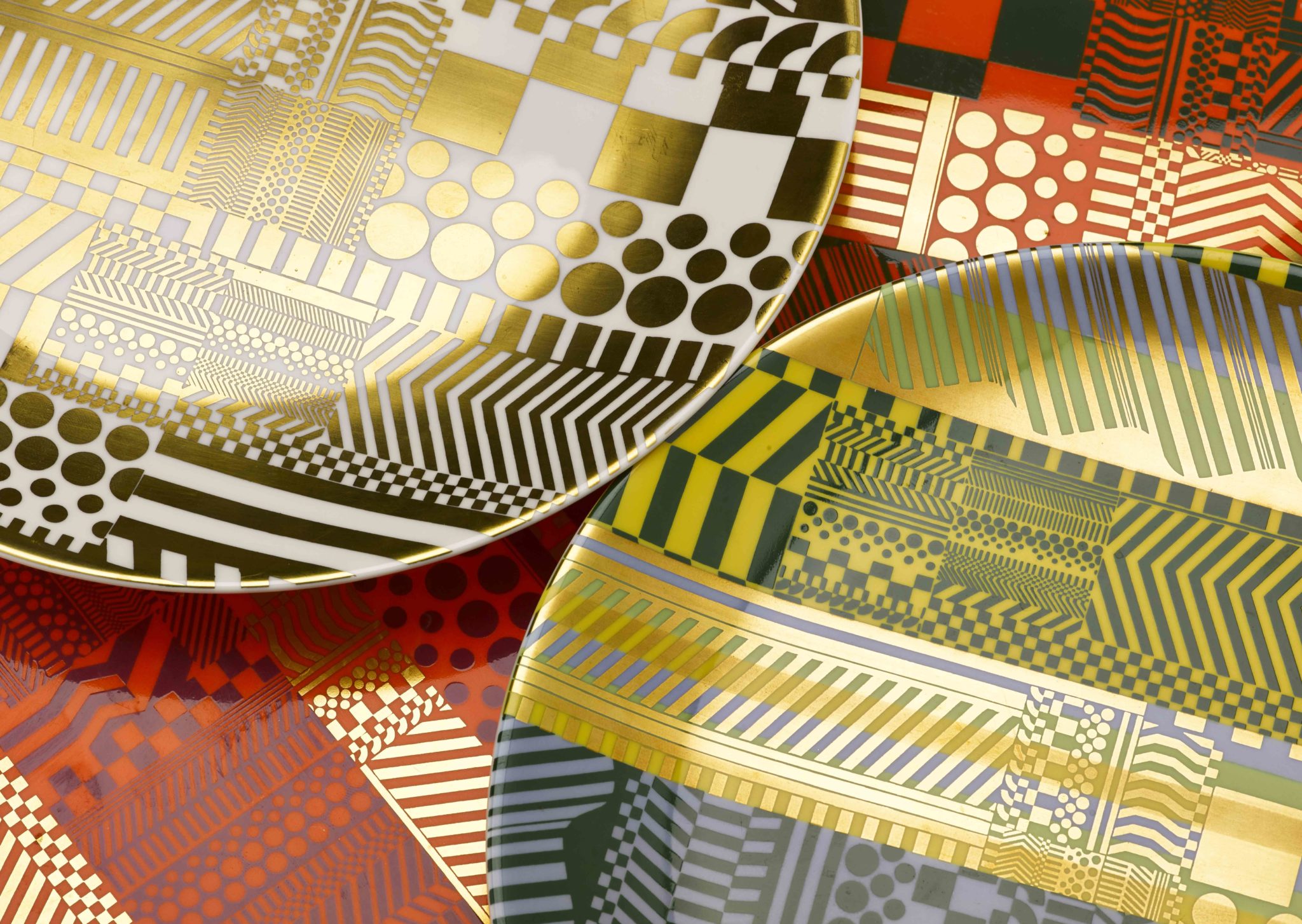 Further design commissions followed in the 1970s within ceramics, for both the German porcelain manufacturer Rosenthal, and the illustrious ceramics manufacturer Josiah Wedgwood & Sons Ltd. Wedgewood has had a long history of collaborating with leading artists of the day to create unique limited edition pieces. Artists such as William Blake and George Stubbs whose drawings, models and designs were used by Josiah Wedgwood in the 18th century; Emile Lessore and Therese Lessore worked with them towards the end of the 19th century; and artists and designers including Eric Ravilious, Keith Murray, Rex Whistler and Lawrence Whistler, and Paolozzi joined the roster in the 20th century.[11] As with the textile design Collaged Elements, the Wedgwood commission took place whilst Paolozzi was a visiting tutor in the ceramics department at the Royal College of Art, London. He worked with close friend David Queensberry, the then Head of Ceramics at the RCA, to create a series of prototypes within the college's lithographic studios. These prints were then transferred onto a set of blank plates at the Wedgwood factory in Barlaston, Staffordshire. National Museums Scotland holds one of the editions of this series, and is currently on display in Making & Creating, although you do miss out on the amazing neon pink Perspex box, each series came in, which is securely held in our stores.
Using his skills and knowledge of silk screen-printing to translate his print work onto the surfaces of a ready-made, as he had done during his Hammer Print days, he created the series entitled Variations on a Geometric Theme,[12] comprising six differing colour combinations featuring stylised squares, rectangles and circles. They went into production at Wedgwood as a limited edition of 200 and have come to be recognised as one of their most striking commissions. The design was awarded the gold medal of the President of the Chamber of Deputies in the International Competition of Artistic Ceramics at Faenza, Italy (the leading European competition for ceramic design).
The latest work that we hold designed by Paolozzi, was created in 1991 for the Momart Christmas card series. For over 30 years, Momart the art handling and transport specialist, commissioned artists to design a limited Christmas card for their clients – the prestigious list of artists included Lucian Freud, David Hockney, Gary Hume, Sarah Lucas, Tracey Emin and Damien Hirst.[13] The entire Momart series is now in the permanent collection of the V&A, London. The brooch in question was designed by Paolozzi with all the hallmarks of his oeuvre, consisting of a geometric collage of motifs and shapes in green and red cloisonné enamel.[14]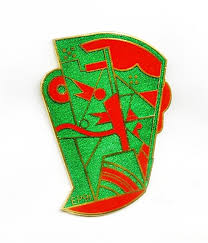 With 2000 brooches created for the Paolozzi edition, you can still come across a few on the open market. Ours however, was very generously donated by Nel Romano, the wife of the artist jeweller Kevin Coates, both of whom were friends of Paolozzi. It seems fitting that the jewellery he designed was a miniature version of the collage compositions for which he is so well known. This influenced his textile designs of the 1950s and ceramics of the 1970s, as we have seen. However, in later life he determined that his sculptural work could also be reconsidered as a jewel. Collaborating with his daughter Emma Paolozzi, a jeweller based in London who has created ranges for Paul Smith and Nicole Farhi, as well as a range in homage to her father; together they created a series based around his robotic humanoid forms, which were linked to our own Celtic warriors and were sold for a brief time within the National Museum of Scotland's shop. Unfortunately, an edition was not saved for the collection, but is something I do look to rectify in the future.
Paolozzi's vision of the world through its consumption of popular culture though sometimes dark, always retained a subtle humour and warmth to it. This extended into the works he designed for industry. Each of the works and series of design held by National Museums Scotland show his versatility and prolific capacity for creating. Though National Museums Scotland's Celtic warriors do appear on the interactive map and guide to his work in Edinburgh, his other works held within the National Museums Scotland collection of ceramics, jewellery and textile are currently absent. This is a shame, as these works are not just visually stunning, but more importantly they provide an interesting insight into how naturally he transferred his oeuvre into works for industry.
Sarah Rothwell is Curator, Modern & Contemporary Design at the National Museums Scotland.
[1] p.143, The New Look, Design in the Fifties, Lesley Jackson, Thames and Hudson, 1991
[2] https://www.artfund.org/blog/2018/06/26/latest-winners-new-collecting-awards
[3] p 13, David Whitehead Ltd: artists designed textiles 1952-1969, Alan Peat, Oldham Leisure Services, 1993
[4] p 15, 1950s Fashion Print, Marnie Fogg, Anova Book Company Ltd, London
[5] https://www.nms.ac.uk/explore-our-collections/collection-search-results/textile/800383
[6] Unpublished document, Lisa Mason, Assistant Curator of Modern & Contemporary Fashion & Textiles, National Museums Scotland, 2019
[7] https://www.nms.ac.uk/explore-our-collections/collection-search-results/fabric-furnishing-length/713981
[8] https://www.facebook.com/DovecotStudios/posts/this-1953-dress-with-its-textile-design-by-eduardo-paolozzi-was-presented-to-her/3098955113457487/
[9] p 9, Nigel Henderson & Eduardo Paolozzi, Hammer Prints Ltd, 1954 – 75, Cotton. M, firstsite, Essex, 2013
[10] p 90, Artists Textiles 1940 – 1976, Rayner, G; Chamberlain, R & Stapleton, A; Antique Collectors' Club, 2012
[11] http://www.wedgwoodmuseum.org.uk/learning/discovery-packs/pack/working-at-wedgwood/chapter/artist-designers
[12] https://www.nms.ac.uk/explore-our-collections/collection-search-results/plate/372909
[13] https://www.momart.com/about-us/momart-christmas-card
[14] https://www.nms.ac.uk/explore-our-collections/collection-search-results/brooch/418678