It's vital that new public spaces support designers & artists by commissioning new functional works. The newly reopened Fruitmarket has done just this with the unveiling of new beautiful functioning objects – a drinking fountain by Tania Kovats & light sculptures by Andrew Miller.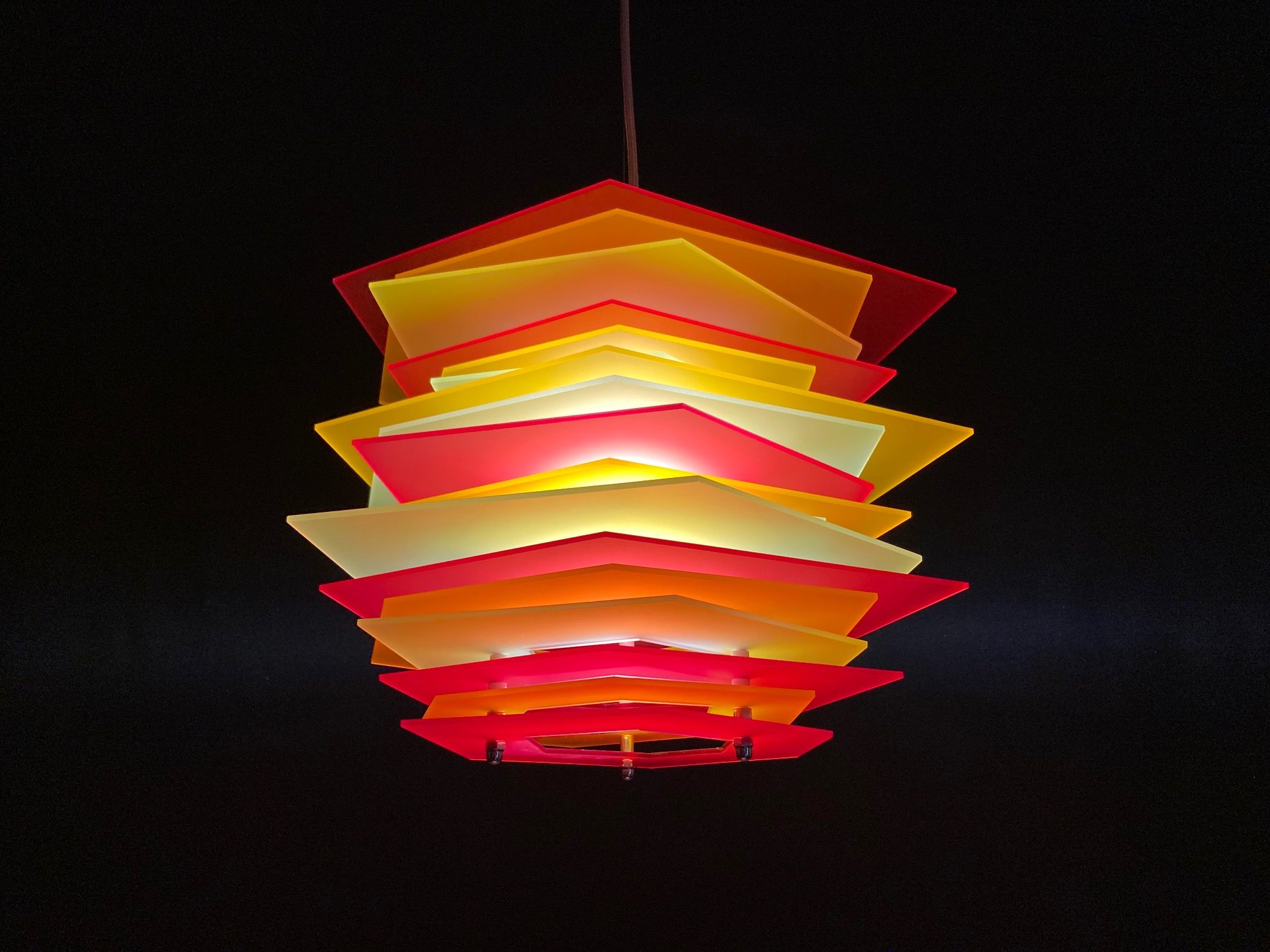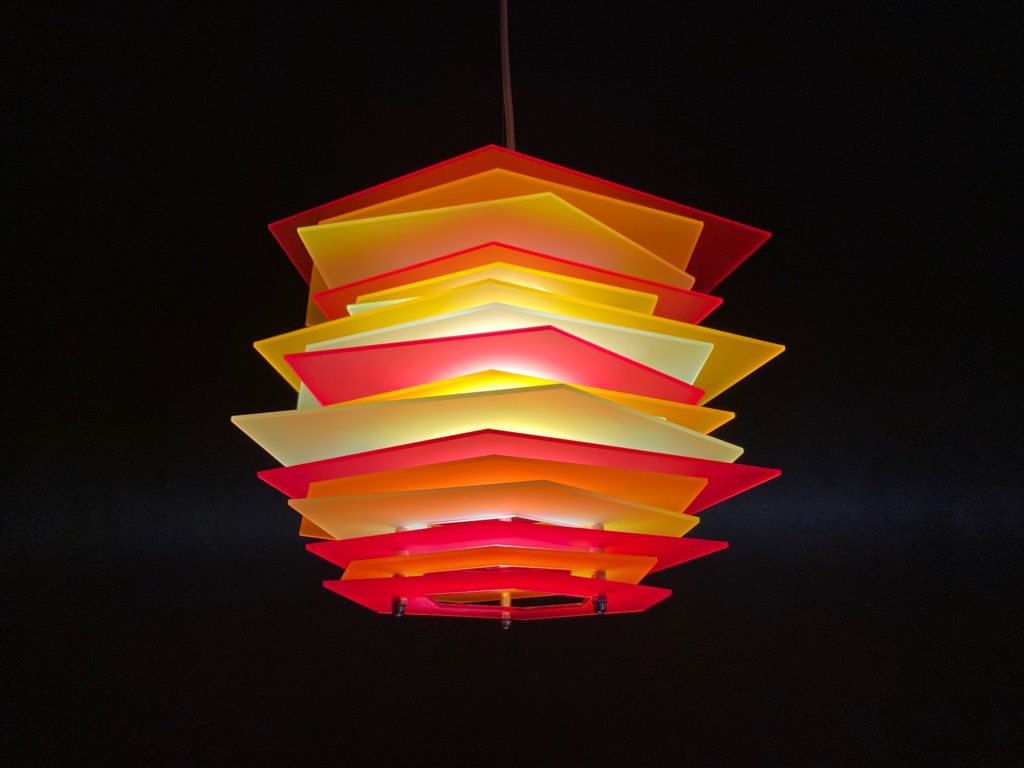 Stack – 'A pile of things arranged one on top of another, records, books, magazines, cds, pancakes.'
It was this prosaic but brilliantly observational thought on the importance of stacking in our lives, that prompted the Glasgow-based artist Andrew Miller to create his new series of light sculptures, Stack.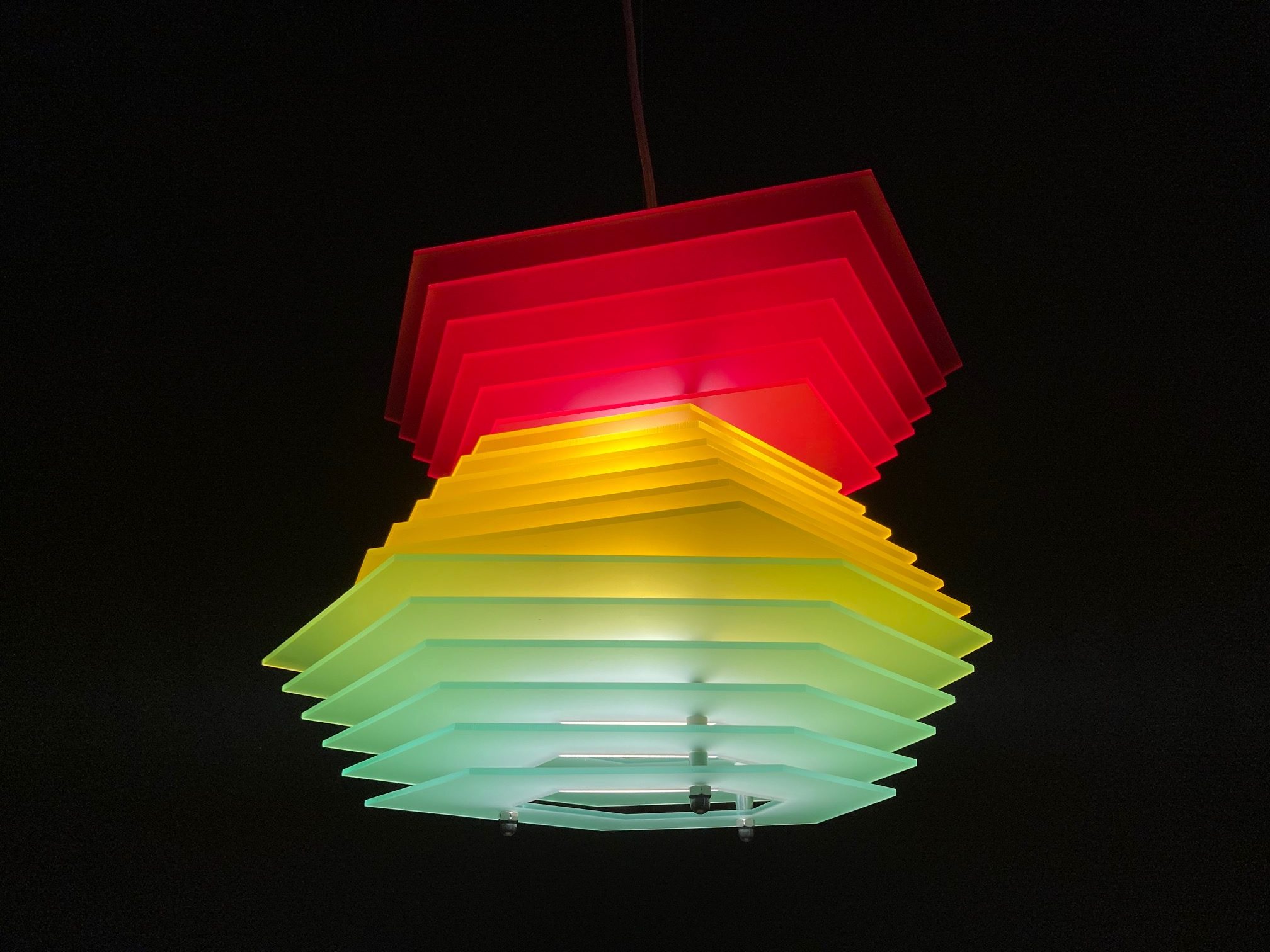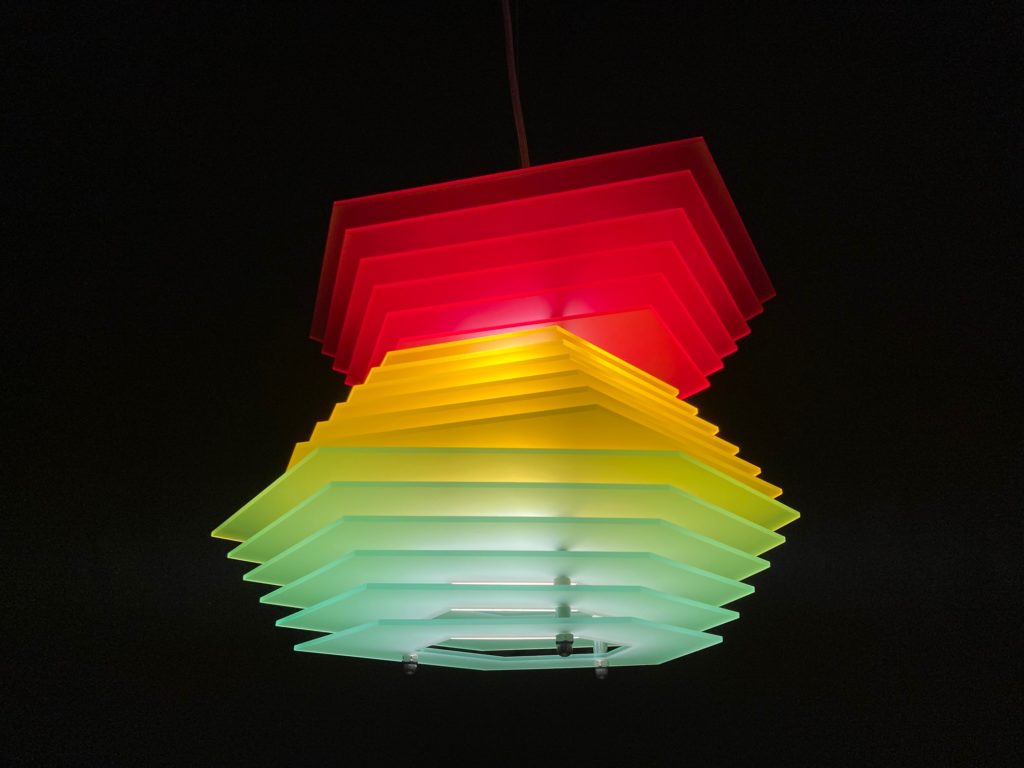 The reopened Fruitmarket not only sees a solo show of work by the artist Karla Black in the brilliantly reimagined & extended gallery but also two new commissions of beautiful functioning objects: sculptural lights by Andrew Miller & a drinking fountain by Tania Kovats.
The Glasgow-based Andrew Miller studied at Glasgow School of Art. His practice travels deftly through the disciplines of drawing, constructing & making allowing him to explore those fine & interesting lines between form and function. He has exhibited at both DES 2018 & 2019 where he showed his sculptural network of benches Terrace & Refraction. Constructed of Douglas fir & powder coated steel, they engage both the eye & the body beautifully.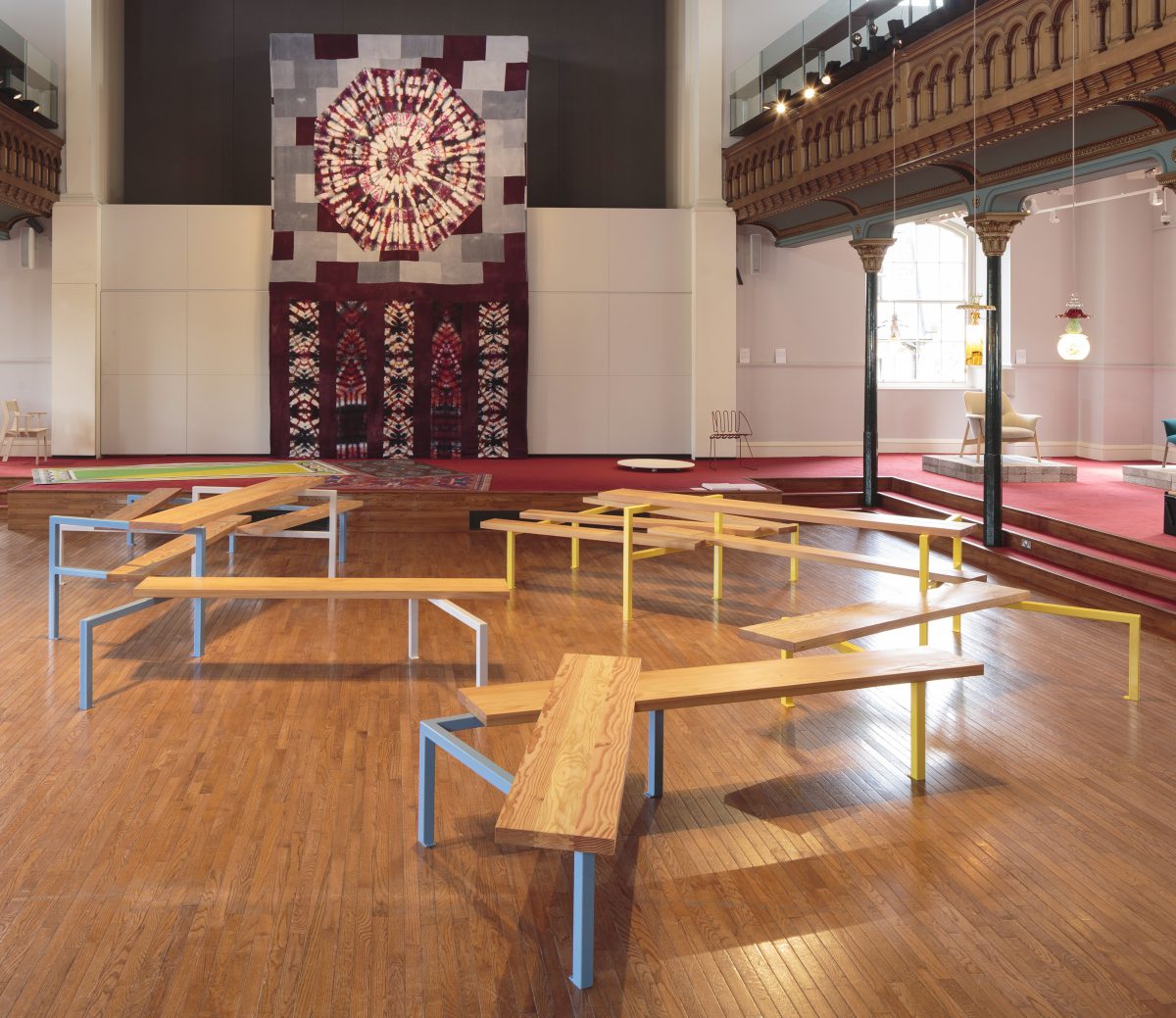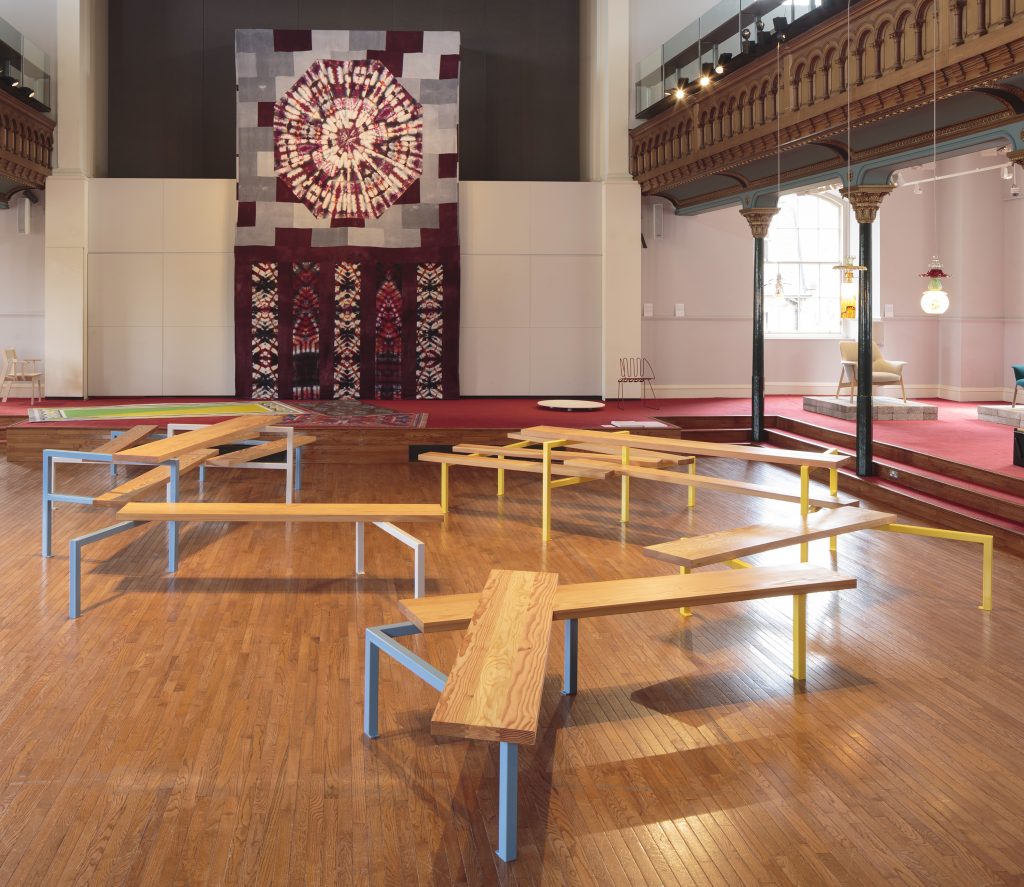 And Miller has long been interested in lights – how they offer the opportunity to perfectly meld together the function of lighting a room & a sculptural form suspended. Fruitmarket's Stack II has evolved out Stack, commissioned in 2019 by Little & Large Editions which was set up by artists Douglas Gordon & Jonathan Monk in 2009 – at DES 2019 Miller showed a similar floor-based light entitled, Piece.
Stack II has been made specifically for the reopening of Fruitmarket. Fusing together sculpture, light, form & function, Stack II affords the possibility of re-stacking the various elements of frosted perspex to form different colourways and shapes. Constructed of irregular hexagons in 3 different colours, it is possible to re-stack & endlessly re-arrange these various elements. Stack II is an edition of 11 & is available to purchase for £1200.00 including VAT from Fruitmarket.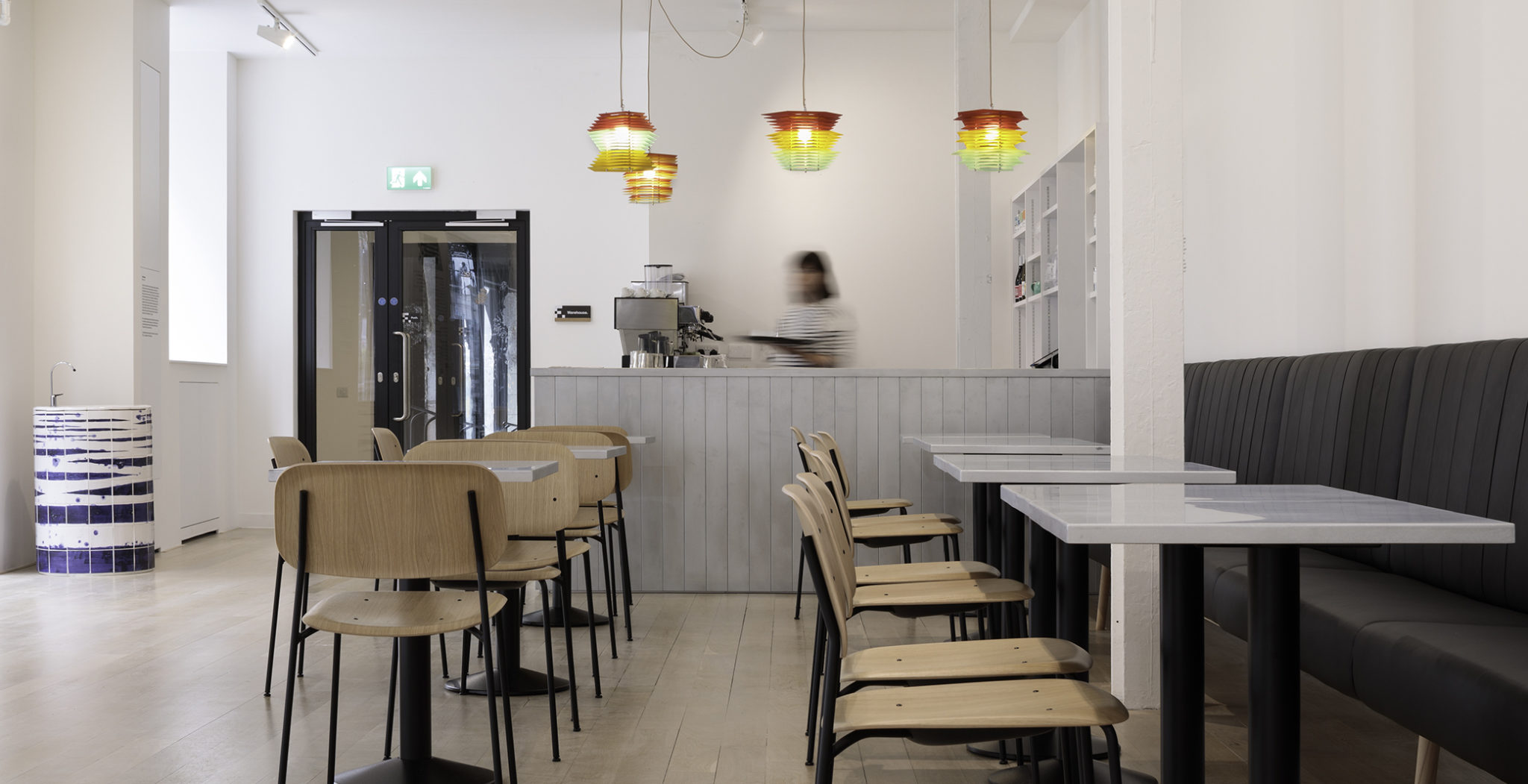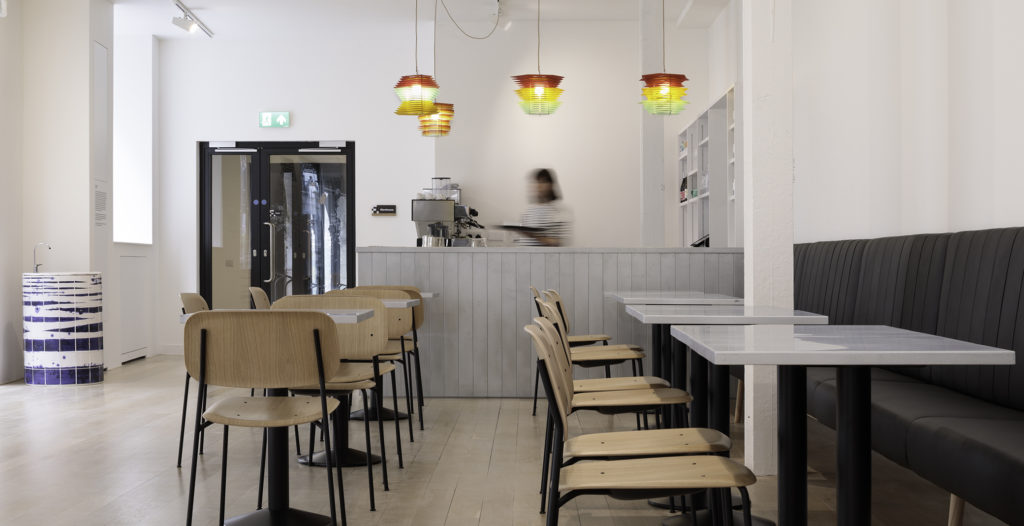 Sited near to Stack II is WELL, an earthenware drinking fountain by the Tania Kovats. Kovats' practice has long been shaped & formed by water. She has charted rivers, seas and oceans through drawing, text and sculpture. In 2014 she exhibited Oceans at The Fruitmarket Gallery, where she presented flasks of water collected from the oceans of the world; and her installation Rivers 2010 at Jupiter Artland, is a boat house filled with flasks filled with water drawn from Britain's river. It was with these works in mind that prompted DES in 2019 to commission Kovats to design her first drinking fountain which we exhibited at DES 2019. This led to the Fruitmarket commissioning a second WELL from Tania – & we are delighted to say that the UK Government Art Collection have acquired Tania's first WELL.
WELL is a circular and free-standing drinking fountain constructed of hand-made, tin-glazed earthenware tiles, each painted by Kovats. Loading her paint brush with blue cobalt paint, Kovats led the brush across each tile, leaving in its wake a flow of watery blue colour. Some tiles are darker and more densely filled with colour, on others the lines of paint are finer, the watery liquid having 'pooled'. Reminiscent of ink blots, tidelines and horizons, Kovats suggests both watery depths and the warm shallows.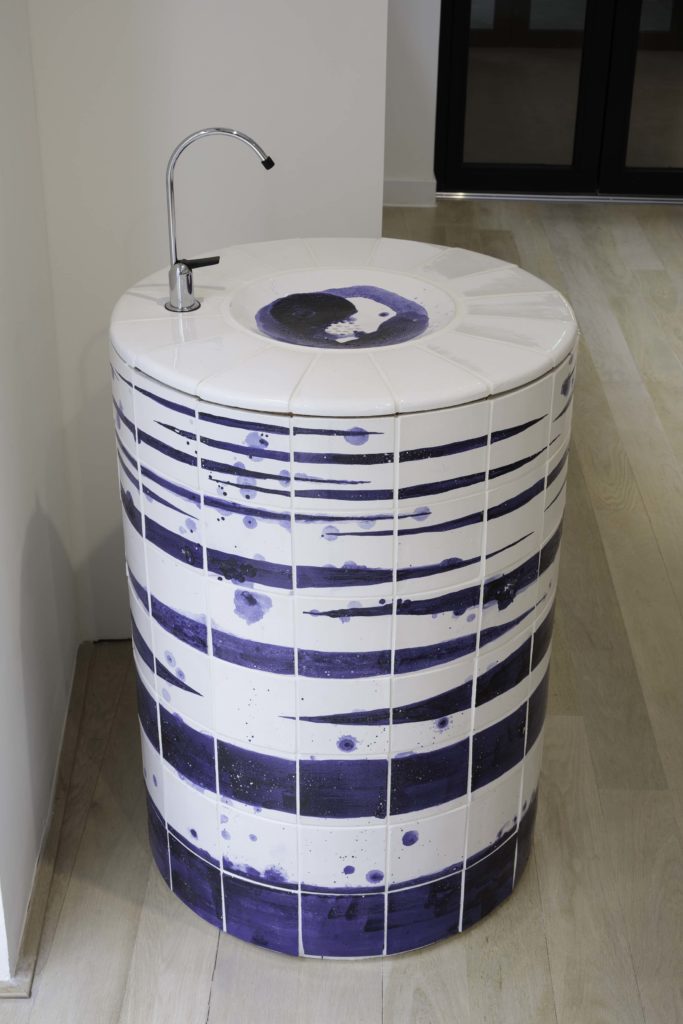 "Absolutely delighted that WELL has made its new home as part of the wonderful new chapter of Fruitmarket. The whole process has been a pleasure; starting with my Sea Mark drawings; taking that into ceramics, supported by the Glasgow Ceramics Studio and the skills and understanding of ceramicist Jonathan Wade. The cobalt glaze looks black when working with it, you have to be patient till it's out of the kiln & has turned blue. Worth the wait though"

Tania Kovats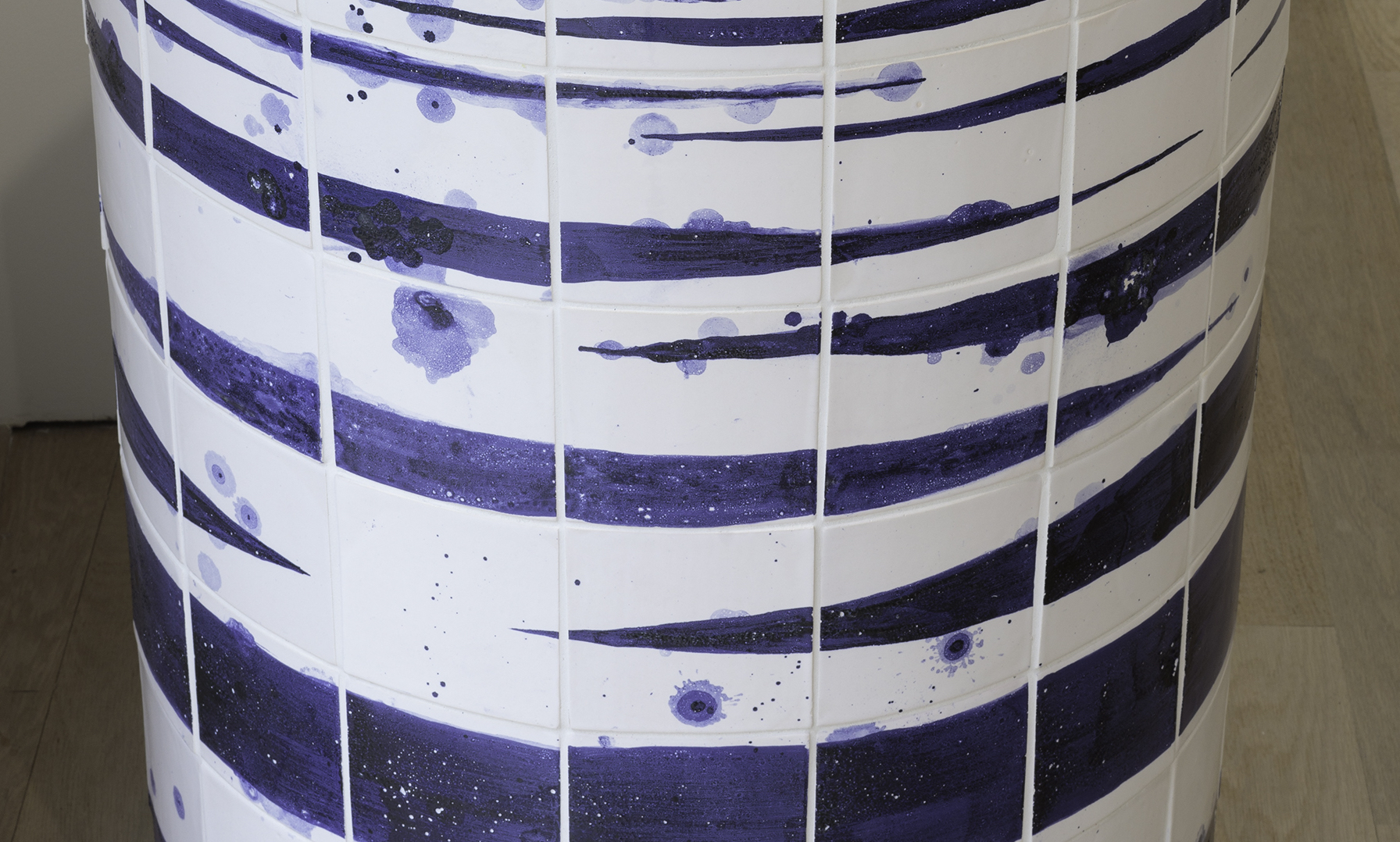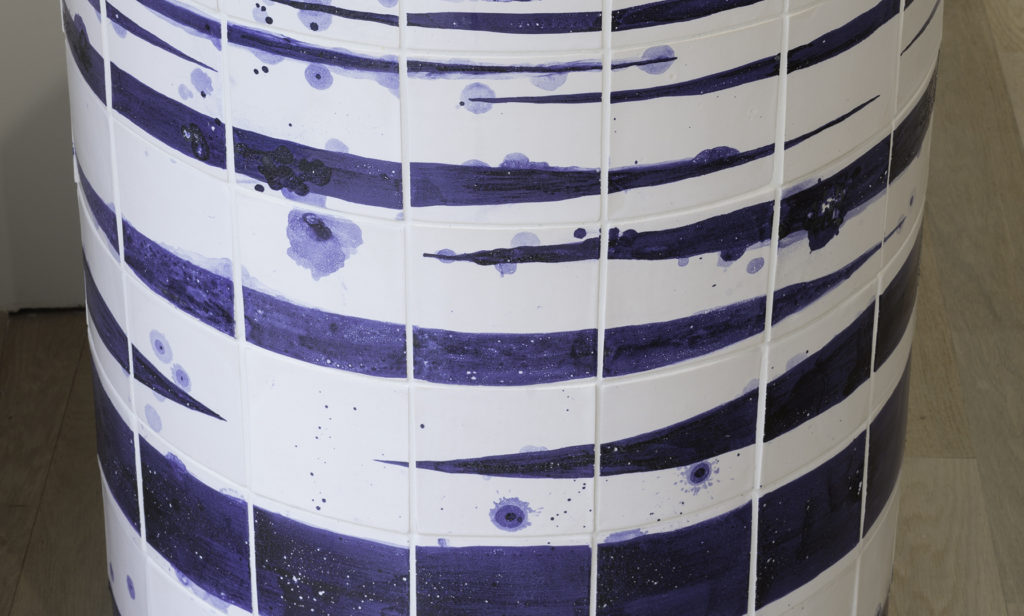 Design Exhibition Scotland is determined to revitalise the tradition of drinking fountains. Our Dixon fountain by Mirrl of Glasgow is currently in action outside South Kensington tube in London. Read more on DES's drinking fountains commissions.