Hear scintillating conversations with designers, artists & thinkers who share insights & ideas from their working lives.
Studio Visits via Zoom
Listen to Harry Morgan talk about working with glass & concrete. Hear from artists Laura Aldridge & James Rigler on their collaboration in design. Meet Rachel Adams & hear about her lighting project Urpflanze.
Head to the Devon studio of artist Tania Kovats, who shares insights into WELL, her drinking fountain commissioned by DES in 2019. Hear from Mirrl's Simon Harlow & Lewis Harley & their adventures in design & the joy of collaborating with London-based designer, Adam Nathaniel Furman.
Hear from Chalk Plaster & their explorations into colour pigment & oyster shells from their studio in Fife. Listen to Frances Priest discuss her ceramic work from her Edinburgh studio.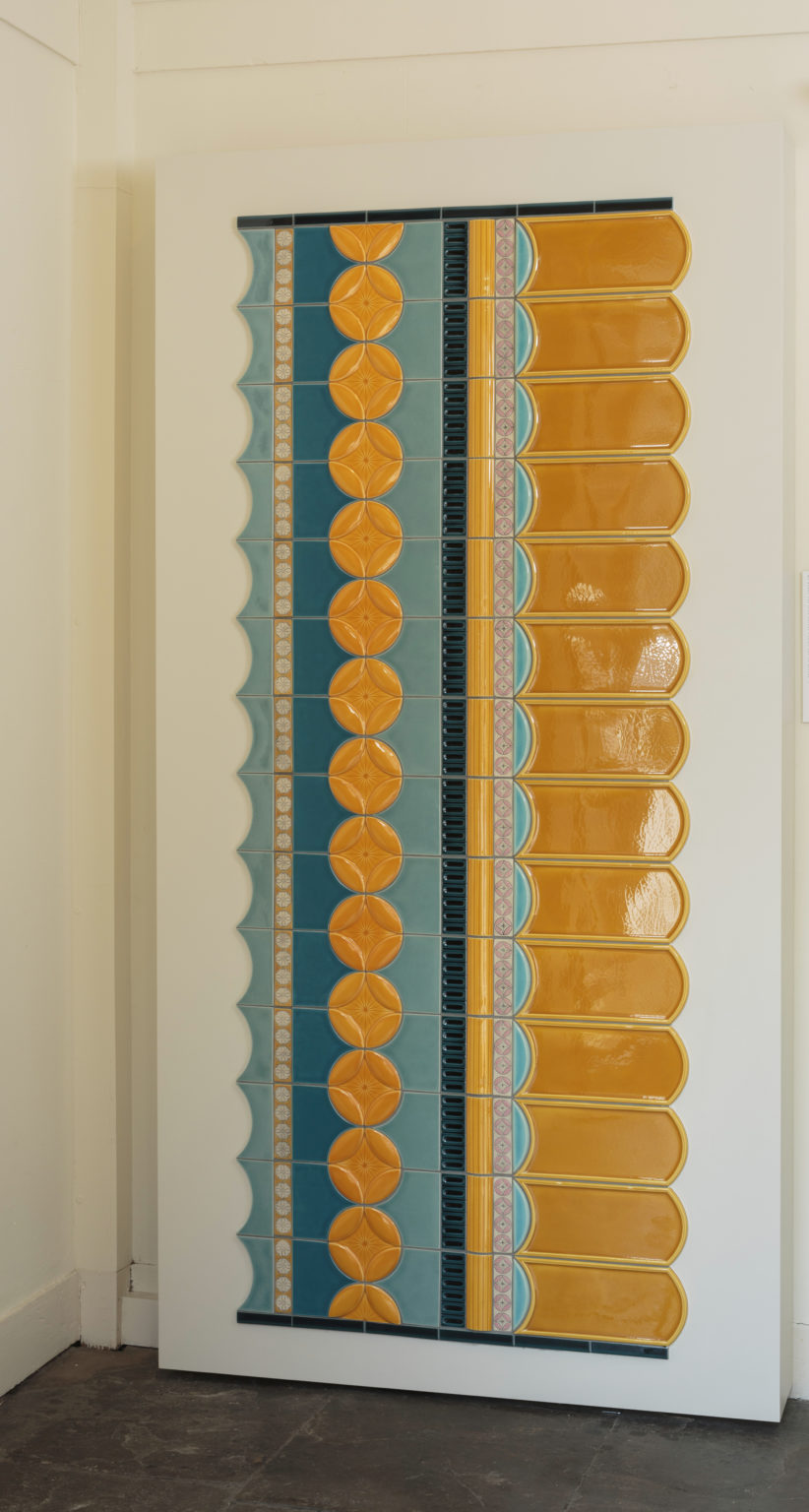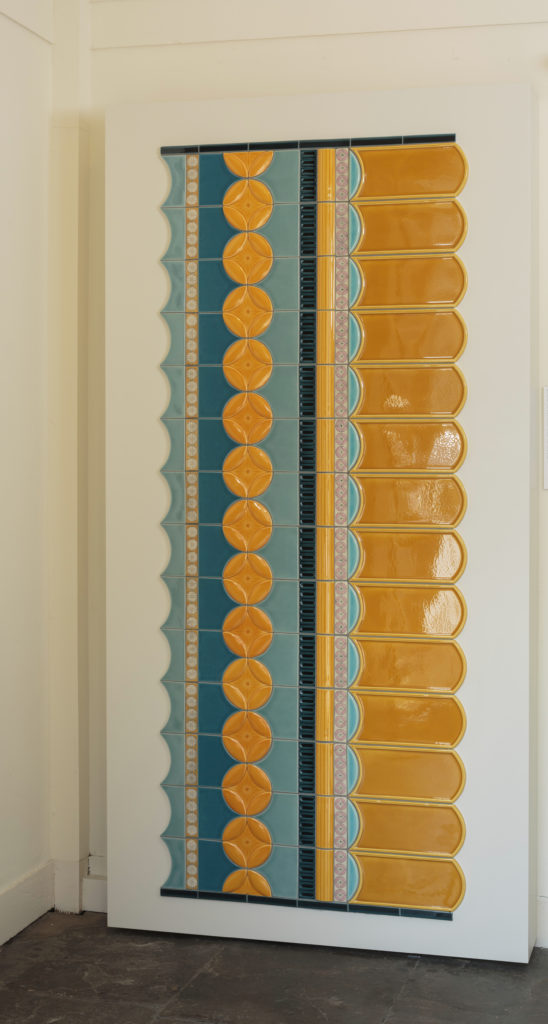 Tania Kovats discusses her drinking fountain WELL, first commissioned by DES in 2019, recently installed at Fruitmarket Gallery, Edinburgh with director Fiona Bradley & DES's Susanna Beaumont.
Alice Twemlow, Lector in Design at the Royal Academy of Arts, The Hague, discusses design the time of pandemic, with Chris Breward, Director of the National Museums Scotland. Twemlow offers us timely navigation & discusses unexpected outcomes and new possibilities, sharing her thoughts on deep time and the immediate future. Design in Postnormal Times was live streamed from the City Observatory on Edinburgh's Calton Hill – today home to the visual art organisation, Collective – with Alice joining from Amsterdam. Read our Q&A with Alice Twemlow. Read our Q&A with Chris Breward.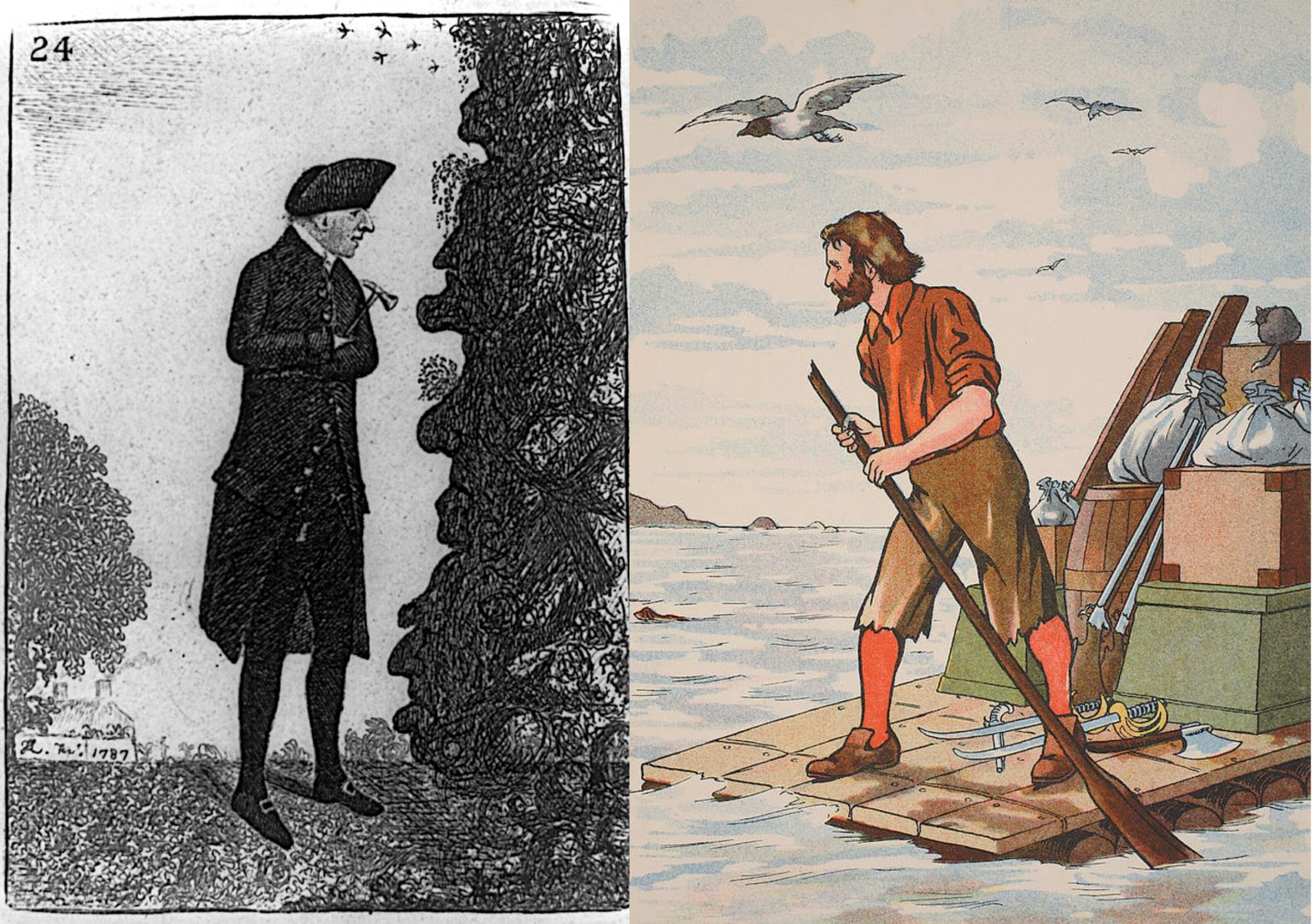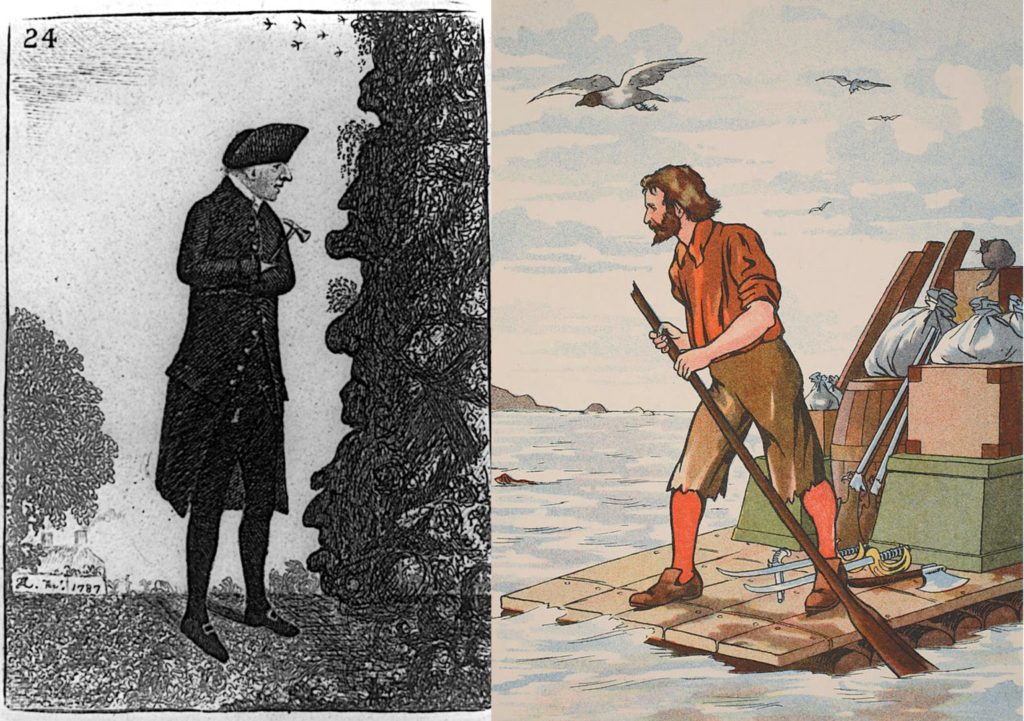 Circular Thinking in Design brings together designers & architects working in the Circular Economy, a system dedicated to eliminating waste and focusing on methods to continuously reuse materials and resources. Dutch designer & architect, Robert van Middendorp discusses his project to build a community hall made from 'hand me down' materials. Located in a business park on the outskirts of Zwolle, a city in the northeast of the Netherlands, Robert will share his knowledge and frustrations at pushing forward an ambition to change the way we build. Robert is joined by Chris Stewart, director at Collective Architecture who will discuss circular economy initiatives in Scotland.
Robert van Middendorp graduated from ArtEZ Hogeschool voor de kunsten in Zwolle in Architecture who established his building & making practice, Atelier van Middendorp (AvM) in 2018.
Chris Stewart is an architect with Collective Architecture. He's currently running a programme with Zero Waste Scotland, in conjunction with The Royal Incorporation of Architects in Scotland (RIAS) & Resource Futures, mentoring SME construction industry companies on the introduction of the circular economy into their work. He is chair of RIAS Sustainability Working Group / former chair and current Director of the Scottish Ecological Design Association (SEDA) and sustainability convenor of the Glasgow institute of Architects (GIA).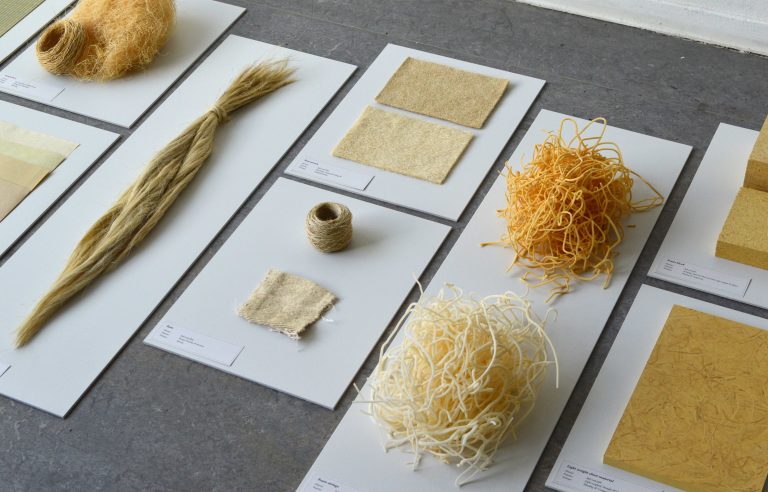 Three designers discuss their explorations into new materials – Don Yaw Kwaning, Aymeric Renoud & Catriona Brown, all of whom are making new materials made out of everyday matter. They are compelled to investigate the possibilities of using everyday 'waste', plants or the overlooked that lurks in the ground beneath our feet, to make durable materials that address the need for sustainable practices.
Don Yaw Kwaning is an Amsterdam based design studio. Don Yaw's interest in experimental material research began as a student at Design Academy Eindhoven, where he graduated in 2018 from 'Man & Well-Being'. Since then he has been investigating whether his newly developed material made of common rush can be developed for the commercial market. This research is supported by Green Chemistry Campus, Bergen op Zoom in the Netherlands. The Stedelijk Museum Amsterdam recently acquired a piece from Medulla of Don Yaw's research project into soft rush for their permanent collection. He was awarded the Packaging Award by Rosanna Orlandii's Ro Guiltless Plastic Prize.
Catriona Brown graduated last year with a First in Product Design Engineering from the Glasgow School of Art / University of Glasgow. Passionate about sustainable design, for her final year project she developed and designed Shroom, a biodegradable alternative to standard issue plastic tree shelters, made of a fungi called mycelium.
Aymeric Renoud is a French designer who moved to Dundee in 2015 to study interior design at Duncan of Jordanstone School of Art & Design. In 2016 he founded draff Studio initially as a research project within the University of Dundee. Interested in eco-design and reusing waste material, Aymeric began to experiment with 'draff' the wet grains leftover from the distilling and brewing of whisky, gin and beer.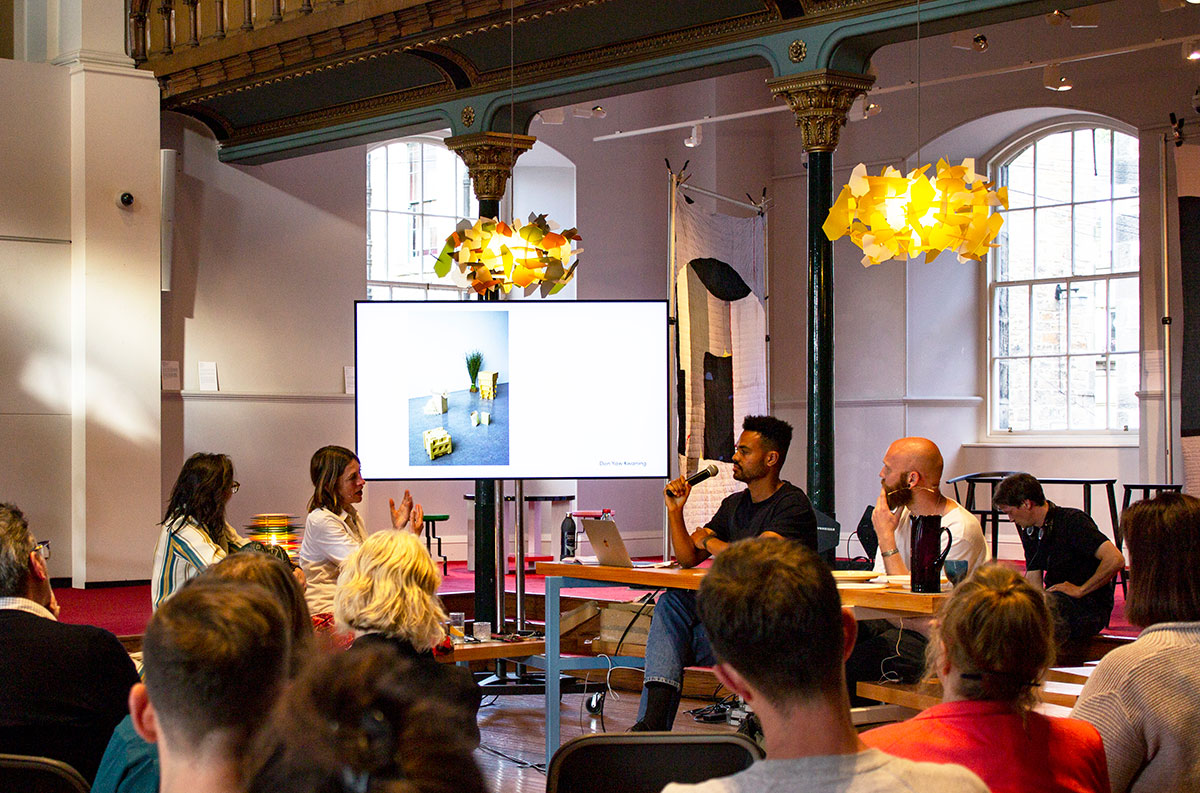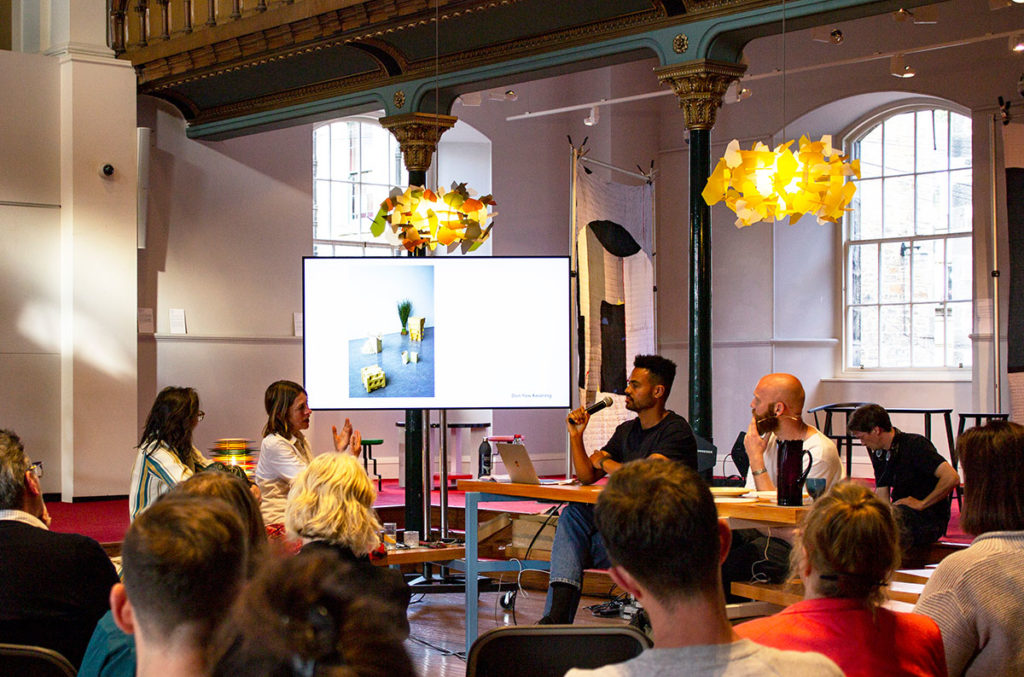 DES Debates 2019
Design in the Public Realm
Tessa Lynch whose site-specific public sculpture, Turns provides informal seating and climbing opportunities at Collective on Calton Hill, Edinburgh; Frances Priest, whose Tiled Corridor was recently unveiled at The Royal Edinburgh Hospital along with Tania Kovats and James Rigler who were commissioned by DES to created prototype drinking fountains, discuss design, function and the public realm. Led by DES curator Susanna Beaumont.
Dutch Design Landscape
Designer Don Yaw Kwaning; Wendy Plomp, founder of design collective Dutch Invertuals; Irene Fortuyn head of Man + Leisure at Design Academy Eindhoven and architect designer, Robert van Middendorp discuss material innovation, sustainability and the Dutch design landscape. Led by DES curator Susanna Beaumont.
Design + Production
Adam Nathaniel Furman and Mirrl's Simon Harlow, who debuted their HK collection at DES 2019; Alice Jacobs of Flux Studio, Glasgow and Stockholm-based designer Nick Ross discuss design, collaboration and production. Led by Helen Voce, Glasgow-based design & craft curator, whose recent projects include Tanween Design Programme, Tashkeel, Dubai, Cove Park on Scotland's west coast and the Crafts Council.